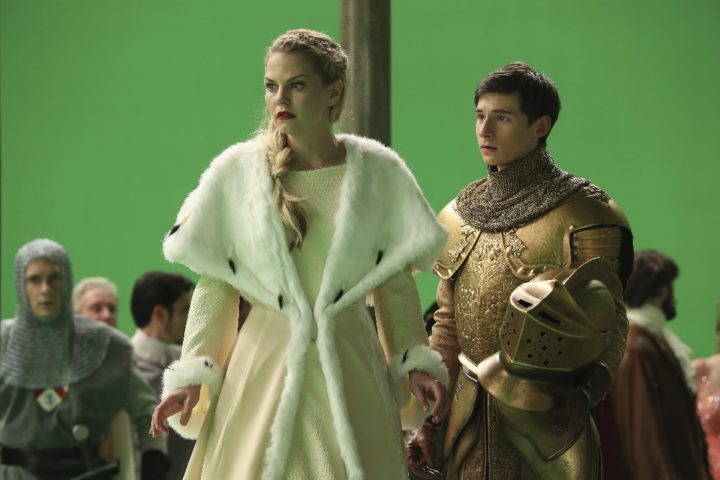 We have just watched the episode "Wish You Were Here" and right now, we felt like the fake Snow White and Charming in this episode. It felt like our hearts was ripped out and crushed in front of our faces just to make someone else be who they should be. Listen to our initial reactions of the episode "Wish You Were Here" and hear us talk about the figure under the hood, wishes, the fake world and a lot more!
Podcast: Play in new window | Download | Embed
When she learns that our heroes possess a weapon capable of defeating her, the Evil Queen steals Aladdin's magic lamp from Jasmine and makes a wish that could sideline the Savior forever. Unwilling to wake Snow while Emma is missing, David works with Hook and Henry to hold the Evil Queen at bay in Storybrooke, as Regina goes on a rogue rescue mission. Meanwhile, Gold and Belle face a surprising danger to their newborn son.
These are our first thoughts about this Once Upon a Time episode. We'll share more about "Wish You Were Here" in our upcoming full discussion (usually live on Wednesdays at 7:00 p.m., USA Eastern Time).
Initial Reactions
Remember, these are only our initial reactions regarding tonight's episode so please bear with us if we're a bit all over the place. If you have your own thoughts, feedbacks, or theories regarding tonight's episode, however, send them over to us and join our upcoming full discussion!
They packed a lot into this episode, it might take a couple more watches to really appreciate this episode because there are so much packed into it. So many things going on to wrap up for a mid-season finale. But did they wrap up any of things we were expecting to be wrapped up? The Evil Queen is not defeated completely; Belle and Gideon reunited but the Savior shakes hasn't been resolved; Jasmine and Aladdin go back to Agrabah but that doesn't mean Agrabah is now saved. It kind of feels like a storyline that we have yet to see be resolved. What is going to happen with them?
We know that Gideon is the guy under the hood and when he came back as a full-grown man, he seemingly looked a lot darker. Rumplestiltskin said that there are darker realms that not even he can reach, which makes sense with what we know of the Black Fairy because back in season 3, it was said that she dealt with the darkest of magic. It makes sense for the Black Fairy to be darker than Rumple, dealing with a darker world and it seems she poisoned Gideon in some way. Has Gideon been lying this whole time? Are we even going to see the Black Fairy further? Are we going to see this other world where everything is much darker than it is?
One of the things that did bug us this episode is how many wishes did the Evil Queen used. She used one and Regina used another so that leaves them with one more wish if they get the genie back. It was in Once Upon a Time in Wonderland where we get to learn about the magic of the lamp and that the lamp could only have one master at a time. Because this is a completely different lamp, maybe this lamp was created by a different means not from Nyx as we see in Once Upon a Time in Wonderland. Still, it feels like a bit of a stretch. What with the quick passing of the wish and the whole lamp itself to Jasmine without the Evil Queen and David fulfilling their wishes seems like someone can pass their remaining wishes to someone else.
It was really cool to see Aladdin as the genie. He's a good genie with that smug little smirk, probably because he knows how wishes work a little bit better than the people that are dealing with the lamp now. We were certain that Jafar was going to be the figure under the hood. When we saw Gideon come through the portal and turned the Evil Queen into the snake because it was a Jafar thing. All this time we were expecting to see Jafar again and we probably won't get to see him again, unless it's in the storyline of what happened to Agrabah. Maybe they didn't want to write him as much because they couldn't get the original actor back?
Another thing that hasn't been resolved is that Snow White and David are both still under the sleeping curse. When the hooded figure first came out of Granny's we also thought it might be Rumplestiltskin who somehow found a way to jump through the portal but Emma's vision can't happen yet because Emma and Regina are still in the fake world.
This fake world reminded us a lot of the Author's storyline where we got to see the Heroes and Villains book and everyone was in an alternate reality and had to be awaken from and brought back to the real world. This is another fake world but it has a magic bean that can transport them back to the real world. How fake is this world?
It was so exciting to see Rumplestiltskin in the fake world because it's been a really long time since we've seen him that way. Great job also for Jennifer Morrison at playing the total opposite character to what she normally plays. It was a lot to see her as Princess Emma and singing "Someday my Prince will come." However, there is a big logic hole in this episode: the Evil Queen wished Emma to have never been the Savior but by doing so, Aladdin just sent her to a fake world where she still had magic. Did the wish really do anything since it only took her to another place? And why is Henry in the fake world? How did Neal even ended up being there if Emma was never the Savior. The whole point of making Emma the Savior was to get Neal back. At some point, we were expecting that maybe Hook was going to come out when they were anticipating that someone's coming into the room. The picture of Neal as a knight didn't make a lot of sense.
One of the vague few spoilers that we saw the day before the episode airs is that Robin Hood is going to be in this episode. When Regina and Emma saw Robin, we thought they will pull him through the portal with them, which would've resulted into other hard things. The way that they cut this off with Emma and Regina getting stuck in the fake world is a lot more interesting than pulling Robin through. How will they deal with Robin Hood being back?
Now that they're on a quest to find a magical way back, perhaps this is what might contribute to Regina not being in Emma's vision? If, for whatever reason she decides to stay behind or they get separated, it will make sense that Emma didn't see Regina in her vision. Will Regina stay, given the chance, so she can finally be with Robin Hood?
We loved the Pilot scene re-do with the classic Evil Queen sliding, gliding along the ground as she burst through the ballroom. Even Snow White saying, "she's not a Queen anymore" and even though we didn't get to see the iconic sword-throw in this scene, Henry did it in the later scene.
So the Evil Queen "got what she deserved" and that is getting to see everyone tear themselves apart. Is that the end of tearing themselves apart? Is her turning into a cobra getting what she deserves? It was Gideon that did that and wishes tend to have immediate effect and nothing happened when Charming wished that.
With Charming and Snow White both still under the sleeping curse and Emma gone, there's a lot of things to dig in to and we want your feedback for that! Share with us what you think is going on. What are your theories about this episode? What do you think will happen when the season returns and how might this season even come to a conclusion? Send us your feedback and join us this coming Wednesday for our full-discussion as we dig deeper into the episode, "Wish You Were Here."
What did you think?
Email Feedback@ONCEpodcast.com (audio files welcome)
Call (903) 231-2221
Comment on the shownotes
Visit any page on ONCEpodcast.com and click the "Send a voice message" link to record and send a message right from your computer.
Help us out!
Share this post in your social networks
Follow us
On Facebook:
On Twitter:  echo do_shortcode('[twitter follow="ONCEpodcast"]'); ?>
Daniel J. Lewis:  echo do_shortcode('[twitter follow="theDanielJLewis"]'); ?>
Jeremy Laughlin:  echo do_shortcode('[twitter follow="phlegon"]'); ?>
ErinJ:  echo do_shortcode('[twitter follow="erinjcruz"]'); ?>
Hunter Hathaway:  echo do_shortcode('[twitter follow="travelingpixie"]'); ?>
Jacquelyn / RumplesGirl:  echo do_shortcode('[twitter follow="punk_bunny_87"]'); ?>