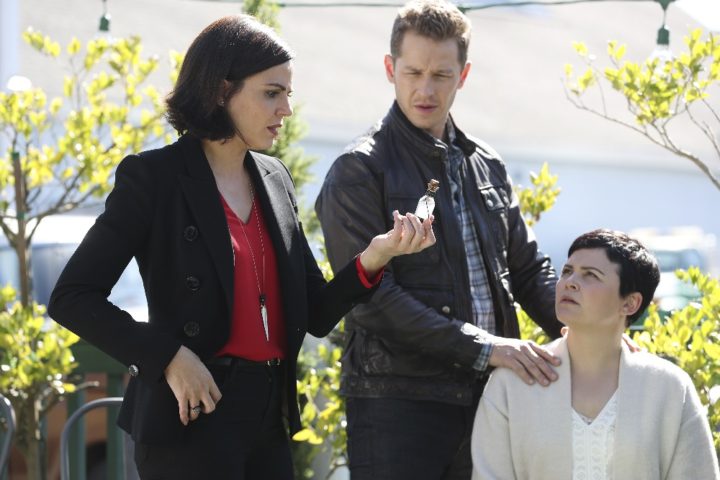 Join us as we drop the mic on Belle and discuss the really vicious move from the Evil Queen, among other things, on our initial reactions of this really good "Espensode" that is "Heartless."
Podcast: Play in new window | Download | Embed
Such a good episode! The dialogues, the story line, the twists and turns, the feels, the pain, the tears are all just so good for an Espensode! That said, we are going to try and do this episode at least some justice, but this is just our initial reactions. We'll be digging into it more in-depth on our full discussion and we want your feedback for that! Contact us with your theories for this episode, especially the kicker of this episode. Let us know what you think is going to happen, as well as your theories on other things about this episode.
In a flashback to the Enchanted Forest, Bandit Snow dodges a bounty hunter known as the Woodcutter while shepherd David goes on a fateful journey to sell his family's farm. In Storybrooke, the Evil Queen threatens to destroy the town and everyone in it unless Snow and David surrender their hearts. As Emma, Hook and Henry prepare to defend Storybrooke, Snow, David and Regina search for a magical sapling created by the first spark of true love. Regina uses Gold's and the Evil Queen's burgeoning romance against them, and Zelena offers Belle some friendly advice.
These are our first thoughts about this Once Upon a Time episode. We'll share more about "Heartless" in our upcoming full discussion (usually live on Wednesdays at 7:00 p.m., USA Eastern Time).
Initial Reactions
Remember, these are only our initial reactions regarding tonight's episode so please bear with us if we're a bit all over the place. If you have your own thoughts, feedbacks, or theories regarding tonight's episode, however, send them over to us and join our upcoming full discussion!
By the time the ending rolled around, we already kind of figured out or had a theory about what was going to happen because of how the Evil Queen worded what she said when she put the hearts back in. Kudos to the Evil Queen!
Furthermore, we also thought that it was going to be something like when Snow White wakes up, she wouldn't love David anymore and would be this vicious monster. As soon as the Evil Queen start talking about how she basically wasn't going to kill Snow and Charming, we thought that she was going to pollute their hearts, give it back to them and make them tear themselves apart, but that's not the way they went. This direction that they took it, it makes perfect sense that the sleeping curse affects both of them, and they can't be awake both at the same time. It's just this endless cycle that they can wake each other up, but they can't both be awake together anymore. But can't someone else break the curse on both hearts, somebody like Emma or Henry who loves them both since true love isn't always just about romance? Then again, at least we know that the water from the River of Lost Souls is not going to destroy the town.
From the beginning of this episode when Snow White and Charming had their little moment together with the sapling from true love, we thought that they're going to die because that's what happens when they start to memorialize and remind us of stuff from season 1. But the way they cut the things together, the editing of this episode where they split back and forth between season 1 things and this also what makes this episode so good.
When the Evil Queen poofed Snow White out, we thought that she is going to be somewhere completely different, like in some other world this would become like the new Belle in the box sort of thing, but glad they didn't do that. There's a lot of other stuff going on, they don't need to start jumping worlds again; this is way more interesting.
On the side of the beauty of Snow White and Charming's relationship, the other side of that is just so well-written, even though it wasn't particularly beautiful and at the same time not entirely ugly either. The relationship between Rumple and Belle, and that conversation that they had was so good, too! Belle had so many good lines, we're glad to see that side of her when it comes to this relationship because she has been quite lukewarm and wishy-washy for far too long. Now it makes more sense that, with the last episode, everything about that episode seemed like the Evil Queen really intended Belle to see her making out with Rumplestiltskin. It looks like that's the direction that they were going to go until Jane Espenson wrote it differently.
When Belle said, "You want your son's love? Don't take it. Be worthy of it," to which Rumple replies, "What if I fail?" could be the thing that starts to turn Rumple around; for him to realize that the fear of failure is causing more damage than trying and failing in doing the right thing along the way. Their relationship from the episode "Skin Deep", which to this day is still the favorite from many ONCErs. Their relationship had such a beautiful beginning and progression in many ways, but then such a horrible darkness in and we'd love to see that turn that around; see Rumple turn things around, even if he can't repair the relationship. For him to turn around and realize that it's a failure to be the coward that he has been, to rely on his magic and do what he's been doing in order to try to control the situation.
We were a bit worried with seeing how it looked like they were setting up Snow White and Charming to have met before they met. But it was really clever the way that they tie that in with everything, and we got to see Ruth again, too, along the way. We were very critical at the very beginning, but they worked it beautifully.
And we loved that little nod that she knew of a nobleman that she would be able to rob from and strike on the other side of the door. Just the way that was shot, where you can see the two sides of the doors when they were talking was shot brilliantly. The only other time they did that was when Regina locked herself up in the Mayor's office and Emma came on the other side and she was talking through the door.
The other thing we liked seeing in this episode is seeing Hook and Emma really worked together, like the moment in the vault when Emma's hand started shaking; the way that Hook came over and comforted her. The way they worked it together and his storytelling is so good, as well! For some reason, this episode reminded us a lot of the episode "Queen of Hearts" because there was a lot of feelings in that episode as well, and to look at Hook and Emma and where they've come from that episode just goes to show how both their characters have grown.
There's a lot more that we can dig in to regarding this episode so please do send us your feedback and join us this coming Wednesday for our full discussion of the episode, "Heartless."
What did you think?
Email Feedback@ONCEpodcast.com (audio files welcome)
Call (903) 231-2221
Comment on the shownotes
Visit any page on ONCEpodcast.com and click the "Send a voice message" link to record and send a message right from your computer.
Help us out!
Share this post in your social networks
Follow us
On Facebook:
On Twitter:  echo do_shortcode('[twitter follow="ONCEpodcast"]'); ?>
Daniel J. Lewis:  echo do_shortcode('[twitter follow="theDanielJLewis"]'); ?>
Jeremy Laughlin:  echo do_shortcode('[twitter follow="phlegon"]'); ?>
ErinJ:  echo do_shortcode('[twitter follow="erinjcruz"]'); ?>
Hunter Hathaway:  echo do_shortcode('[twitter follow="travelingpixie"]'); ?>
Jacquelyn / RumplesGirl:  echo do_shortcode('[twitter follow="punk_bunny_87"]'); ?>