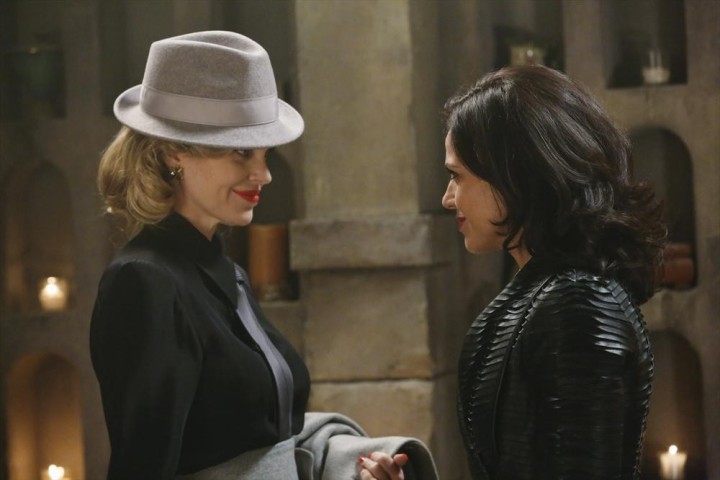 Now that the once-dead sorceress Maleficent is back from the ashes, the threat against the Charming's secret looms. In attempt to know what the Queens of Darkness are up to, Regina pretends to be the bad girl she once was that she worked so hard to get away from. Can she get past the temptations of darkness, or is the taste of doing dark magic again enough to make her revert back to her old, evil, ways? Meanwhile, in the Enchanted Forest of the past, Regina found a new friend in Maleficent when she helped her remember who she was. Listen to our Enter the Dragon initial review as we talk about the return of the Evil Queen, Maleficent, August, and something incredibly powerful!
Podcast: Play in new window | Download | Embed
In order to infiltrate the Queens of Darkness as a spy for the heroes, Regina must prove she's still willing to get her hands dirty. Meanwhile, Emma, David and Mary Margaret scramble to keep tabs on their undercover operative. Hook requests an unusual favor from Belle as Henry makes progress on his search for the Author. In a Fairy Tale Land flashback, Regina befriends Maleficent and helps her to rekindle her lost spark.
These are just our first thoughts about this Once Upon a Time episode. We'll share more about "Enter the Dragon" in our upcoming full discussion live on Wednesday March 18, at 7:00 p.m. (EDT/GMT-4).
Initial Reactions
What an episode! There's something about this episode that ties in with Bruce Lee beyond just the title, "Enter the Dragon", which also happens to be one of Bruce Lee's movies, so hat tipped to Bruce Lee for that!
We thought that this episode provided some great answers to questions that we have forgotten that we'd been asking. One of these questions was how did Regina and Maleficent's friendship started; what was the sacrifice that Aurora made; how did Aurora fall under the sleeping curse; what were the circumstances around all of this; was Aurora the actual sleeping beauty or was it her mother; stuff that we once asked that we got answers only just now and it was cool to finally get answers, however long it took.
We love all the Regina and Maleficent stuff. Although we liked what happened in this episode than in two years ago, we're a little bit on the fence about what really happened to Aurora because of some of the inconsistencies with the storyline. But now, we know that it was actually a revenge to Aurora's parents, which kind of ties in to the traditional story of Sleeping Beauty in a way. Also, now we maybe know what Aurora was talking about when she said that she knew something about sacrifice. In addition, it was also refreshing to know that in this episode, Maleficent was referring to making Phillip the Yaoguai, to prevent him from kissing Aurora to end the sleeping curse.
During our live chat, Docxen and Hook's Girl early on predicted in the chat that "Hook" was actually Rumple in disguise. Good job, Docxen and Hook's Girl for predicting that! We weren't quite looking for that. We figured there would be some kind of twist, but we didn't think it would be Rumple pretending to be Killian all along, so it was clever having Rumple disguised as Hook in order to retrieve the Dark One's dagger. But looking back at this episode, we started wondering how long Rumple had been impersonating Hook since he got back into town?
It was neat to see Regina playing young Regina again and, at the same time, seeing Regina playing Evil Regina again. It was great seeing the many different versions of Regina, as well as the many different versions of Maleficent—dragon Maleficent, down on her luck Maleficent, 40's Maleficent, "Agent Carter" Maleficent (check out our Agents of SHIELD and Agent Carter podcast!), and of course, mean girl Maleficent, partying all night. How teenage girls can they be, partying all night and burning a police cruiser? It was also nice seeing King Stefan in this episode, but it seemed that pronunciation has been a problem this year, because they seem to have been mispronouncing some of the names this year; Maleficent and Stefan, to name a few.
We liked that August is back and it was really cool to see him back on the show. Especially as they started talking about Regina being asked to steal something, we figured it has to be Pinocchio and turn him back to August because Eion Bailey, the actor that plays August Booth, was in the credits at the beginning of the episode. But after Regina kidnapped Pinocchio and Geppetto was there to when Regina walked in his shop, wouldn't he go out and start saying that Regina has gone full-on evil again? How can she explain what she was doing especially if they can't return him back? On the other hand, this would be a really good way for Regina to get in with the evil crowd if Geppetto go around and tell the residents that she is, once again, the Evil Queen for kidnapping his boy.
We liked how they were talking about starting a war, because it has us wondering if it was the final battle that was about to begin like Henry said in the Pilot episode back in season one? Is there even going to be a final battle? Perhaps not a battle between good and evil per se, but maybe a battle against who can find the author first?
They said that the page was pulled from the book. Why was it pulled from the book and which page was it from? Was August actually trying to protect the author? Does Regina know yet about Henry finding out about the page? If she does, maybe she can remember that it was in Jefferson's hat?
When Snow White was riding the horse, was she already a young woman then, or still a girl? Because Regina was just starting to learn magic, it couldn't have been longer. Perhaps just a little while after Daniel died during this time.
Thank you for supporting us!
David Neuland (subscriber)
Steve Johnson (subscriber)
Lisa Slack (subscriber)
Chris (new Patreon backer)
12 Patreon backers ($40.25 per episode
You can sponsor an episode or more of ONCE podcast, too! Email Daniel@ONCEpodcast.com if you would like to arrange a corporate sponsorship of our podcast for the upcoming third season.
We're looking forward to dig in to this episode more so we could get screenshots and find more Easter eggs from each scene in this episode. It may not be one of our favorites, and not one of the bottom episodes, but it was neat because it shows us a lot of answers, even the ones we have already forgotten before. We also liked how Regina dropped her phone so Emma could stop following her and blow her cover. It was starting to frustrate us when Emma kept interfering with Regina's undercover so Regina dropping her cellphone was probably one of the most pivotal plot points in the episode.
Speaking of hiding, now we know that Belle is having some kind of a relationship with Will, as he makes her happy… for now. But where is Hook? If he wasn't actually in this episode, then where is he? Will August talk or are they going to hit another dead end? Remember, these are just our initial reactions regarding tonight's episode, Enter the Dragon, so please bear with us if we're a bit all over the place. If you have your own thoughts, feedbacks, or theories regarding tonight's episode, however, send them over to us and join our full discussion this Wednesday!
What did you think?
Email Feedback@ONCEpodcast.com (audio files welcome)
Call (903) 231-2221
Comment on the shownotes
Visit any page on ONCEpodcast.com and click the "Send a voice message" link to record and send a message right from your computer.
Help us out!
Share this post in your social networks
Follow us
On Facebook:
On Twitter:  echo do_shortcode('[twitter follow="ONCEpodcast"]'); ?>
Daniel J. Lewis:  echo do_shortcode('[twitter follow="theDanielJLewis"]'); ?>
Jeremy Laughlin:  echo do_shortcode('[twitter follow="phlegon"]'); ?>
ErinJ:  echo do_shortcode('[twitter follow="erinjcruz"]'); ?>
Hunter Hathaway:  echo do_shortcode('[twitter follow="travelingpixie"]'); ?>
Jacquelyn / RumplesGirl:  echo do_shortcode('[twitter follow="punk_bunny_87"]'); ?>