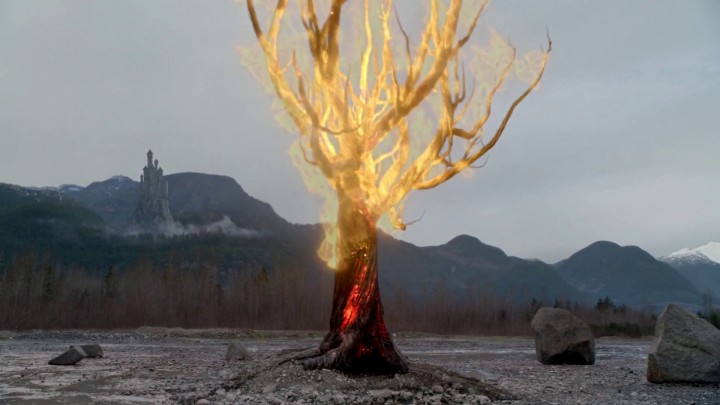 In order to accomplish the Queens of Darkness's trust and know their plans, Regina goes undercover and prove that she's still the Evil Queen that she once was. Just like the old times, Maleficent asked Regina to help them steal the villains' new leads on the author—a magical object that has information about the author that they intend to make him tell them. Can Regina prove them that she's still who she once was? Or will Regina infiltrating the witches' coven just put her in more danger? In the Enchanted Forest of the past, on the other hand, a young Regina was sent to Wasteland by the Dark One where she helped Maleficent reignite the dragon inside of her, allowing her to see that death is too good for Snow White. Join us as we dig deeper into the episode, "Enter the Dragon."
Podcast: Play in new window | Download | Embed
Timeline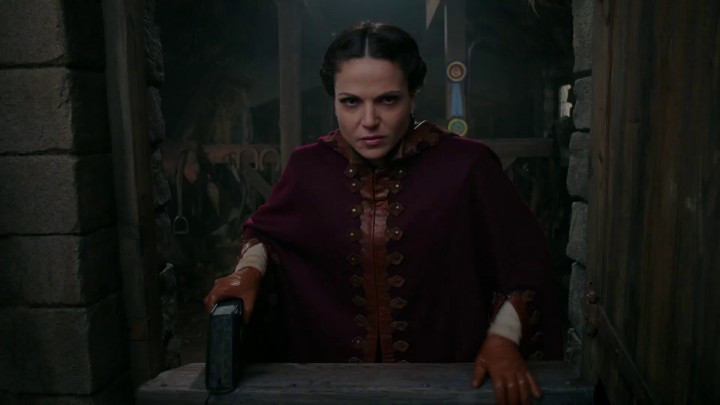 A lot of people are confused about the timeline with this episode, specifically the flashbacks shown, so before we dig deeper into the episode, Enter the Dragon, we would like to try to address some of the timeline issues of this episode.
When we first see Regina in the barn, we see Snow White riding on a horse. It's definitely Ginnifer Goodwin's voice, and it looks more like adult Snow riding the horse, but we don't actually see her so most likely that this happened when she was 18 years old, which might complicate things even more. However, we think Snow is still probably a teenager during this time, which would make Snow about 14 years old or so, and probably doesn't want to get Bailee Madison, the actress that plays young Snow White, just to ride a horse across the scene. So we're guessing this happened just a little after Regina married King Leopold, maybe two or so more years after Regina married King Leopold.
Also, in this episode, it seemed that it happened after the events that took place in We Are Both, which was where Regina first started to learn magic from Rumple. We also thought that this could be after "The Doctor," because in that episode, Regina struggled heavily with about wanting to bring back Daniel from the dead. Besides, Regina looked more like she was in the stable girl outfit then in this episode, although they didn't make her look as much younger.
Plus, in this episode, Regina was wearing a red cape almost the whole time. Eduardo Castro, the show's costume designer, said that Regina's colors in outfits changes. As she becomes more and more evil, Regina's costumes become darker and darker. The colors and outfits used in the show are very symbolic, and when Regina is in her more evil state, she's wearing a lot of black. In this episode, however, Regina was seen wearing a red cape and because of this, we think that this was a little bit further along that she's had more time to grow contentious against Snow, which means that this took place after the events in The Doctor, but not before the events that happened in the episode, "Darkness on the Edge of Town," because that's when Rumple assembled the three witches to get them to help him steal the Dark Curse. Plus, Maleficent is totally in control then, compared to how she was seen in the flashback shown in this episode, Enter the Dragon.
Enchanted Forest (Past)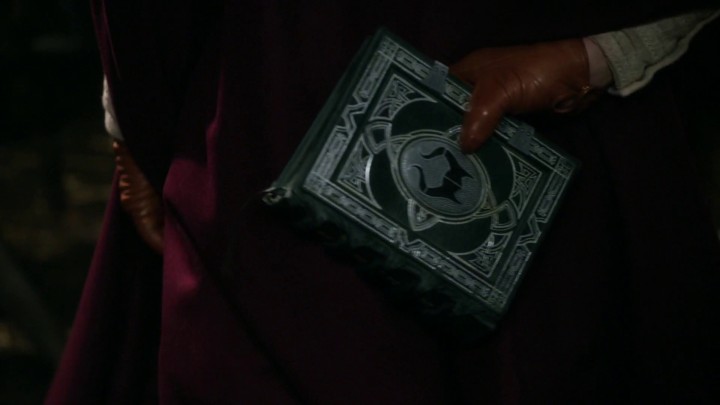 Starting out the past was in the barn, we love how Rumple pointed the irony of the thing about the horse. It funny that Snow White was named the "best rider in all the land" because Ginnifer Goodwin had a mishap with horses in season one.
Regina told Rumple that she found Maleficent's spellbook among Cora's things. Why did Cora have Maleficent's book? Does Cora have a habit of not only ripping out hearts, but stealing spell books, too? Was she not a friend of Maleficent's? And how come Maleficent doesn't seem to age?
In the episode, Price of Gold, they showed Cinderella, but outside of the main events, so we were not surprised that they also showed Aurora outside of the main events. Have you seen the new live-action film, Cinderella? Check out our Cinderella review and tell us what you think of the movie!
We wanted to commend Lana Parrilla for playing Regina so well. The way she change even just her voice a little octave higher to make herself sound younger is so amazing, which helps us to easily distinguish and pick up what age she is. She's probably one of the few among the casts that was able to do such. Plus, Regina was also great with making friends, like when she met Maleficent.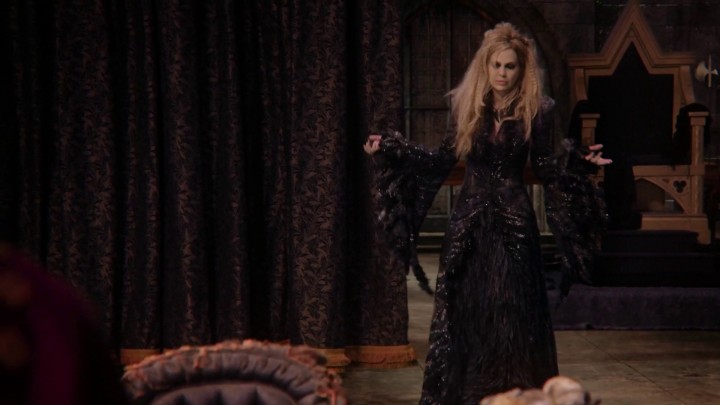 It surprised us and has us concerned that Maleficent is essentially a druggy. A lot of people over the forums are disturbed by this because this was supposed to be a family show and suddenly, there is some sort of a drug use going on. At the same time, however, some thought Maleficent seemed more inebriated than high.
Briar Rose was mentioned throughout this episode, which is actually one of the names of the "original" Sleeping Beauty. And, in the original Disney animated movie, Sleeping Beauty, Briar Rose is what they call her when they are undercover. Here, however, Briar Rose is the mother, and Aurora is the daughter.
It's kind of crazy that this episode is so opposite off what happened in the episode 1×02, "The Thing You Loved Most." In that episode, when Regina went to Maleficent to steal the Dark Curse, Regina basically was surprised that the curse was "undone with a simple kiss", whereas in this episode, before Regina even used the Sleeping Curse herself, Maleficent has already told her that the sleeping curse was undone with True Love's Kiss. Shouldn't Regina already know by then when she went to steal the Dark Curse from Maleficent that the Sleeping Curse can be undone by True Love's Kiss?
When Regina met the visiting Duke along the road, he mentioned that King Leopold's kingdom was two kingdoms away from Maleficent's. Who's kingdom was in the middle? King Stefan's, perhaps? Also, during this scene, Regina seemed to alternate between moments of strength and moments of timidness. A nice midpoint between the girl she was and the woman she became.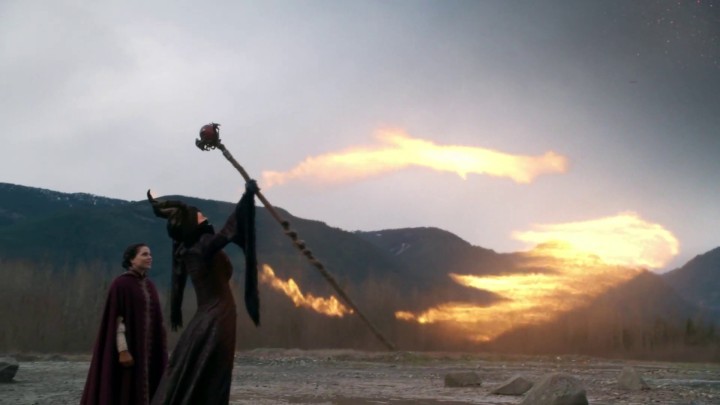 As Regina helps Maleficent reignite the dragon inside of her, it's kind of odd when Maleficent attacked the village that used to be there, that she poured herself so much that she lose her ability after that, but left a burning bush. But the way Maleficent talk about taking the edge off and all her fire being gone reminds us of the burning red room back in season 2. The burning red room has lots of fire, maybe that's where Maleficent's fire went from messing with the sleeping curse?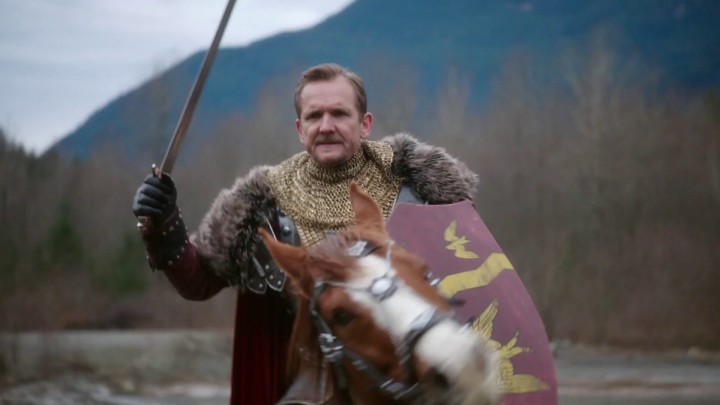 We also got to meet King Stefan here, by the way, who is both from the original Disney animated movie, as well as in the Angelina Jolie Maleficent movie. King Stefan, though, was nowhere in the original fairy tale stories, at least by that name.
Wasn't Wasteland just like the dried-up Lake Nostos? Not that it really was, because this definitely happened before David went to Lake Nostos, but it certainly reminded us of it. And why can't Regina produce a stronger fireball after she successfully produced one? Wouldn't it let her keep going after throwing the first fire?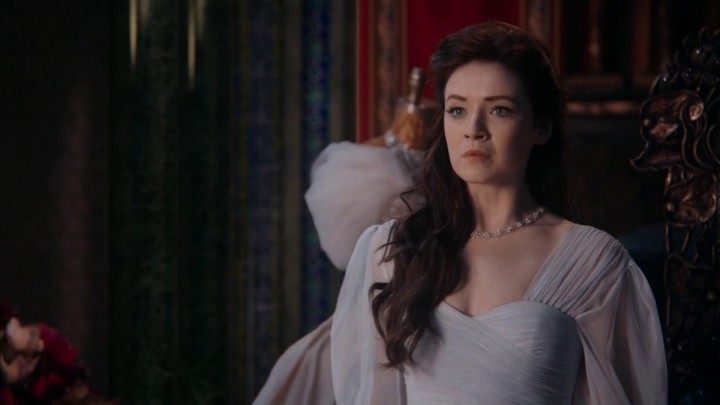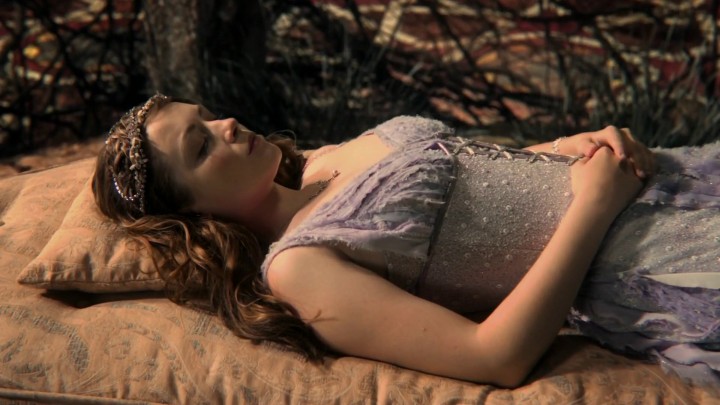 As Aurora was preparing for her wedding, we mentioned in our initial reaction of Enter the Dragon that Aurora let herself be pricked or pricked herself, but pointed out that the special curse Maleficent had for Prince Phillip was turning him into a Yaoguai. Plus, after re-watching the episode, we noticed that Maleficent intentionally prick Aurora's finger with a needle, the same needle Maleficent used to take herself on the edge off. However, there's also another continuity error in this—Aurora wearing something different from what she was wearing in 2×01 "Broken." She's in a completely different place, too, and her hair was also in different color.
I know she could have been dressed up after Maleficent put her to sleep, but there are other things that seem like there is something missing in that story still. For one, she tells Phillip "I told you not to come after me" which implies she knew she was putting herself at risk and either talked with or sent a message to Phillip before it happened, which it doesn't seem like that is what happened this episode. Also, this didn't really strike me as the self-sacrifice she talks about in season 2.

— Jessica Olsen
I Love Aurora's dress, but that's not the only thing that seems out of synch with what they've said before about the sleeping curse (has to be taken willingly) and Aurora's sacrifice.

— @Keb
Doesn't a sleeping curse have to be taken willingly? How did Aurora fall under the Sleeping Curse if it had to be taken willingly? Snow had to bite the apple willingly, and Charming had to prick himself willingly to fall under the Sleeping Curse, why doesn't it seem that way with Aurora?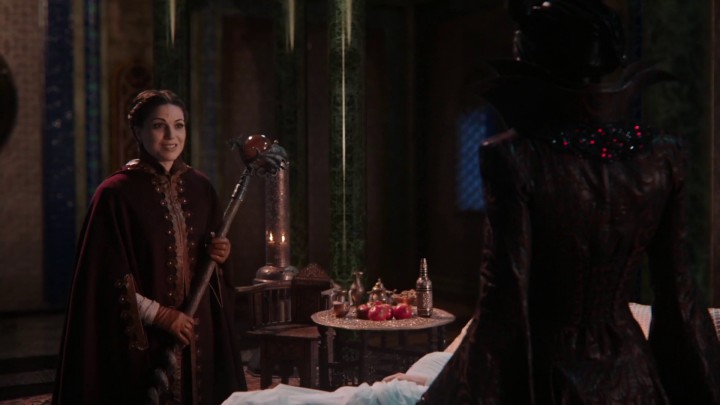 Speaking of the Sleeping Curse, it was ironic that there was a tray of red apples in Aurora's room, since Regina would use the same curse on Snow White later.
Back at the barn again, we liked a lot how Regina realizes how well Rumple has been teaching her once she realizes she's able to coach someone like Maleficent. We also liked the idea that the similarity between Sleeping Beauty and Snow White is because the Evil Queen knew Maleficent, even if this is just an underlining of the connection first mentioned in The Thing You Loved Most.
Thank you for supporting us!
David Neuland (subscriber)
Steve Johnson (subscriber)
Lisa Slack (subscriber)
Tracey Anderson (new Patreon backer)
Vicente Rios (new Patreon backer)
14 Patreon backers ($51.25 per episode)
Thanks to you, we'll be able to upgrade our viewing experience soon and be able to catch more details the first time we watch
You can sponsor an episode or more of ONCE podcast, too! Email Daniel@ONCEpodcast.com if you would like to arrange a corporate sponsorship of our podcast for the upcoming third season.
Storybrooke (Present)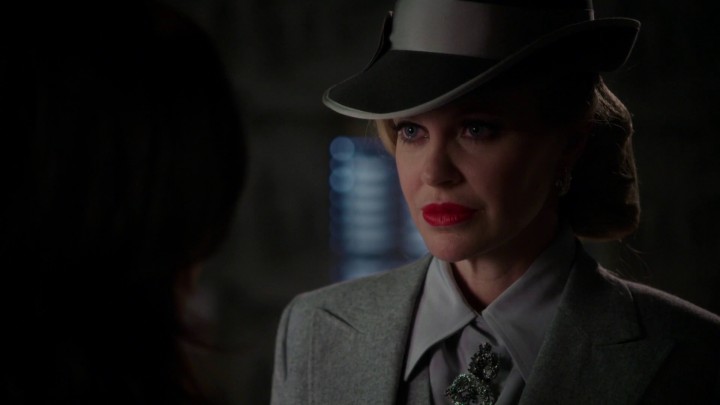 Back in the present time when Regina joins the three witches at Granny's, we noticed that Maleficent can teleported in front of Regina just like Rumple can; no poof, no clouds. It wasn't quite like how Rumple does it, but just the same, which was the first time we've seen someone other than Rumple do that. Is Maleficent also magic born?
We love how Lana Parrilla can change her voice to match her character's age, like we mentioned earlier but so does Jennifer Morrison in playing Emma when she was throwing temper tantrum when her parents told her that they asked Regina to go undercover.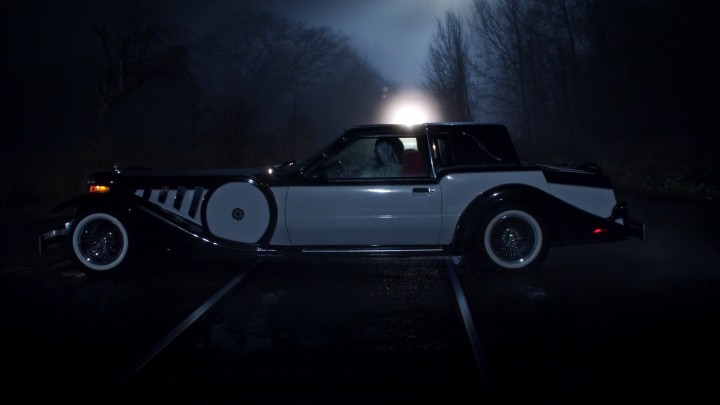 Everyone who have seen the episode have probably wondered the same thing we did. Why didn't Regina just poofed herself out, instead of poofing the other three with her?
How does saving themselves from an incoming train prove Regina's a bad girl? That didn't prove her innocence. It proved her self preservation, which is something both heroes and villains would do.

— @MatthewPaul
What would have made sense is if they'd confined Regina to the train tracks and made her destroy the train and everyone on it in order to save herself, thus proving she's still willing to make others suffer so she can win.

— @Phee
After watching the episode a couple of times, we checked to see if Regina was going to be tempted to go back to her old ways, if she was enjoying the thrill of tasting evil again, but after re-watching the episode, it seemed that Regina wasn't enjoying all the destruction and burning that they were doing. In fact, she seemed to be having some moral problems with all the destruction that they are doing.
We thought that we would see some more clues about the author as Henry uses the magnifying glass, but turns out, it didn't leave any additional clues.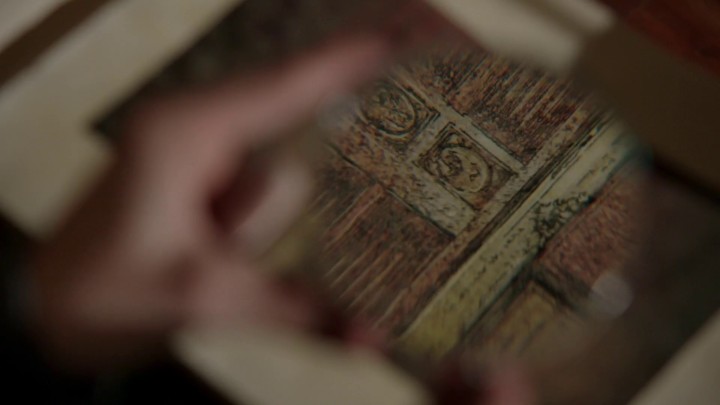 Has no one thought to just flip the page over and see what's on the back of the pic of the door? That door pic was used to illustrate a story. There should be more of the story on the other side of the page. Or even flip through the book to figure out where the page is missing from and look for clues in the surrounding pages?

— @Phee
Why didn't Henry just flip the page or read the text right next to the photo to see what it precedes? Was it the last page of the book, that's why the back page is blank?
What could be the end game if and when they found the author? What would they find behind the door? Kitsis and Horowitz keep telling that the show is all about Hope. Considering, what better hope to give someone than to realize your destiny is your control? Perhaps, when they finally meet the author, the author would simply tell them that he was just recording their choices, and that their choices are what makes them a hero or a villain? That they are the ones writing their own stories?
Knowing how the episode panned out that Hook turned out to be Rumple impersonating Hook, we wondered at which point was Rumple impersonating Hook and when it was really Hook that we see. If Rumple posed as Hook, where is the real Hook? Was it Rumple-as-Hook all throughout the episode that we see and not the real Hook? Why didn't Rumple out Regina with the others?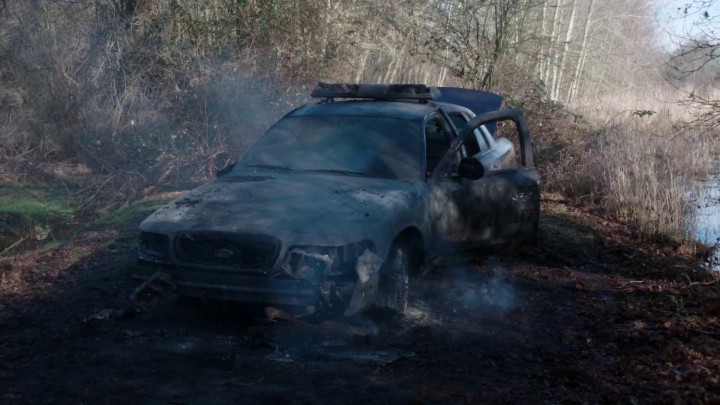 When Regina, Maleficent and the other toasted the Sheriff's car, we wondered, did Maleficent turn into a dragon for this game? Maybe Regina should stick with Emma as her drinking buddy rather than stay with those three witches and do some drinking, some burning and lots of destruction.
Back in Gold's cabin, Rumple told the three witches that a war is about to start in Storybrooke. It seems Rumple is not even concerned with getting Belle back anymore. He just wants to watch the "world" burn from his revenge while he still gets a happy ending. This also reminds us of when the Dark One told Snow and Charming in the Pilot episode that "the final battle will begin". Could this be the final battle that he was talking about where everybody has to pick a side? Plus, when he saw the future in the episode Manhattan, we learned that the future is like the pieces of the puzzle. He might have seen a glimpse of Emma coming into town and some sort of a battle, what exactly did he see that is about to happen? Was taking Pinocchio really a statement of throwing the first punch to start a war?
If Rumple knew back in the past that Emma was going to be a savior, the same episode where he said the final battle will begin, did he see Emma being on his side? Was why he was trying to sway Emma to the dark side because Emma have such great potential for darkness? Did he foresee that Emma was going to turn on the dark side eventually?
As Regina was meeting the entire Charming softball team and their Pirate mascot, they seemed kind of amateurish, even though Emma was supposed to know the ropes for being a bail bonds person. On the other hand, it was nice seeing how they, or at least Emma, are showing concern and protective of Regina.
It was stupid of Emma to be following Regina as she goes undercover when Maleficent asked her to kidnap Pinocchio at Marco's home. Perhaps it was because her superpowers going haywire that makes her do stupid things? Nevertheless, it was great seeing Regina honor Snow's request to keep Snow's secret from Emma. But how long can she keep it from Emma? Will she be the one to tell Emma eventually, thinking it will fix things, but ended up setting Emma tumbling down the dark path?
We did look at the map on Emma's phone to take a look as to where Emma and Regina are at Marco's place, and noticed that it was about a block away, probably, from where Rumple-as-Hook and Belle are at about the same time getting the dagger.
Regina and Emma seem to be friends now so when Emma brought up her super power going wacky, and thinking her parents were keeping something from her, I kind of thought Regina might say something. The fact that she chose to keep Snow's secret was understandable too, since she is trying to keep her promise. I just thought it was an interesting dilemma for her to be in. Also, since Regina didn't tell Emma that her parents were keeping something from her, I think this is one more thing that could add up to Emma getting pushed over the edge (since that seems to be where this is going). I still think it would take more than this for her to go all dark side on them, but it definitely doesn't help.

— Jessica Olsen
Is kidnapping a child evil? Even if it's being done for the greater good? Or, is it a selfish act for Regina, being done in part for Her own greater good and happy ending. Why is it ok for Regina to take Gepetto's happiness (Pinocchio)? I get it that the Charmings asked her to infiltrate the villains. But how much is too much? Where's the line between a noble act of infiltrating the villains and actually becoming one again?

— @Cinders
Is Regina going have to stand by to protect August? Or will she let Rumple and the others torture August?
As this is happening, Rumple-as-Hook interrupts Will and Belle's dinner at Granny's, where he mentioned about blooding Will again. Although it was obvious that this was definitely Rumple, how did Rumple know that Hook punched Will? Did he see it? After all, it was the same episode where Hook asked him to re-attach his hand.
He really only did it to see Belle and get the dagger, so I don't think there would have been a point to him pretending with Emma and the Charmings. If he did then he would know Regina was under cover. He might suspect something but I don't think he was the version of Hook in on the conversation in the library.

— Jessica Olsen
Why did Rumple pick Hook? Hook tried to kill Belle a couple of times, what made Rumple think that Belle trust him enough to give him the dagger?
As Belle and Rumple-as-Hook get the dagger, it was so creepy when Rumple-as-Hook faced Belle when she summoned the Dark One to face her. Collin O'Donoghue definitely did a great job playing Rumple playing Hook.
Back in Mr. Gold's shop, as Rumple-as-Hook made Belle swear the oath seems to be a sign that Rumple won't impersonate Hook again. The red rose in the counter also reminded us so much of Beauty and the Beast, which was very symbolic since red roses symbolizes something more than just friendship.
Belle told Rumple-as-Hook that it's nice to spend some time with someone who says nothing more than what he says he is. If she only knew that Will has another love interest back in Wonderland.
Finally, back at Mr. Gold's cabin, they've got August now, which we can see that this will not go well in any direction. Will he simply spill the beans? Does he really even know the answers to their questions? Does he have information that can shed light on the author's whereabouts and/or identity? What will happen to happen once they are done with him? Will Rumple turn him back into a boy again? Will they kill him? How far can Regina pretend to be one of them and protect August at the same time?
What if the villains did succeed and tip the balance and the villains won and the heroes didn't in the season finale? We think Emma might become a villain but since [the] Charmings went to great lengths for that not to happen, the villains kidnapped baby Neal and magically aged him to twenty-one years old and instead of Emma being the greatest villain, baby Neal is. Next season [could be] them saving baby Neal and tipping balance back.

— Aleana Harris
What if the heroes win but Emma had to use dark magic in doing so? And what if Emma become the villain next season? Was there anything from the episode that you think we missed? Sound them all off using the comment section below!
What did you think?
Help us out!
Follow us
Spoilers