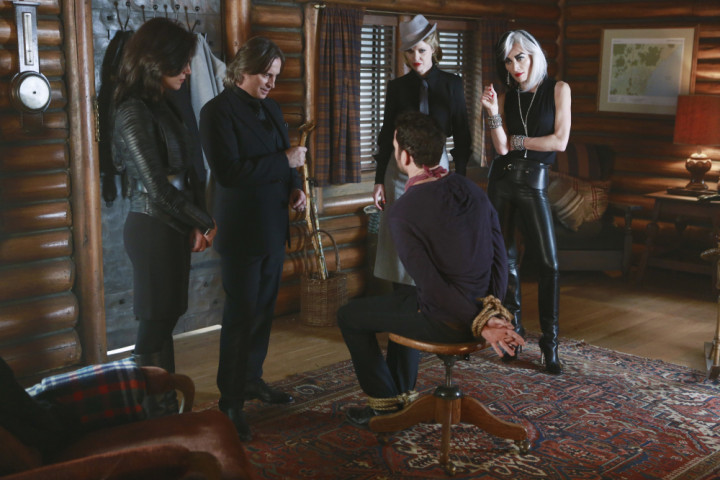 As Gold and the Queens of Darkness began torturing August for information about the author, the entire Charming softball team and their pirate mascot raced to rescue him. Regina, meanwhile, struggles to maintain her cover after Cruella found out that there is a mole in their little coven How long can she keep up the charades? Back in the Enchanted Forest of the past, young Ursula seeks Captain Hook's help, but later on realizes that he will always be the same selfish pirate that he is. Join us and hear what we have to say about Poor Unfortunate Soul on our initial review!
Podcast: Play in new window | Download | Embed
Hook leverages his complicated history with Ursula to find out what she knows about Gold's endgame. Gold and the Queens of Darkness torture August for information about the Author as Emma, Mary Margaret and David race to find them. Regina grows concerned for Robin Hood's safety while she struggles to maintain her cover with the villains. In a Fairy Tale Land flashback, when a restless young Ursula enlists Hook's help to run away from home, she soon learns it isn't wise to trust a pirate.
These are just our first thoughts about this Once Upon a Time episode. We'll share more about "Poor Unfortunate Soul" in our upcoming full discussion.
Initial Reactions
Remember, these are just our initial reactions regarding tonight's episode so please bear with us if we're a bit all over the place. If you have your own thoughts, feedbacks, or theories regarding tonight's episode, however, send them over to us and join our upcoming full discussion!
What a great, interesting combination of a lot things. Ariel and Ursula in the same story, and music from The Little Mermaid, who would have thought? One thing we liked about this being a combination episode is how much they referenced other things—Elsa, Blackbeard, Peter Pan. We also like that we got to see a little bit more of Pan having Hook doing his bidding and working for him, which we knew at some point that that happened, but we never got to actually see or hear any details. Now we got to see a little bit.
The Poseidon and Ursula thing was done neatly; neat twist on things where Ursula was the Little Mermaid who lost her voice and all that. Now we know that this Ursula has not the sea goddess the whole time, which made a lot more sense and perhaps, the golden statue that threatened Regina was actually the real sea goddess Ursula?
What and where is Glowerhaven? We know Enchanted Forest is called Misthaven, and we guess that, since we've heard of another haven now, this is a different world?
We thought that the whole twist on where the author was disappointing at first, because we've theorized for a while that it could be all about the (Jefferson's) hat. But the page being the door where the author is trapped in, there should be an explanation for why the design of the illustration is from the hat. Maybe he hid the door in the parts of the book where an illustration was shown from Jefferson's hat? Or maybe the sorcerer cursed the author's entire world to be inside the book? If the author is inside the book, is there a possibility that August's typewriter was his way to communicate with the outside world?
Although we like the tie-ins in this episode, this episode was so mixed up; the way they needed to tell the story was a little bit odd.
If Ursula's happy ending was to simply get her voice back, does that mean that the author does not write everyone's happy ending? Does that mean that the book does not contain the happy ending of every single good guy in the Enchanted Forest either? If villains can't get their happy ending then how can Ursula get hers? And with Hook finally realizing that he, too, once was a villain, does that mean that he can't have his happy ending, as well? Is Ursula really now on the road to redemption? Does that mean that we're going to see more villains turn like that, discover that they're just going about it (happy ending) the wrong way?
Although the stories showed in this episode wrapped up a little quickly, making a few things feel rushed, we liked that they focused more time in the present in Storybrooke to move the story along rather than fill the episode with flashbacks in the Enchanted Forest.
But if Ursula's happy ending is to simply get her singing voice back and basically returning to her family, what does Cruella want? What about Maleficent? How will they get it? Will they even get it?
We were surprised that Ursula was the first to break the pact so soon. We thought that the Queens of Darkness will continue being a team 'til later in the season, so it was surprising how Ursula got her happy ending early on in the half of the season.
Thank you for supporting us!
David Neuland (subscriber)
Steve Johnson (subscriber)
Lisa Slack (subscriber)
Maryann Livoti (subscriber)
Swangot Hooked (new subscriber)
Tracey Anderson (new Patreon backer)
Daniel Clark (new Patreon back)
15 Patreon backers ($61.25 per episode)
Thanks to you, we'll be able to upgrade our viewing experience soon and be able to catch more details the first time we watch
You can sponsor an episode or more of ONCE podcast, too! Email Daniel@ONCEpodcast.com if you would like to arrange a corporate sponsorship of our podcast for the upcoming third season.
One of the big things that we're going to see as a major story arc for this half of the  season is seeing Emma possibly turning into darkness. Now that we know that's Rumple's game plan, he's really becoming Emma's enemy, especially after it was revealed that he wants to fill her heart with darkness forever, so that the balance will shift. Where did he even come up with that idea?
However, it's nice to see a reference to Will's time in Wonderland when he shared about the mushroom that enables one to change sizes. It was also great to see the Jolly Roger again, both the miniature and actual size.
Great seeing the brother-sisterly reunion with August and Emma! It was also cool to hear about the Dragon from the episode Selfless, Brave and True back in season two, and know that he was also looking for the author. And while we didn't get to find out what exactly does he want with the author, it was still nice to hear of it. We were also happy in seeing August back as wooden August again, as well as Pinocchio's lying nose.
Might Regina's dream involved Emma in it? Is Emma actually in the dream and the Evil Queen was simply throwing fireball at evil Emma? Will Regina revisit this dream and learn more about it?
What did you think of this episode? Who is the author? Will we see the author and the Sorcerer soon? Will Rumple succeed in luring Emma into the dark side? Share your thoughts and theories about Poor Unfortunate Soul and join us this coming Wednesday for our full discussion!
What did you think?
Email Feedback@ONCEpodcast.com (audio files welcome)
Call (903) 231-2221
Comment on the shownotes
Visit any page on ONCEpodcast.com and click the "Send a voice message" link to record and send a message right from your computer.
Help us out!
Share this post in your social networks
Follow us
On Facebook:
On Twitter:  echo do_shortcode('[twitter follow="ONCEpodcast"]'); ?>
Daniel J. Lewis:  echo do_shortcode('[twitter follow="theDanielJLewis"]'); ?>
Jeremy Laughlin:  echo do_shortcode('[twitter follow="phlegon"]'); ?>
ErinJ:  echo do_shortcode('[twitter follow="erinjcruz"]'); ?>
Hunter Hathaway:  echo do_shortcode('[twitter follow="travelingpixie"]'); ?>
Jacquelyn / RumplesGirl:  echo do_shortcode('[twitter follow="punk_bunny_87"]'); ?>