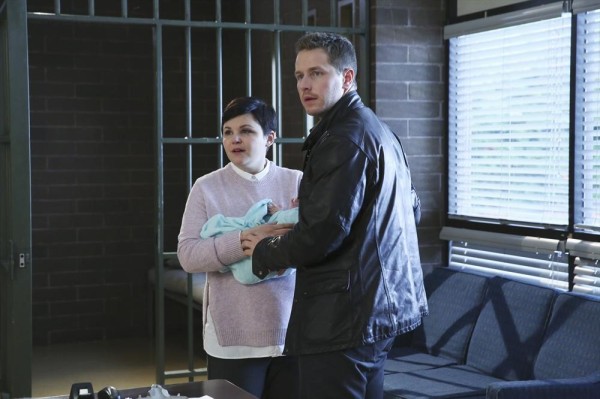 The Charmings, Elsa, and Regina rally everyone to get as far away as possible as the Spell of Shattered Sight approaches Storybrooke, or risk bringing out the darkness in everyone, making them tear each other apart by sundown. Meanwhile, in Arendelle, the idiot from Southern Isles is back and stepped off as the new Arendelle benevolent leader.
Podcast: Play in new window | Download | Embed
As the Spell of Shattered Sight approaches Storybrooke, Mary Margaret and David rally the residents to prepare for the curse while Belle and the fairies work together on an antidote. Gold, with Hook as his reluctant servant, sets about an exit strategy of his own. Regina and Robin Hood ready themselves for the worst while, with the help of a locator spell, Emma and Elsa search desperately for Anna. In Arendelle, Anna and Kristoff awaken to find that their kingdom is once again in danger.
These are just our first thoughts about this Once Upon a Time episode. We'll share more about "Fall" in our upcoming full discussion live on Wednesday December 3, at 8:00 p.m. (EST/GMT-5).
Initial Reactions
Remember, these are just our initial reactions regarding tonight's episode so please bear with us if we're a bit all over the place. If you have your own thoughts, feedbacks, or theories regarding tonight's episode, however, send them over to us and join our full discussion of "Fall" this Wednesday!
This was a good episode but it gives us a mixed feelings, like there's two different sides in it—one was a filler, the other was cool. When it started, it felt like the curse was the center of the episode; there was plenty in the episode that created a surge of urgency. We initially thought that we surely wouldn't see the spell hit by sundown before the episode ends, but we did like how they tie the things together. Is this is slowest moving curse that we've ever had? Regina's Dark Curse seem to travel horse-speed. Snow's curse also looked just as fast as the Dark Curse, when Hook had to outrun it with the Jolly Roger, whereas this doesn't seem to move fast enough.
We really like how they ended the episode, showing us Snow and Charming separate like they're really letting go. The use of not using a word makes it even more interesting and emotional.
If it had been 30 years, did that mean that Arendelle was not included when Regina's Dark Curse hit "all the realms?" Were they spared because their kingdom was frozen?
The necklace, as it turns out, was somehow, a wishing star, making it a way to find and bring back Anna. However, the Pirate Blackbeard and the wishing star didn't quite fit in the story. Does that mean that he didn't die when he walked off the Jolly Roger's plank? Did Ariel actually saved him because she didn't want Hook to kill him?
Now that the fact that the bottle is back, could whatever message was in it may also be a way to breaking this new curse that they are in? With Ingrid and her powers being out in the open already, what could the message in the bottle contain? What answers did it contain?
Thank you for supporting us!
Steve Johnson (subscriber)
David Neuland (subscriber)
Jessica Olsen (subscriber)
Aimee Catellier (subscriber)
Lisa Slack (subscriber)
Jennie Root
11 Patreon backers ($22.50 per episode)
You can sponsor an episode or more of ONCE podcast, too! Email Daniel@ONCEpodcast.com if you would like to arrange a corporate sponsorship of our podcast for the upcoming third season.
One of the creepiest things in this episode was seeing the Blue Fairy got sucked into the hat. Although, probably a lot of people rejoiced seeing her get into the hat. It was like a massacre for Hook to do it all, but now that Rumplestiltskin has all the power he needs to separate himself from the dagger, will he be the villain in season 4B? Now that there's a chance for him to be free of the dagger and keep his powers intact at the same time, will it even bring out the worse in him?
By the looks of tonight's episode, we're probably get to see some more ugliness next episode as we see people being villainous against each other. What do you think about this episode? Share us your thoughts and theories about tonight's episode by sending us an email or using the comment section below, or head over the forum and join us this coming Wednesday for our full discussion of "Fall".
[ndlmx_special]
What did you think?
Email Feedback@ONCEpodcast.com (audio files welcome)
Call (903) 231-2221
Comment on the shownotes
Visit any page on ONCEpodcast.com and click the "Send a voice message" link to record and send a message right from your computer.
Help us out!
Share this post in your social networks
Follow us
On Facebook:
On Twitter:  echo do_shortcode('[twitter follow="ONCEpodcast"]'); ?>
Daniel J. Lewis:  echo do_shortcode('[twitter follow="theDanielJLewis"]'); ?>
Jeremy Laughlin:  echo do_shortcode('[twitter follow="phlegon"]'); ?>
ErinJ:  echo do_shortcode('[twitter follow="erinjcruz"]'); ?>
Hunter Hathaway:  echo do_shortcode('[twitter follow="travelingpixie"]'); ?>
Jacquelyn / RumplesGirl:  echo do_shortcode('[twitter follow="punk_bunny_87"]'); ?>
echo do_shortcode('[ndlmx_shows]');