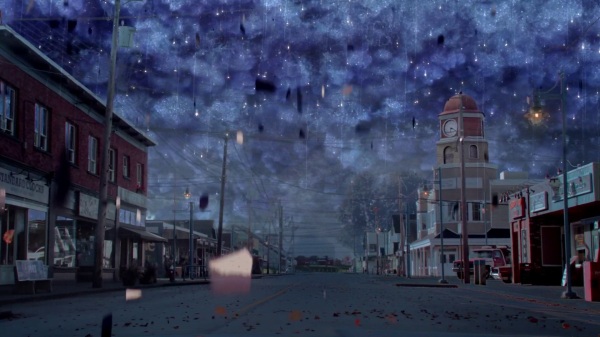 As the town of Storybrooke awaits the Spell of the Shattered Sight to hit, the Charmings, Regina, Elsa, Belle and the fairies prepare to make sure they are away from the people they love so they won't hurt each other. But with Elsa finally finding Anna's necklace, their quest to saving the town was split in two where they have to make a hard decision—save the town or find the sister? And while the Snow Queen's spell may have worn off in Arendelle and Anna and Kristoff, as well as everyone else, were thawed, the kingdom may once again be in trouble as Prince Hans stepped over as the new benevolent king of Arendelle.
Podcast: Play in new window | Download | Embed
Arendelle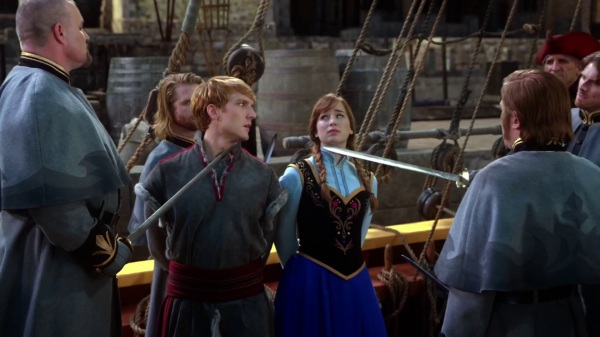 This episode, "Fall" is different than everything we see before; it has no flashback. It's really cool how they did that because even though things are happening kind of simultaneously, it still seems that either is a couple of days ahead. But what actually cause them to thaw? Was it when Elsa put up the ice wall around Storybrooke? We may never get an exact reason as to how or why they were unfrozen, but it would still be cool to know how did Ingrid's spell wavered.
Now that Prince Hans has taken over leading Arendelle, what would happen to the kingdom? It seems that the episode struggled a bit with writing the differences of consistencies when Elsa found Anna's necklace in the ice cave, as well as when Elsa blasted the cave wall down the mines and the library.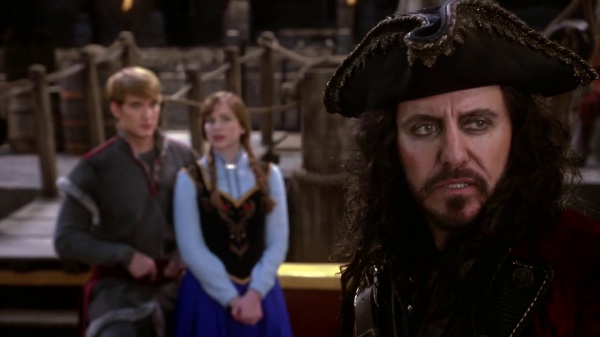 When Anna mentioned about the wishing star, we kind of initially thought about the Blue Fairy, because it was a bit similar to what happened with Jiminy Cricket in the episode That Still Small Voice. Also, when Anna said that pirates are better than wizards, is that some sort of a foreshadowing about Hook going up against Rumplestiltskin?
One thing that we didn't kind of get until we watched it the third time was Blackbeard getting the Jolly Roger. Did Hook sell it back to him for a magic bean? During the half of the third season, Hook told Emma that he sold his ship so he can go get to Emma in New York.
Blackbeard said that he sold the wishing star to Elsa's parents. Was he the one who gave them transportation to and from Misthaven? Does Gerda and the King really not know how to use the wishing star?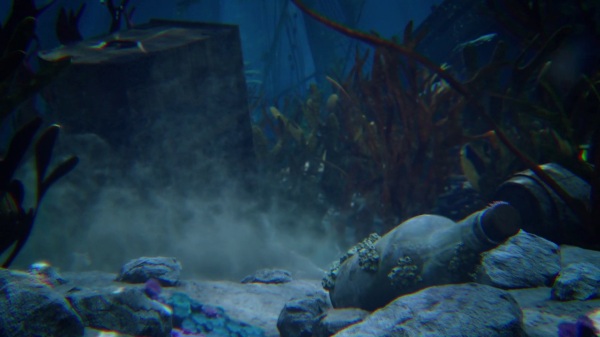 Down in Poseidon's boneyard, there was a ship that was shown, as well as the bottle where Gerda put her message into. Was it really Ariel who rescued Blackbeard? But before Anna and Kristoff were thrown overboard, it was said that Arendelle was frozen for 30 years. How did they know that it had been 30 years? Clearly no one knows about the Dark Curse. Why didn't the Dark Curse impact Arendelle? Was it because they were frozen?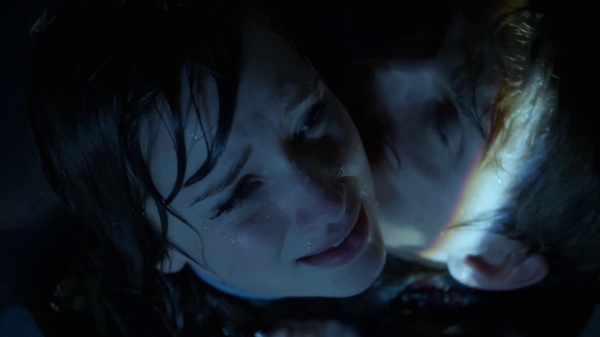 One of the most beautiful moments in the entire show happened under the sea, when Anna tried to marry Kristoff before they die. It was whimsical and a very endearing moment.
Thank you for supporting us!
Steve Johnson (subscriber)
Lisa Slack (subscriber)
Laura Silva (subscriber)
Tappnbird (subscriber)
11 Patreon backers ($22.50 per episode)
You can sponsor an episode or more of ONCE podcast, too! Email Daniel@ONCEpodcast.com if you would like to arrange a corporate sponsorship of our podcast for the upcoming third season.
Storybrooke
Starting off with the deal Rumple and the Snow Queen made. Why did the Snow Queen told him to "enjoy his trip?" Does Gold have the power to not get affected by the spell? So far, the only ones we have seen get affected were Kristoff, Snow and Charming.
We liked how this episode progressed, like they were preparing for the inevitable, like they were just waiting for it to hit, letting it go altogether. There definitely were a lot of parallel with the Pilot episode, one when Snow White handed baby Neal to Emma. She even portrayed almost the same emotion when she gave baby Emma to Charming back in the Enchanted Forest just as the Dark Curse is about to hit.
Regina said that the spell doesn't care about ceilings, because it's magic. Why didn't they just created a dome like Cora did to protect themselves? Did Cora not teach her that particular spell? Does Rumple not even know about it?
When they went to the wall of ice, we thought wouldn't it be a great moment for a big flying dragon that could take everyone over the wall? But why, of all people, did they send David to the wall, when there are about three people in the bunch with magic? Grumpy, or even Snow, would probably even be stronger than him. However, we do love it when Regina told Emma that she's Henry's best chance, which was a nice nod to the Pilot again.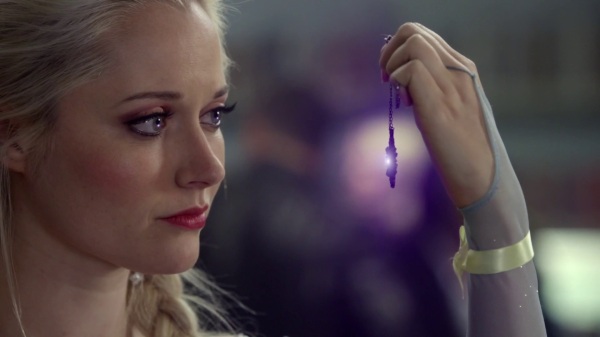 With Emma and Elsa visiting Belle to get help from finding Anna using the necklace, we learned that there are different kinds of locator spell, such as a locator spell that makes jewelry glow, while other spells move to the person.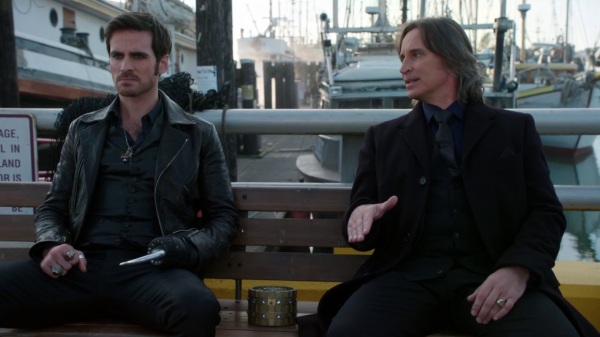 Down in the docks as Hook was talking to Rumple, it was clear how Gold really hates the fairies, what with him comparing fairies to an infestation. Was it because Blue Fairy didn't help him when Baelfire got away and was sent to the land without magic using the magical bean, which the Blue Fairy gave Baelfire herself?
When did he start caring about Henry that he suddenly want to take him along when he leaves the town with Belle? Does he really care about Henry because he's the only closest thing he can get that reminds him of his son, or does he have other plans for his grandson?
It seems that Will is back to being Robin Hood's right-hand man yet we still haven't gotten more backstory about him. Are they giving the fans some time to catch up with Once Upon a Time in Wonderland before dropping more stories about him?
It was nice seeing Regina protect other people other than herself, but will she still get affected by the spell of the shattered sight? If she does, how would it affect her, since everyone in town will probably look at her with hatred? Regina has already faced her darkest self and chosen to change. Will she be immune to this curse? Who will unchain themselves once the spell hit? Who will let Regina out? If she does get affected, Regina wouldn't be any different from the Evil Queen Regina we all know and love.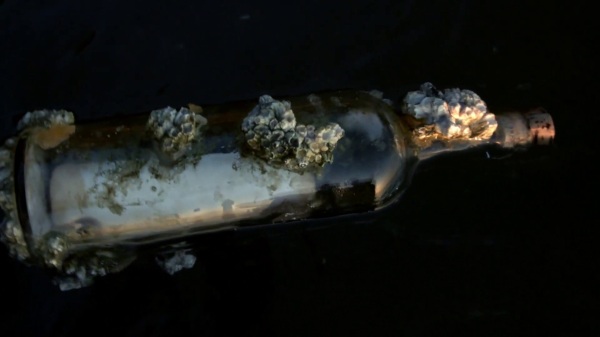 Back in the first episode of the fourth season, Gerda told her husband that the message the she wrote contains the truth that Anna and Elsa must know, and that it was the only thing that will save them. What does the message say? Now that Prince Hans own the kingdom, how would Elsa and Anna reclaim it?
Why didn't Emma check the bag when Elsa handed it to her before she escaped down the elevator? Did Emma specifically coached Elsa to sneak the necklace so she can look for her sister?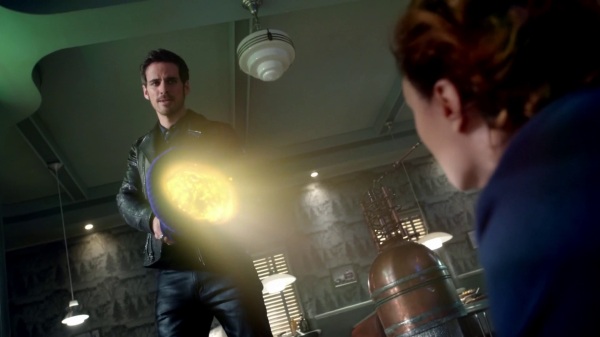 The scene at the diner when the fairies got sucked into the hat was pretty horrific; Hook did look like he was enacting a massacre there. For someone who doesn't have a heart, Hook looked pained enacting what the Dark One made him do.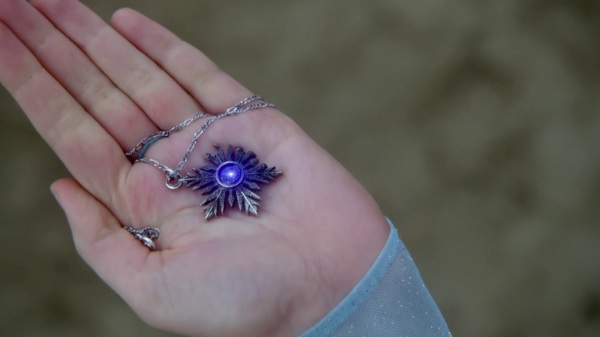 But down the beach after Elsa blasted the cave wall, why did the necklace stop glowing? Why did the necklace lead them to that spot. Did it know that's where Anna and Kristoff would pop up? Anna and Elsa's reunion was perfect, though.
When Anna, Elsa, Kristoff and Emma were walking towards Granny's Diner, we've learned that the Spell of the Shattered Sight was a lot like Chicken Pox—once you were affected by it, you can't get affected by it again, making it an unexpected problem for Ingrid.
After Rumple sealed Belle inside his shop, he said that there's one more thing that he wants to do. What else does Rumple want to make Hook do? Back at the Sheriff's station, Emma seemed to notice something wasn't right about Hook's kiss. Did she somehow sense what's going on?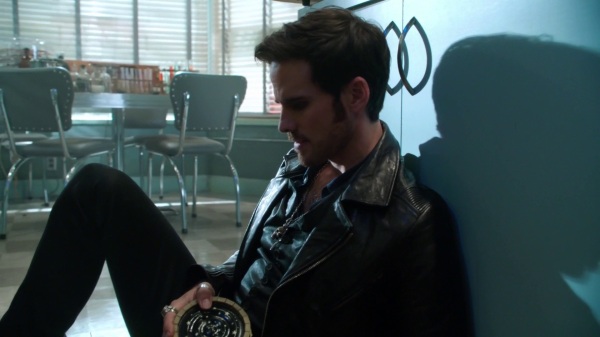 There was a lot of great acting in this episode—Regina acting very conflicted, with the fear in her eye about the possibility of hurting other people once the spell hit; Snow White and Charming pulling away from each other in the final scene; and Hook's pained expression, to name a few.
Before Regina locked Henry inside the Mayor's office, Regina apologized to Henry for not focusing enough on Operation Mongoose. Did she simply feel bad for not spending enough time helping Henry find the author of the book?
Robin Hood mentioned that Roland and Maid Marian was hidden somewhere, safe, he doesn't even know. If everyone in Arendelle is already unfrozen, does that mean that Maid Marian is, too? Who holds her heart? If Regina gets affected with the spell, will she go and kill her? Or will it be Robin Hood to correct the timeline?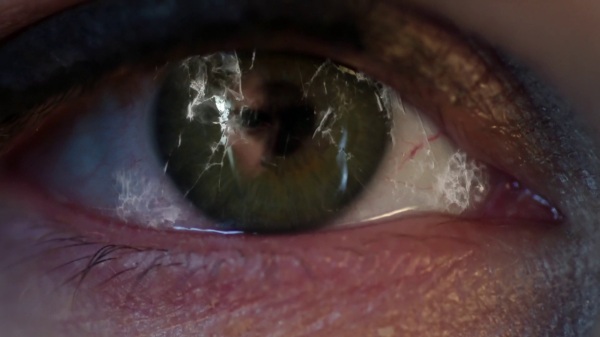 During our re-watch, we noticed that Charming's reflection was shown in Snow's eye. We love the effect that they used on their eyes.
If they are going the route of the original story, the power of love is what saved the boy in the story. On wikipedia it says "Gerda runs up to Kai and kisses him, and he is saved by the power of her love: Gerda weeps warm tears on him, melting his heart and burning away the troll-mirror splinter in it. As a result, Kai bursts into tears (which dislodge the splinter from his eye) and becomes cheerful and healthy again with sparkling eyes and rosy cheeks….." I don't really see Emma and Elsa going around kissing and crying on people, but maybe they do something that "melts the heart" of the Snow Queen which ends/reverses the curse somehow.

— Jessica O
David said that there is no spell strong enough to break what they have. But is their love really enough to break the spell, especially since they're literally sharing one heart? We're very aware about the power of love the ribbons supposedly hold. Now that we have a feasible fourth person in Anna that would not get affected by the spell, what is Anna's involvement would be in breaking the spell?
With only two more episodes left, what would the endgame be that will break Ingrid's spell? Unless the spell will be carried over until the second half of the season, what else is in store for everyone in Storybrooke? How will they break the spell this time, when everyone would start to turn on each other next episode?
Erin in Steveston
A few weeks ago, Erin visited Steveston, where they were shooting Storybrooke, and saw them actually filming episode 4×12, and was fortunate to see about 4 or 5 scenes being shot. She was fortunate enough to see the principal characters, and was also given the chance to meet Jennifer Morrison and Colin O'Donoghue. And while they were able to see the scenes, they couldn't hear anything what they were filming.
Thank you for the podcast reviews!
General Sunshine said, "The ONCE podcast is like discussing your favorite TV show with your friends. … Makes me feel like a OUAT insider. … Funny, smart, quirky, and lovable. Great show!" Read the full review on My Podcast Reviews.
Your reviews encourage us and help others find the podcast!
Please rate and especially write a review for us on Apple Podcasts.
Did we miss anything from last Sunday's episode, "Fall?" Do you have anything to say about the next two episodes to come before the Winter hiatus? Share us your thoughts using the comment section below or via email. You can also join us over the forum if you want to continue discussing "Fall."
What did you think?
Help us out!
Follow us
Spoilers