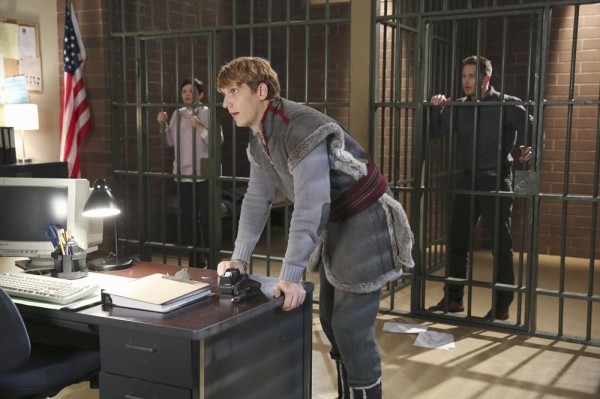 The Spell of Shattered Sight is in full effect, making the residents of Storybrooke see clearly, behave in their worst selves and turn against each other. Can Emma and Elsa bring back the happy endings? Meanwhile, in the Land Without Magic of the past, Ingrid showed young Emma that she's a special girl and that she can be the best big sister that she could ever hope for.
Podcast: Play in new window | Download | Embed
Storybrooke is in a state of chaos with all the residents under the Snow Queen's Spell of Shattered Sight at each other's throats. Emma and Elsa race against the clock to free themselves of the ribbons and take down the Snow Queen and her curse. David can only watch when Regina clashes with Mary Margaret in an epic battle. Meanwhile, Gold gathers Belle and Henry as he prepares to leave town forever, and Will Scarlet looks to square his tab with Hook. Kristoff's thick-headedness leads Anna to a heartwarming discovery.
These are just our first thoughts about this Once Upon a Time episode. We'll share more about "Shattered Sight" in our upcoming full discussion live on Wednesday December 10, at 8:00 p.m. (EST/GMT-5).
Initial Reactions
Remember, these are just our initial reactions regarding tonight's episode so please bear with us if we're a bit all over the place. If you have your own thoughts, feedbacks, or theories regarding tonight's episode, however, send them over to us and join our full discussion of "Shattered Sight" this Wednesday!
We thought this episode was really good. It was a very beautiful episode, and the soundtrack was a bit over the top but it sure made us feel like crying a bit; Mark Isham did a great job with the soundtrack. However, we did not kind of like the ending. The whole thing of Ingrid being suddenly all sorry, it makes us wonder how will they wrap the mid-season finale up. We did not kind of expected how the story is wrapping up. What else is left for the story arc? Is next week going to be a throw away episode? Will everything be resolved?
With Rumple being out on the loose, what will he do? Can he, Belle and Henry make it out of town line? Ingrid may have gotten everything that she wanted but perhaps not the way she intended it, too. Maybe her touching the stone a lot made her realize that she actually had the kind of sisterly love and bond she always wanted to have. Was Ingrid learning the truth about her and her sister's bond some sort of her own spell of shattered sight?
This season so far of all the story arcs is definitely one of our favorites, but so is the Neverland arc. We may not necessarily always like seeing two different villains each season, but we liked how the Frozen arc has been done.
It also seems that they are setting up Rumple to be the next villain, but will he? Elsa, Anna and Kristoff needs a portal to get back to Arendelle. How are they going to go back to their own land? Will they ask Rumple? Will he even help?
There was a lot of funny stuff going on in this episode. We love seeing Regina in her old Evil Queen self, especially in her old regal garb, seeing Doc harassing Dopey, but it was surprising that there wasn't a lot of damage and even death. It was nice of them to mention Sheriff Graham. For a moment we thought we might even see him. This episode also has a lot of neat tie-ins and movie references, which was nice. One with Henry being all Home Alone with Hook down in the Mayor's office;
It was great that they made the scroll become part of the solution to breaking the spell that Ingrid cast. It makes sense that they would look at this like the only way to save Ingrid and the town was not to conceal it; they need to let it go.
Hook's part in this still has us wondering what might be going on, now that it looks like he is if no more use to Rumple. Him being unaffected of the curse because he not having a heart, but then Regina could have also just take as much hearts and save everyone else.
This episode very nicely answered a lot of questions—the memories; the scroll; what happened to Ingrid and Emma in the past that made her take away Emma's memories; what happened in Storybrooke when Sidney photographed Emma and Ingrid. It fits all nicely together, somehow.
So the scroll allowed her to  cross the town line, but when exactly did Ingrid got into the Storybrooke? Was it just before Emma got in Storybrooke? This reminds us of the episode Welcome to Storybrooke where young Owen/Greg was at the city line with the law enforcers and they couldn't see Regina inside Storybrooke right across the town line.
But how did she made the ice cream before magic came back to Storybrooke? The old fashion way? It was clear that she couldn't use her magic, whereas Emma could; she always could, even tried showing her how special she is.
Thank you for supporting us!
Steve Johnson (subscriber)
Lisa Slack (subscriber)
David Neuland (subscriber)
Kelsey Hunt (subscriber)
DJ Firewolf (subscriber)
11 Patreon backers ($22.50 per episode)
You can sponsor an episode or more of ONCE podcast, too! Email Daniel@ONCEpodcast.com if you would like to arrange a corporate sponsorship of our podcast for the upcoming third season.
How did Ingrid take Emma's memories before magic came to Storybrooke? Was it because she used a magical item that has magical properties? What do you think about tonight's episode? Let us know what you think about "Shattered Sight" by sending us an email or by commenting below. You could also join us over the forum to continue discussing your thoughts and theories about tonight's episode, as well as the Winter finale next week.
What did you think?
Email Feedback@ONCEpodcast.com (audio files welcome)
Call (903) 231-2221
Comment on the shownotes
Visit any page on ONCEpodcast.com and click the "Send a voice message" link to record and send a message right from your computer.
Help us out!
Share this post in your social networks
Follow us
On Facebook:
On Twitter:  echo do_shortcode('[twitter follow="ONCEpodcast"]'); ?>
Daniel J. Lewis:  echo do_shortcode('[twitter follow="theDanielJLewis"]'); ?>
Jeremy Laughlin:  echo do_shortcode('[twitter follow="phlegon"]'); ?>
ErinJ:  echo do_shortcode('[twitter follow="erinjcruz"]'); ?>
Hunter Hathaway:  echo do_shortcode('[twitter follow="travelingpixie"]'); ?>
Jacquelyn / RumplesGirl:  echo do_shortcode('[twitter follow="punk_bunny_87"]'); ?>