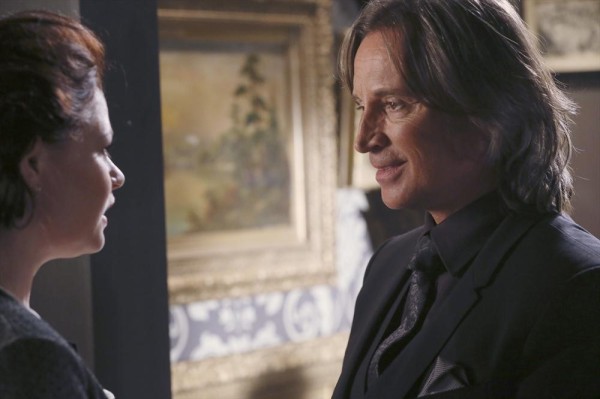 Eager to find more about the Snow Queen's connection with Emma, the Storybrooke heroes assemble a search party in the North Woods where the Snow Queen is hiding. Meanwhile, in Arendelle of the past, Belle journeyed with the Princess of Arendelle to find the creatures that can restore her lost memories of her mother's death.
Podcast: Play in new window | Download | Embed
The race is on to track down the elusive Snow Queen, who was once a foster mother to a young Emma – whose memories of this event have been erased – in order to discover what her ultimate end game is for Elsa and the residents of Storybrooke, and unaware that she does not possess the real blade that controls The Dark One, Belle attempts to use it to get her reluctant husband to show her where the Snow Queen is hiding. Meanwhile, back in the past, Belle travels to Arendelle and, with Anna's help, seeks out Grand Pabbie to help her regain her lost memories in order to discover the fate of her mother.
These are just our first thoughts about this Once Upon a Time episode. We'll share more about "Family Business" our upcoming full discussion live on Wednesday November 5, at 8:00 p.m. (EDT/GMT-4).
Initial Reactions
The big surprised to us here was that Belle knew Anna this whole time. It seems a bit out of character for Belle, but it was a good episode. The moment the episode opened, we knew that it was Belle's family castle, and it was nice to see that it was Belle who suggested to seek the Dark One's help to help them win the Ogre's war, she just didn't realize that she was going to be the price for letting Rumplestiltskin help their kingdom in their fight against the Ogres.
It was nice to see a long story in the past lead up into something that we saw a long time again and have things actually dovetail. While it's not the oldest that they've jumped back in the Fairy Tale Land timeline wise, it was great to see them show things in parallel, although the times aren't necessarily going along in parallel.
We finally got Elsa and Anna's mother's name, as well as her sisters — Gerda, Ingrid, Helga. We looked back at the original Snow Queen story by Hans Christian Andersen and found out that Gerda is also the name of one of the main characters. There are also a lot of things from this episode that ties in directly with the original Snow Queen tale. The way that the mirror works, for one, is exactly like the one in the story. Is she going to use it the way it was used in the original Hans Christian Andersen story, where the spell of the shattered sight will make people turn on each other?
Apparently, Helga looked a lot like Emma. Last week, we kind of rolled our eyes a little bit when the Snow Queen revealed that she wants a family who loves her but this week, she seemed more psychotic. It's quite a bit weird how the Snow Queen wants only Elsa and Emma to be in the family who will embrace her for who she is.
We did not expect to see Oaken, but it was cool to see him, too! Plus, it was a nice carryover of the "You can't marry someone you just met" joke from the Frozen movie and not repeating all the Frozen stuff, but rebuilding on top of it. We also love having all the people gathered in the sheriff's office like they used to do. For a while, it reminded us of our own podcast — theorizing, exchanging ideas about what's happening that's going on.
Now we know from this episode that Emma was about 13 or 14 during the flashback that was shown last week, which was close to what we theorized about. Apparently, the Snow Queen knows a lot about Emma, having been her foster parent for six months. Still, it has us thinking, how did the Snow Queen got into our world?
So the Snow Queen actually had the sorcerer's box for a while; Belle went to Arendelle to find the creatures that can restore lost memories, which turned out to be a fruitless endeavor, but shows that the episode happened even before the episode, Skin Deep; Anna was captured by the Snow Queen, but clearly we still don't know what happened to her. Where is Anna? Did Anna somehow escape?
Despite all the questions that were raised from this episode, there is one answer we got and it's that Hook was actually 200 years old.
Is the mirror the only thing that Snow Queen needs to enact her plans? It seemed she even wants Emma to find her connection with her, leaving her ice cream truck in the middle of the woods for them to find.
Thank you for supporting us!
David Neuland (subscriber)
Lisa Slack (subscriber)
Aimee Catellier (new subscriber)
Amanda Robar
Diana
Sara McDonald (new Patreon backer)
10 Patreon backers ($22 per episode)
You can sponsor an episode or more of ONCE podcast, too! Email Daniel@ONCEpodcast.com if you would like to arrange a corporate sponsorship of our podcast for the upcoming third season.
Remember, these are just our initial reactions regarding tonight's episode so please bear with us if we're a bit all over the place. If you have your own thoughts, feedbacks, or theories regarding tonight's episode, however, send them over to us and join our full discussion of "Family Business" this Wednesday!
What did you think?
Email Feedback@ONCEpodcast.com (audio files welcome)
Call (903) 231-2221
Comment on the shownotes
Visit any page on ONCEpodcast.com and click the "Send a voice message" link to record and send a message right from your computer.
Help us out!
Share this post in your social networks
Follow us
On Facebook:
On Twitter:  echo do_shortcode('[twitter follow="ONCEpodcast"]'); ?>
Daniel J. Lewis:  echo do_shortcode('[twitter follow="theDanielJLewis"]'); ?>
Jeremy Laughlin:  echo do_shortcode('[twitter follow="phlegon"]'); ?>
ErinJ:  echo do_shortcode('[twitter follow="erinjcruz"]'); ?>
Hunter Hathaway:  echo do_shortcode('[twitter follow="travelingpixie"]'); ?>
Jacquelyn / RumplesGirl:  echo do_shortcode('[twitter follow="punk_bunny_87"]'); ?>