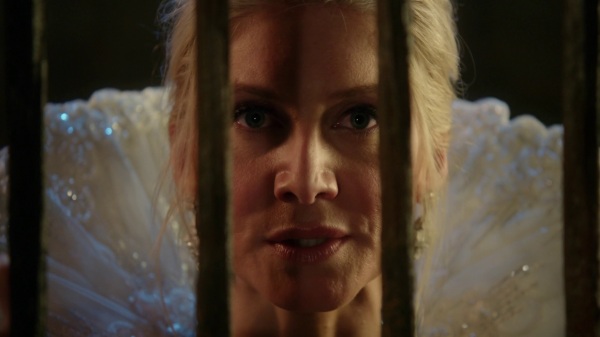 As the Charmings, Regina, Robin Hood and Captain Guyliner split up to find more about the Snow Queen's plans, Belle and Rumplestiltskin headed to the North Woods where the Snow Queen is hiding, only to catch a glimpse of herself in the mirror that turned her against her own self. Meanwhile back in the past, Belle traveled to Arendelle to find the rock trolls to hopefully unveil her lost memories of her mother's passing with Anna, who finally met her aunt Ingrid, who was trying to warm her way into the family.
Podcast: Play in new window | Download | Embed
The episode coming up in a week and a half (November 16) is going to be two-hours long, but there won't be an episode the weekend following that (November 23). But for now, join us for our full discussion of "Family Business."
Enchanted Forest (Past)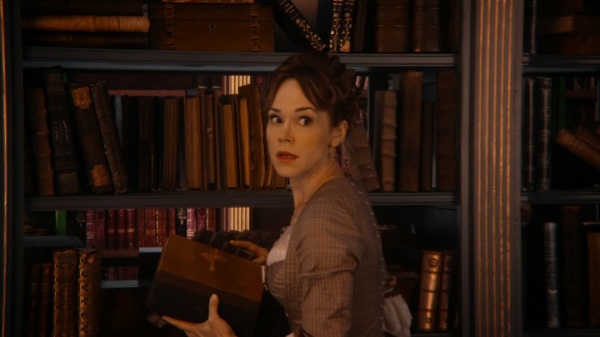 At first, we thought that Belle's mom has more connection to the story than we thought she would be, but we think that it's pretty clear that she's not Helga. While there was a character named Gerda in the original Hans Christian Andersen story of the Snow Queen, Helga was unfortunately included. But the book that Belle was reading, was somehow about "Her Handsome Hero". Were the books that they saved actually that valuable?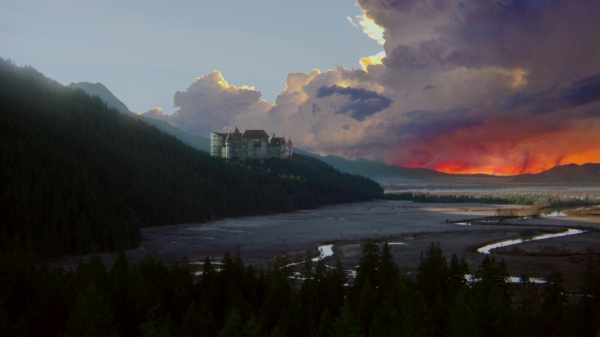 Timeline wise, this probably happened very, very close to the episode, Skin Deep. The scene that was shown in the beginning looked a lot like the ones that were shown in Skin Deep; probably four of five years before the Dark Curse.
Was Belle made to forget what happened to her mother? How come she didn't remember any details about the Ogre attacking her mother? Or did Belle simply just blacked out when the Ogre found them out under the table? Then again, this was probably the fastest parental death ever shown on Once Upon a Time.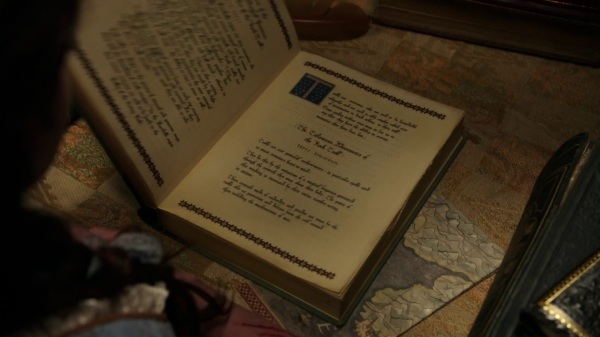 Another book that we saw was the page about the Rock Trolls.
Arendelle (Past)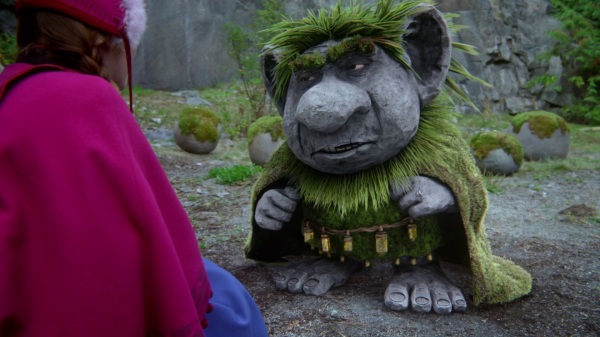 Speaking of the rock trolls in Arendelle, are they totally neutral? Are we to assume that they are good, or do they help people with dark magic, as well? Oaken mentioned about bridge trolls, what kind of trolls does Arendelle have besides the rock and bridge trolls?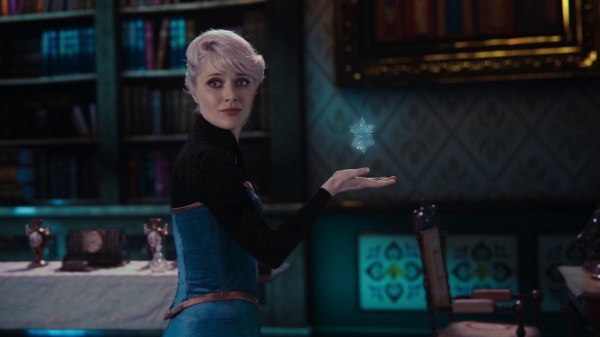 Back in Elsa and Anna's palace, Elsa was seen practicing her craft before Anna came in. As the Snow Queen introduced herself to Anna, revealing to her that she was her mother's sister, Ingrid said that gift runs in their family. Does that mean that Emma really is related to them somehow? Does Emma being the Savior really because she was the product of Snow White and Charming's true love or was it because of an entirely different prophecy?
Why did Anna and Elsa's parents made the entire kingdom forget about Ingrid and Helga? What happened that made them ask the rock trolls to erase everyone's memories of Ingrid and Helga? Did one of them accidentally kill Helga?
Back in Oaken's shop, there was unfortunately no hidden Mickeys to be found. However, we noticed that there were a lot of roses inside. Was it just a prop or are they trying to introduce us to another fairy tale?
As Anna and Belle approach the rock trolls, Grand Pabbie handed Belle a rock that she was supposed to brew with a tea and drink in the place where the tragedy happen, but she was unfortunately able to do. Anna's fall, however, would have been a fatal fall. Was this where her necklace got damaged?
Before taking Anna to her dungeon, Ingrid got the Sorcerer's hat from her, so how did it get to the Enchanted Forest and into that empty house where Rumple found the box? One thing to notice to focus on, however, was that Anna didn't have her necklace anymore when Ingrid woke her up down in the dungeon. Will we see the Snow Queen try to turn the sisters against each other in the next episode?
The stone that Grand Pabbie gave to Belle, to help restore her memories, looked like either Rose Quartz, or Amethyst (which is also a type of Quartz).

Of course, it makes perfect sense that Rock Trolls would offer up Rock Medicine for healing!

But beyond that, there is a common mystical practice of using gemstones to provide healing energy, and each type of stone has different healing properties.

Belle's stone looked a little more like Amethyst, but I think the properties of Rose Quartz seem a better fit for both Belle in general, and her experiences in this episode (in both the past and the present).

Here are just a few of the properties and uses of Rose Quartz.

(Taken from: http://www.crystalvaults.com/crystal-encyclopedia/rose-quartz )

The fair and lovely Rose Quartz, with its gentle pink essence, is a stone of the heart, a Crystal of Unconditional Love.

Rose Quartz also inspires the love of beauty, in self and others, in nature, and especially that which stimulates the imagination – art, music and the written word.

Rose Quartz is a mothering crystal, inspiring nurturing of the self if one has lost their own mother.

Rose Quartz is a calming and reassuring crystal, excellent for use in trauma or crisis, including the emotional upheaval of mid-life crisis. It strengthens empathy, sensitivity, and aids in the acceptance of necessary change. It is also an excellent stone for comforting grief.

It dissolves the sorrows, worries, fears and resentments suppressing the heart's ability to give and receive love, and replaces it with healing, comfort and inner nourishment.

It encourages the dissolution of anger and resentment, fear and suspicion, and brings the Light of healing, the rebirth of hope, and faith in the benevolence of the Universe.

The Divinatory meaning of Rose Quartz: Forgive yourself for past mistakes and do not accept the blame others try to offload for their inadequacies.

(More here:  https://oncepodcast.com/forums/topic/belles-memory-stone-and-the-healing-powers-of-rose-quartz/)
— Sci-fi Girl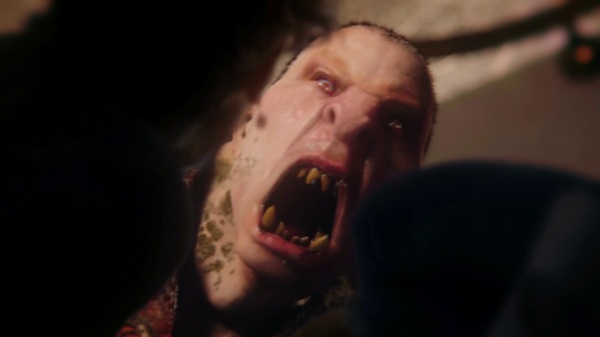 When Belle returned home and had a confrontation with her father, her father told her that her mother died protecting her from the Ogre. Once Upon a Time flashbacks are full of parallels with present things. Belle lost her memory of her mother's probably gruesome death in protecting her. Might the Snow Queen have wiped Emma's memories for the same reason?
Thank you for supporting us!
David Neuland (subscriber)
Lisa Slack (subscriber)
Steve Johnson (subscriber)
Amanda Robar
Tappnbird (subscriber)
10 Patreon backers ($22 per episode)
You can sponsor an episode or more of ONCE podcast, too! Email Daniel@ONCEpodcast.com if you would like to arrange a corporate sponsorship of our podcast for the upcoming third season.
Storybrooke (Present)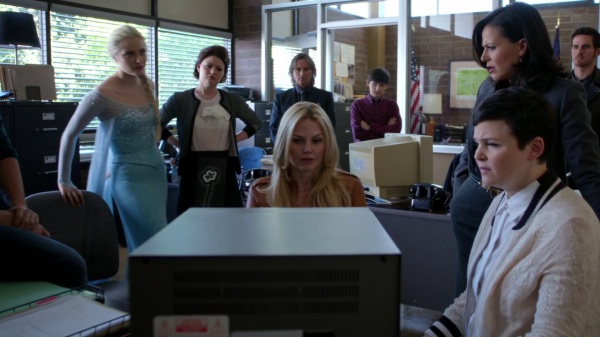 Does Belle even know about the safe where Rumple keeps the real dagger and the hat? Meanwhile, in the sheriff's station, almost all the main cast were huddled as they theorized what the Snow Queen's connection with Emma is, with the exception of Will Scarlet. But whatever happened to Emma's superpower? How come she weren't able to detect that Rumple was clearly lying when Emma asked him whether he knew how the Snow Queen got to their world. And with the way the Snow Queen arrived in our world, will the characters from Once Upon a Time in Wonderland come eventually into play? Plus, with the way mirrors are presented with everything that's happening in the current storyline, and how mirrors were considered a portal in Wonderland, are they slowly dropping hints about a possible arrival of more characters from the show?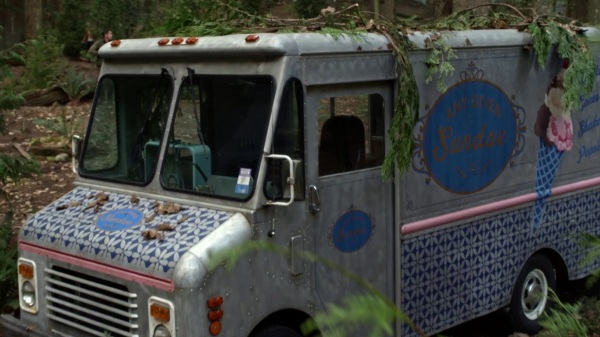 Before they dispersed from the sheriff's station, Henry mentioned of the Snow Queen's ice cream truck. However, when they found the ice cream truck in the woods, the truck does seem like it was left in the woods for a long time.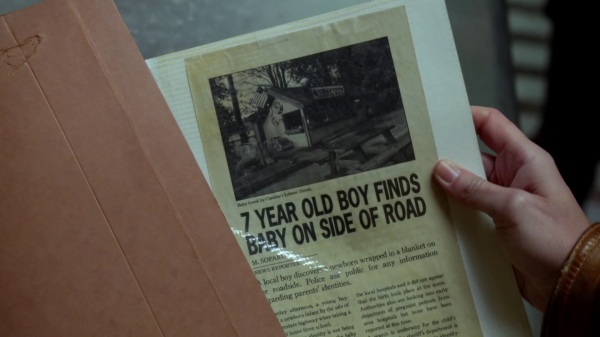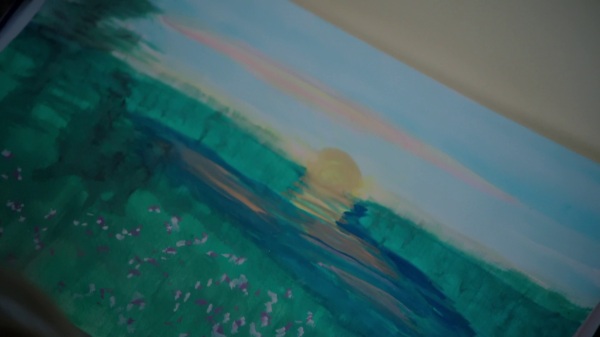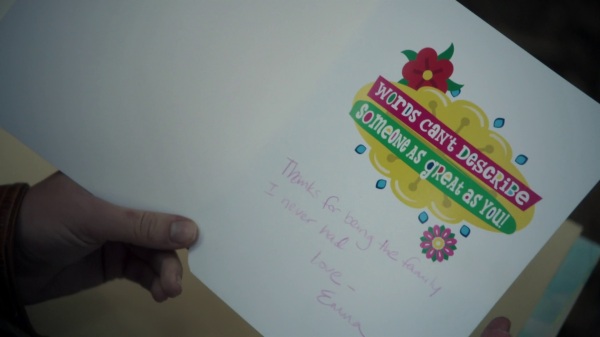 Based on the file that Emma found inside the ice cream shop, it appears that the Snow Queen was keeping track of her since she got into Maine. Among the things in the file were the newspaper clip from when Emma was found, some of her drawings, birthday card to Sarah Fisher, as well as a scroll containing about the prophecy.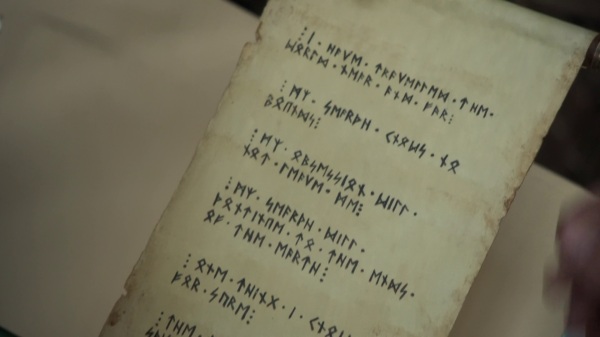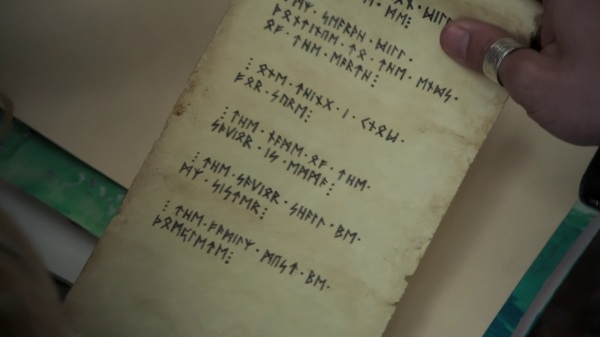 Where did the prophecy come from? Who even prophesized it? Did the Snow Queen got it from the rock trolls? Why doesn't it seem like the Snow Queen had even the slightest bit of fear of Rumple, despite him being the Dark One and probably the most powerful sorcerer of them all?
It was honorable how Regina told Robin Hood to forget about her and find a way to fall in love with his wife again. It was such a big stride from being the Evil Queen Regina to sacrificing her own happy ending to save her true love's wife. But if the timeline has its way of putting things back into place, how will it correct the mistake that Emma did about Maid Marian's supposed death in the past?
Wasn't Emma with her first family for 3 years? In the Pilot episode, Emma said, "I ended up in the foster system and I had a family until I was three, but then they had their own so then they sent me back."
As Rumple confronts the Snow Queen in the woods, the Snow Queen said, "Do you really think she would have discovered that if I hadn't wanted her to?" She could have only been referring to the tape at this point, because Rumple didn't know about the file yet. Is it really that she only wants the town to turn themselves against and each other, and eventually have Elsa, Emma and her the only ones left? What does Rumple really know about the Snow Queen's plan?
Finally, Belle used the dagger on her own initiative, but after what the mirror told her, will it grow a seed of doubt inside her that will make her realize that her husband really did give her a fake dagger?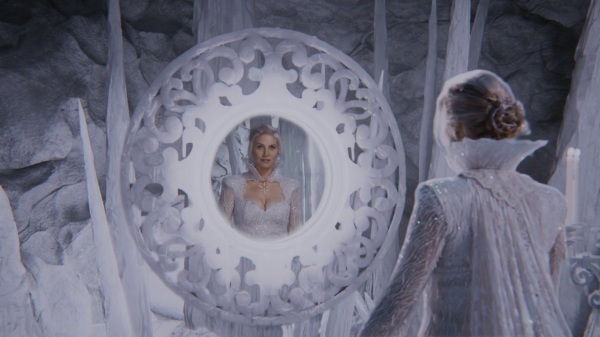 It's really cool that they're using the basic concept of using mirror based on the original Hans Christian Andersen story. In the original story of the Snow Queen, anyone who looked into the mirror will see only ugliness in people around them and start hurting each other. Now that the Snow Queen has pieced all the pieces together of the mirror that was imbued with such dark magic, what else can it do?
I think Belle's reflection was actually telling her lots of truth she didn't want to hear. After all, her reflection told her things things that at least have elements of truth: Rumple gave her a fake danger, Rumple is using her, and Rumple is manipulating her. Belle wants to believe Rumple is telling her the truth, that he wouldn't lie to her, and that he trusted her enough to place the real dagger in her care. However, I think deep down, Belle knows Rumple is being duplicitous, dark, and secretive. While he loves her, she fears he married her because he can manipulate her. So far, Rumple has been manipulating her, ever since he proposed to her under false pretenses. He got away with murder because Belle placed her trust in him and believed he'd never kill Zelena after he said he wouldn't or using magic to cover it up.

— Slurpeez108
The Snow Queen told Rumple that his bride was so easy to turn. If Belle was so easy to turn, what will make one person to not get turned easily into the mirror's spell? Does the mirror amplify the bad the we see in people? What would happen if the other magical people like Emma, Elsa or Regina look themselves in the mirror? Will Emma turn evil? Or is she immune to the spell of the Shattered Sight simply because she is the Savior?
Now that Rumple was on to the Snow Queen, finally having the leverage by letting her know that he has the hat, what is he going to gain? What could be his motivation for choosing evil yet again instead of just helping the others save everyone. What does Rumple need from the Snow Queen? Will Rumple try to use the hat against Emma?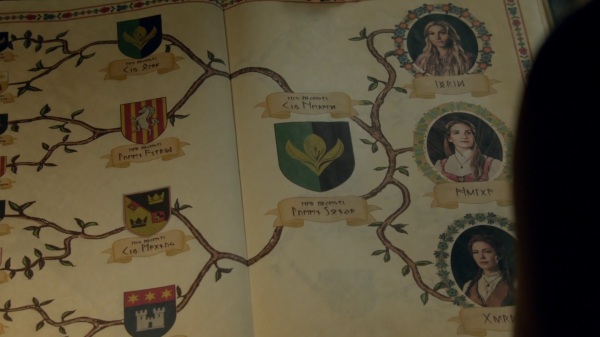 At the very last scene, it was revealed that Emma looked a lot like Helga and it was prophesized that "the Savior, Emma, will become Ingrid's sister." What does that mean? Is there more to the prophecy than what was shown and said in this episode?
Phee over the forum kindly translated the runes in the scroll from us, which goes:
I have travelled the world near and far/ my search knows no bounds/ my obsession will not leave me/ my search will continue to the ends of the earth/ one thing I know for sure/ the name of the savior is Emma/ the savior shall be my sister/ the family must be complete

— Phee
Does this imply that Ingrid was the one who wrote the prophecy itself? If Ingrid was the one who wrote it, was it even a real prophecy?
Did we miss anything from this episode? Do you have any theories regarding the next episode? Share it with us using the comment section below or head over the forum and continue the discussion of this episode, Family Business.
What did you think?
Help us out!
Follow us
Spoilers