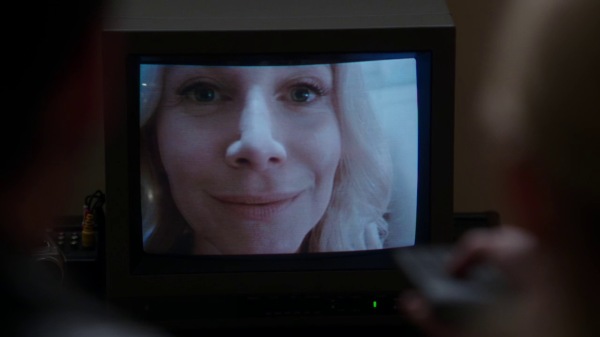 In order to find answers about a photo of a conversation that Emma had with Sarah Fisher, Emma paid Regina a visit down her vault while Her Majesty was busy trying to save her true love's wife. Meanwhile the Snow Queen preyed on Elsa's weakness by luring her east of the Toll Bridge, allowing Regina and Emma to finally have each other's back. A few years ago in Hopkins, Minnesota, on the other hand, young Emma found a friend in Lily, a one-of-a-kind orphan girl who made her feel special for a while. Join us on our full discussion of the 5th episode, "Breaking Glass."
Podcast: Play in new window | Download | Embed
Although it wasn't quite as detailed as any of the episodes, but in a way, it was still deep. It was simple, it has some importance to what was covered but it wasn't complicated by any means.
Emma and Lily
Starting out the episode was with Emma and Lily in Hopkins, Minnesota in 1998. According to Edward Kitsis' Wikipedia page, Minneapolis, Minnesota is Kitsis' hometown. We also thought that it may be a nod to previous support for the Pitt Hopkins Research Foundation, where several Once Upon a Time cast members voiced support in the hopes of raising funds for the said foundation.
We made a research of the name Lily and found that there's a character named Lily who was the daughter of the White Queen, where the Queen is looking for her daughter Lily. We also did some research on the name Lilith and found the meaning behind the name, which was derived from Akkadian lilitu meaning "of the night". This was the name of a demon in ancient Assyrian myths. In Jewish tradition she was Adam's first wife, sent out of Eden and replaced by Eve because she would not submit to him.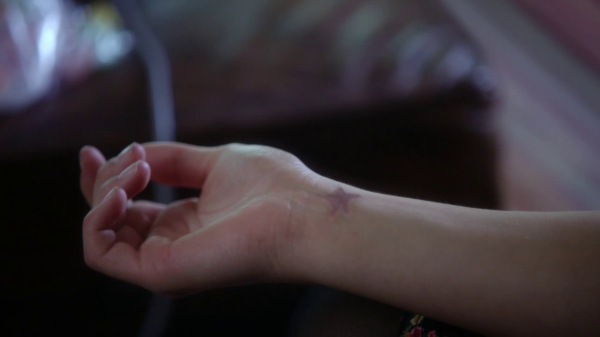 In the flashback, Lily drew a star mark on her wrist, which was on her right hand. meanwhile, in the episode Tallahassee, Emma was seen with a flower tattoo, this time on her left wrist. Lily's tattoo, however, looked more of a branding than a simple tattoo. Will we actually see more of Lily in the future episodes?
What if when the curse took place, Regina was split and a part of her was sent to our world as a baby, who grew up to be Lily? After all, Lily and Regina do kind of look a like. Plus, they're both Latinas, too!
The year in the episode said that this happened in Hopkins, Minnesota in 1998. Does that mean that she was about 15 years old when this happened?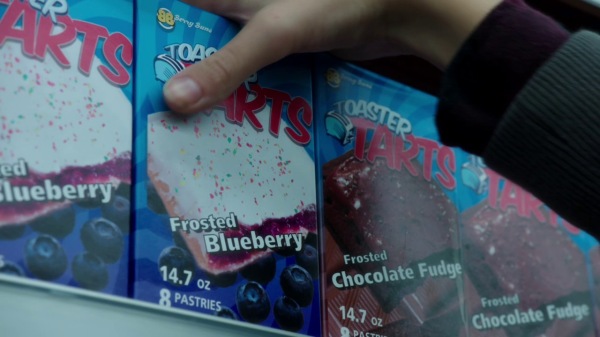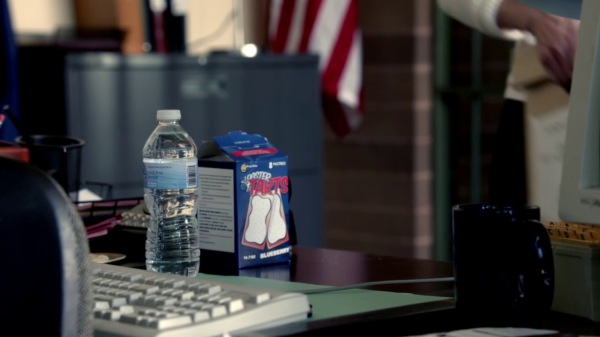 It was interesting how Emma handed toaster tarts to Will in Storybrooke, which the young Emma tried to steal in 1998.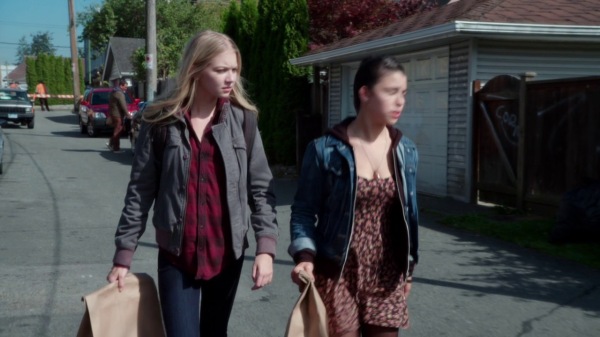 Also, there was a graffiti on a gate outside that said "Cora" when young Emma and Lily was running away from Lily's father.
The more we watch the scenes between Lily and Emma, the more we think that Lily may not be lying at all. When she said that her parents was outside, Lily's father may have actually been waiting for her while she got some things. Then, Emma asked her, "Were you in a home?" And she answered yes to second question in, "Was he from social services? Was he trying to take you back?" That's when Lily said "Yes", that he was actually trying to take her back. It was misleading, but it wasn't really a lie. Could it be possible that Emma's superpower was not activated yet? If Emma and Lily were to meet again, is there a possibility that their friendship could still mend?
Coincidentally, Emma sneaked out the same way as Henry did; both left in the middle of the night and got on the bus. Only Henry already have a credit card on hand whereas Emma doesn't.
Swan Queen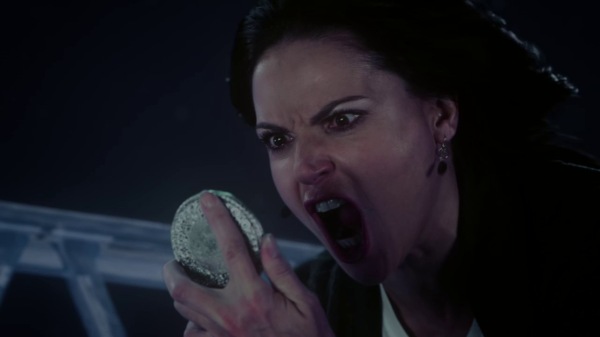 Emma said to Regina, "You've had my back, and I want you to know that I have yours." The last time Emma said that was in the flashback with Lily, and it was misplaced trust.
Regina seemed way more in her Evil Queen mode more than the present day Regina that we've seen so far, being even more nasty to Emma in this episode than she ever has been before. Then again, Emma also made some good points at the end, about Regina and Emma identifying with each other.
On another note, how long has it been since Elsa made it to Storybrooke? Regina looks like she's making thawing her true love's wife a full time job.
I like the idea that they're setting Regina up to be the ultimate villain on the show, especially after this most recent episode. A brief summary of the evidence: Operation Mongoose, obviously in direct opposition to Operation Cobra, and the plan to FORCE the author to rewrite the book–and what it's doing to Henry (e.g. using Neal to get Rumple to give him a job under false pretenses); her magic in this episode was dark red, not pure white like Emma's and like her own was in episode 320 "Kansas"; and the Snow Queen saying to Sidney about his mirror that "the person who trapped you in here imbued it with much dark magic".

One big thing that was also prominent in this episode was the way Regina was treating Emma. First of all, if she'd really changed, surely Regina would be grateful to Emma for having one less person's blood on her hands–and of course there's the fact that it eventually would've come up anyway and then she would've had NO chance with Robin–as things stand, he still loves her). In my opinion, this just doesn't seem like a genuine redemption arc.

— Michelle
Has Regina really been fully redeemed? Or is she still the villain that everyone knows her as? Why does it seem like every villain that came after Regina looked more powerful than her— the Wicked Witch, the Snow Queen? Is she losing her magic?
During the past couple of episodes, Regina was seen wearing a lot in different shades of gray, unlike in the past episodes where she's always seen with black outfits. Does this mean that Regina might be in gray area? Emma, on the other hand, was almost always seen with white outfits.
While they were on the ice staircase, why didn't Emma and/or Regina just save themselves when the bridge was collapsing?  Isn't that nearly the exact magic test Regina gave Emma?
Thank you for supporting us!
David Neuland (subscriber)
Lisa Slack (subscriber)
Aimee Catellier (new subscriber)
Bridget J
Amanda Robar
9 Patreon backers ($21 per episode)
You can sponsor an episode or more of ONCE podcast, too! Email Daniel@ONCEpodcast.com if you would like to arrange a corporate sponsorship of our podcast for the upcoming third season.
Why didn't Mary Margaret and David not left baby Neal to Granny instead? Here's an interesting tidbit: although we've seen the outside of Granny's before, the actual inside of Granny's was actually a studio. Mr. Gold's shop, meanwhile, is a real shop, and Regina's mansion was actually brought by Once Upon a Time before.
When Mary Margaret and David was in the beach, it was evident that David was still right there when she saw Will digging in the sand. And now that he's sober, Will was actually being smart when he was conversing with Mary Margaret, but what's in his sack? It'd be great to see more of him and his story continue from Once Upon a Time in Wonderland.
Why didn't Emma remembered having a conversation in the Snow Queen's ice cream shop, where she had her blue jacket on? If Emma doesn't remember the Snow Queen, is it possible that the Snow Queen erased Emma's memories after or while she was in Storybrooke the first time? If the Snow Queen did not come into any curse, how come Any Given Sundae existed all the way back in the first season?
How did the Snow Queen got into Storybrooke way before Emma did? Was she not part of the curse after all, that's why she can come and leave Storybrooke? How does she make people forget? Regina made herself forget what she heard about Emma before. How easy is it to do? Why is she covering up these memories?
Elsa and the Snow Queen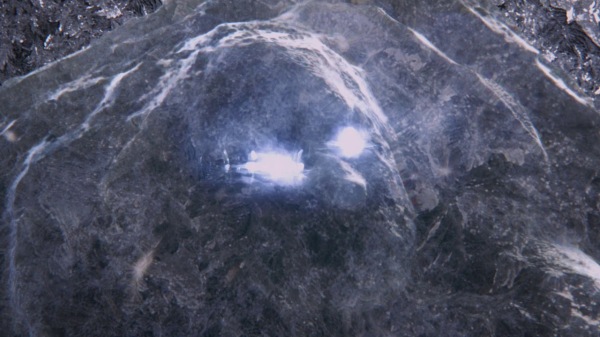 We mentioned in our initial reaction of Breaking Glass about the frozen person in the coffin and realized that it was probably the fake Anna that she was making.
What does the Snow Queen need with Elsa's fear? Or is that the key to stealing her power? When Elsa finally overcome her fear and blasted the Chinese-handcuff ice chains, there was wonder in the Snow Queen's face when Elsa blasted her when she saved Emma and Regina. Moreover, the Snow Queen told Elsa that she squandered her chance to conquer her fear in some act for the Snow Queen. If the Snow Queen wanted Elsa out of the way (for now), does that mean that Elsa was the only one who can actually stop the Snow Queen?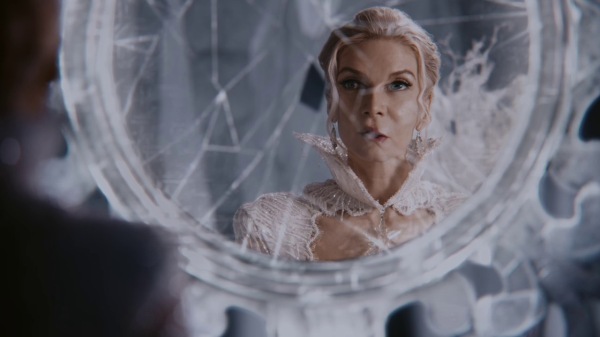 And what is does the mirror have to do with all of this? Clearly, the mirror has something to do with the original Hans Christian Anderson story, especially since it was made up of broken mirrors infused with dark magic.
Why is it that every villain seem to just be misunderstood, where this time, the only thing the Snow Queen wants is a family that loves her? Is this Sarah Fisher's motives for being a foster mom? Perhaps Sarah Fisher doesn't know who Emma is yet when she had Emma in care for a while? Did something happen that prevented her from adopting Emma?
Did the Snow Queen just erased Emma's memory of her at the same time the photo was taken? Did Emma somehow found her out at that time in Storybrooke and she simply made Emma forget everything about her after their heated conversation? If the Snow Queen was in the land without magic and outside of Storybrooke, does she still have her magic?
Keep in mind that on November 16, episode 8 "Smash the Mirror" will be a two-hour episode, but there isn't going to be a new episode on the following week, November 23.
Thank you for the podcast reviews!
TheSirensMelody said, "One of the best tv related podcasts out there not just for Once." (Stitcher)
Your reviews encourage us and help others find the podcast!
Please rate and especially write a review for us on Apple Podcasts.
What do you think of the episode, "Breaking Glass?" Share your thoughts using the comment section below or continue the conversation by heading over the forum.
What did you think?
Help us out!
Follow us
Spoilers