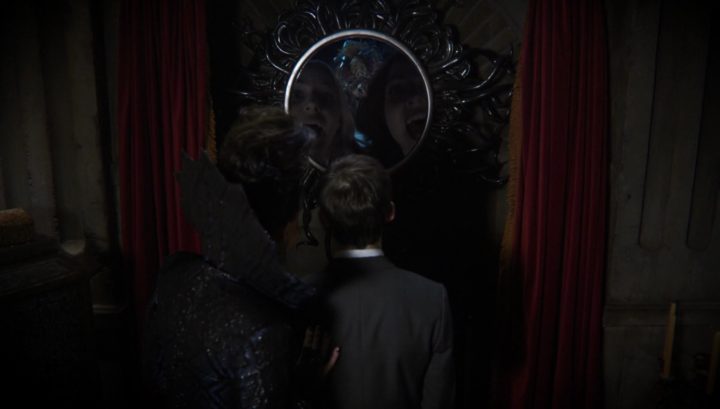 Who is in the lamp? Who is the Dragon's daughter? Hear us discuss this two questions and a lot more about the world of one-way mirrors, the Hammer of Hephaestus, and Snow White and David's kiss-off. Plus, the Evil Queen mothering Henry, Rumplestiltskin's twist on Snow White and Charming's famous line, and a crazy theory on who's actually going to die! All these and so much more on our in-depth discussion of I'll Be Your Mirror!
Podcast: Play in new window | Download | Embed
Through every re-watch, we tried to figure out what the title "I'll Be Your Mirror" means and did some extensive research and found out that it was a song by Velvet Underground, which was released in 1967. Instead of doing the discussion by splitting the past and the present, we are going to be discussing the episode scene by scene instead because there were no flashback scenes in this episode.
Written by Written by Leah Fong and Jerome Schwartz, Fong has been credited as a story editor for 6 episodes this season, except for 6×01 "The Savior," but this is her first as a co-writer. Jerome Schwartz, meanwhile, has been a producer or co-producer on a bunch of episodes, and a writer for some of the good episodes from the last couple seasons, including Last Rites and Smash the Mirror.
At the start of the episode, Regina mentioned that she wants to hurt the Evil Queen, but how is she planning to do it? Kill herself? Pull out her own heart and squeeze it herself? That being said, it was impressive that that was even in her mind. There was a little seed planted in this scene and it's Emma telling Regina, "I can't be there, so you have to be" several times, and this fatalistic approach that she's going to die.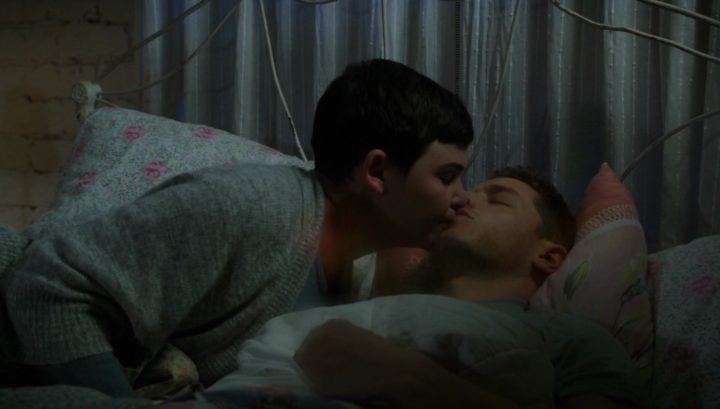 Despite the despair for the day, Snow White and Charming starts the episode with their kiss-off. How did Snow White knew that the Evil Queen is watching them? On the other hand, the montage was really heart-wrenching. Every time they're switching back and forth, are they going to the burning red room or the place they go to before they go to the burning red room? After all, they both did go under the sleeping curse before so it makes sense for them to be in the burning red room, although not both at the same time. It was also an interesting song to play during the montage. We looked for the lyrics for "Yellow is the Color" and it did made us wonder, did they decide who will wake up during daytime or nighttime?
At the vault, it was nice of them to acknowledge that the Dragon doesn't seem to have a name. It was also during this scene that Regina mentioned a new magical concept—the world behind the mirror, which made total sense. Knowing now that this is a whole world of one-way mirrors, it makes sense; you get to see the other side of the mirror. But aren't anyone else in there? Is Regina the only one who put someone in the mirror? How come Sidney could appear but Emma and Regina couldn't? Did the Evil Queen magicked the mirror so they couldn't appear on the other side?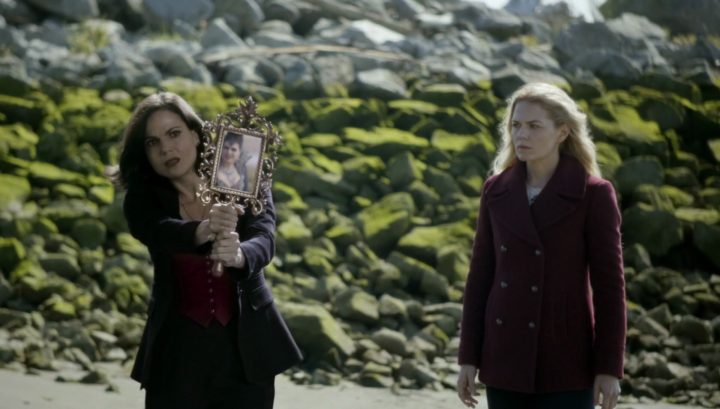 So Emma and Regina's plan is, this time, instead of saving Henry, to put him in danger. And Henry's movie choices, The Breakfast Club for example, is rated R. An interesting thing here is, though, both The Breakfast Club and 16 Candles both contain Molly Ringwald. Is there any connection to this other than the actress? Furthermore, using Henry as bait is multi-faceted. How did he get the message to her? How did they get her out to the beach? How did they summon her? That being said, Henry was right; the Evil Queen would never intentionally hurt him, at least physically. Also, the Evil Queen looks at Henry differently than Regina looks at Henry. Throughout, the Evil Queen is very Cora-like in her approach to Henry and mothering in general. And the parts of Regina raising Henry came from the Evil Queen side of her were parts, in the sense, that she learned from Cora. This proves that Regina still has the capacity to have empathy while the Evil Queen doesn't, and that's where the division is.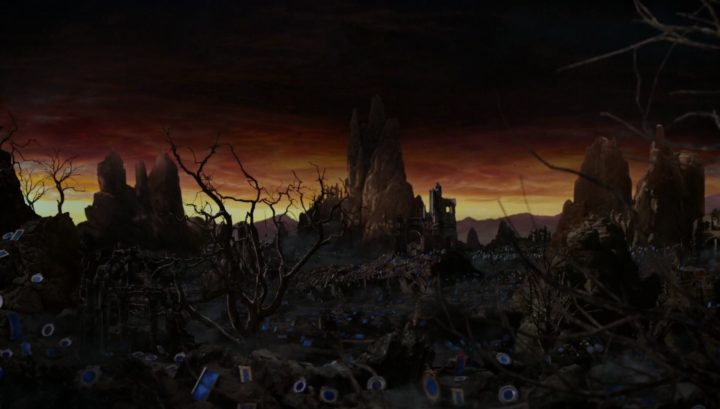 But then, Emma and Regina ended up being the one in the world of one-way mirrors. It's quite odd that Emma and Regina can't use their magic. Does that mean that everyone who is trapped in there can't use magic? The Dragon could use his magic, at least to transform into a dragon, why couldn't they? Or was that only because the Evil Queen was controlling the Dragon using his heart?
How, exactly, was the Evil-Queen-as-Regina planning to make sure everything works out for Henry? Aside from pretending to be Regina, everything else she said and did was fairly consistent with her plan to show Henry that she trapped Emma and Regina in the mirror world to make him strong, which would attract Violet. Is the Evil Queen concern about Violet's feelings about Henry?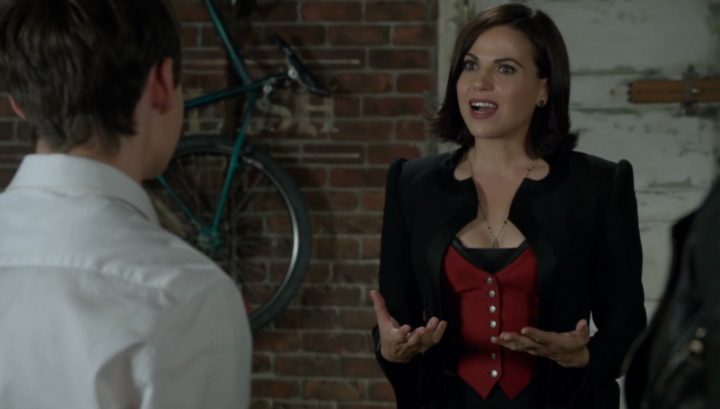 Did anyone saw the subtle wardrobe change between Regina and the Evil Queen? Regina's looked more classy, whereas the Evil Queen's looks more seductive. Although they were wearing the same attire, the Evil Queen's was a little more revealing than Regina's.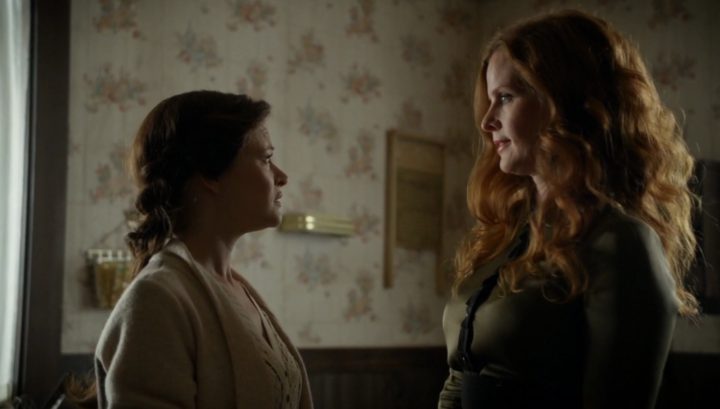 Belle, meanwhile, visits Zelena after discovering Mr. Gold's closed shop and once again, Zelena is being all wicked and drinking tea. It was strange to hear Belle perceiving letdowns by Regina. So Belle asks Aladdin to steal the Apprentice's wand, and also acknowledging that Aladdin and Jasmine doesn't know Zelena.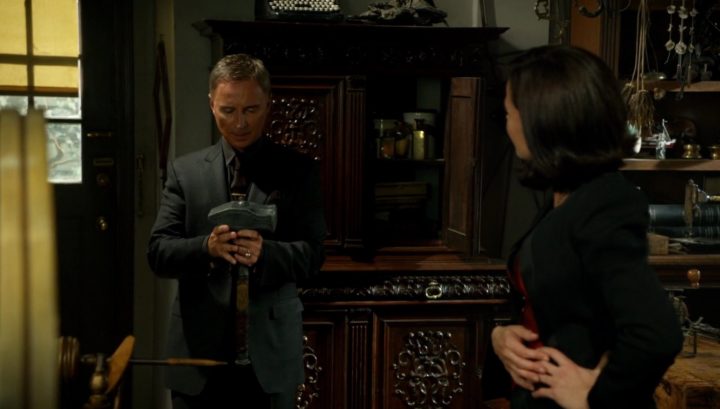 Back in Gold's shop, Rumple is back working on his spindle, probably to make the bracelet that he put on Belle later on in the episode. It was also in this scene that we learned about the Hammer of Hephaestus. Hephaestus is a "Greek god of blacksmiths, craftsmen, artisans, sculptors, metals, metallurgy, fire and volcanoes." He also made the weapons for the other Greek gods but in the Once Upon a Time version, the hammer's magic is useful to those who have none, which could also mean that those who don't have magic can't crush hearts. Moreover, Hephaestus is a crippled Greek god who was married to Aphrodite, whose ugly appearance and lameness is taken by some to represent arsenicosis.
Like last week, I really liked this episode. One of my favorite things was to see them bringing in more Greek mythology in a way that fit our characters perfectly. In Greek mythology, Hephaestus was the son of the goddess Hera, the (somewhat Evil) Queen of the gods. Hephaestus (aka Vulcan to the Romans) fought against his mother and she cast him out of Olympus. The hammer is associated with him because he became the god of metallurgy and blacksmiths. Is the fact that he eventually returned to Olympus and defeated his mother a hint of things to come between Henry and EQ? Furthermore, Hera grew apples! Eris, the goddess of discord, threw one of these apples onto a table occupied by Hera, Athena, and Aphrodite. The apple was said to be intended "for the fairest of all" – a line later copied for use in the Snow White story – and all three goddesses immediately disrupted the peaceful feast by fighting for the apple. When Prince Paris of Troy awarded the apple to Aphrodite, Hera and Athena sought revenge by supporting the Greeks against the Trojans in the Trojan War as described in Homer's Iliad.

— Timespacer
Are we going to see the hammer again?
Maybe Henry can use this hammer to make some thingymabob that can trap Evil Queen. Because, as I just read on line, that's what Hepheastus did to his mother Hera (who we know was greek myth's version of Evil Queen) He build her a golden chair which she became bound to and only he could free her. I would love them to use this story on Once, now that they brought in that particular hammer.

— Grimmsistr
Interesting as it is, here is a magical item that can be used by a non-magical person. Can Belle use this to destroy the bracelet Rumple put on her?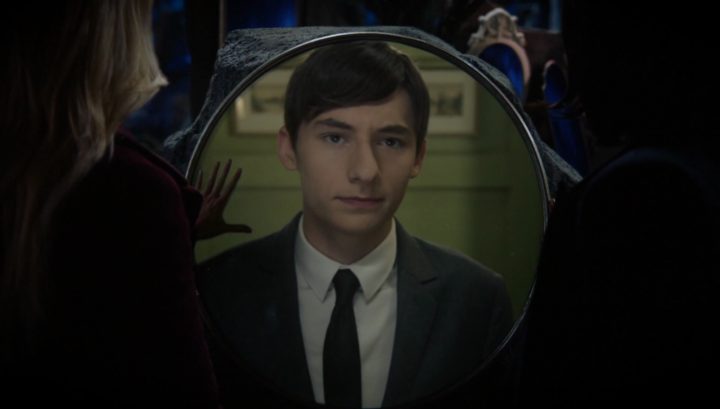 While Emma and Regina was looking for the right mirror back in the world of one-way mirrors, the Evil Queen was talking about Henry will always be royalty and eventually becoming a King. Maybe that's the last scene, seeing Henry as king in EF and ruling justly and kindly. After all, it's been a while since the Enchanted Forest had a new king.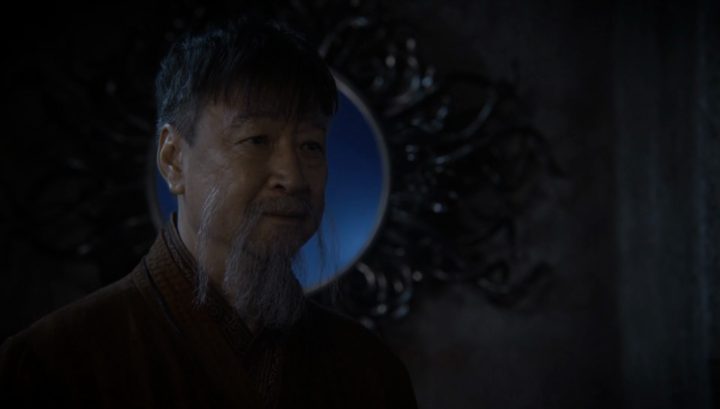 Back in the land of one-way mirrors, Emma and Regina met the Dragon and that after all this time, he had been there, not dead. He also said something about a balance between dark and light.
You cannot state that there's a balance between light and darkness and then say there's a battle between light and darkness.  It's either one or the other.  Light doesn't need darkness to survive, but the exact opposite.  Darkness needs light to survive.  And you can't continue to state that darkness is stronger than light because it isn't and it will never be.  When you turn on a light in a pitch black room there is no resistance or war between light and darkness.  When you turn a light on in a dark room, there is light.  End of story and if there is a "war" or "battle" inside of Regina between light and darkness, its' simply out of lack of identity.  If Regina were truly grounded in who she is today and not base her life based on circumstances and outcomes and blame her past based on said outcomes, then there may be no "war" waging inside of her because she's so rooted in who she is today that nothing could ever shake her.  The Evil Queen persona may have gotten her to where she is today, but that is not her identity and that persona does not define who she is at the end of the day.

— DeAndre
And it goes back to what are they really calling darkness. Is it sin or mistakes?
The Dragon said that he once lose a daughter. Who is his daughter? Is it Lily?
I definitely think the Dragon is Lilly's father. I hope they actually bring Lilly back instead of just eluding to the connection and moving on. Though admittedly this is still better than leaving it hanging with no resolution whatsoever – unlike Anastasia.

— Gareth
During our I'll Be Your Mirrors initial reactions, Erin mentioned that the Dragon's daughter could possibly be Mulan. Are we finished with the Dragon? Are they going to let him out?
When Aladdin went and steal the wand from Mr. Gold's shop, Aladdin said, "thanks, monkey." Abu? Rumple also always to know when someone is there, but not this time. But doesn't he really? Aladdin stealing the Apprentice's wand seemed way too easy.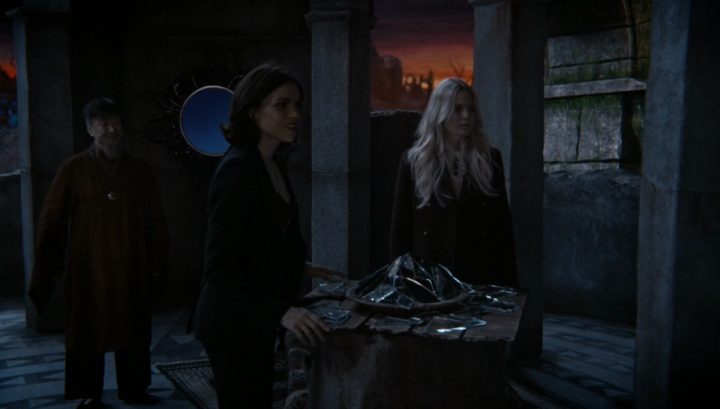 Back in the mirror world, the Dragon mentioned about the Sisyphean task of putting the mirror back together, which is a laborious and futile task referencing to Greek god Sisyphus. Where's the Snow Queen when you need her the most?
Yes, Regina put him back in the mirror at the beginning of Season Four.  But he got impatient with Regina's crap promises to let him out again later.  So he betrayed her by luring her and Emma into danger of Ingrid, the Snow Queen.  After that happened, Ingrid rewarded him by setting Sidney free.  What he did after that is anyone's guess.  Considering the fact of how abusive Regina is when he's being helpful, you can bet that she'd be out for blood after the events of 4×05 "Breaking Glass."  If Sidney had any brains he would have left town shortly after that.  But Sidney's never been known for his brains when it comes to Regina.

— Meredith of Everett, WA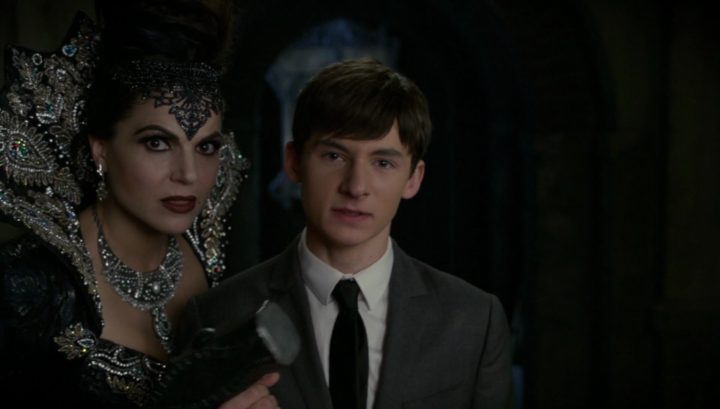 Meanwhile, the Evil Queen was mothering Henry back in Storybrooke, talking about how it was her who toughened him up, and not the one with the weak-tea version that is Regina. In the past episodes when Regina adopted Henry, she was a bit soft to him at that time when she was learning how to be a mother. But then, season 1 Regina that we see and what it's been like after raising Henry for a decade is more of the Evil Queen side of her. Regina also said that she was afraid to raise Henry alone, which might be setting something up that might mislead us in the end.
Back at the mirror world, it was nice to see the Dragon in his true form. And it was smart of Henry to use the hammer to smash the mirror, instead of the Dragon's heart, like the Evil Queen wants him to do. When they all get out, though, they, Henry especially, was rubbing in the loneliness to the Evil Queen.
What does the Evil Queen want? She wants what all villains want – everything. Of course she wants revenge on Snow White, but having achieved that in a sense she is probably not feeling satisfied. It's not surprising that she is drawn towards Henry, after all pretty much every villain in the show has had an interest in being loved or being included in a family. The Evil Queen's motivation might also borrow an element from the Snow Queen, wanting to be understood. The evil part has been rejected. It has literally been ripped out and thrown away. She wanted Henry to understand her better. She talked to Zelina about her being the only one to really understand her. She may be drawn to Gold as someone who might understand her. The dragon talked about balance and the battle belonging inside Regina's soul. Perhaps Regina understanding and accepting the unwanted and unpleasant parts of herself will be a part of bringing her back together. I think accepting those shadow parts of the self is different then embracing or loving them – as has been played with in the past.

— Gareth
Especially with introductions of things like these, and the Evil Queen pretending to be Regina and Henry hugging her, the Evil Queen had this look like she was realizing how love feels like. But, at the same time, we don't need to see Regina have another redemption arc; it's already happened. The only way it could end is to sort of reintegrate Regina and the Evil Queen.
Furthermore, this season really has a different overall villain than we initially thought it would be. We thought this would be the Jekyll and Hyde villain arc but that was resolved very quickly and now, it's this bigger arc that is turning out to be pretty good. Once they acknowledge that they couldn't remove an entire part of who Regina is, and explained some of the technical things that didn't make sense, it's worked out pretty well and fun to watch, except when the Evil Queen is with Gold.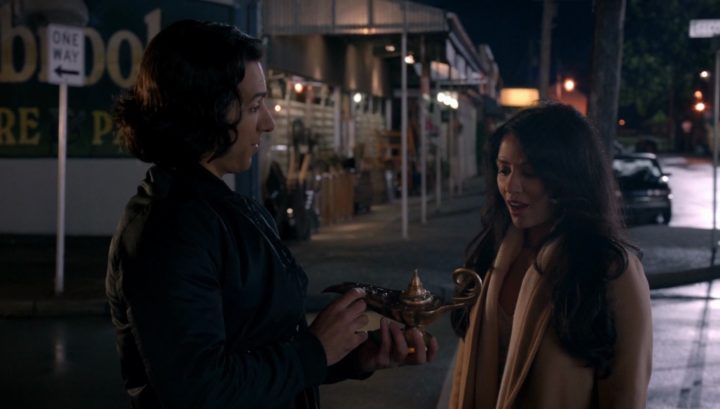 Aladdin and Jasmine are walking out after he broke into Mr. Gold's shop, Aladdin and Jasmine still didn't share a kiss. Was it because they haven't settled what was happening between the two of them, knowing how they feel towards each other? When Aladdin showed Jasmine the magic lamp that he stole, he said that someone's inside it but knows it's not his "old pal." Who is his old pal? Would that be Sidney, one of Cyrus's brothers, or the Robin Williams Genie?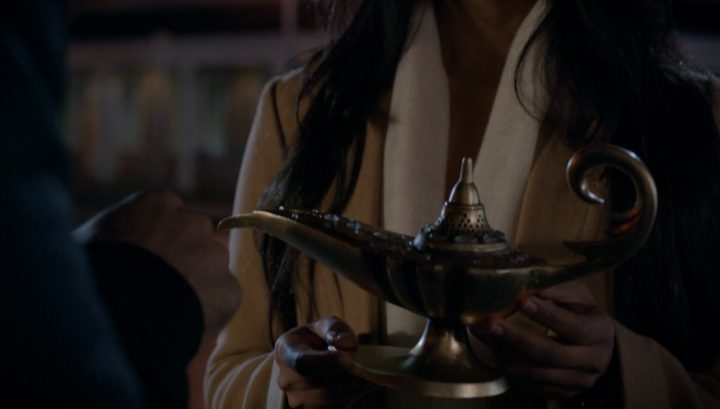 We looked more into the lamp and it looks a lot like Sidney's lamp. Cyrus's lamp was more of a bottle, while Jafar's lamp was black. This lamp that Aladdin stole, however, looked a lot more like one of his brothers' in Once Upon a Time in Wonderland.
This mystery genie CANNOT be Jafar. Unless Nyx from the Wonderland series jumped him from his black bottle to this lamp, then it has to be another genie completely. They have stated that Wonderland is canon, so if it is then this mystery genie has to be a good guy, someone we haven't met yet or they'll have to explain the bottle to lamp switch in a way that would make some type of sense in the context of this show. Thanks for the podcast. You all are awesome.

— DeAndre
The Lamp: I wouldn't be at all surprised if Jafar is in the lamp. Continuity between Once and Wonderland has been sketchy at best, so the lamps not looking the same is hardly reason to doubt Jafar is in there. In Disney's the Return of Jafar, Jafar comes back as a geni. I wouldn't be surprised however if Jafar already has a master. Aladdin rubbing the lamp and becoming Jafar's master would be comical, but probably not lead to the right level of drama. Now that genies are involved it raises the possibility that someone wished Agroba away. Jafar could have tricked one of his master's into doing so. I previously theorized that Agroba could be inside a bottle, it is also possible that it could all be inside the lamp. Then the trick would be Aladdin and Jasmine trying to figure out how to get it out.

— Gareth
Whatever the case, we will probably see a genie in Storybrooke soon.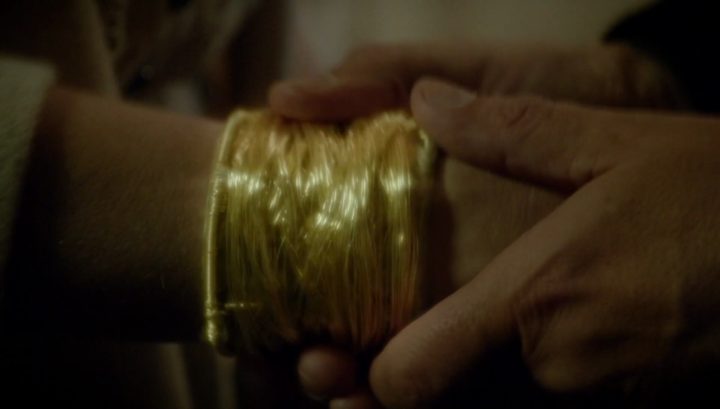 Belle, who now has a wand, takes it to Zelena and it was interesting that the line "No matter where you go, I'll find you" used so different when said in this relationship by Rumplestiltskin than the Charmings' infamous line, "I will always find you." It was disturbing seeing Rumple say that to Belle because it sounded more of a threat than it's ever been used before. But while it's disturbing to hear Rumple say that to Belle, at the same time, it's really important to have those moments to allow for characters to overcome and get out of and win.
I previously theorized that Rumple might use the shears of destiny on himself to escape his fate as a coward or Dark One; if he keeps provoking Belle perhaps she will be the one to use the shears on him. Though this would ruin my Rumple redeeming dark magic theory.

— Gareth
Will Belle use the shears on Rumple herself?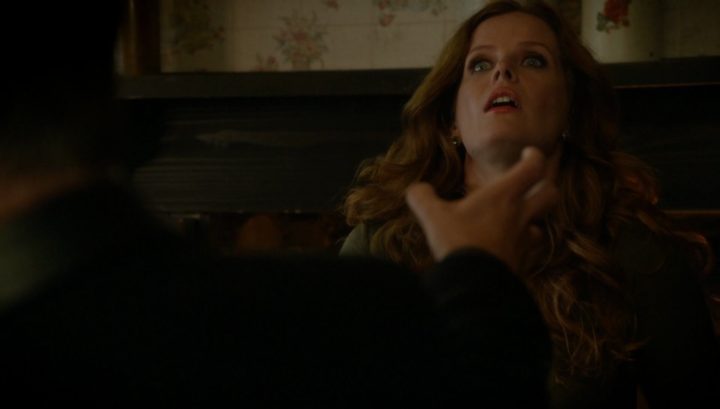 In the same scene between Belle and Rumple, we loved the connection to 4×17/4×18 "Heart of Gold," when Zelena was discovered that she was posing as Marian, when Rumple was choking Zelena and he suddenly had a heart attack. Can't remember this scene? Here are some of the events to remind you what happened back in season 4:
Rumple had a heart attack in NYC when he was banished from SB and want to take Neal's old place.
Regina rubbed in that she killed Rumple's son and that he never avenged his death, and that she failed
The deal with Zelena was Rumple would get Zelena's happy ending built into plans with the Author and Rumple would stop trying to kill Zelena in exchange for the heart-curing potion he had Robin steal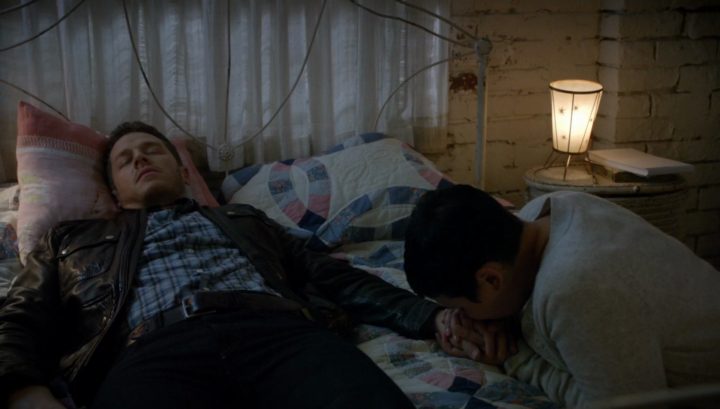 Snow White and Charming, on the other hand, are having a tough moment, especially when she said, "I can't do this anymore. I miss you." Looking at the Charmings and how many ripples they had to go through, it's amazing that they never get boring. Even though they had their arguments, they always ended up getting back together. However, how long has it been since they fall under the sleeping curse? A couple of days?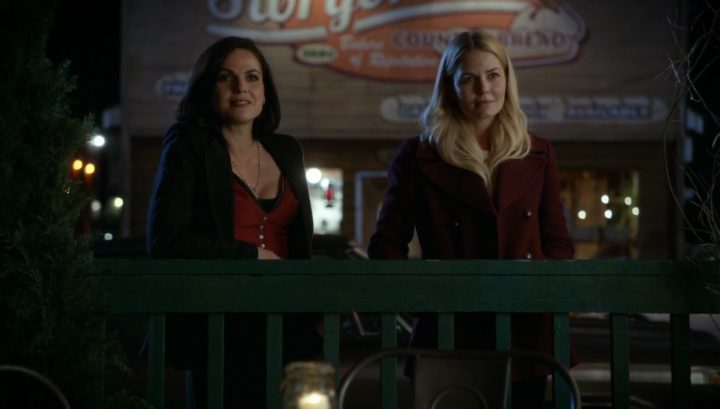 Despite their having to run from the Evil Queen, Henry got his dance with Violet after all. Watching this episode, Regina eventually acknowledges that she already did raise Henry, despite constantly saying earlier otherwise. But when Regina and Emma were outside Granny's watching Henry and Violet, Emma said, "He's gonna be okay, isn't he?" All this setup for Emma's death makes me think Regina will actually be the one to die. They're setting it up so much for Emma to die but what if she's the one who gets to live and Regina will end up dying in the end?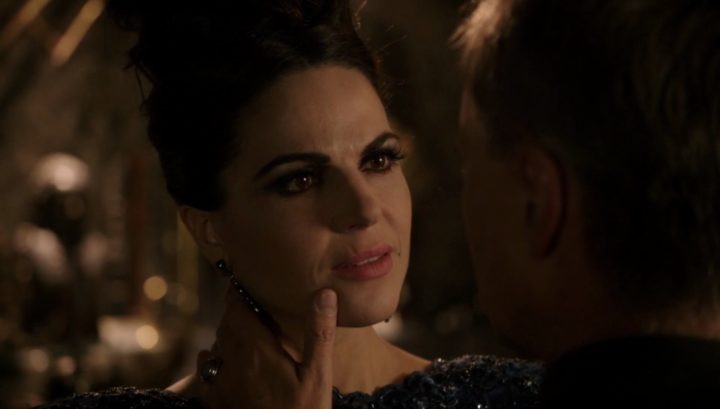 With the Evil Queen feeling left out, went back to Rumplestiltskin. However, Rumple now is asking her how far she's willing to go, and then kisses her passionately. What "far" does he have in mind? Probably the killing Zelena thing, but is the Evil Queen even want to kill her sister? After all, Zelena seems like her one true ally right now.
What did you think about this episode, I'll Be Your Mirror? What kind of thoughts and theories that we missed out? Fill them out using the comment section below. Please also remember that there won't be an episode this coming Sunday. Once Upon a Time, however, will be back after Thanksgiving, November 27. That being said, we are going to be doing a movie review of Fantastic Beasts and Where to Find Them so make sure to check it out soon.
Thank you for the podcast reviews!
Jessica CooperBOOM said, "Best OUAT podcast. If you love Once Upon A Time you will love this podcast. They break down every episode of OUAT so well. The intial reactions are fun and the full episode discussions are very in depth. I don't always agree with their view points but I love all the information and theories. They even have spoilers, if you are into that sort of thing. They also have a great website with forums and the best timeline of OUAT events ever."
Johnson132
Your reviews encourage us and help others find the podcast!
Please rate and especially write a review for us on Apple Podcasts.
What did you think?
Email Feedback@ONCEpodcast.com (audio files welcome)
Call (903) 231-2221
Comment on the shownotes
Visit any page on ONCEpodcast.com and click the "Send a voice message" link to record and send a message right from your computer.
Help us out!
Share this post in your social networks
Follow us
On Facebook:
On Twitter:  echo do_shortcode('[twitter follow="ONCEpodcast"]'); ?>
Daniel J. Lewis:  echo do_shortcode('[twitter follow="theDanielJLewis"]'); ?>
Jeremy Laughlin:  echo do_shortcode('[twitter follow="phlegon"]'); ?>
ErinJ:  echo do_shortcode('[twitter follow="erinjcruz"]'); ?>
Hunter Hathaway:  echo do_shortcode('[twitter follow="travelingpixie"]'); ?>
Jacquelyn / RumplesGirl:  echo do_shortcode('[twitter follow="punk_bunny_87"]'); ?>
Spoilers
In 6×09 "Changelings", Rumple collects Jack and Jill's son as bait in a Fairy Tale Land flashback
Back in Storybrooke, the EQ makes a decision that will change her relationship with her sister forever
Meanwhile, Belle is left to make a sacrifice that will affect the lives of everyone in Storybrooke
Finally, Jasmine finds a genie-less lamp that she hopes to use to save Agrabah, and Aladdin finds a way to be her hero
"Changelings" was written by David H. Goodman & Brian Ridings and directed by Mairzee Almas
Guest starring are Keegan Connor Tracy as Mother Superior/Blue Fairy, Beverly Elliott as Granny, Deniz Akdeniz as Aladdin, Giles Matthey as Son, Nick Hunnings as Jack, Tammy Gillis as Jill, Jamie Murray as Black Fairy, Karen David as Jasmine, Edwina Shuster as Aged Nun and Jacky Lai as Novice Fairy
Is the Black Fairy the evil being Rumplestiltskin is trying to lure when he collected Jack and Jill's son in the Enchanted Forest?
Rumple's reason as to why he hates fairies will finally be revealed
6×09 will be a Rumple-heavy episode
Promo for 6×09 opens with Rumple and the Evil Queen, and was then seen lashing out and grabbing Hook in a choke-hold
Belle's pregnancy will be accelerated and probably going into labor in 6×09
Promotional photos for 6×09 takes a lot in the library, one with Emma and Hook trying to help Belle
Another photo is at the front desk of the library with Rumple showing up behind Belle
One photo showed Belle trying to get into the elevator shaft, trying to get away from Rumple
There's also an image of Rumple standing in the corner
There's also a closeup of Rumple holding a potion bottle
We also see a few of Zelena sitting at her house by the table by herself, and a couple of Regina wearing a fabulous coat
Finally, a couple of promo pictures were at Granny's with Emma and Hook in the counter, and one with Belle
Another image shows Belle holding her belly in pain
6×13 is entitled "Ill-Boding Patterns" written by Andrew Chambliss & Dana Horgan
One of the behind the scenes photos include Robin Hood in Storybrooke and appears to be weilding knife and shooting lots of arrows, and seems darker than he was before