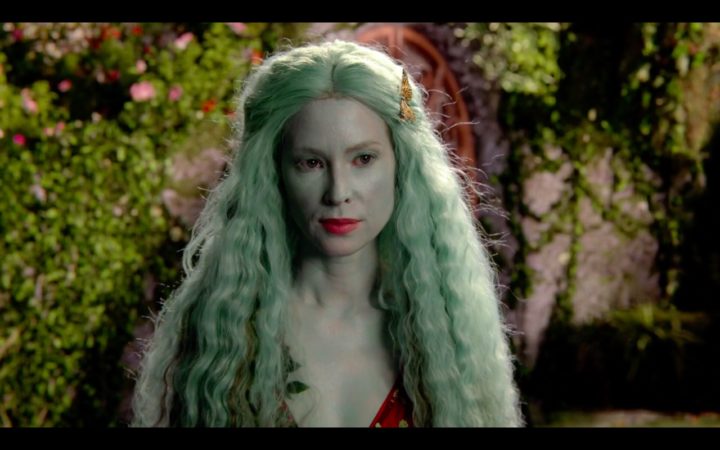 Gothel going all murdery, Regina 2.0, and how Once Upon a Time is a punishment for brilliant actors! Plus, a theory on who might break the curse and more in our in-depth discussion of "Flower Child"!
Podcast: Play in new window | Download | Embed
Of Nymphs and Murder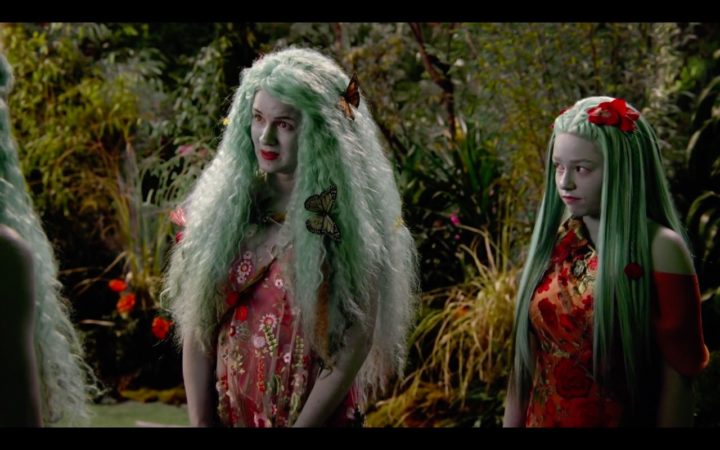 We finally found out Gothel's backstory but how did nobody guess that she was a nymph? She's into plants and trees and stuff, after all. Emma Booth, on the other hand, was amazing as Gothel. She did a really good job at playing a younger version of Gothel. Might Yarrow have survived the attack somehow? Is she in Hyperion Heights? They didn't show her, or anybody for that matter dead except for Mother Flora.
Like all villains, Gothel was made evil, not born. Basically we see this very typical period house with girls getting ready for a ball and Gothel came in, and suddenly Isla had a plan? What is her deal? How could she have hatched her plan so quickly? When did they go and kill the nymphs all before Gothel went back? How did anyone have time to lay waste to the Nymphs' home? Although it was somewhat effective, it was weird how it all happened. For continuity's sake, however, it's comforting that there was enough magic left.
It was so dark and creepy when Gothel went back to the party and become all murdery. While there have been other murder scene in the past episodes such as pulling hearts out of people's chest and sword fighting, this episode is a bit more graphic than usual. Interestingly, this episode was written by Edward Kitsis and Adam Horrowitz, which explains the grittiness as well as some of the lines said in the episode.
It was hilarious when Gothel cruelly says, "Some slimy lump will flop ashore and crawl toward humanity again. And, as is their way, it'll be worse". It's not a cycle that repeats itself, so how is it going to happen the exact same way the next time? Not just the form, but the culture, the costumes with no remnants left after such a period of time. But apparently, Gothel is the mother of all the magic in the world. Gothel also said that she will find "others like" them and come back to cleanse the world again. Why wait? Why not just come back before all these restarts she says it will, rebuild and stop it from happening? It's an interesting concept, but it's very late in the game to bring it out. It's not very well-thought-out.
The nymphs in this episode looked comical. The skin color would've been enoough, as well as flower crowns instead of butterflies. We did learn some very specific things, however, such as that "magic isn't as mysterious as people think, it's all around you if you know where to look." This complemented well with the whole Lucy and Dr. Facilier looking for a magic story. We also learned that "nothing from the earth ever truly dies. The root are right there, waiting to be reborn". Is Gothel trying to bring her family back in some way? Mother Flora said what Gothel was destined to blossom into, however, Gothel had not been using her magic for good. Is it going to bite her in some way?
Fresh out of the Coven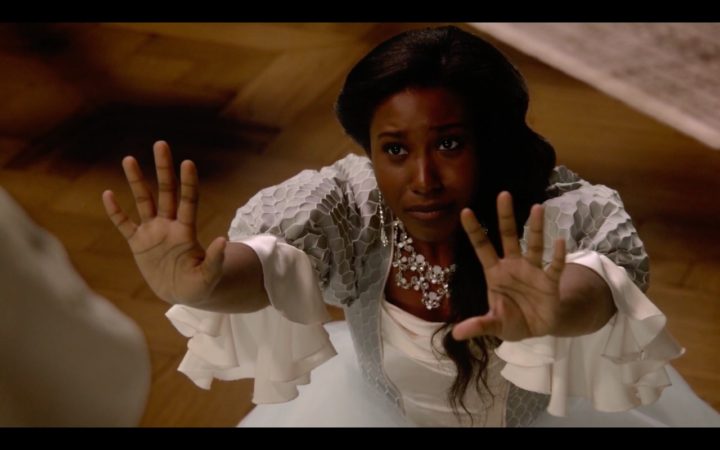 In this episode, they kept using the phrase "like you" or "like us". What does it mean and how many people like them did she kill by wiping all the humans in her world? We looked up the meaning of the name Seraphina and found out that it means "fiery-winged" and was considered one of the most powerful angels. Seraphina is a feminine form of the Late Latin name Seraphinus, derived from the biblical word seraphim which was Hebrew in origin and meant "fiery ones", referring to an order of angels that had six wings each, as described by the prophet Isaiah in the Bible. This was the name of a 13th-century Italian saint who made clothes for the poor. Is Seraphina going to come into play since she's been introduced as a character and is as old as Gothel, but from a good place?
A couple of things were missing from this episode that, perhaps, we're supposed to be in it. For example, why does Isla had her out in her greenhouse doing magic before she revealed her true nature and intent? They've seen her do magic, it wasn't like she had to do it again in order for them to be mean to her. Probably to just steal the key and plan? Also, why did Gothel need the Sergeant specifically to wake the rest of the women in Coven?
Why could they not have shown us that Gothel has the ability to manipulate minds? Why show only now? Where did she get the ability to do that? Is she really the one who made people not remember Tilly after the Blind Witch was killed in the hospital? On the other hand, we feel so bad for Tilly in this episode. She always has some good one-liners.
It took us a bit when Gothel said that her sisters are asleep somewhere and they need to be woken up, until we realized it wasn't meant in the literal sense. Suddenly it was the Dark Ones all over again, cloaks and all. How did Gothel know India? She has been locked in a tower for as long as anyone can remember. Why did she let herself be locked in a tower if she could've traveled anywhere whenever she wants?
Charmings 2.0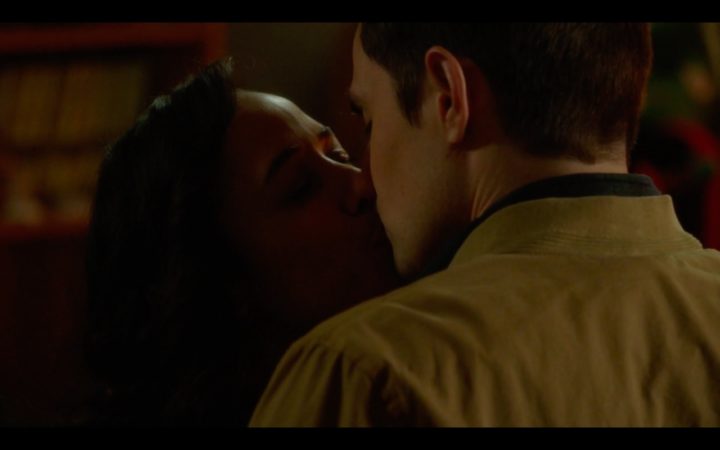 One disappointing thing about this episode is learning that Henry and Jacinda's True Love's Kiss was not the one to break the curse was actually true. The Tilly-Rogers stuff was also really good. While they didn't wake him up like we've been asking for every single week, he started talking about real things without knowing for sure that he was, as well as pursuing real things without knowing for sure that he was and starting to actually make real sense.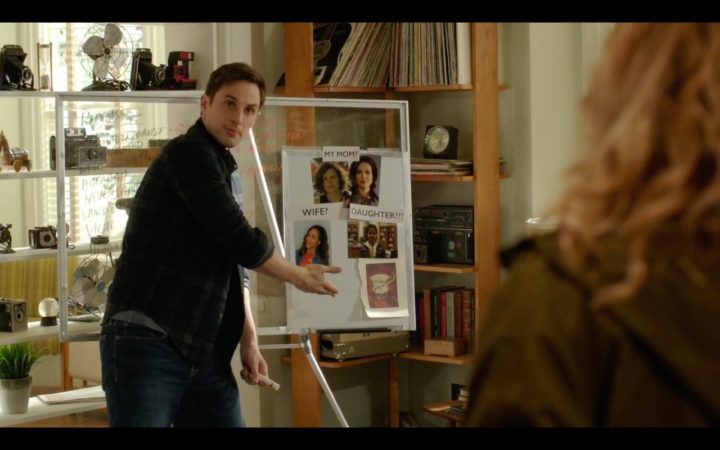 While there were some stuff that are continuity friendly, where did Henry get all the printed pictures from? Why didn't he put the picture of him and Regina on it? For all stuff they had on Henry's evidence board, they didn't show a whole lot of it and what they were was pretty obvious stuff. That being said, we found some interesting things on the board, including one of Regina's pictures that had a label "Roni/Rani (Queen)". As per usual, we looked up what "Rani" means and found out that it means 'Queen' in Hindu. We also liked that a lot of the stuff that he was theorizing was based on his book, but it was a lot of stuff from his perspective with the missing details Henry wouldn't know.
We also looked up if there was any relation about the page 147 where the chipped cup was printed in, unfortunately, there was nothing significant about it. Another thing that Kitsis and Horowitz brought up in this episode in a way that is much easier for them is kind of simplification of what has been the point of the curse. Tilly said that, if the book is true, everyone is "right next to the truth, and it's kind of cool to be so close to happiness but be kept so far away from it", which was kind of what they did in season 1, having Mary Margaret reading to Prince Charming when he was unconscious.
With only 3 episodes left of the series, what is going to happens next? Will Gothel actually annihilate the mankind once again? Gothel told Tilly that she was going to like it and it was worth the cause once she sees what Gothel is planning. What is Gothel planning? Gothel seems to be forgetting her Mother's advice, however it looks like that's not what's going to happen, given all the evil deeds she has done.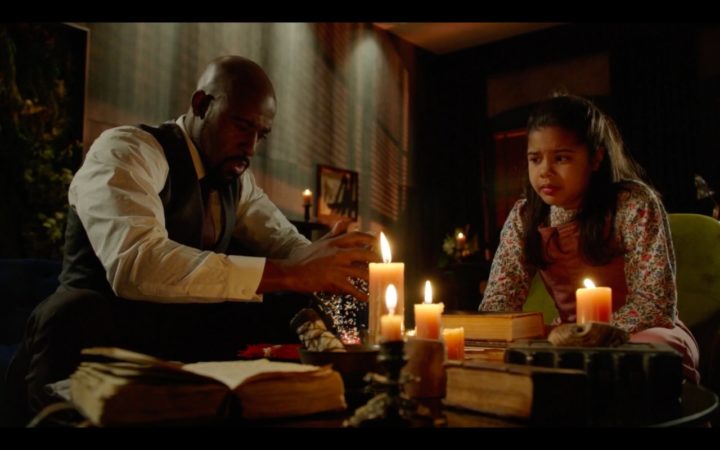 Where is Dr. Facilier's office located and how did Lucy get there? Her conversation with Dr. Facilier seems a little awkward, especially what he was saying to Lucy. Lucy also sort of reminded us of Regina for a moment when she was trying to blackmail Samdi.
It was fun to see Granny's memorabilia in the box, but also to find that the rest of the glass slipper was inside it. Apparently, breaking the curse isn't the easy either, especially after Dr. Facilier removed the poison from Henry with the curse of Shattered Sight. But what if Henry has a glass heart now? That being said, we loved the score playing during one of Henry and Jacinda's scene, as well as the background music when Lucy and Jacinda found the slipper, which was Cinderella's theme even from other years. On the other hand, Henry and Jacinda's kiss didn't work, is it because Jacinda kissed Henry as Jacinda and not as Cinderella?
Last week, we theorized that Tilly and Rogers might be the one to break the curse. However, it would be really disappointing if Regina, being Henry's Mother, giving him True Love's Kiss by kissing him on the forehead doesn't break the curse. After all, she was the one who cast the curse and she has magic, plus, she's a Savior now and she's redeemed. It would have symmetry because Emma got her chance and now Regina's become the mother she should be. Also, because a lot of people are griping about Regina's happy ending and, like we said in the last few podcast, you don't have to have a romantic partner in order to have a happy ending. She has a family, but if she is going to end up with someone by the end of the episode, we were hoping it's not going to be with Dr. Facilier.
Although the book said that if True Love's Kiss should ever break the curse, Henry Mills will surely die, it doesn't say whose kiss it has to be. Even the picture on the page that they found was just Henry poisoned, probably being held by Regina.
What is coming next week? Will they break the curse in the next episode? Where is Regina and Rumplestiltskin in this episode? Will we get to see Granny, the Charmings, Blue Fairy, Grumpy, Archie Hopper and the others again before the series finale? Will the two Cinderella's ever meet? What did you think about the episode? Let us know by filling in the comment section below! You can also head over the forum and share your favorite and least favorite moments from "Flower Child", as well as read more theories and other information about the future episodes, especially the series finale!
What did you think?
Email Feedback@ONCEpodcast.com (audio files welcome)
Call (903) 231-2221
Comment on the shownotes
Visit any page on ONCEpodcast.com and click the "Send a voice message" link to record and send a message right from your computer.
Help us out!
Share this post in your social networks
Follow us
On Facebook:
On Twitter:  echo do_shortcode('[twitter follow="ONCEpodcast"]'); ?>
Daniel J. Lewis:  echo do_shortcode('[twitter follow="theDanielJLewis"]'); ?>
Jeremy Laughlin:  echo do_shortcode('[twitter follow="phlegon"]'); ?>
ErinJ:  echo do_shortcode('[twitter follow="erinjcruz"]'); ?>
Hunter Hathaway:  echo do_shortcode('[twitter follow="travelingpixie"]'); ?>
Jacquelyn / RumplesGirl:  echo do_shortcode('[twitter follow="punk_bunny_87"]'); ?>