How long 'til Roni and Henry wakes up from the curse? Is the firefly ruby more important than we thought? More questions plus a conversation on the new Rumplestiltskin, the bat in the Belfry and Eloise Gardener in our in-depth discussion of the episode "Greenbacks." And don't call her Ivy… it's Drizella!
Podcast: Play in new window | Download | Embed
What a very interesting episode of Once Upon a Time. Although it was a fun story, it doesn't seem to have much to discuss about.
The New Rumplestiltskin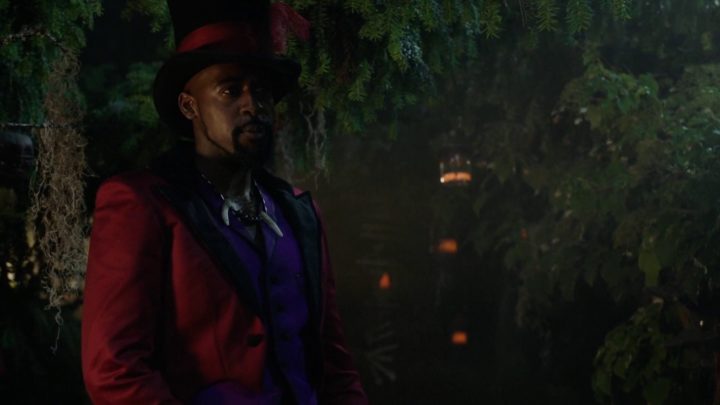 This episode reminds us so much of the episode "Desperate Souls" back in season 1. The way that they positioned the voodoo guy, Dr. Facilier, makes us think that he's a bigger character. Being stuck between two worlds, and the way he poofed out, if we don't see him again, we're not going to be left hanging like the characters that we've not seen again. The way that he seems so powerful made him seem like a Dark One. Is he the Dark One in this realm?
What if he is the bat in the Belfry? If he's trapped between two places, his actual form could be anything. Maybe he was just manifesting? Or is he just a throw-away villain? Is he the Ralph that Victoria regarded to in Hyperion Heights to wreck Mr. Cluck's? Is he even in Hyperion Heights?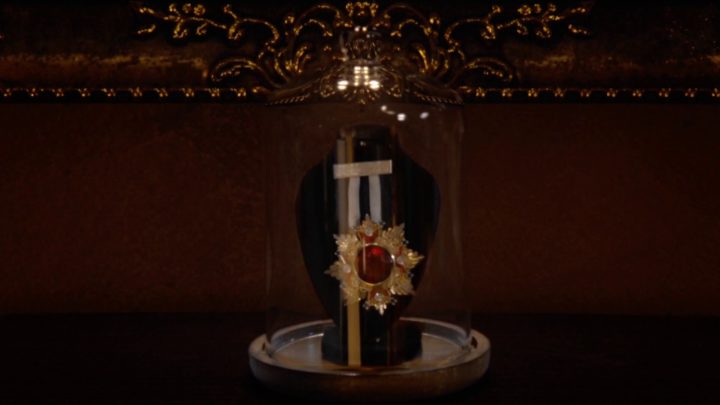 Are we going to see the couple frogs again? With something as powerful as the firefly ruby, it seems like we are going to see it again as well, but are we going to? And with Dr. Facilier out there in the Enchanted Forest on the run with the firefly ruby, could it mean something in the future episodes?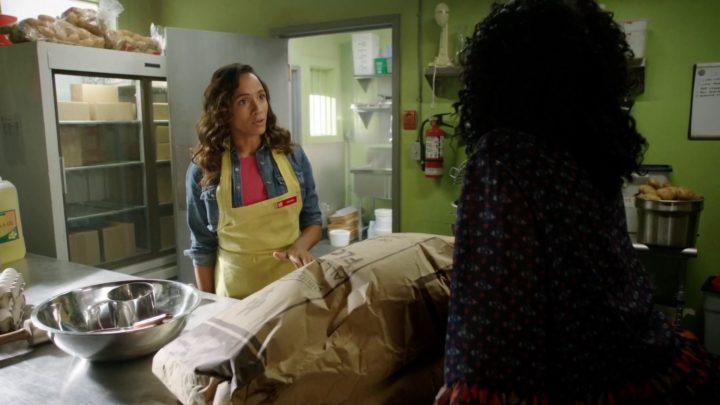 Back in Hyperion Heights, it's the story of Once Upon a Time in beignets, which is commonly known in New Orleans as a breakfast served with powdered sugar on top, the same place the Frog Princess took place in.
On the other hand, Sabine and Jacinda's back and forth shows their relationship a lot. Jacinda was pretty hard core, serious and hard on Sabine. Then again, we haven't seen a lot of backstory of how Sabine's dream came to be. How much has passed from the auction to the ball?
Eloise Gardener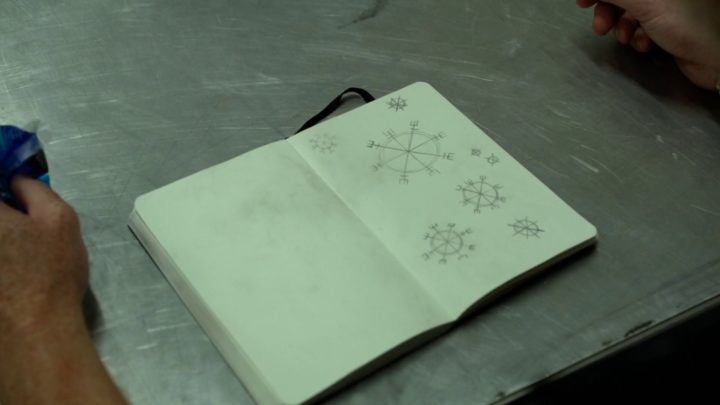 I wonder if the name Eloise is a reference to Lost. On Lost there was a mysterious character named Eloise Hawkin who had knowledge of parallel timelines and parallel realities. If the name connection is more than coincidence then perhaps Eloise is the mysterious Guardian Rumple is looking for. I think Eloise is more likely to be Hook's daughter than Alice. Eloise is probably her cursed name and she probably had a different name in New Enchanted Forest. The witch in the tower is probably the vengeful witch who had Hook's daughter locked up and is probably the evil that Eloise needed the runes to protect herself from. The fact that Eloise knew to draw the runes suggests that she like Alice might be at least partially awake. I suspect that Lady Tremaine was involved in her disappearance. Perhaps Lady Tremaine helped the vengeful witch imprison her in New Enchanted Forest as an act of revenge against Hook for whatever it was he did to her. Alternatively she may have somehow stolen her away from the vengeful witch for her own purposes. Whether she is the Guardian or not, I suspect that Eloise has some kind of magic that different people want. My original theory about Hook's daughter was that she is Rapunzel and if Eloise is somehow connected to time magic this could fit.

— Gareth
This brings us to the runic symbol in Eloise Gardener's notebook, the Seidr, which is a branch of Old Norse magic that dealt with fate. In the episode, it was said to ward off evil. Who is that great evil? How many "evils" are they dealing with this season?
Eloise seemed to be involved in something that doesn't want to be revealed. When they said that the case went cold 10 years ago, it looks like it has really been 10 years since it happened. Furthermore, at this point, it looks like more people are awake from the curse compared to any of the previous curses we've seen on the show before. Who is the thug that the police captured working for? Victoria? Ivy?
Does the runic symbol have any relation to the bat in the Belfry, since they are trying to change fate which is trying to bring Anastasia back to life?
The bat in the Belfry… and it's Drizella!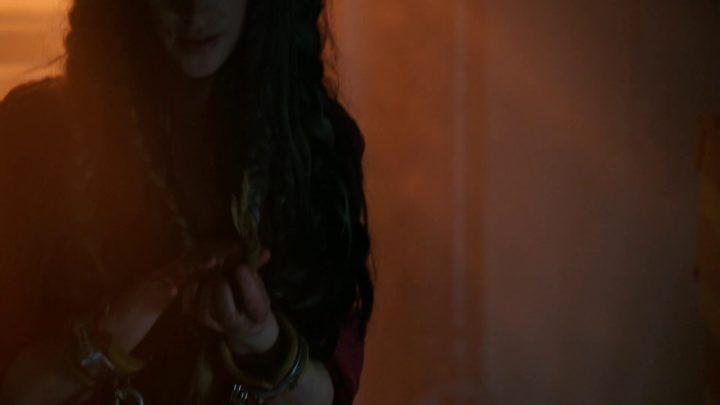 When we see the bat in the Belfry with Victoria, there was an audible heart beating in the background. Does this imply that one of them is controlling the other? Who is controlling who? One of the other interesting things that could tell who the bat is, is when the bat was referencing cutting at the root, pointing at her hair. Does this mean that she is actually Rapunzel? A dark version of Rapunzel, perhaps? Is she also the vengeful witch since she appeared to have magic, making herself invisible, transform and hide? How old is the bat in the Belfry?
Is Ivy the one behind all these all along? With her trying to weave into everyone's story and get not just Victoria, but Roni and Henry's trusts as well, does this mean that she was the one who cast the curse?
Wow, so Ivy cast the curse yet wants her mother to think she is in charge.  I wonder what her reason for that is and does it something to do with Anastasia.  What is the relationship between Ivy and the lady in the tower?  At one point it seemed like Ivy was in charge and at another, it seemed like the tower lady was in charge.  Does Ivy want Anastasia to be resurrected or does she have another reason for wanting Lucy to lose her belief?

I'm starting to think that Ivy wanted Regina to find the picture of her and Henry although I'm not sure what Ivy gets out of that.

— Melanie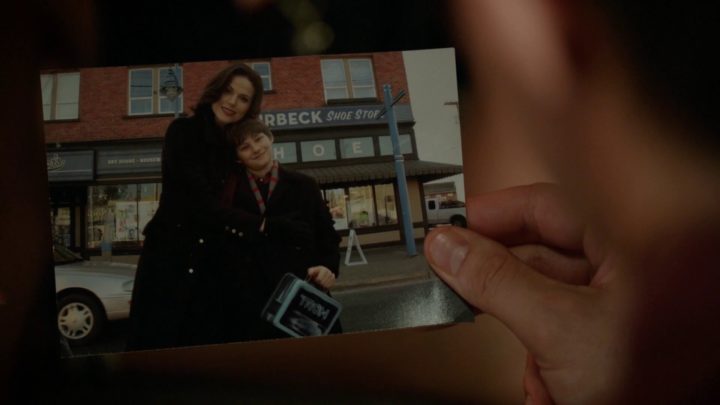 Who put the Regina-Henry photograph in the locker? Did Ivy mean for Roni to find the photo, or was it the bat who put it in there?
I'm not sure about Drizella. I don't think her mother knows that she has her memories, and has she had them all along? I think she does want the others to remember, otherwise she wouldn't have let Regina/Ronny into those vaults knowing what would be found. But then again, Mr. Gold was trying to help others remember in the first season. My guess is that she simply wants to thwart her mom. She doesn't actually care about the others.

— Meredith of Everett, WA
Is Ivy/Drizella the one pulling the strings on everyone else? What is her motive for this if she was the one behind all these? Does Ivy actually want everyone to wake up?
if she used anastasia's heart (i mean she was almost dead, not totally dead), it would make it now impossible for her mother to bring her back, which means now she gets her mother all to herself

— Ashley Hardee
What is going to happen now that Roni has found the photograph and both her and Henry knew it was them? Nothing happened when they touched the photo, how long are they going to go on like this where neither of them remember but they keep having these mother-son exchanges? Although they are really fun to watch, how much longer is that going to go on? Is this going to be a curse that will be broken in one big defeat like in season 1 or is this is a curse that will be progressively weaken as people start to wake up one by one in certain ways? What happens if either Roni or Henry wakes up before the other?
Is this the same curse that the Evil Queen and Peter Pan cast in the first and third season, or is this an entirely new curse? What will spark and jolt Roni and Henry's memories back?
Could Ivy be responsible for Anastasia's 'death'? This incorporates a few theories.

First off, let's assume that Anastasia is the Rapunzel character and the lady locked in the tower is The Mother Gothel character. Also, contrary to the Alice being Hook's daughter theory, I think Anastasia may still be his and Lady Tremaine's daughter.

The name Ivy suggests she is named for the plant, which is an invasive plant that also climbs up buildings. What if Ivy/Drizella somehow made a deal with Mother Gothel to steal Anastasia away, being jealous of all the attention her younger sister got. Once Tremaine married Cinderella's father, Drizella was jealous again, and at some point, convinced Cinderella to 'help' her rescue Anastasia, which resulted in her death. Then the blame went onto Cinderella making Drizella the favorite daughter again.

I'm still not sure what happened to make Drizella cast the curse. Maybe once Lucy was born she became the favorite because she was so similar to Anastasia in her pureness of heart. Or maybe this is all some intricate plot between Ivy and Mother Gothel to make Victoria think she has to kill Lucy to save anastasia so Ivy is once again the favored daughter (but it won't really work and just result in both Lucy and Anastasia's deaths).

Whatever it ends up being, Drizella is definitely a character with multiple secrets and interesting motives.

— Lisa
Is Ivy actually the one responsible for Anastasia's death and not Cinderella like we've previously theorized?
While this episode does not feel like a filler episode, it also doesn't help move the story along. Ivy is probably the villain here, but is she really or is she simply one of the misguided villains we have seen before? Share your thoughts using the comment section below or head over the forum to discuss more about "Greenbacks" and the upcoming episodes!
What did you think?
Email Feedback@ONCEpodcast.com (audio files welcome)
Call (903) 231-2221
Comment on the shownotes
Visit any page on ONCEpodcast.com and click the "Send a voice message" link to record and send a message right from your computer.
Help us out!
Share this post in your social networks
Follow us
On Facebook:
On Twitter:  echo do_shortcode('[twitter follow="ONCEpodcast"]'); ?>
Daniel J. Lewis:  echo do_shortcode('[twitter follow="theDanielJLewis"]'); ?>
Jeremy Laughlin:  echo do_shortcode('[twitter follow="phlegon"]'); ?>
ErinJ:  echo do_shortcode('[twitter follow="erinjcruz"]'); ?>
Hunter Hathaway:  echo do_shortcode('[twitter follow="travelingpixie"]'); ?>
Jacquelyn / RumplesGirl:  echo do_shortcode('[twitter follow="punk_bunny_87"]'); ?>