With Gold holding Regina as a prisoner, she soon learns that her suspicions about Robin's supposed quiet life in New York may be ill-fated when Rumple asked her to check up on him. In Sherwood Forest of the past, the Dark One sent Robin of Loxley to Oz on a fool's errand to steal the elixir of the wounded heart, a potion that cures heart physically and emotionally. In New York, on the other hand, Gold's chance of having the cure for his heart problem was interrupted when Maid Marian finally revealed her true self. Join in as we share some of the things that stood out for us in the episode, Heart of Gold.
Podcast: Play in new window | Download | Embed
Recording with us live from Las Vegas for a little while is Addy Saucedo from Beyond Storybrooke Podcast, another great podcast about Once Upon a Time on Golden Spiral Media, a friend of NoodleMx network that is run by Darrell Darnell.
Zelena vs Rumple vs Robin Hood vs Everybody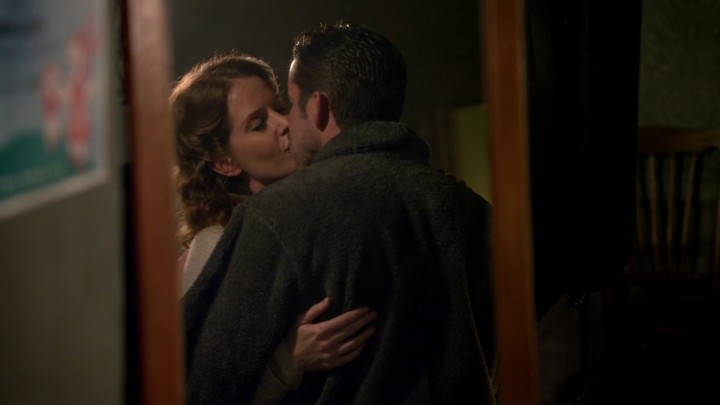 Although we knew that Zelena was coming back, we didn't see it coming at all when we saw Zelena disguised as Marian. We eve thought for a moment that maybe, she was just going to be appearing in flashbacks. At first, the way they explained it, we were kind of on the fence about the end of Zelena, and looking back at the scene to where we thought she died, we realized that there was more to it than we remembered. It just worked so well. It's almost a relief because it's the only sort of satisfying resolution that puts Robin and Regina together.
On the other hand, our friends over at Beyond Storybrooke were not satisfied with how Zelena left. She's not done yet; she's coming back, and have wondered something might be going on when Regina might be having nightmares about Zelena. To see Zelena having power over Rumple is amazing.
Speaking of nightmares, it all makes sense now when the Evil Queen told the other Regina who was kissing Robin to get away from him. Turns out, it was actually Zelena that she was talking about. Regina's dream was a huge puzzle for some that they did not understand so when she came back and saw her take hold of the story that she was Maid Marian the whole time was just amazing.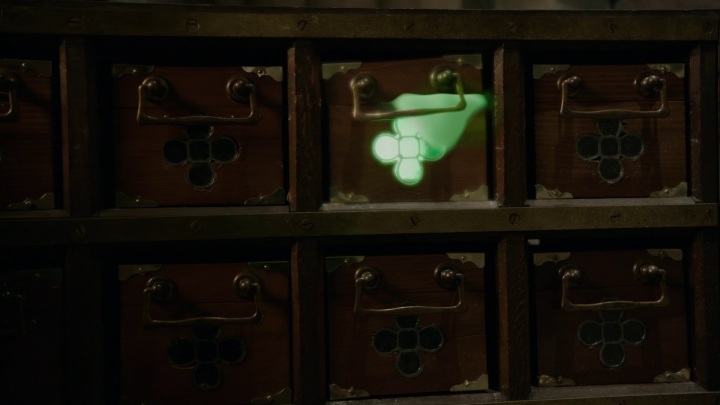 A few episodes back, we discussed how, when Rumple stabbed Zelena and she was shattered, she turned into dust and went into the box where her pendant was hidden, which they had said her life force was linked to the pendant and the smoke actually came from that. We totally thought, going into the finale that followed that she had gone back in time and was going to do something, and it was a huge let down when she didn't even play a part (in the finale). This gives us a lot more respect for the writing and the story arc for hiding something, just like how we talked about during our Heart of Gold initial reaction, and we loved to be surprised like that! Zelena was just utterly wicked, especially the way she treats Rumple. We know that she's always been evil and has always been one of the villains that we felt very threatened for our characters and how she comes back, she's attacking the number one villain that everybody faces, and at his deathbed even.
We want to give credit to our forum moderator, MatthewPaul, because way back in season three, he theorized this even though no one believed it because they thought it was too crazy, but even back then, he theorized that Maid Marian was actually Zelena. This was even before the spoilers came out that Zelena was returning, so major credits to MatthewPaul for predicting this.
Even though we were tricked that Maid Marian was actually Zelena all along, we loved being surprised like that. She almost died at the hands of the Snow Queen back in season 4 when Marian was almost frozen, and it made us wonder if Zelena even had the power to escape being frozen. Was she simply faking it just to keep up her cover? She was kind of in the deep freeze for a lot of the fourth season and didn't see her until towards the end. Too bad they saved her.
In one way, it's making us feel like this could be a series finale because they are bringing a villain back. What with Rumple keep saying how he wanted happy endings, it almost feels like all of the villains will be coming out of the woodwork trying to get their happy endings. Or to quote Rumple specifically, "a whole bunch of happy endings."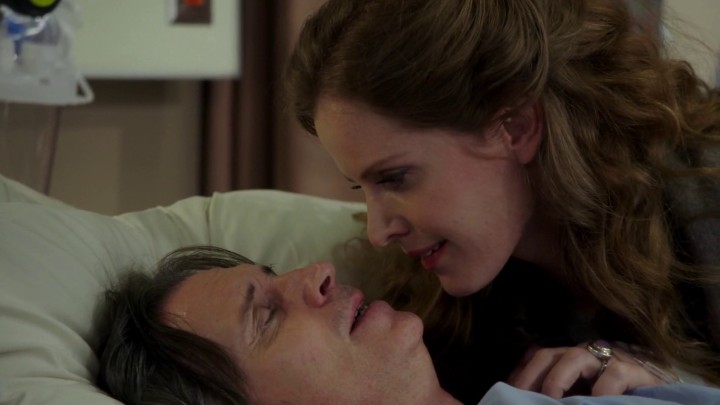 We really liked the fact that aside from us, Rumple himself was surprised with the Zelena-as-Maid-Marian reveal. It's not often that a character like Rumple to be surprised and to see his shock and horror at this made us a little bit sympathetic to him, even though he's the villain again. Is Rumple essentially dying from his old age, not just with the lack of magic? He told Robin that it's more of a moral problem because of all the evil deeds that he's done and although there's a physiological truth to that, doesn't mean the doctors would be wrong with him. Besides, he has been in a land without magic since the curse was brought upon Storybrooke, why didn't it affect him then? Looking at his motivation when he started all of this, he was simply trying to get his son and not to seek revenge. It's not selfish to seek your child and try to save your child but now it's pure selfishness.
One Easter Egg that was cool to see was when they were New York and Roland pointed to how loud it is, we hear a guy with a New York accent saying, "Hey! I'm walking here!", which is a famous ad libbed line from 1969's Midnight Cowboy.
Thank you for supporting us!
David Neuland (subscriber)
Steve Johnson (subscriber)
Lisa Slack (subscriber)
Tracey Anderson (subscriber)
Daniel Clark (subscriber)
Erin O.
15 Patreon backers ($61.25 per episode)
You can sponsor an episode or more of ONCE podcast, too! Email Daniel@ONCEpodcast.com if you would like to arrange a corporate sponsorship of our podcast for the upcoming third season.
The Beginning
Starting out the episode with David, Mary Margaret, Emma, Hook and Henry as they search for the Author, we've had the Charmings agonizing over this whole thing for weeks and after they've had the moment with Emma when they confessed to her what they did, they didn't really get enough time to process it so their reaction is possibly kind of real but to suddenly chase her and justify it every direction they can seemed a little inconsistent to what they did. What they said about her being the Savior reminds us of what Snow said to Regina, "because of us, Maleficent lost her child," and here, what she was saying to Emma is that it was more like the Author led them to that track. Still, we loved how Emma pointed out that her parents still holds responsible for the wrong that they did.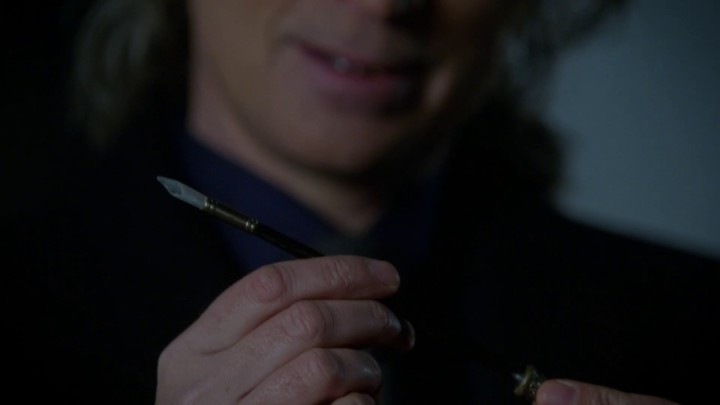 They said that the Author manipulated them, but we're not sure we understand yet just how much. Do we really understand just how much power the Author has? We know that he wrote that into the story that even the Apprentice thought that he was made to do something by the Author, but the Charmings were possibly only referring that they met him on the road. What kind of power does he hold now that the Author has the quill and he's going to be writing stories for Rumple? What does Rumple mean when he said "a bunch of happy endings," unless he cares for his fellow villains? Why would he even say "a bunch" at all? Maybe he's also thinking that it's time for all villains to get their happy endings and that the heroes owe them some?
Gold and Regina
We didn't see a whole lot of it but when he talks to her, it doesn't have this completely cold-hearted hatred, but that he's just being his usual self telling that Regina is vital to his plan and that he is willing to do whatever it takes, even threatening Robin. Gold even said he had affections for her, was he referring to respect, friendship or something completely neutral?
Looking at the way Rumple is acting now, we could see that he has no limits now; no more morals and it's all about him and his happy endings. This is probably the most dangerous of Rumple that we are going to see because now, he feels like he has a free pass now but at the same time, he also seems to know that something is not going to work out, as if he only has a limited amount of time left and in that limited amount of time, he's going to attempt to get his happy endings because he has nothing left to lose. It's kind of wove in interestingly because we thought he was just doing this and he wouldn't have gone back to Storybrooke if it wasn't for Zelena, since she was kind of holding his life over his head. Is he doing this for her so that he'll live? He did not even want Neal's things, which contrasted so much back to the episode Desperate Souls, when he gave Emma Graham's things. In that episode, he was very sentimental and we could see and tell that he lost his son. Now, when his son's things was being offered to him by Robin, he wasn't even interested in having them and seemed to be just wanted to go after his own desires. To be fair, he kind of explained why he doesn't want anything to do with and that being that the person owned that was Neal, and not Baelfire.
Does Gold still care about Henry? Back in season 4A, when the Snow Queen was about to cast the Spell of the Shattered Sight, he seemed really concerned about his grandson when he said he wanted to take him and Belle out of Storybrooke. In a way, does he think that perhaps with Henry, he has a second chance to be a father? In a morbid, insane way, does he think that Henry can replace his son? Then again, at least now we know why Gold didn't choose to live in Neal's apartment. But who's even paying the rent? And why is Walsh's shop still sitting there with all his stuff in it?
It seemed that, all these flashbacks that we have seen in New York, happened before Gold sought our Ursula and Cruella. Did Zelena helped him find Ursula? Although he's resourceful enough that he's probably found her on his own, but what was interesting is that when he did leave the hospital he tried to get Robin, in a way, to go back to Regina but is still too cowardly to tell him what Zelena is doing. Now, nine weeks later, we see him instead holding Robin hostage in a sense. In a way, it seemed like he was concerned in a friendship kind of way for Regina but at the same time, threatening her with this concern.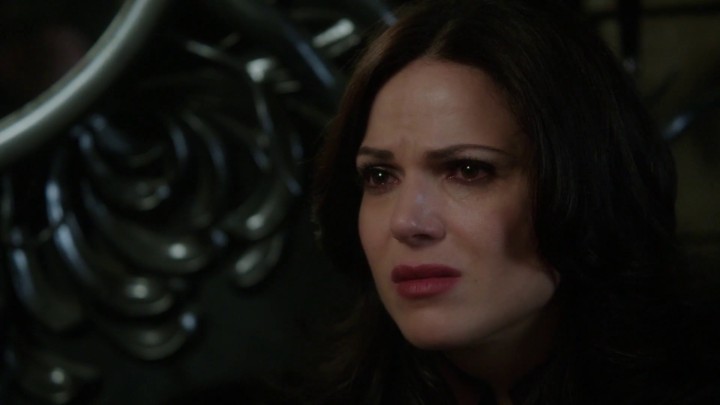 Speaking of Regina, how do we interpret that range of facial expression that she made at the end of the episode? What is she going to choose—the Savior or her love? She looked tortured but then she made that face, so we couldn't tell what is she going to do because it looked a lot like an Evil Queen face, but that could still mean anything. Will Regina, however genuinely or not, go into whatever she was asked to do? Gold may not trust her and she may not be totally on board with whatever, she loves Robin but what is she going to do? Was her dream some sort of premonition in a sense, because Zelena could look like Regina that easily?
We definitely want to see her get her happy ending especially now that she has the moral freedom to. What with everything she went through with Marian coming back and going through that phase but then ultimately decided to do the honorable thing. All of the OutlawQueen shippers probably cheered when they realized that Maid Marian is, in fact, dead. It was a sad thought the way she died, which was pretty brutal but at the same time, we had a problem with it because we've seen Zelena and other people kill with fireballs or flying monkeys and all sorts of weapons and henchmen, and if she can simply wave their hands and evaporate people, isn't that too much magic? Who could possibly stand in her way if she could easily dissolve someone in a wave of a hand?
Honor Among Thieves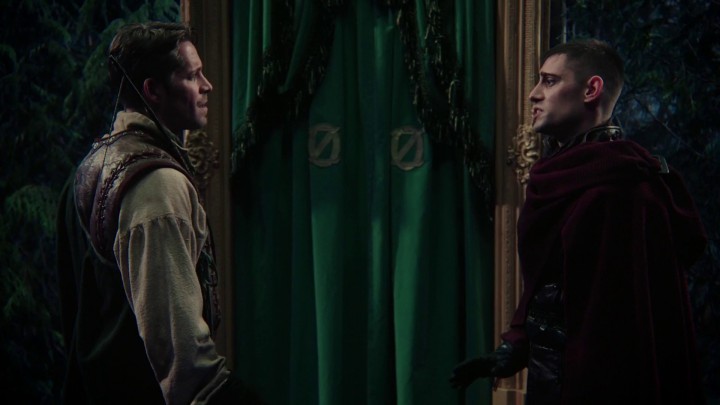 It was cool to go back to Oz, although it felt a little bit out of place until they tie it in with Zelena again. When we saw how Robin and WIll's relationship started, was Will lying when he told Robin about his broken heart and his sister? Depending on when this was, we thought that his broken heart could have something to do with Anastasia from Once Upon a Time in Wonderland, but he did end up getting that potion. How did that scene play out? Did Will pickpocket the potion from Robin or did Robin put it on his pocket when they hugged?
We questioned Robin's honor a lot during this episode because they tried to define the strange code and honor that we simply not buying. Robin Hood has always been questionable, anyway, in some ways except that the money being taken and re-distributed. It was as if they make stealing okay, the way they tried to wrap it up into nice little morals that could go into children's bedtime stories are somewhat bothersome to us.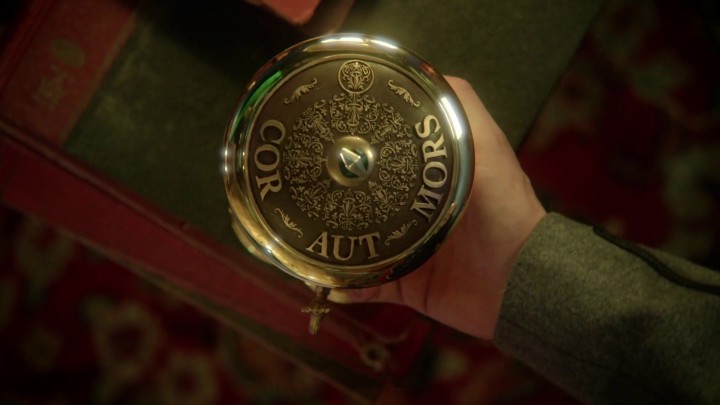 That vial that Robin stole the Elixir of the Wounded Heart said on it, Cor Aut Mors, which is a Latin word meaning Heart of Death. Cor Aut Mors implied your choices between the Heart—Moral Values, Duty, Loyalty—or Death, and we wondered if the potion is some kind of a test and not just directly the actual solution.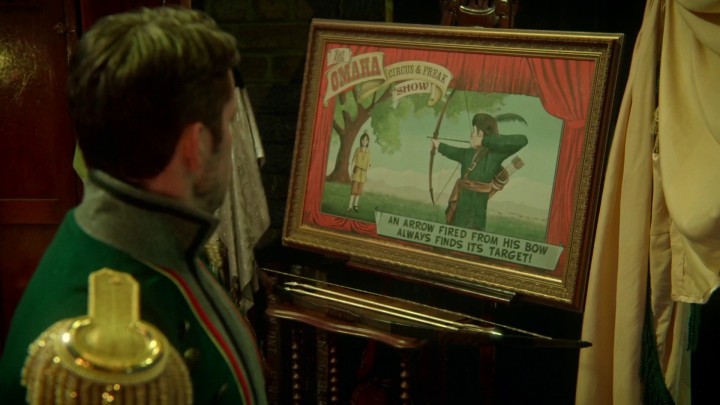 Furthermore, this is also where we see how Robin got the bow with the arrow that always hits its mark, that Walsh had. How did it fall to Robin's moral code to steal the six-leaved clover? How does Zelena have it later? Did Robin gave it to Maid Marian later on, and Zelena simply found it on her and thought to use it when she impersonates Marian?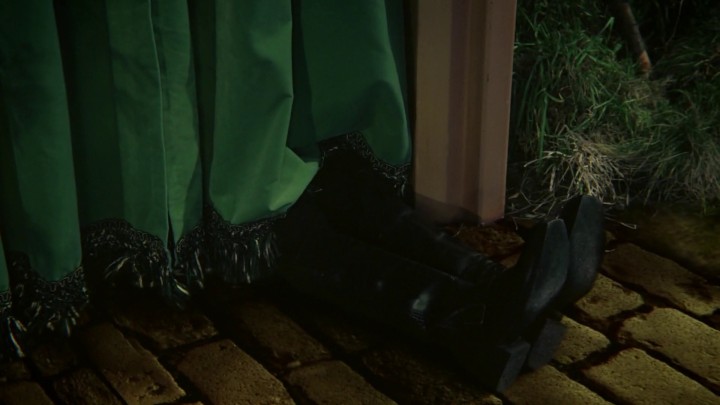 What's with people in Oz getting crushed? They get crushed by houses, doors, and all kinds of things. Where did the door come from? It looked like the one from Jefferson's hat. Did the door crushed people or did that simply knocked him down? It doesn't looked like the guard was killed, but more like unconscious.
Robin….so good to finally get his backstory. It was cool that they went way back to even before he was Robin Hood. I liked the twist that he already was married to Marian and she worked with him. Before this episode I didn't really care for them as a couple and after this episode, I really would ship them, so it's a shame she's dead. I loved when the show sort of poked fun at itself when robin mentioned the self explanatory name of the elixir. It was cool to see Will in Oz, but I'm tired of the show trolling us. They keep teasing us like they're going to finally tell us what happened to Ana, but no,it was just about his sister. I'm starting to think we may never find out. I don't even understand why they brought him in. He still has no purpose. One thing that confused me….why did Regina need Emma to look robin up for her if he had a phone with her number? Maybe he had her number but she didn't have his? I was very impressed with the actress who plays Marian. I had never liked her at all before, even found her annoying, but she did great this episode, especially the part where she comes in rumples room, she played that amazingly. I loved their explanation of why Robin looked different in s2….very clever, as was the explanation of how he got his name. I have issues with Robin saying stealing for someone else makes you a hero. Stealing is wrong no matter what

— Chris Tipton
Robin Hood and Maid Marian's love was so obvious in the past, that it makes it even more painful to realize that Marian is actually dead. It was a quick, death scene but we thought it was very sad.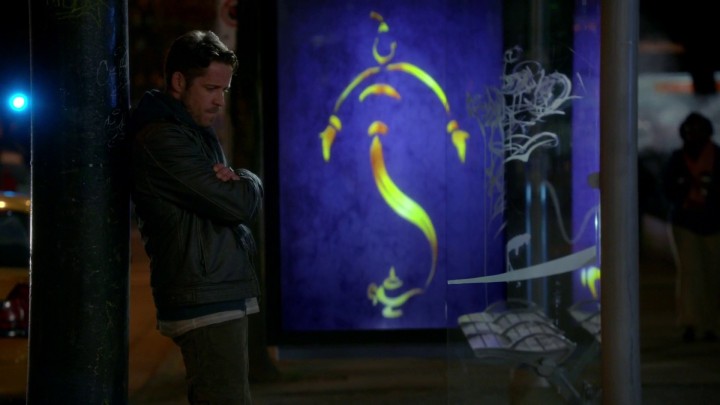 When Robin was outside, there was a blue sign lit up and it was a sign for Aladdin on Broadway. Could that might be a hint that we may see Aladdin next season? He's also a well-known thief aside from Robin, after all.
What did you think?
Help us out!
Follow us
Spoilers