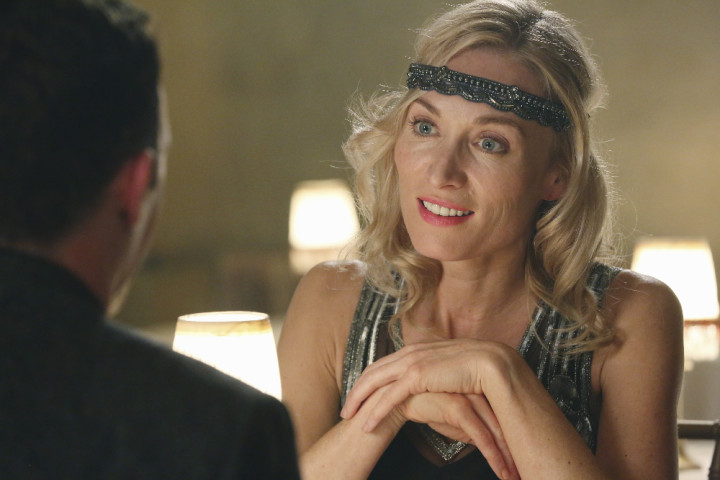 Unfazed by the Dark One's threat, Regina banded with Belle in order to gain a leverage to keep him from interfering with her retrieving Robin in New York, that is until Cruella told Pongo to fetch. In the past in 1920s fictional London, however, young Cruella met a man who travel between realms of story telling who learned how he should be living life instead of writing about it until he himself learned not to trust the girl with a Cinderella tale with a black widow twist.
Podcast: Play in new window | Download | Embed
In fictional 1920s England, viewers meet a young Cruella, whose oppressive mother uses her Dalmatians to terrorize her daughter. Cruella is confined to her mother's attic until a mysterious stranger arrives and empowers her to challenge her captor. In Storybrooke, Regina gains leverage to keep Gold from interfering with her plan to rescue Robin, but her trip to New York takes the backseat when she and Emma learn that Cruella has kidnapped Henry.
These are just our first thoughts about this Once Upon a Time episode. We'll share more about "Sympathy for the De Vil" in our upcoming full discussion (usually live on Wednesdays at 7:00 p.m., USA Eastern Time).
Initial Reactions
What an appropriate title for this episode because at first, didn't you feel some kind of sympathy for Cruella? We kept thinking what did the author do to her to turn her like that, but at the same time, we didn't think the story started, at least the author's story started, here. It seemed what actually changed the author was Cruella's mother, and not Cruella herself, to start living life instead of just recording life all the time. What he did with that is not amazing, probably shaped by the tragedy-slash-cruelty. But now we finally learned that Cruella's happiness, the happy ending that was stolen from her is to get back her ability to kill? If we didn't already have a frame of reference for Lily, she's sort of what we would have imagined Maleficent's daughter would be having had all of Emma's potential darkness put into her.
Her mother lose three husbands to her daughter, all died the same way. Why didn't she decide to get help instead of keep bringing in a new man for her to kill? She should have been skittish after one and w get the mother dillema but three dead husbands and all she did was kept Cruella locked in the attic?
In the Storybrooke side of things, on the other hand, Cruella had control over Maleficent for a brief while, which seemed like it could be an interesting twist to the story but now that Cruella is dead, unless Rumple saved her. Are we to assume that she is really dead? Her body was seen down in the cliff, but is she really dead? Will Maleficent and Pongo now be back into their normal self after Cruella fell off the cliff?
By the way, it was great to see Pongo again and learn that he wasn't, at some point, some Cruella's husband that she turned into a dog, nor a step father. It was also revealed that Cruella's world is fictional London, which they finally gave an explanation for; it makes all those world seemed far less real, in a sense. It also does make more sense but, at the same time, the show used to feel as though it was set up so that these worlds were just other worlds. There were ours, as though ours wasn't really any different except ours was one without magic and the others were just lands with magic. Now, it's almost as if they exist for storytelling, which is a little more different than what we though the premise of the show was in the beginning. However, it does make it easier for telling stories of these characters, making them magical without making them in our world like Alice, Cruella, and all those other visits to fictional London.
Thank you for supporting us!
David Neuland (subscriber)
Steve Johnson (subscriber)
Lisa Slack (subscriber)
Tracey Anderson (subscriber)
Daniel Clark (subscriber)
Swangot Hooked (subscriber)
Erin O.
15 Patreon backers ($61.25 per episode)
You can sponsor an episode or more of ONCE podcast, too! Email Daniel@ONCEpodcast.com if you would like to arrange a corporate sponsorship of our podcast for the upcoming third season.
It was revealed that the Author's name is Isaac, and these are just our initial reactions, that's why we're all over the place but who is he? There is Isaac Newton and Isaac Asimov, and there's also Isaac, the son of Abraham and Sarah in the bible, and that Isaac was named because of Sarah's laughter, but who is this Isaac? How does his name play into the story? They don't often pick names just for the sake of picking a name, most of the time, the names have some kind of meaning. What does his mean?
At first, we did feel a sympathy for the De Vil, and it started to make sense why she hates Dalmatians but there's something a little disturbing by the whole chased by the Dalmatian thing in the beginning. There was also something about the CGI growling that take the edge off of it. Apparently, you can't train Dalmatians to growl or snarl. They're too cute; too nice.
One of the thing that we learned about the Author tonight is that when the he dies, the authorship passes on, kind of like the Dark One curse. How does it pass on?
Although the only things that changed when the ink spilled on Cruella is her eyebrows and her hair, as well as her voice, the show did a really good job in making Cruella look younger and innocent. She looks youthful and innocent with an half pair of eyebrows.
We were expecting to see more of what the terrible effect was when the ink spilled on Cruella. She was already evil, and already had her power, so we were glad they clarified what he actually wrote that stopped her from shooting the Author.
At the end of the episode with Emma killing Cruella that turns her dark was kind of like a Star Wars thing. But was it enough to turn Emma dark when she was simply protecting her son? In a way, she killed out of anger, and while it did protect and saved her son, it was rage and anger that fueled her to kill Cruella.
Rumple heart looks like basically a piece of coal; barely any red to it; basically all black, no glow, almost ready to crumble it seemed. He said that when it goes completely black, he will lose the ability to love. It won't kill him, but he will lose the ability to love. So what is it that he's actually after? Still rewriting or is he going to have the Author somehow change all kinds of things so that his heart is not black? Can the Author even change the past? Is that what Rumple wants? Is there something that the Author can write in that will fix his heart? Can the Author simply write that his heart grew four sizes big?
Where is this going for season five, especially after Josh Dallas confirmed that Once Upon a Time has already been renewed for fifth season?
Where were going with this in season five could be an interesting direction. What if Emma becomes the villain in season five? What if Rumple is gone or he and Emma teams up together, with Emma realizing how villains deserve a happy ending after all? Will Emma go completely dark and stay that way?
With Zelena turning into a big villain again, as well as Rumple, and Emma possibly turning into another villain, we would be okay if this arc does not get resolved completely by the end of the season if that means they're building up a story for the season five. We definitely want to see a great lead in to the next season which, at this point, we still think would be the last season for Once Upon a Time.
If the Author gets killed, it seemed more than possible that Henry becomes the next author. However, if he does and Emma goes dark, it would be tragic to see him write his first story and it's a story about her mother turning dark. Unless, of course, he also use his power and manipulate the story like Isaac did to turn Emma back into light again. What if the names of the author comes backwards alphabetically, that's why the last author was named Isaac?
Remember, these are just our initial reactions regarding tonight's episode so please bear with us if we're a bit all over the place. If you have your own thoughts, feedbacks, or theories regarding tonight's episode, however, send them over to us and join our upcoming full discussion!
What did you think?
Email Feedback@ONCEpodcast.com (audio files welcome)
Call (903) 231-2221
Comment on the shownotes
Visit any page on ONCEpodcast.com and click the "Send a voice message" link to record and send a message right from your computer.
Help us out!
Share this post in your social networks
Follow us
On Facebook:
On Twitter:  echo do_shortcode('[twitter follow="ONCEpodcast"]'); ?>
Daniel J. Lewis:  echo do_shortcode('[twitter follow="theDanielJLewis"]'); ?>
Jeremy Laughlin:  echo do_shortcode('[twitter follow="phlegon"]'); ?>
ErinJ:  echo do_shortcode('[twitter follow="erinjcruz"]'); ?>
Hunter Hathaway:  echo do_shortcode('[twitter follow="travelingpixie"]'); ?>
Jacquelyn / RumplesGirl:  echo do_shortcode('[twitter follow="punk_bunny_87"]'); ?>