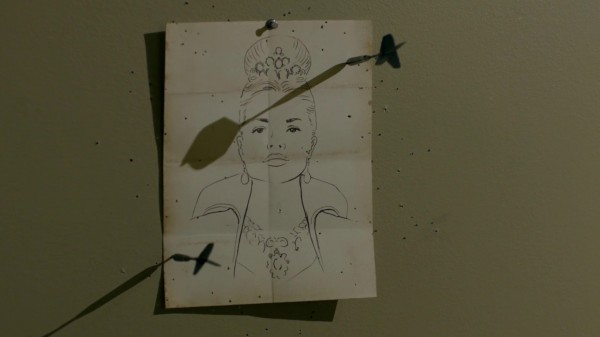 Jafar forced Will to surrender a vital information in the hopes of saving the Red Queen. Meanwhile, Alice and Cyrus, with the White Rabbit's help visited Storybrooke to retrieve something that could hopefully help them beat Jafar. In the past, Anastasia and Will meets the Queen of Hearts before the coronation. How will she change their relationship? How far will Jafar go to get what he wanted?
Podcast (wonderland): Play in new window | Download | Embed
This was an amazing episode. Imagine what the next two will be like? The creators really did raise the bar high, telling the story the best way they can.
[adrotate banner="1″]
Wonderland (Past)
Before we get started, are we the only one who was very excited to see Barbara Hershey reprise her role as the Queen of Hearts? This has got to be one of, if not THE BEST episode in Once Upon a Time in Wonderland.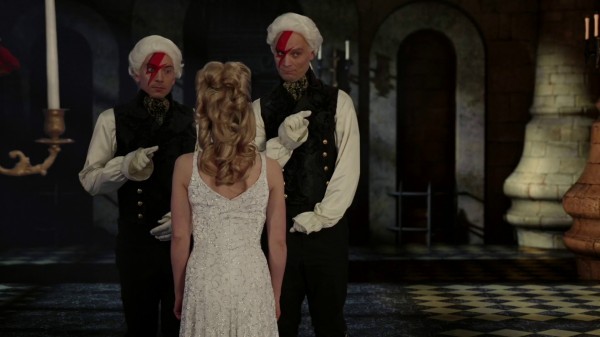 The scene starts out in the past with Anastasia and Cora just before the coronation. When Ana met the Tweedles, it was revealed that "Tweedle" is a title, not a name. The honorable tweedle, however, said that "A servant is defined only by his service." Will he be rewarded with a name in the end for showing extreme loyalty with the Red Queen?
In case anyone is confused, Cora rules a neighboring kingdom in Wonderland, but not THE queen of Wonderland. Perhaps Cora's kingdom and the Red King's was split. It could also be that both ruled Wonderland together before but just didn't see eye-to-eye, causing them to fall apart and rule separately.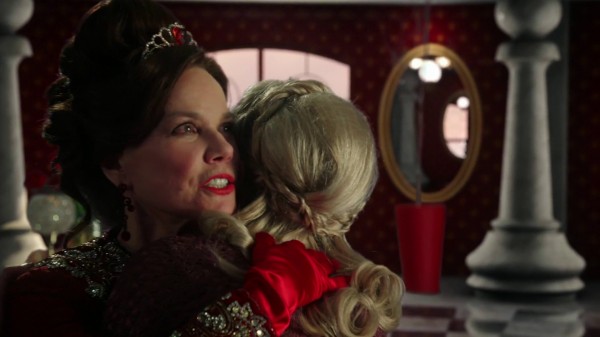 Cora told Anastasia that her daughter, Regina, was such a disappointment and that Anastasia was the kind of daughter she would choose to have. What is Cora's motivation? Does she just want someone to treat like a daughter or is there something deeper to that? Greater control of Wonderland? Why bother?
Just before the coronation, Will visited Anastasia in the castle, trying to change her mind. Anastasia and Will's music was so perfect for their story. It was also great hearing a familiar soundtrack that viewers of Once Upon a Time with Cora being in Wonderland.
When Cora visits Will just before he and Anastasia met, Cora reminded us of her famous line, "I think love is weakness." Heartbroken, Will asked Cora to take his own heart. Did Cora planned this all along? Or was she just as shocked to be requested to rip someone else's heart? What did Cora do to Will's heart after she took and kept it? Did Cora start controlling Will? Jenny thought that Cora used Will to kill the Red King, which is why he is wanted. However, in the episode Forget Me Not, Will was wanted for the following—theft, fraud, posturing, imposturing, gambling, disturbing the peace, public nudity.
Just before Will left, he said that "A man without a heart is a man without heartache." This reminded us so much of what Emma Swan told Graham in Once Upon a Time in the episode, The Huntsman: "Not feeling anything's an attractive option when what you feel sucks."
When Cora stopped Anastasia from running away with Will, Cora seemed to be doing the same thing she did to her daughter with the stable boy by manipulating other people's feelings while making everything so personal. Once again, Cora stopped someone from running away with the man she loves so that she can be shaped into a ruler.
In the episode "Queen of Hearts" in Once Upon a Time, Cora had some beforehand knowledge of the curse when she told Hook that the curse cast by her daughter won't last forever. Did she know at the time that she was going to leave Wonderland so she looked for someone to take over once she left?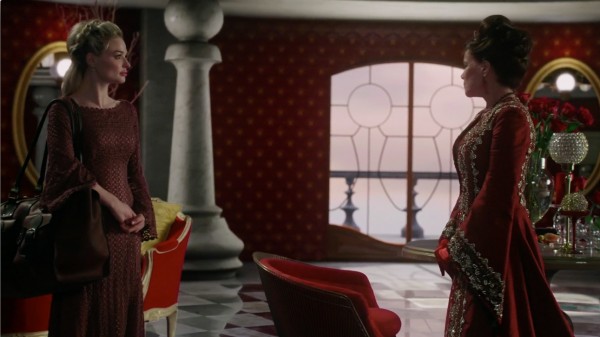 Props to the creators and Emma Rigby's acting for doing an excellent job in making Anastasia seem younger — hair, costume, makeup, and her acting — better than they have in the past. Moreover, has anyone noticed a possible Hidden Mickey on the window?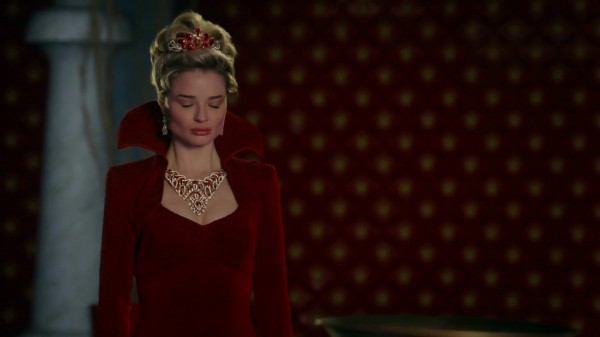 Another props to anyone who theorized that it was Cora who taught Anastasia magic. Furthermore, as Cora started teaching Anastasia magic, she started with respect for power, deserve, and the laws of magic not to be broken. On the other hand, Cora seemed to use entitlement and arrogance in her magic, telling Anastasia to prove them all wrong to fuel the magic; interesting spin on all the popular self-empowerment talk.
We seen how magic seem so much like a drug and at first, it brings pleasure to its user but later shows what power really does. In the episode The Miller's Daughter in Once Upon a Time, Emma have the same satisfied look when she successfully cast the protection spell in Mr. Gold's shop.
Who killed the Red King? Does Cora have anything to do with it? Does Will?
Thank You for Supporting Us!
You can sponsor an episode or more of WONDERLAND podcast, too! Email Daniel@WONDERLANDpodcast.com if you would like to arrange a corporate sponsorship of our podcast.
Present Day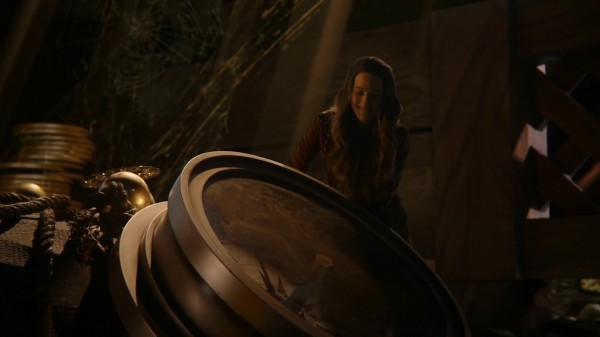 Starting in the cantina at Mos Eisley Space Port, Cyrus and Alice tried to steal the Lost and Found, the compass we first saw in the episode, "Home," which always pointed to the thing you desire. A gift from Cyrus's mother, which he gambled in the last episode "Dirty Little Secrets." On the other hand, it was cool to see a tiny Alice to get the compass herself. Also great seeing Cyrus's butt-kicking skills again.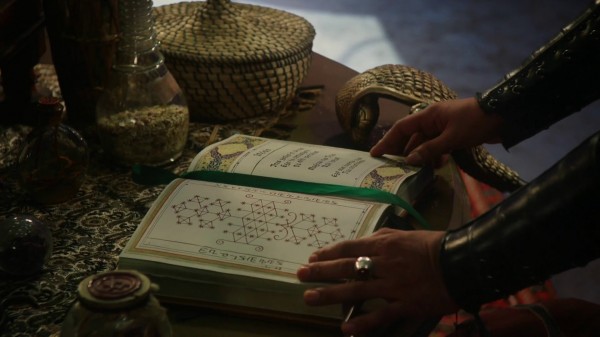 As Jafar tries to cast the spell, the pages in the book was shown but unreadable. Apparently, it was written in text called "Hollywood Latin." The spell in the book roughly read, "Three genies in bottles. I will you to join [together]. Give me the power!"
Just as he was told the previous episode, the honorable Tweedle finds Cyrus and Alice to warn them of Jafar possessing the three genies and releasing the Jabberwocky. It was surprising though that Cyrus didn't know about the Jabberwocky. Could it be because Alice has been his only master in Wonderland whereas Alice has been in and out of Wonderland since she was a little girl? How did Alice know about the Jabberwocky? Does she have something to do with the Jabberwocky's capture?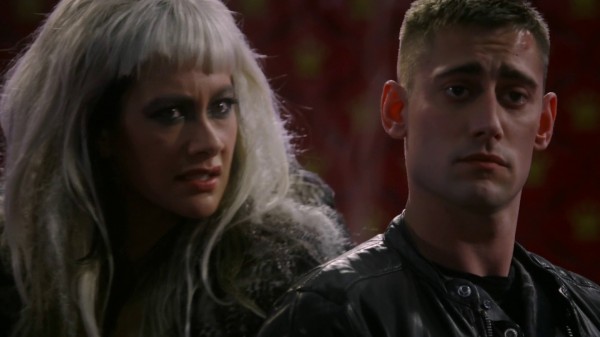 Back to Jafar and the Jabberwocky, the Jabberwocky looks bored as Jafar still tries to cast the spell but kept failing miserably. However, it was funny how Will basically told Jafar that all they do is jabber, jabber, jabber. Moreover, it seems that not only Will has no ability to love, he also doesn't fear anything.
Before Alice and Cyrus arrived in the Anastasia's cell, Ana was seen talking to the sultan. Will he play a role in defeating Jafar? Why is Jafar still keeping his father alive? How much magic does Jafar have with and without Amara? When he pushed Anastasia off the wall inside her prison cell, a rattlesnake sound was heard. If he was so dependent of his staff, does that mean that Jafar wasn't really all that powerful?
Just as the Queen suggested, the White Rabbit tried to build an army to fight against Jafar and the Jabberwocky, no matter how hard it is to convince anyone to band with them. The White Rabbit said that they needed a leader to go against Jafar and the Jabberwocky? Is he trying to hint Alice to lead?
Storybrooke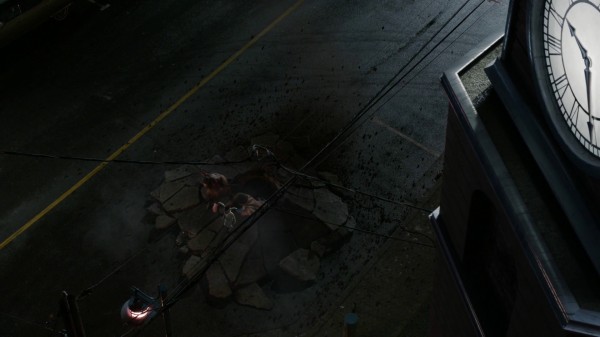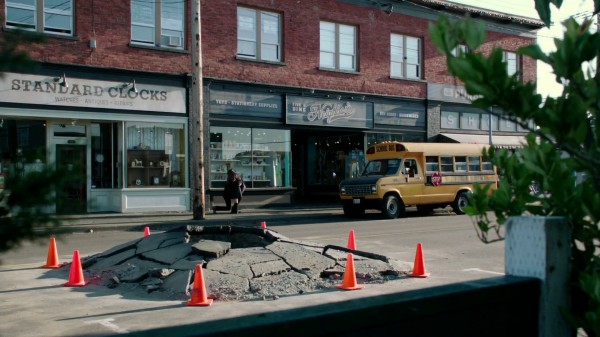 Alice and Cyrus, led by the White Rabbit then journeyed to Storybrooke to retrieve Will's heart. But unlike in its parent show, Once Upon a Time, Alice, Cyrus and the White Rabbit arrived at 9:25pm instead of 8:15. The hole was also seen before in Storybrooke from the episode, Lady of the Lake. Good to finally get an explanation for that big hole that was shown in the third episode of the second season of Once Upon a Time.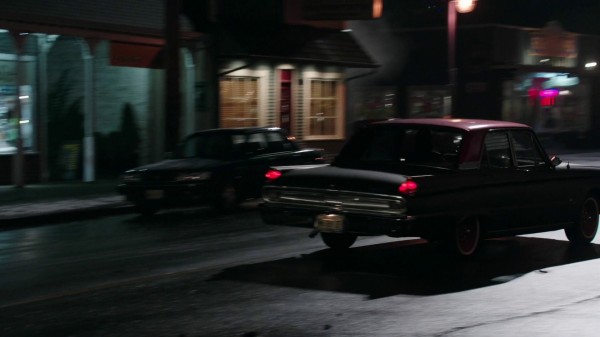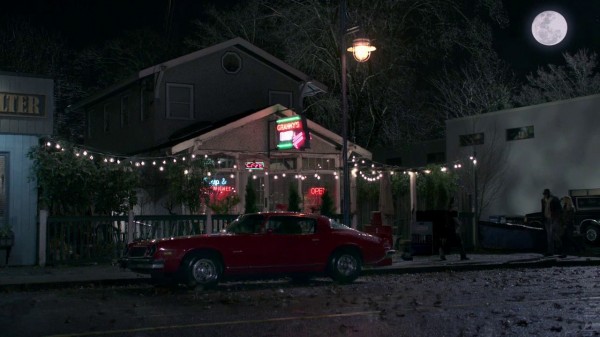 Another nod to Once Upon a Time seen in this episode was Ruby's red car, which was seen from the episodes "Red Handed" and "The Price of Gold." It was the car that Alice referred to as 'noisy.'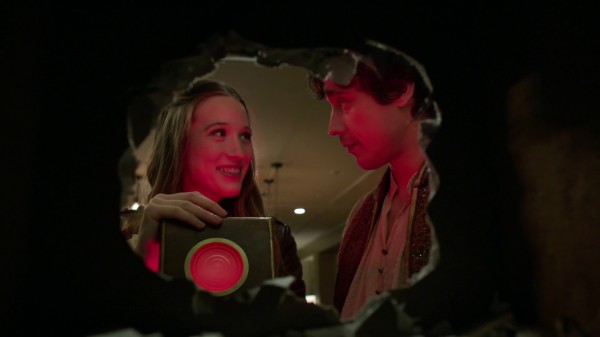 It was cool to see Alice and Cyrus fascinated by electricity and all of Will's furniture in his apartment. But looking at how his home looked like, Cyrus said that this is Will's fight, too. However great it was to have finally retrieve Will's heart, what is the logic behind Alice and Cyrus wanting to go back to Wonderland, where the very person who seeks it is there?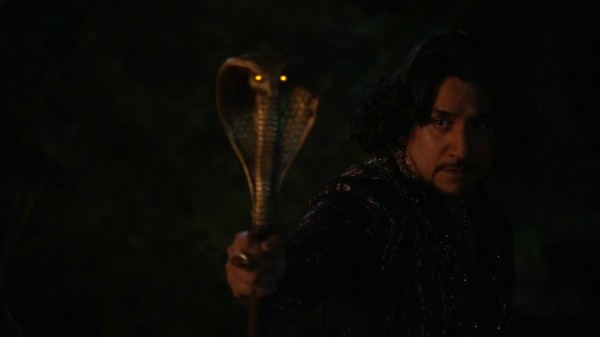 Back in Wonderland, it was cool to see Jafar's snake staff's eyes turn yellow when he tried to kill Cyrus. It was as if Amara was finally resisting, trying to keep Jafar to kill her son. Does this mean that Amara will be key to defeating Jafar?
I have a theory about Cyrus' mother. She's been a staff for many years, and Jafar's been using her and her powers. But when Jafar tried to use her to kill Cyrus she resisted.

This leads me to believe she is aware. To be conscious of what she is being forced to do is a cruel fate.

A fate worse than death, so in all these years she's had thoughts and opinions but couldn't express them because well, she's a staff.

But when put up against Cyrus her own flesh and blood she drew the line. As I feel any decent parent would to protect their child.

While it is a cruel fate for her to bare it would also have the best pay off, Amara has been closest to Jafar for years, she knows just how to defeat him and could assist Alice and Cyrus in their fight.

Also, once they free her revenge is in order, and there is no doubt in my mind she'd take it.

That's all for now, sincerely,

— Oncer
When Cyrus said that the compass would one day lead him back to her, does Amara know all along what's going to come down? Did Amara just set Jafar up so she can find her three sons and free them of the curse they were in?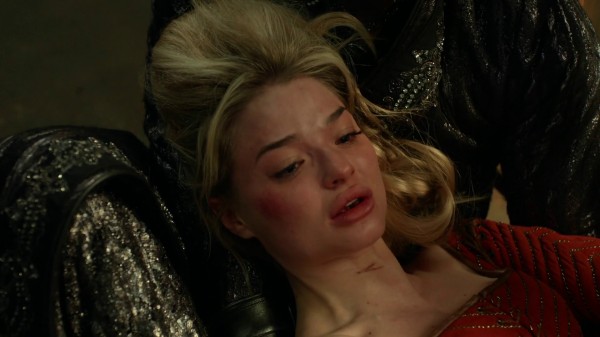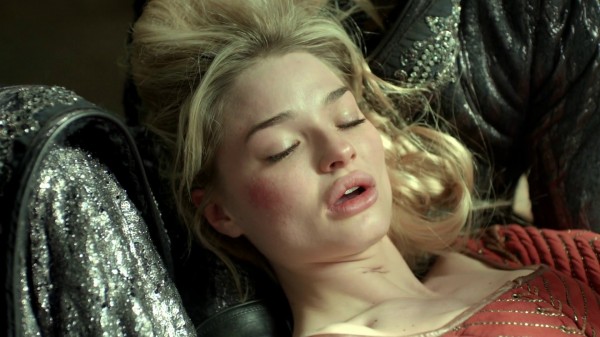 Meanwhile, in the prison cell, Ana and Will had a wonderful talk about Ana seeking forgiveness again, telling him that she wants him to feel something, even if it's not for her. She also told him that she wished they didn't left Sherwood Forest, so that they would at least stay as just Ana and Will.
By the way, Carrie-Ann from the chatroom pointed that Anastasia actually means resurrection. Does this mean that Anastasia could still be alive?
But Jafar being the evil villain that he is, puts Will's heart back inside him, stabbing Anastasia in the back to see "if it still works." Will's reaction upon seeing Anastasia fall to the ground in Jafar's arms was so heartbreaking.
In Once Upon a Time, it was said that "villains don't get happy endings" so how will their story wrap up? Can Jafar still change the laws of magic without Amara? Is Anastasia really dead? Or was it just the Jabberwocky's vision of Will's greatest fear? If she is, can they brought her back from the dead? Will they go as far as changing the laws of magic just to save Anastasia even if they do defeat Jafar? Cora said that not even the strongest magic can accomplish breaking the laws of magic despite the Red Queen insisting on it. What do you think? Share your thoughts by sending us an email, filling in the comment section below or join us in the forum to discuss your theories and ideas regarding Heart of the Matter.
Thank You for the iTunes Reviews!
Your reviews encourage us and help others find the podcast!
Please rate and especially write a review for us on Apple Podcasts.
What did you think?
Help us out!
Share this post in your social networks
Follow us
On Facebook:
On Twitter:  echo do_shortcode('[twitter follow="WONDERpodcast"]'); ?>
Daniel J. Lewis:  echo do_shortcode('[twitter follow="theDanielJLewis"]'); ?>
Jeremy Laughlin:  echo do_shortcode('[twitter follow="phlegon"]'); ?>
ErinJ:  echo do_shortcode('[twitter follow="erinjcruz"]'); ?>
Hunter Hathaway:  echo do_shortcode('[twitter follow="travelingpixie"]'); ?>
Spoilers
Episode 12 "To Catch a Thief" is directed by Billy Gierhart and written by Adam Nussdorf & Jerome Schwartz.
Guest Stars include Zuleikha Robinson as Amara and Raza Jaffrey as Taj
There will be an argument between Cyrus and Will