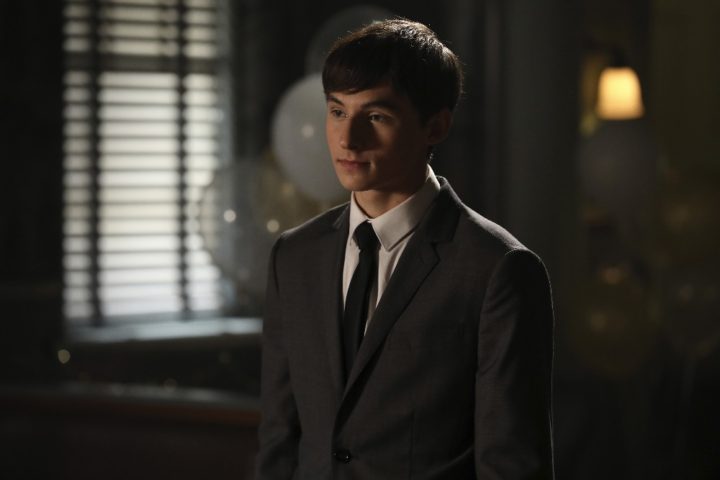 As Snow White and Charming deals with their new normal, Emma and Regina finds another way to defeat her, but Queenie may have just outsmarted them yet again. Check out our "I'll Be Your Mirror" initial reactions as we talk about the world of one-way mirrors, the lamp, RumBelle, the Evil Queen's new beginnings, and more!
Podcast: Play in new window | Download | Embed
Emma and Regina formulate a plan to trap the Evil Queen in a prison of their own making, while Snow and David adjust to life without each other. As Henry nervously prepares to take Violet to the school dance, the Evil Queen impersonates Regina to give him some advice that could lead him down a dark path. Meanwhile, Zelena agrees to help Belle, and together they enlist Aladdin to steal a magical object from Mr. Gold that could protect Belle and her unborn child from him forever.
These are our first thoughts about this Once Upon a Time episode. We'll share more about "I'll Be Your Mirror" in our upcoming full discussion (usually live on Wednesdays at 7:00 p.m., USA Eastern Time).
Initial Reactions
Remember, these are only our initial reactions regarding tonight's episode so please bear with us if we're a bit all over the place. If you have your own thoughts, feedbacks, or theories regarding tonight's episode, however, send them over to us and join our upcoming full discussion!
Just from the title of the episode alone, we could tell that this one's going to hurt our heart. It was a good episode; they answered some questions and then created some more.
Man, this is the episode of thwarted plans tonight

— Lady K
This was another good episode. It wasn't as epic as the last episode, but it's still a good episode; nice twist, dialogue.
We liked that we see the mirror room. It's cool to see that the world of one-way mirrors is an entire world. We've seen Sidney sent to the mirror world before, but we didn't know that it was a world, just that he was trapped inside that mirror and can be summoned at any time. Now, getting to see his little home there in front of the mirror so he could be there anytime to Regina was crazy. We thought that, maybe, the portal out would led to Wonderland, the one that they were trying to build.
When Emma said that someone else is in there, we thought it would be Sidney since we didn't get to see him pulled back out since Regina sent him back inside the mirror. Turns out, it was the Dragon, who is a real dragon that looks a lot like a very decorated Mushu. What with the way he moves and his shape, that's probably who he's supposed to be. But who is the Dragon's daughter? Mulan? Lily? Plus, back in previous seasons, we've theorized that he could be Lily's father.
It was really cute to see Henry go on extra dates with Violet and seeing their blossoming relationship, even though they were quite young. Did the Evil Queen poisoned the white rose that Henry gave to Violet? After all, the Evil Queen did say something about using love against Henry. It was really smart of Henry to use the hammer to smash the mirror, but what is the hammer of Hephaestus?
Rumplestiltskin and Zelena had a little moment that really tied nicely back to season 4, when she saved him from a heart attack when he was in the hospital, where he didn't have magic. Nicely done for tying that back in and making that mean something more than simply giving him a beating heart. But it being a way that Zelena also protected herself was clever. However, there seems to always be this little loopholes that he can find.
Is the Evil Queen going to kill Zelena? What does the Evil Queen really want besides seeing everyone tear themselves apart? By the looks of it, Zelena is the only real ally that the Evil Queen has so, is it possible for the Evil Queen to actually turn tables and fight the evil as Regina has? She said that she wants a new beginning, but what does that look like? It seems like she's so focused on giving Henry a new beginning and everything she that she has, very much like how Cora had been to Regina, raising her to eventually become a Queen. It seems that the Evil Queen's goal, at least from what she said in this episode, was for Henry to take his power and his rightful place on the throne as a King. It also seems like a lot of the themes in this episode were getting Henry to that point. A couple of seasons back, we talked about how Henry would be the heir to several kingdoms, so he could really be the next king ruling over several kingdoms. Hopefully, justly ruling them.
To whom does the genie lamp belong to? Was it Sidney' lamp? Or was it Cyrus's of Once Upon a Time in Wonderland? We've never seen a lamp inside Mr. Gold's shop before and it did look just like the lamp that Sidney was in. We've also seen a similarly-shaped lamp in Once Upon a Time in Wonderland at some point, but not as decorated as this. We've never seen this lamp in Storybrooke specifically linked to Sidney, so even though it looks a lot like the one he was in, it could be Cyrus or anyone else's lamp. Could Jafar be in there?
It's not Jafar's bottle.

— MatthewPaul
This is the lamp that we've seen in Mr. Gold's shop for a while and we know that Jafar went back into a lamp, but it could also be someone different inside that lamp. Besides, Cyrus's was more like a bottle, as opposed to a traditional-looking lamp.
Emma seems to be much more fatalistic in this episode. Some interesting dynamics between her and Regina, which was really endearing when they referred to Henry as "our son" instead of saying "my son." But kudos to Jennifer Morrison for playing Emma so well. Even when she's just acting in a scene with no dialogue, you can just see the shift in Emma in her posture and facial expressions, even if she doesn't have a positive attitude how this season is going to end.
It seems Rumple just can't make Belle happy. Here he is, in this episode back in his old Rumplestiltskin self, making more prison for Belle. That being said, we're glad that Belle is fighting back and she's pushing back, but it looks like he's just going to get more and more extreme. He is, to the point, where he doesn't recognize right from wrong; Rumple is beyond that point. Even when he says he's doing it for love, it doesn't look like he's using love the same way most other people would. We want to see them work it out, but Rumple has got to change. He's been given plenty of time to change but it seems like he's getting work.
What did you think of tonight's episode? Send us your theories and feedback and join us this coming Wednesday for our full-discussion of "I'll Be Your Mirror" or head over the forum to share your favorite and least favorite moments of the episode, along with other topics that stood out with us tonight!
What did you think?
Email Feedback@ONCEpodcast.com (audio files welcome)
Call (903) 231-2221
Comment on the shownotes
Visit any page on ONCEpodcast.com and click the "Send a voice message" link to record and send a message right from your computer.
Help us out!
Share this post in your social networks
Follow us
On Facebook:
On Twitter:  echo do_shortcode('[twitter follow="ONCEpodcast"]'); ?>
Daniel J. Lewis:  echo do_shortcode('[twitter follow="theDanielJLewis"]'); ?>
Jeremy Laughlin:  echo do_shortcode('[twitter follow="phlegon"]'); ?>
ErinJ:  echo do_shortcode('[twitter follow="erinjcruz"]'); ?>
Hunter Hathaway:  echo do_shortcode('[twitter follow="travelingpixie"]'); ?>
Jacquelyn / RumplesGirl:  echo do_shortcode('[twitter follow="punk_bunny_87"]'); ?>