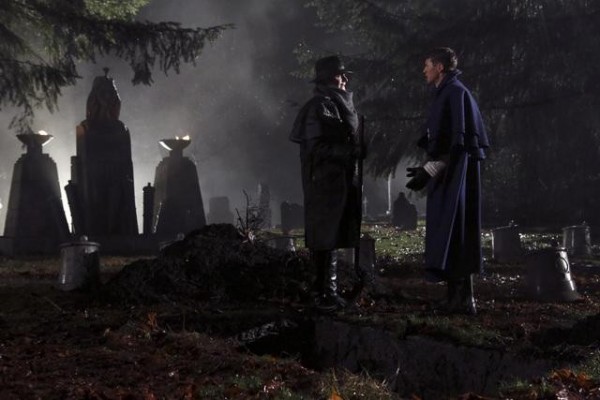 Storybrooke residents debate the fate of an outsider and we learn about Dr. Whale's past monsters.
These are just our first thoughts about this Once Upon a Time episode. We'll share more about "In the Name of the Brother" in our upcoming full episode.
Dr. Whale is tasked with mending Hook's wounds and performing surgery on the stranger whose car crashed upon entering Storybrooke. But some of the townspeople fear that the stranger may have seen magic — which could expose their true identities to the world — and think that leaving him to die would be the best solution. Meanwhile, as Mr. Gold tries to reunite with a despondent Belle, Cora attempts to reunite with daughter Regina; and in the land that was, Victor desperately wants to prove to his disapproving father that he can, indeed, bring back the dead.
Sponsor: Test drive the next evolution in TV with SimulTV!
Thanks for supporting us!
David Neuland
Nasser from Qatar
You can sponsor ONCE podcast, too!
Initial reactions
Some of our interesting discussion points (in no particular order):
The outsider—Greg Mendell (played by Ethan Embry) is nobody, but he saw magic! We think he simply called his wife or girlfriend. What new threat might this be? We like that he's a geek.
Dr. Frankestein's world apparently _is_ "a land without color"! Is there always lightning there?
Henry helped answer our question about how non-fairy-tale characters are in Storybrooke. But Frankenstein called his world "Earth"! Does this open up Storybrooke to many more non-fairy-tale characters? Remember all the realms from Jefferson's hat.
Mr. Gold and Cora kissed. GROSS! But could this hint that Rumplestiltskin is Regina's father?
There were several pop-culture references in this episode: ET, Splash, Star Wars, and more.
Mr. Gold saw a map that pointed him to Baelfire. Was that New York that's highlighted? If it was New York, then that makes us positive that Neal Cassidy is Baelfire.
How will Rumplestiltskin win Belle's heart again?
We gave everything a brief overview and would love to hear your thoughts!
Talk about "The Outsider" in our Once Upon a Time forums
Send your questions for "Dr. Hopper"!
We'll have the honor of interviewing Raphael Sbarge, who plays Jiminy Cricket and Dr. Archie Hopper. What would you like us to ask him? Email your questions with the subject "Questions for Archie" to feedback@ONCEpodcast.com.
Watch our website and Twitter for an announcement when we will record this interview so you can watch it live!
Thank you for the iTunes reviews!
Koala750
tlarson88
Sandy the German called us "Real Once Upon a Time nerds."
Your reviews encourage us and help others find the podcast!
Please rate and especially write a review for us in iTunes.
Preorder season-two DVD/Blu-ray set!
You can now preorder the complete second season of Once Upon a Time on Amazon.com! For a limited time, save $10 off the DVD set and $15 off the Blu-ray set!
Preorder the second season today!
Join us for the LIVE podcast!
Initial reactions on Sundays at 9:15 p.m. (EDT/GMT-4)—right after the Eastern and Central episode airing.
Full discussion, feedback, and live calls on Wednesdays at 8:30 p.m. (EDT/GMT-4).
On these days, visit ONCEpodcast.com/live to watch and chat live.
[ndlmx_special]
What did you think?
Email Feedback@ONCEpodcast.com (audio files welcome)
Call (903) 231-2221
Comment on the shownotes
Visit any page on ONCEpodcast.com and click the "Send a voice message" link to record and send a message right from your computer.
Help us out!
Share this post in your social networks
Follow us
On Facebook:
On Twitter: [twitter follow="ONCEpodcast"]
Daniel J. Lewis: [twitter follow="theDanielJLewis"]
Jeremy Laughlin: [twitter follow="phlegon"]
ErinJ: [twitter follow="erinjcruz"]
Hunter Hathaway: [twitter follow="travelingpixie"]
Jacquelyn / RumplesGirl: [twitter follow="punk_bunny_87"]
[ndlmx_shows]