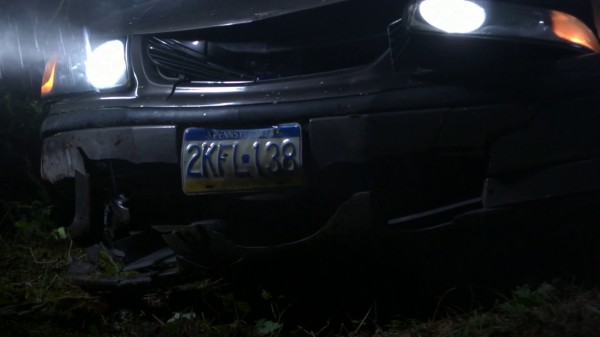 Podcast: Play in new window | Download | Embed
Could the outsider be Neal, August, Baelfire, or someone else? What will Mr. Gold do now about Belle? Is Hook being suicidal? Will the Storybrooke residents want to split to return to Enchanted Forest while some stay?
Sponsor: Test drive the next evolution in TV with SimulTV!
Enchanted Forest
We all theorize that "the outsider," as referred to by the title of this episode, could be someone we have yet to meet. Who crashed their car just over the town line in Storybrooke?
Daniel points out this episode's place on the timeline: during the episode about Dreamy, after Skin Deep, but before Regina pays Rumpel a visit to tell him her lies about Belle's being dead.
Jenny theorizes that Regina could have picked up Belle after lying to Rumpel about her death, but for timeline reasons Daniel disagrees.
Claude is a returning character in this episode, but he doesn't have any lines.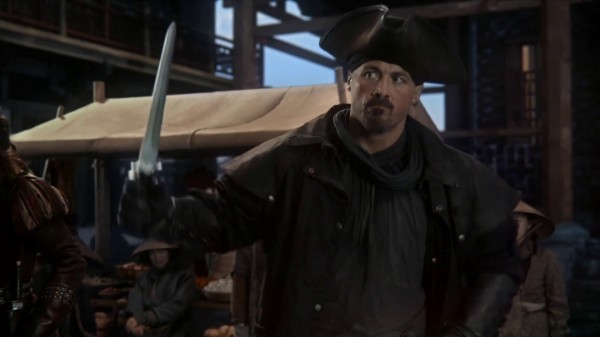 Belle probably never received her reward for "slaying" the Yaoguai.
Jeremy notes that the Belle, in this episode, does her traditionally adventure-hungry character justice.
We all love Belle's adventure costume in this episode.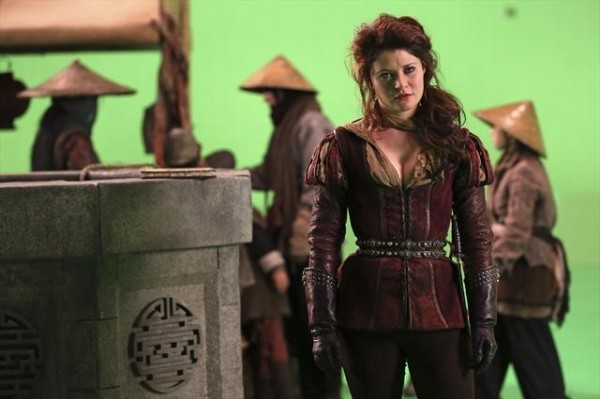 How does Dreamy know Belle's only seen what dark magic can do?
Daniel finds it hard to believe that Belle knows how to translate different languages.
According to listener feedback from Michael and Anne Marie, the title of Belle's book translated is, "The Notebook For Tracking the Beast/the Yaoguai."
Daniel noticed that the Yaoguai was burning Chinese characters into the field that said, "Help/save me."
None of us saw it coming that the Yaoguai was actually Prince Phillip under a curse.
We discuss how Prince Phillip could've tried to communicate with people for help while possibly combating certain animal instincts as the Yaoguai.
Jenny wonders why Belle was pleading for a second chance from Regina to break Rumpelstiltskin's curse?
Daniel and Jenny wonder why Regina took Claude. Was he always working for Regina?
Now we know how Belle came to be imprisoned by Regina.
Thanks for supporting us!
David Neuland
Jed Anderson
You can sponsor ONCE podcast, too!
Storybrooke
Can rat-Smee leave Storybrooke? Also, why would rat-Smee want to leave Storybrooke?
Is Rumpelstiltskin's talisman for leaving Storybrooke reusable? How does this Talisman work exactly?
Jenny's amused by the idea that it's very likely that Rumpelstiltskin will have to approach the fairies for their help to restore Belle's memories.
Daniel notes the book Hook was reading while waiting for Belle to return to the library.
During season 1, Jeremy had predicted that the library would be reopened. It looks like that's going to happen!
What will Belle do while she only has her Storybrooke memories. She spent all of her time in the room under the hospital. Will she still be interested in books? Who is Storybrooke Belle?
Jeremy theorizes that Belle's memories will be restored to her relatively quickly
Daniel noticed that Hook's hand has been seen in the background of Rumpel's castle as well as in his shop.
We discuss the oddity of the knot Belle found that belonged to Hook.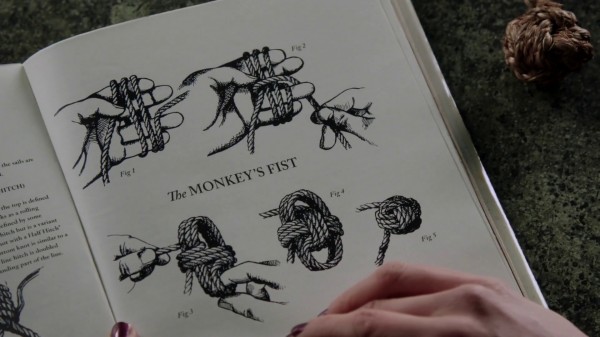 Why are there sand boxes on the dock?
Daniel notes Mary Margaret's previous comment in the pilot episode about making a birdhouse a home, not a cage. It's ironically consistent with her current desire to turn her "cage" of Storybrooke into a home for her and her family.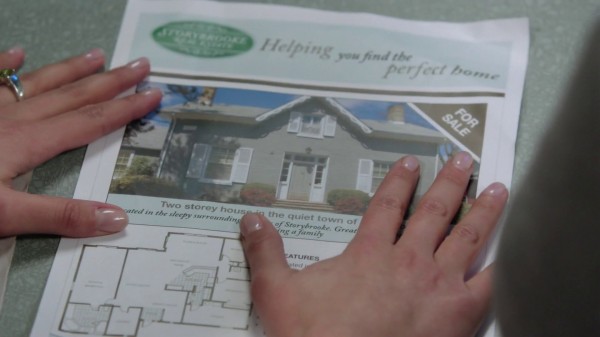 What if Snow and Charming have another child?
The design of the elevator and the elevator phone remind Jeremy of Oz.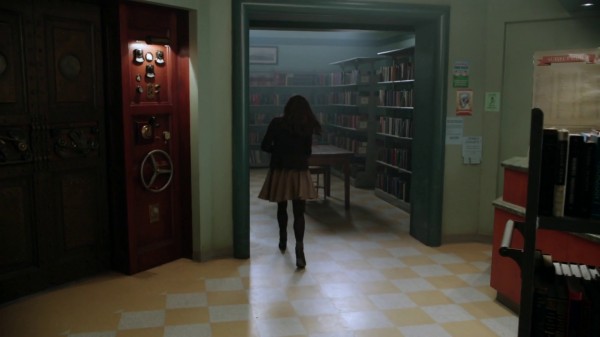 Jeremy likes that Archie wasn't kept prisoner for long.
Did Hook refer to Baelfire in a knowing way? Or was he just speaking from his experience with Rumpelstiltskin? Maybe he can't imagine why anyone would want to be found by Rumpel.
Is Hook suicidal? Or was he just trying to take one more thing away from Rumpel because he realizes he's most likely going to be killed by Rumpel.
Why haven't we seen a bigger reaction to the knowledge that Hook and Cora are now in Storybrooke?
Jeremy wonders if Charming and Snow will separate since their interests are starting to branch apart.
Daniel theorizes that the mystery driver from Pennsylvania could be Neal, August, or some random normal person.
I'm not sure why I thought of this, but at the end of the episode, they went to the license plate very specifically so we could see it. Is it significant? I don't know. But I did notice it has the letters KFL in it, which instantly made me think of "Kid For Life" and therefore Peter Pan. Is it plausible? Who knows. Just something I thought of.

Will be glad to have the podcast back on schedule this week.

Jeff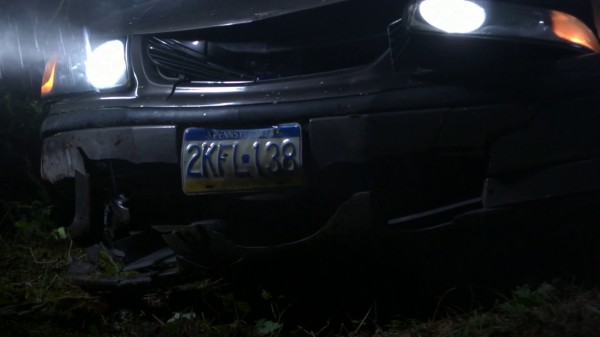 Daniel thinks the driver from Pennsylvania is a regular guy who wants magic. Jenny thinks it's either Neal or just a stranger who wants to vacation in Storybrooke. Jeremy thinks it's Neal.
On the mysterious car: Sorry guys but I think the chances of it being Neal are slim. The car's licence plates were from Pennsylvania, not New York where we opened at the beginning of the season with Neal. granted Neal could have gotten a rental car and driven but that is not the simplest explanation.

However no one is saying that Baelfire or Peter Pan (or both in one as has been suggested) could not be driving that car from Pennsylvania.

Or does the person even know that Storybrooke exists. This brings up an important question which I will close off my email with: If you were a newcomer to Storybrooke with no knowledge of this fantastic program what would you think? If you got a chance to get transported to storybrooke with your current knowledge what would you do to aid or abet the storyline?

As always your querying companion

Tim aka AugustWBooth (whose name shall be used until he returns from being in wooden hibernation)
Hey, ONCE podcast!

After watching the CRAZY ending to the most recent episode, I noticed something about the Pennsylvania license plate. Normally license plates in Penn are [ABC ####]. The plate shown on the car is 2KFL138, which is the California format [#ABC###]. I'm wondering if this is an error on the show, or if the license plate could have an alternative meaning.

Windog
Would Jefferson leave Storybrooke?
Could the mystery driver be Pinocchio?
How can Belle claim that Rumpel's heart is true?
Jenny wonders if Belle would have liked Rumpel in his pre-Dark-One condition.
I have a pretty stupid theory about what'll happen between Rumple and Belle. After Sunday's episode I believe Rumple is going to look for Bae but realize that he's gone. Either dead or not in this land and he's going to give up and cross the border on his own erasing his memories of his old life since Belle lost hers and he no longer has anything to live for.

Kevin
Hey Guys! I just wanted to put my two cents in what I hope to see from Rumple and Belle in the coming episodes. When I first heard that Belle would return for the season 1 finale, I was excited to see how Rumple would react. Having Belle suddenly get her memories back was actually a disappointment for this Rumbelle fan. While I was surprised and initially upset at the outcome of "The Outsider," I think we will get to see Rumple as I and other fans wanted to see in this first place.

To clarify, we are going to see Rumple have to make Belle fall in love with him again. In season 2, Rumple has been lucky enough to have this woman accept and love him because she's always seen the good in him. Now, not only do we get to see who Storebrooke Belle is, but how Rumple will handle it.

I'm betting, he will succeed in making her fall in love with him, and True Love's Kiss will break her memory curse.

If that does happen, that also kind of sucks for Sneezy.

Micki
We're all looking forward to learning who this new stranger is!
Talk about "The Outsider" in our Once Upon a Time forums
Also, check out the Once Upon a Time Filming Locations page shared with us by Stephen from the Steveston Village Podcast.
Thank you for the Apple Podcasts reviews!
Your reviews encourage us and help others find the podcast!
Please rate and especially write a review for us on Apple Podcasts.
Preorder season-two DVD/Blu-ray set!
You can now preorder the complete second season of Once Upon a Time on Amazon.com! For a limited time, save $10 off the DVD set and $15 off the Blu-ray set!
Preorder the second season today!
Join us for the LIVE podcast!
Initial reactions on Sundays at 9:15 p.m. (EDT/GMT-4)—right after the Eastern and Central episode airing.
Full discussion, feedback, and live calls on Wednesdays at 8:30 p.m. (EDT/GMT-4).
On these days, visit ONCEpodcast.com/live to watch and chat live.
What did you think?
Email Feedback@ONCEpodcast.com (audio files welcome)
Call (903) 231-2221
Comment on the shownotes
Visit any page on ONCEpodcast.com and click the "Send a voice message" link to record and send a message right from your computer.
Help us out!
Share this post in your social networks
Follow us
On Facebook:
On Twitter:  echo do_shortcode('[twitter follow="ONCEpodcast"]'); ?>
Daniel J. Lewis:  echo do_shortcode('[twitter follow="theDanielJLewis"]'); ?>
Jeremy Laughlin:  echo do_shortcode('[twitter follow="phlegon"]'); ?>
ErinJ:  echo do_shortcode('[twitter follow="erinjcruz"]'); ?>
Hunter Hathaway:  echo do_shortcode('[twitter follow="travelingpixie"]'); ?>
Jacquelyn / RumplesGirl:  echo do_shortcode('[twitter follow="punk_bunny_87"]'); ?>
Spoilers
Provided by Hunter Hathaway.
Episode 12 synopsis
Casting news
Episode 16 title