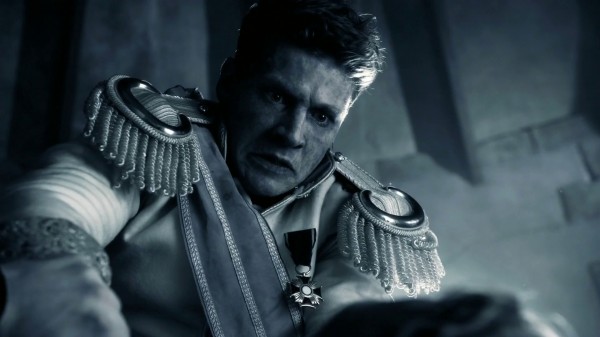 Podcast: Play in new window | Download | Embed
From A Land without Color, Dr. Victor Frankenstein finds success and failure. In Storybrooke, we meet the outsider, see a family reunion, and prepare for a road trip.
Sponsor: Test drive the next evolution in TV with SimulTV!
"A Land without Color"
We wonder why Rumplestiltskin did not conform to "earth's" lack of color when he paid Dr. Frankenstein a visit.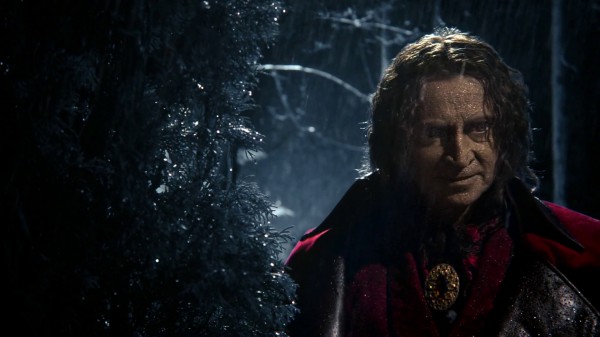 This is the first episode in a while that doesn't include present day Enchanted Forest.
Gerhardt seems to have been wearing the silver cross of merit from Poland.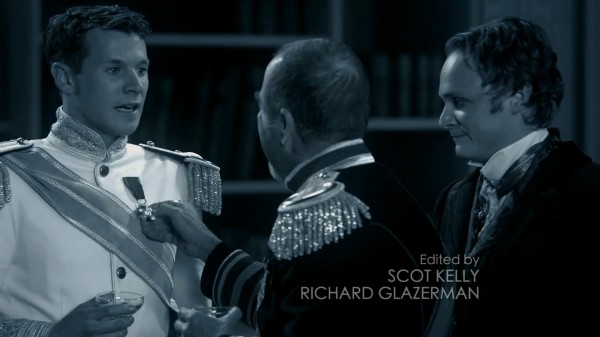 Victor's commission mentions German cities by name. Translation from listener, Dieuwertje:
By the strength of the Power and authority, given to me by the 'Bundeskansler' and the Commission of the Emperor, I hereby call thee 'Field Doctor.'

You are assigned to perform the duties of a field doctor with care and wisdom, and to be an example to lower Officer positions and Soldiers.
We oblige you to follow the given orders, to keep the order and Discipline and to execute future orders

In your ??….written and sealed on March 3th. By the power by Emperor's orders given to me,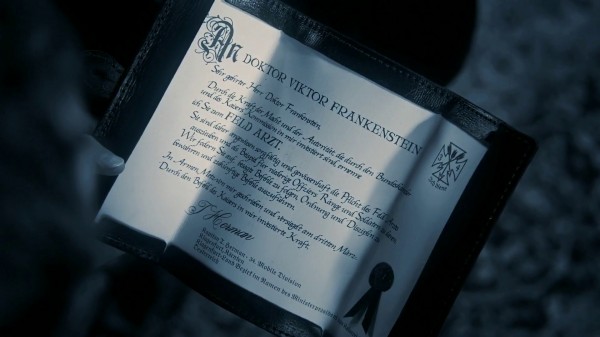 Royal Military Academy Sandhurst
Interesting history of purchased commissions:
"Until 1870, the usual way for an officer of the cavalry or infantry to obtain his commission was by purchase. A new candidate had to produce evidence of having had "the education of a gentleman", to obtain the approval of his regimental colonel, and to produce a substantial sum which was both proof of his standing in society and a bond for good behavior."
So Frankenstein was a medical doctor as well as a scientist (he didn't get his PHD from a curse like Dr. Hopper).
The name of the cemetery where Victor went to dig up a body translates to mean "soldier cemetery."
Johanna in our live chatroom explained why Victor wanted a body from the soldier cemetery:
He said he wanted a healthy body.
How did Rumplestiltskin know that Victor could use an enchanted heart for his work?
Why does Rumplestiltskin have this sudden interest in science? Is it because he's hoping for the ability to bring life back to the dead just in case he finds that Bae is dead?
Where is the land without color? Is it actually earth, and is it set to the time period of the original fiction tale of Dr. Frankenstein? The first Frankenstein film was in black and white, and this could explain why they chose to do it this way on Once Upon A Time.
We're wondering why Gerhardt's skin is all patched up with stitches and why his fingernails look longer.
Thanks for supporting us!
David Neuland
Nasser from Qatar
Chris & Krista AKA Peter Pan and TheWendybird
You can sponsor ONCE podcast, too!
Storybrooke
We noticed that Emma was proactive at the scene of the accident as well as at the hospital. She told the medics to take care of the stranger before Hook and she told them to hide Hook in the hospital in order to keep Rumple from killing him.
Belle smiled briefly when Mr. Gold kissed her. Could it be that subconsciously she remembers him?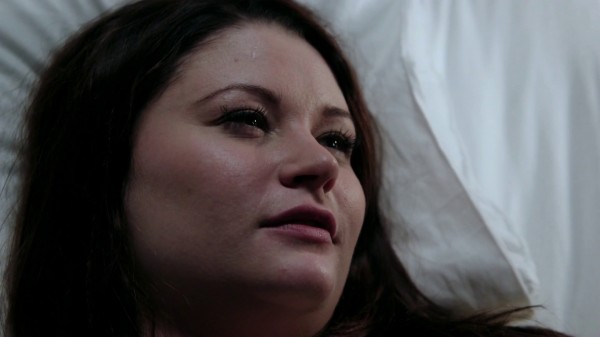 Why can Mr. Gold kiss Belle in Storybrooke and still maintain the "curse" and power of the Dark One? Is he still the Dark One in Storybrooke, or is he just an ordinary man who can wield magic?
We wonder how Rumple will break this memory-curse in Belle.
We think that the style of the-outsider's/Greg's watch face, as well as its being cracked, reminded Victor, aka Whale, of Gerhardt. This is why he left the hospital and tried to commit suicide.
Listener feedback about Greg Mendel's name:
Hey guys! Love the podcast! I had an observation from last night's episode concerning The Outsider Greg Mendel. Gregory Mendel was a scientist who lived in the 1800s who became famous for developing the laws of Mendelian Inheritance. These laws demonstrated how genetic traits can be passed through generations and discovered how traits could be dominant or recessive by using pea plants. Gregory Mendel is also known as the Father of Modern Genetics. I don't know if this is significant, but the writers rarely name characters without a reason, so I thought it was interesting. Thanks for the amazing podcast! I love listening to it with my friends!

Jennifer
Greg's phone is the first current phone we've seen in this show. It's a smart phone. Why does everybody in Storybrooke seem to be so behind in technology?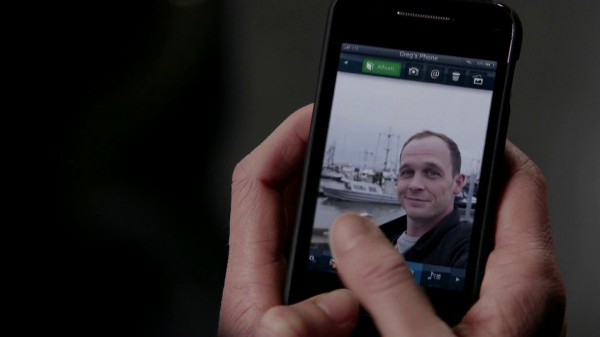 The barrier that keeps intruders out of Storybrooke is now gone.
A symbiotic relationship between Cora and Rumple referenced: "the crocodile snaps at the little bird."
WHY THE HECK DID CORA AND RUMPLESTILTSKIN KISS? What's that all about?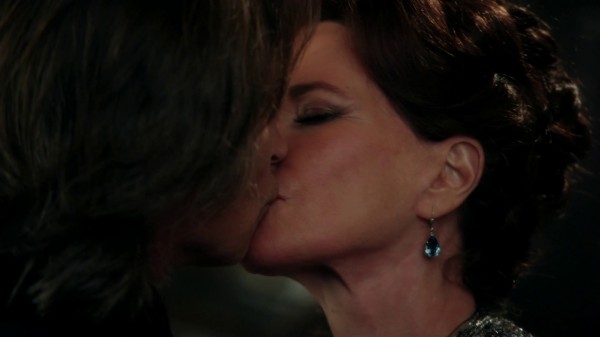 Apparently everybody from the Enchanted Forest likes to carry their stuff around in really nice wooden boxes! Cora brought the magic globe in a really nice wooden box, and August/Pinocchio carried his typewriter around in a similar wooden box.
Does Cora keep her heart inside Regina (that would just be creepy), or perhaps she keeps it in the spell book?
Listener feedback about Regina possibly being Rumple's daughter:
I have been thinking of what was implied during this episode, if Regina does turn out to be Rumple's daughter, could that be why Regina didn't die when she absorbed the energy at the well that was suppose to kill Cora to stop her from coming over to Storybrooke? I mean that energy was suppose to kill anything right? Could Regina also be immortal if she does turn out to be The Dark One's daughter? Can you imagine the implications if that were true, Regina could be more powerful than Rumple since his weakness is his dagger, but Regina would have no weakness. Love your podcast!

Elizabeth
Cora knew where to go to find Regina because she traded the globe to Rumplestiltskin for that knowledge.
Next to The Rabbit Hole is where Regina parks with Cora- one of a few Alice and Wonderland references in this episode.
In this episode, we get a clearer understanding that Ruby and Whale have something in common. In the Enchanted Forest, they both found that they turned out to be villans/monsters via their individual circumstances, and horrible things have come from each of their lives. It's cool to see them comfort and encourage one another.
We think that maybe in the future some people will think they've got a better chance at a happy ending by staying in Storybrooke when/if given chance to return to the Enchanted Forest.
What other characters are not in Henry's book but are in Storybrooke?
What other realms were affected by the curse?
Does Emma know that Greg Mendel was lying? Is her super-power flawed? Or was he telling the truth about texting and seeing the road? Did he simply omit the truth?
We think it'd be amusing to see the inhabitants of Storybrooke to cover up their identities by putting on a show for tourists.
Rumplestiltskin's talisman apparently does work since he's planning on leaving Storybrooke with Emma.
Listener feedback about Hook's plan to upset Rumple while Rumple's away searching for his son:
I came up with this weird theory yesterday. We know Rumple is leaving with Emma and Belle is staying in Storybrooke. Now, what if Hook's plan isn't finished? With Belle not remembering and Rumple gone, what if the good captain swoops in and tries to steal yet another girl from his nemesis. He can turn on the polite charm when he wants, and his tactics might prove much more effective than Rumple's attempts.

Though I absolutely hate the idea (I have realized Jeremy was right in his comments on Hook) it would be perhaps the greatest way to add insult to injury when it comes to his nemesis.

Sarah
Where are Rumple and Emma headed?
Listener feedback on Cora:
I rewatched this episode, and Cora is truly a manipulative witch. I did not get her masterful manipulation of Rumple & Regina until the end of the episode. So here it is: As we know, and Cora seemed to know as well, Belle is scared to death of the creepy older guy who kisses her and shows her cracked cups. Thus, she knows that Rumple will be broken, as is Regina, so she brings him a "gift", which she knows he will use to find Bae, the only person left that he loves, and also give up Regina's hiding place. By doing this, she enables Rumple to call in his favor from Emma, thus leaving Henry free and clear for Regina. She set this all in motion, so by the time Regina, "gives in", the stage has been set for Regina to try and get Henry back.

Vanessa
Thank you for the Apple Podcasts reviews!
DannyDubner
PhoenixHeart93
Belle12782
Fashion 12345
DottyMatrix from Germany
Oncegirl<3
icerose100
bdebsing
Luuuuuuuuula
Your reviews encourage us and help others find the podcast!
Please rate and especially write a review for us on Apple Podcasts.
Preorder season-two DVD/Blu-ray set!
You can now preorder the complete second season of Once Upon a Time on Amazon.com! For a limited time, save $10 off the DVD set and $15 off the Blu-ray set!
Preorder the second season today!
What did you think?
Email Feedback@ONCEpodcast.com (audio files welcome)
Call (903) 231-2221
Comment on the shownotes
Visit any page on ONCEpodcast.com and click the "Send a voice message" link to record and send a message right from your computer.
Help us out!
Share this post in your social networks
Follow us
On Facebook:
On Twitter:  echo do_shortcode('[twitter follow="ONCEpodcast"]'); ?>
Daniel J. Lewis:  echo do_shortcode('[twitter follow="theDanielJLewis"]'); ?>
Jeremy Laughlin:  echo do_shortcode('[twitter follow="phlegon"]'); ?>
ErinJ:  echo do_shortcode('[twitter follow="erinjcruz"]'); ?>
Hunter Hathaway:  echo do_shortcode('[twitter follow="travelingpixie"]'); ?>
Jacquelyn / RumplesGirl:  echo do_shortcode('[twitter follow="punk_bunny_87"]'); ?>