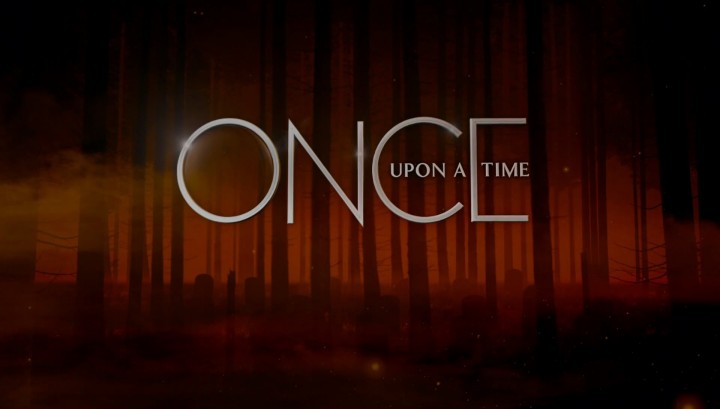 We have watched this episode, Labor of Love, a couple of times now and we've got some great research, great info and great discussion, and some of your great feedback as well. Plus! Some theories about a couple of things, some answers, more questions, and brand new lessons about the Greek Mythology from our resident Greek Mythology expert, Jacquelyn!
Podcast: Play in new window | Download | Embed
Enchanted Forest (Past)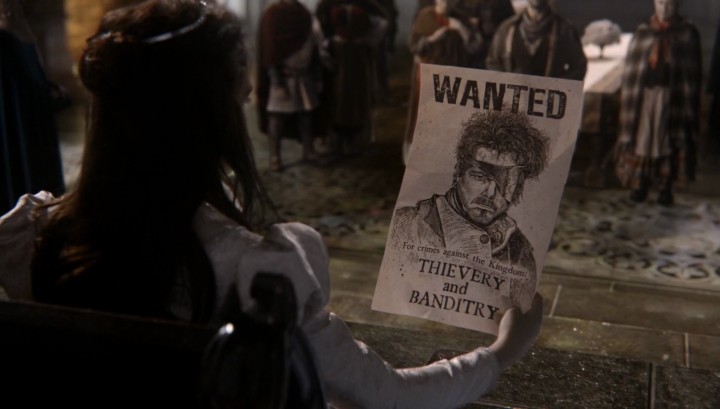 The flashbacks here with young Snow White were really following a hero's journey formula. Normally, when we think of a hero's journey, we initially think of Emma Swan, but the Hero's Journey, also known as "Monomyth," in short is basically the formula that we see used in almost every movie or story that have some kind of hero. There are certain variations here and there on certain points, but the basic formula is the following:
The Call to Adventure
Refusal of the Call
Supernatural Aid
Crossing the Threshold
Belly of the Whale
The Road of Trials
Meeting with the Goddess
Woman as Temptress
Atonement with the Father
Apotheosis
The Ultimate Boon
Refusal of the Return
The Magic Flight
Rescue from Without
The Crossing of the Return Threshold
Master of Two Worlds
Freedom to Live
Now, these are the original way to describe it but it's basically this idea that a hero is called to do something; refuses the call; there's some kind of mentor or guide for them that helps them get over some point; they have some low points, then they have a high point again and they face some victory, then they face a trial then a victory again; a final battle, then they refuse to go back. This is the stuff we see in stories and pretty much every story with heroes, and we see Snow White going through this, a little bit in the present day but more so of her becoming a hero in the flashbacks. It was really neat to see Snow White go from being that selfish little princess to the brave princess and queen that we see today.
Furthermore, the flashbacks in this episode were showing us the nice change from a princess to a hero. When you think of monomyth, you tend to think of the cosmic battle that the hero kind of has to face. For Snow White to go from scared little princess to knowing that she is someday going to rule this kingdom, you can see that this clearly is a hero's journey.
Helping young Snow White along the way are the peasants, Hercules, and even Regina, even though Regina doesn't want her to become the hero, she does help. This is definitely one of our favorite parts in this episode, which was seeing the interaction between Regina and Snow White that didn't involved grown-up Snow because we've seen so little of young Snow White apart from "The Stable Boy" when Regina and Snow White met. Now, they were in the throne room when Snow is being asked by her people to help them.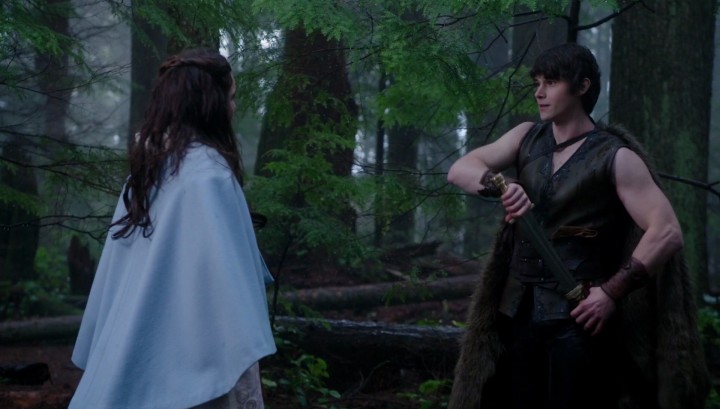 We wish they would have cast someone a little older actor to play Hercules, but overall, the actor did a really nice job playing the part; he certainly fit the part very well. Known for his strength, agility, sports prowess, health, Hercules is probably the most popular heroic figure in the Greco-Roman world, he is known for his strength, agility, sports prowess, clubbing things on the head, health. But there are some things that the show got right that the Disney movie doesn't, such as him being a demigod, he is not fully divine; in the Disney movie, they made his mother a Hera, who is Zeus's wife, which is wrong because Hera loathe Hercules. Hercules' mother was Alcmene. Although Hercules is primarily an ancient Greek demigod, the name "Hercules" is the Roman form of the name.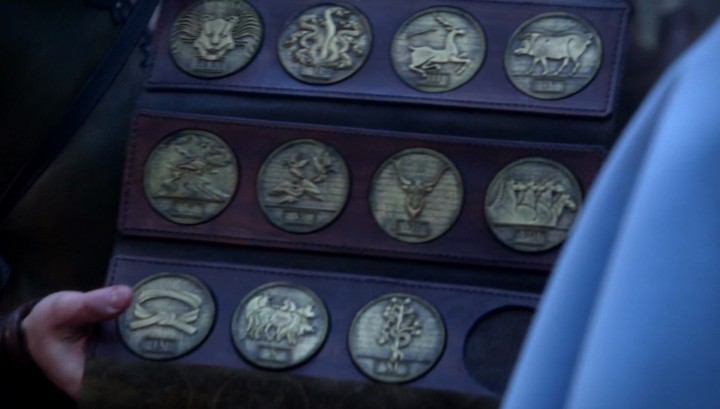 When Hercules met young Snow White at the campfire, Hercules said that he can't join his father on Mt. Olympus until he completed his twelve labors, which ties into why when he's able to pass on why he's going to Mt. Olympus. Hercules's Twelve Labors, however, includes the following:
#1 Nemean Lion
tried many things
eventually clubbed and then strangled with his bare hands
skinned the pelt with the claw of the lion and wore the pelt. Usually depicted with the pelt in artwork
#2 Hydra
Many heads. Cut one off, two grow back
Discounted by King Eurystheus because nephew Iolaus helped to scorch the heads with fire after chopping off a head.
Hera sends giant crab to distract Hercules
Defeats by cutting off the right head with golden sword given by Athena
#3 Ceryneian Hind
Deer–can outrun any bow.
A few different versions, doesn't even kill the deer because it's sacred to Artemis. Eventually releases by tricking King Eurystheus
#4 Erymanthian Boar
Drove boar into the deep snow, captured and brought it back to King Eurystheus
#5 Augean Stables
Clean out the stables of King Augeas. Supposed to be humiliating
Livestock are super healthy and immortal so tons of dung. 1000 cattle, not cleaned in 30 years.
Ends up cleaning by re-routing rivers.
#6 Stymphalian Birds
man-eating birds!
sacred to Ares, the god of war
Shook a rattle to startle birds, shot with arrows.
#7 Cretan Bull
Bull is creating havoc in Crete
Strangles the bull, but stops before death
King Eurystheus tries to kill the bull in sacrifice to Hera but she denies it, Bull vanishes to cause more terror.
#8 Mares of Diomedes
Trained to eat human flesh (some stories say they breathed fire too…)
Fed Diomedes to horses to calm the beats down and then bound their mouths shut.
#9 Belt of Hippolyta
Amazon Queen Hippolyta
Impressed by Herc, agrees to given him the belt
Hera disguises self and plots against Herc so that it looks like he is trying to steal Hippolyta
Killed Hippolyta, takes belt back to King Eurystheus.
#10 Cattle of Geryon
Greek version: kills Geryon with a bow and then herds the cattle back to King Eurystheus
#11: Apples of the Hesperides
Hesperides: nymphs in a really pretty garden in the western part of the world.
Encounters Atlas, the Titan who holds up the world on his shoulders
Offers to hold the world while Atlas goes to get the Apples
Tricks Atlas into taking back the globe by saying he needed to adjust his clothing.
#12: Capture Cerberus
Initiated into the Eleusinian Mysteries–cult of Demeter and Persephone. Most sacred and secret religious rites in ancient Freece.
Simply asked permission to take Cerberus from Hades. Hades agrees provided that Herc could subdue Cerberus without a weapon.
Strangled dog, slung over shoulder and left.
Later returned Cerberus to Hades
Finally released from Labors to King Eurystheus!
Moreover, the bow that Hercules handed young Snow White itself has an interesting history and in our Labor of Love initial reactions, we were trying to figure this out a little bit and we've done some more research and got some great input for missing piece, thanks to Sci-Fi Girl from the forum. Here's a theoretical history of that bow, because it looks exactly the same as the bow that Snow White uses in the present day: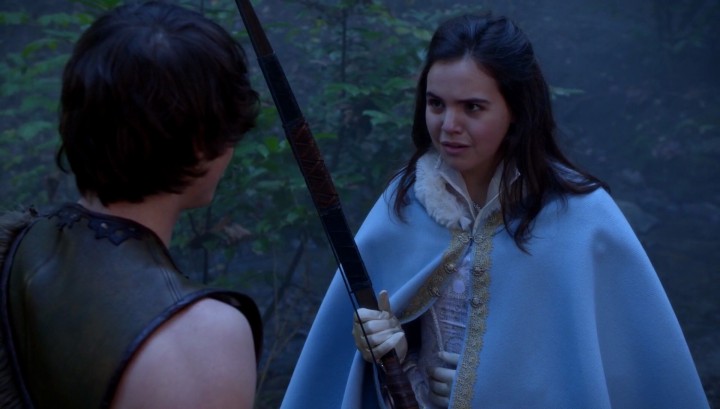 Maybe this is Hercules' bow, and it is somehow divinely powered and never misses its target.
Herc gave the bow to Snow in 3×13 "Labor of Love," but without the golden arrows.
THEORY: Walsh stole the bow, because he loved to collect magical things
In 4×17 "Heart of Gold," Rumplestiltskin hired Robin Hood to steal "The Elixir of the Wounded Heart" from Oz. While in the Wicked Witch's throne room (formerly Walsh's), Robin steals a myriad of items, including the bow and arrow below a painting that says, "The Omaha Circus & Freak Show: An Arrow Fired from his bow always finds its target!"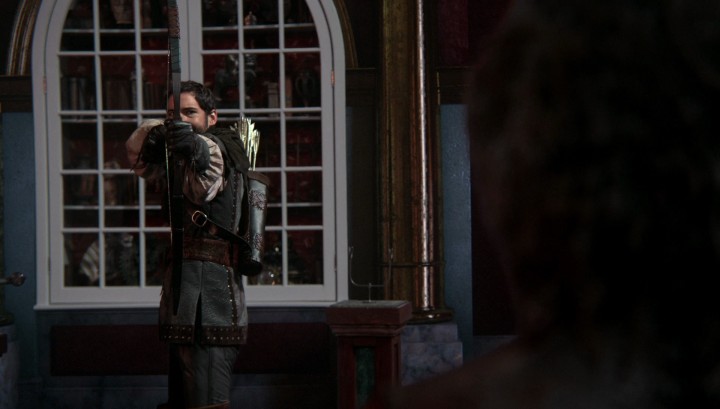 Robin had the bow in 2×19 "Lacey" and lost it to Rumplestiltskin ("an arrow fired from this bow always finds its target")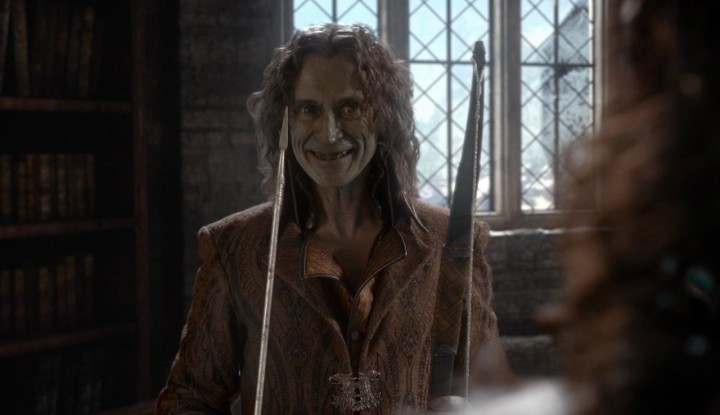 Rumplestiltskin gave the bow to Snow in 1×16 "Heart of Darkness" ("an arrow fired from this bow will get you exactly what you need—it always finds its target!")
Did Snow White give it away, or did Walsh actually steal the bow from her?
One constant theme that gets repeated throughout this episode was that you cant let the fear of failure stop you from trying. It's failure that teaches you how to have a victory, because you can succeed from failing.
So many props to Bailee Madison for playing the young Snow White so effortlessly as always, but young Snow White fails against the thief when her inability to hold a bow and arrow showed. But as the thief goes back to Regina, there may be quite a continuity problem in this with the painting of the walls because Regina didn't turn the castle black until after King Leopold's death.
When young Snow White then is trying to break the bow, we wonder if Hercules was thinking that the bow was the one that never misses its target but this is also the first time that we see Snow White in some kind of Bandit Snow outfit. It looked very similar to the Bandit Snow costume we know.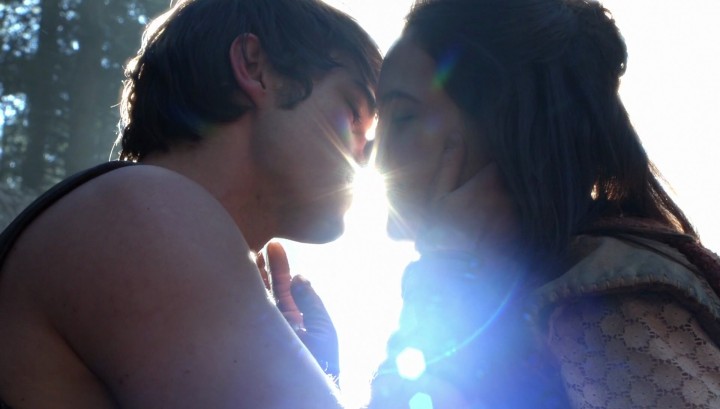 With this new inspiration from Hercules, Snow then re-approaches the thieves and defeats them. We liked the way it worked out. However, the childhood love kiss somewhat undermines the true-loveness of Snow White and Charming. It's okay to have a crush on a demigod, but perhaps they should have left them as friends. It's a little gratuitous because Snow White have never even mentioned that she was friends with Hercules, and they even made it look so beautiful with that lens flare.
Thank you for supporting us!
David Neuland
Lisa Slack
David Neuland
Erin Nunnally
Simon Grundin
Maryann Livoti
Tracey Anderson
Sara Cochran
Ariana Miller
Renita Persaud
Lisa Dunahoo
Jessica Abel
Jamie Moran
Keith Wolters
Rivkah Cooke
Megan Martin
James Kinslow
D G
Timothy peters
Holly Brown
Jeff
jennifer
Lisa Rutledge
Ashley Person
Melanie
Laura
Lisa Eckert
Sara McDonald
Sharron
27 heroes on Patreon
You can sponsor an episode or more of ONCE podcast, too! Email Daniel@ONCEpodcast.com if you would like to arrange a corporate sponsorship of our podcast for the upcoming third season.
Underworld (Present)
A couple episodes of the podcasts ago, we kept asking what the smoking construction cones are for, but as it turns out, they are actually ventilation ports for the under Underworld! Does that mean every cone leads to another prison? There's plenty of screaming in the halls, after all. Is Hades keeping people down there for any particular reason to torture and beat them up? Where in the town are they? Is this a Temple? Hades's house? It doesn't exactly look like something that we have seen in Storybrooke. Is it the worst place?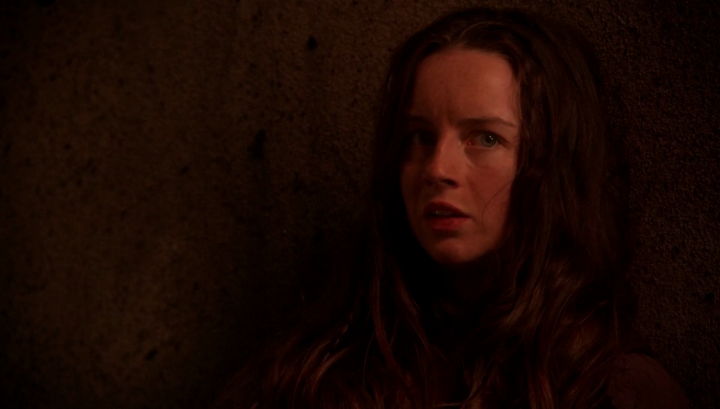 Why is Meg here? It looks like Cerberus is chasing her, but why is Cerberus chasing her, causing for her and Hercules to die? Does Hades particularly want Meg in the Underworld? Is she secretly working for Hades? It seems that her appearance is reserved for the worst of the worst. Are we finished with Meg, as well as Hercules' storyline?
Hook said that he got a message from Emma. It seems that, when Emma talked to him using the Ale of Seonaidh, it didn't work. So did it just not work on Emma's end? Did he just see Emma and know it was a message?
When Mary Margaret and David were in the graveyard, Mary Margaret said that these graves were from her kingdom. Do people only from the Enchanted Forest go to the Underworld? There have been so many cultures presented in Once Upon a Time over the years—the Scottish Highlands, Fictional China, Agrabah; where do those people go if the Underworld and "Heaven" are presented as being Greek Culturally based?
Is Olympus the better place or another realm? Did Henry Sr. go to the Olympus as well or some place else?
Back into the woods with Emma and Regina, where had us asking, is there anything that doesn't have an analog? Are we going to see something that obviously belong only to the Underworld that isn't in Storybrooke?
Speaking of really bizarre, it's weird how Snow and Charming's apartment have their picture in it. Do all residents of Storybrooke have their picture in their own respective houses, waiting for them to move down there? What would happen if they don't have unfinished business? How did the house know to create pictures/items that belong to Snow White and Charming? Regina, who knows Storybrooke more than anyone, should have known where to go. Why didn't Regina think to go to her vault. Are people's hearts still there?
Do the Blind Witch run Granny's? She seems to always be behind the counter, and serves the customer regularly. What happens when Granny dies? Will they make the Blind Witch move out of the diner so Granny could take over?
The reunion with Hercules was kind of bittersweet, but he almost looked disappointed knowing that Snow White already had a husband with two children and a grandson.
When Hook was brought back to Hades, we wondered what would be worse for him. Can Hades be killed? One of the biggest part of the hero story is conquering death, this showing their status as the "chosen one" Emma is the only one who can defeat him.
When Henry breaks into the Mayor's office, it seems as if Cruella DeVil has taken over the décor. Cora had a bunch of red roses on the mantle, now Cruella has a Dalmatian statue. Is Cruella the new Mayor of the Underworld? Is she Hades' new lackey? Can we really trust her with this new information about the pen? There doesn't seem anything for her to gain by lying.
So the pen is a living breathing entity. Its purpose is to record stories, does that mean that the pen can never move on since the story will keep on continuing anyway? How does it epitomize unfinished business? What business does it have to complete? If Henry can write Cruella out of the Underworld, does that mean that he can bring her back to life? How does Cruella even know all of this? If the pen is there in the Underworld for real, could Hades be hiding it?
Maybe they'll have the pen restored back to SB—does it then need to change places with an actual living, breathing person?

— oz grl
Is Cruella telling the truth about the pen, or was it all just a lie?
Meanwhile, everyone's underground looking for Cerberus and when they confronted Hades, he seems a bit childish when he said that he had his reasons for Storybrooke and the Underworld looking the same, but that he won't tell. The fact that he's keeping it to everybody could be the key to his undoing, maybe?
One more Greek Mythology lesson about the family of Hades:
Zeus and Hades
Zeus: head god of the Greek pantheon.
Defeats father Cronus (who had a nasty habit of swallowing his offspring)
Married to sister Hera, but many (many) affairs
Drew lots to divide the world up with brothers, Poseidon and Hades (Hades: sky and air; Poseidon: waters; Hades: land of the dead)
Is this how Once Upon a Time will spin the family drama for Hades?
We've met Poseidon so he probably wouldn't come to this, but would he? Hades is surrounded by those five rivers, and Poseidon is said to be the King of the sea, after all. Or will it just come down to Zeus and Hades, if they do decide to go on that route?
We love the conversation that happened between Regina and Mary Margaret; beautiful summary of their relationship, and the conclusion for the existence of Mary Margaret, as well as the need for Snow White.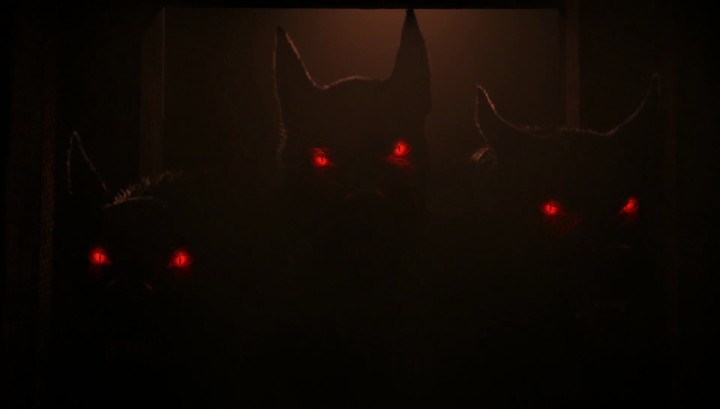 How did the three-headed hell hound get through the roof? Why is it always chasing Megara? was it simply because she was prisoner that escaped and Cerberus is the guard? Why is Meg so important? What was Meg doing in the Enchanted Forest when Cerberus was chasing her? That being said, it was kind of disappointing how Emma didn't make a Harry Potter reference upon seeing a three-headed hell hound. Plus, killing Cerberus was a little too easy. They could've at least put a harp in there or something.
Going back at the Diner, the big thing that come from this is Mary Margaret wanting to be Snow White again. We really like that she's Snow White again, but this "change" happened quite a long time ago, like in 3×11, Going Home. Still, we were happy to hear her say it.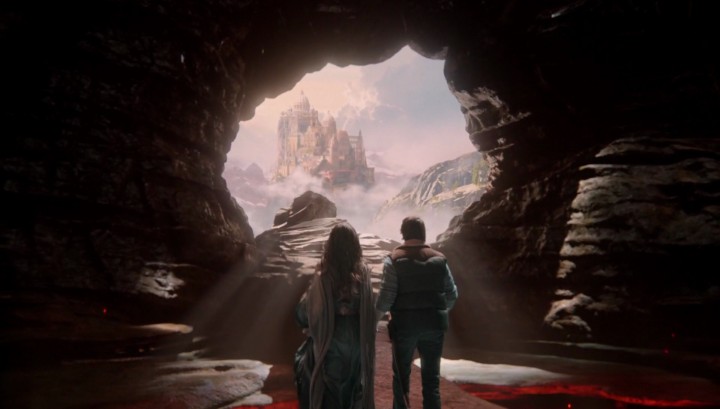 When they take Hercules and Meg to Mount Doom, and Hercules and Meg were crossing over, the design of Olympus is nothing like the Disney's version in Hercules. Why Olympus? If they are going the route that heaven is kind of a Greek analog, it shouldn't be Olympus, but Elysium, which is where the good guys and heroes go. Hercules going to Olympus makes sense, but no one goes to Olympus except gods and demigods. Was it because Olympus is more well-known to people than Elysium? Are we going to see where everyone else goes, then? If Olympus is specific for Hercules and Meg, will we see where the others be going? Is Neal also in Olympus or in his own version of a better place?
Thank you for the podcast reviews!
l07lrg499 from USA said, "I love it! This is my absolute favorite Once Upon A Time podcast! Each week Daniel, Jeremy, and Erin provide an in-depth recap, as well as insightful theories and research. There are many times when I find myself thinking about a certain plot a different way, or expanding on a different theory that was presented. If you want spoilers for future episodes, no problem. Hunter and Jacqueline will hook you up. Seriously, if it's a spoiler and it's out there, they will find it and tell you all about it! I can't say it enough, I love this podcast!"
iTeresa2015 from USA said, "Awesome Grade A++++++ Great Podcasts! The hosts are wonderful and very polite. We give this podcast a Grade A."
mathcamel from USA said, "I would have given up on ONCE without this podcast. IDK if I should thank or curse them. Love this podcast though :)"
Your reviews encourage us and help others find the podcast!
Please rate and especially write a review for us on Apple Podcasts.
Hades obviously hates the fact that people are leaving the Underworld, and it makes us wonder if something happens to his domain whenever a soul leaves the Underworld. Is Hades concern not just of losing soul leaving, but the longer the Savior stays, something happens to the Underworld?
If Hades' Underworld looked like Storybrooke, perhaps it looked something else before unless, of course, he based it off Storybrooke? Does the Underworld look like something else until Hades got there and changed it to look like Storybrooke?
It is good to know that Hades has his reasons for the Underworld looking like Storybrooke even if he has not yet shared them. There are a lot of parallels beyond the physical ones that might give us some clues. Storybrooke was created to address Regina's unfinished business with Snow White. Perhaps Hades created the Underworld due to some of his own unfinished business. Perhaps he was trying to capture one or more specific people or maybe he wanted to give himself a kingdom to rule having been denied Olympus. The Dark Curse may contain remnants of what was used to create the Underworld.

— Gareth Grey
If there was no Underworld, where did people go when they die? Was it just the worst place and the better place and Hades just created the Underworld as a place to stay in-between?
Are the three gravestones limited to three people? Will Hook actually end up choosing? And whom will he choose? Will he even consider following Hades' bad news? Will he carve his own name so that Emma could leave the Underworld? If he carves his name, is he prevented from carving the two others? Will that allow him to go to the better place, or will he stay in the Underworld? Share your thoughts using the comment section below or head directly to the forum if you've got theories not only about Labor of Love, but also about the upcoming episodes!
What did you think?
Email Feedback@ONCEpodcast.com (audio files welcome)
Call (903) 231-2221
Comment on the shownotes
Visit any page on ONCEpodcast.com and click the "Send a voice message" link to record and send a message right from your computer.
Help us out!
Share this post in your social networks
Follow us
On Facebook:
On Twitter:  echo do_shortcode('[twitter follow="ONCEpodcast"]'); ?>
Daniel J. Lewis:  echo do_shortcode('[twitter follow="theDanielJLewis"]'); ?>
Jeremy Laughlin:  echo do_shortcode('[twitter follow="phlegon"]'); ?>
ErinJ:  echo do_shortcode('[twitter follow="erinjcruz"]'); ?>
Hunter Hathaway:  echo do_shortcode('[twitter follow="travelingpixie"]'); ?>
Jacquelyn / RumplesGirl:  echo do_shortcode('[twitter follow="punk_bunny_87"]'); ?>
Spoilers
In 5×14, "Devil's Due," Gold finds motivation to help Emma rescue Hook
Hades unleashes his fury on the heroes
Hades threatens to condemn him to the River of Lost Souls
Rumple must find Milah in the Underworld and ask for her help
In the past, Rumple and Milah face a life-or-death crisis concerning Baelfire
"Devil's Due" was written by Jane Espenson and directed by Alrick Riley.
Guest stars include Lee Arenberg as Leroy/Grumpy, Beverley Elliott as Granny, Victoria Smurfit as Cruella De Vil, Rachel Shelley as Milah, Dean Petriw as Young Baelfire, Aaron Douglas as Fendrake the Healer, Gavin Cooke as Drunken Lout and Greg Germann as Hades.
Based on the promo, it looks like Rumple and Hades finally meet, and they talk about the deal that was made
Lots of Hades and Hook in the episode, with Hades saying that he's going to collect his friends and hurt them
First Sneak Peek has been released and we see all the five rivers, with Hades taking Hook into the yellow river. However, in the promo, it looks as if he took him to the green one.
Sneak Peek also showed Hades making Hook choose three friends to stay in the Underworld, and Hades took Hook to solitary confinement for not choosing
We got to know a little bit more information about the river, because Hades says, "do not touch the river of lost souls, because it reduces you to a mindless person."
Set photos showed a lot of Milah, as well as Fendrake the healer
There's also a lot of set photos of baby Baelfire playing in a field, and it looks like he was bitten by a snake
There are also some photos of Rumplestiltskin before he became the Dark One
For the role of Nathaniel, TVLine reports Hank Harris has recently been cast to play the part, while Jacob will be played by Sam Whitwer. The two will play mental patients in a mental hospital, who are both expected to appear at season's end, and likely will carry over season 6.
The cast is currently filming the finale
5×22 is entitled "Only You," written by David H. Goodman & Andrew Chambliss
5×23 "Untold Story" is written by Edward Kitsis and Adam Horowitz
In a recent Hot Seat with Entertainment Weekly, Kitsis and Horowitz were asked whether the have an important role in this arc, to which Kitsis answered that it has a symbolic role.
They were also asked if the five rivers play a role in the back half of the season, whether we will get to see Regina's childhood, and if there will be a death this other half of the season, all of which both said a resounding "Yes."
Set photos for 5×21 showed Merida, although she wasn't supposed to be in the finale.
There was also a set photo of Robin playing with Roland
The set photos for 5×22, however, revealed that they recreated their New York City set, and three casts were spotted—Rumple, Henry getting off a bus, and Violet
Another set photo for 5×22 showed a door that looked like an Asian door, and it seems as if they get sucked into the doorway, because Snow was halfway through the door but she was holding on to the side. Perhaps they will get sucked into another portal again.
There was another set photo from the graveyard that we talked about last week and one of them showed Little John and Roland walking around that said underneath, "after an emotional goodbye scene."