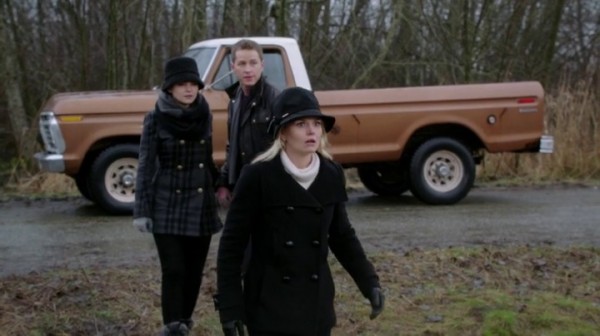 Podcast: Play in new window | Download | Embed
When Belle is released from the hospital, Mr. Gold continues his attempts at jogging her memory with a little help from an unexpected source.  Meanwhile, Anton and the dwarves continue to work on the bean crop all while Neal spends time with Henry and Regina learns of the new family connections in town. Emma is torn about whether she wants to return to the Enchanted Forest with her family or stay in our world.  In the past, we see some of Rumplestiltskin and Belle's first interactions and meet a thief possessing a powerful weapon.
These are just our first thoughts about this Once Upon a Time episode. We'll share more about "Lacey" in our upcoming full episode live on Wednesday, April 24, at 8:30 p.m. (EDT/GMT-4).
Mr. Gold enlists the aid of David to help him try to jog Belle's now cursed memories and get her to love him again; and when it is revealed that the magic beans Anton (Jorge Garcia, "Lost") and the dwarves have been harvesting have begun to grow and could possibly transport everybody home, Emma is torn over whether she would want to live in fairytale land or stay in our world. Meanwhile, in the fairytale land that was, Rumplestiltskin forces Belle to accompany him on a hunt to kill a thief, whom she had freed in the name of mercy.
Thanks for supporting us!
David Neuland (subscriber)
Dena81 (subscriber)
You can sponsor ONCE podcast, too!
Initial reactions
Rumples Girl aka @punk_bunny_87 is joining as a guest co-host
This episode gave a lot of background
Belle was reminded of the curse the same way David was reminded of who he was in season 1 episode "Snow Falls" (windmill in Gold's shop)
We got to visit "The Rabbit Hole" again (originally saw this in "Snow Falls")
Got to see how Rump got the bow (from Robin Hood) and that Rump let him escape because of Belle
Regarding the ending scene, "Lacey" and Rumple are maybe going to connect over it, but Rumple isn't fighting his dark side anymore.
Are we going to know Belle as "Lacey" from now on? Does that mean Rumple will go dark again? What will happen to Henry?
When Regina finds the beans, what is she thinking? Did she just realize what they were doing, or did she get a plan for it as well?
How does Regina even know about the beans? The beans were all supposed to be destroyed, but Regina seemed to recognize them as something she could use. Did Cora fill her in?
Both Belle and Sneezy were in the Rabbit Hole bar in this episode – neither have their original memories; they have both reverted back to their Storybrooke selves
Robin Hood and Marian – it is interesting that Marian is pregnant!
Rumplesgirl thinks that Marian is pregnant… with Tamara!
Because we haven't seen Robin or Marian in Storybrooke. Perhaps they are here in our world somewhere.
We see Greg with a map. Is he maybe mapping out places of magic?
Greg seems to know what Tamara's plans are. He is helping her but also looking for his dad. He is definitely in on her plan.
Hook is the package that Tamara is delivering.
Neal could have learned that Hook wasn't in the closet by Tamara not saying anything about him.
LOST Easter Egg – Lost has referred to a person as a "package" that was "stable" before.
We got background on the bow from "Heart of Darkness" when "the arrow never misses its target". Daniel had theorized that this was Robin Hood's bow in that episode's podcast.
Did Robin Hood teach Snow how to use her bow? This is still possible.
Does Emma want to return to the Enchanted Forest? Is she getting closer to wanting to return?
Emma was looking at the book – a scene of Snow and Charming in the baby nursery at the window.
Is Snow willing to go back to Enchanted Forest now because she thinks it will help her heart? Will Snow's heart return to normal?
Mr. Gold's dream from the beginning of this episode – turning Henry into a glass boy and smashing him. This is reminding us that the "undoing" has not happened yet. Will his undoing have anything to do with the favour that Mr. Gold will owe David now?
"From one grandfather to the other, helping the other date. Grandfatherly dating."
This is the second time Mr. Gold came to David for dating advice (also in the Crocodile earlier this season)
The beans seem to be growing very quickly, and there seems to be a lot of them, considering Anton only had one bean
Are we going somewhere else in the finale? Are we leaving Storybrooke? Who goes where and why? What are the circumstances surrounding that?
Dena81 & David Newland sponsored this episode of ONCE Podcast
Where is Tamara going with all of this? Will Emma or Neal catch on that something isn't quite right with Tamara?
"People who steal magic never have good intentions." Rumple said this in FTL about Robin Hood. Tamara also seems to want to steal magic.
Does Tamara want to steal magic from the powerful and give it to the powerless?
Robin Hood kept the wand. Maybe Tamara is Robin Hood's daughter, she got the wand from him and used it to make the magical taser. Tamara may have studied the wand, how it works, and how to reverse what it does
Where is that wand from? It cannot be Cinderella's fairy godmother's (that hasn't happened yet)
Only 3 episodes left – Will we get a season 3?
Neal and Henry sword fighting – very cute. Much like David and Henry sword fighting earlier this season.
Fans – send lots of feedback – please put "Lacey" in the subject line
"STOP YOUR LOLLYGAGGING!" and send us some feedback!
Some of our interesting discussion points (in no particular order)
We gave everything a brief overview and would love to hear your thoughts!
Talk about "Lacey" in our Once Upon a Time forums
Thank you for the Apple Podcasts reviews!
Your reviews encourage us and help others find the podcast!
Please rate and especially write a review for us on Apple Podcasts.
Preorder season-two DVD/Blu-ray set!
You can now preorder the complete second season of Once Upon a Time on Amazon.com! For a limited time, save $10 off the DVD set and $15 off the Blu-ray set!
Preorder the second season today!
Join us for the LIVE podcast!
Initial reactions on Sundays at 9:15 p.m. (EDT/GMT-4)—right after the Eastern and Central episode airing.
Full discussion, feedback, and live calls on Wednesdays at 8:30 p.m. (EDT/GMT-4).
On these days, visit ONCEpodcast.com/live to watch and chat live.
What did you think?
Email Feedback@ONCEpodcast.com (audio files welcome)
Call (903) 231-2221
Comment on the shownotes
Visit any page on ONCEpodcast.com and click the "Send a voice message" link to record and send a message right from your computer.
Help us out!
Share this post in your social networks
Follow us
On Facebook:
On Twitter:  echo do_shortcode('[twitter follow="ONCEpodcast"]'); ?>
Daniel J. Lewis:  echo do_shortcode('[twitter follow="theDanielJLewis"]'); ?>
Jeremy Laughlin:  echo do_shortcode('[twitter follow="phlegon"]'); ?>
ErinJ:  echo do_shortcode('[twitter follow="erinjcruz"]'); ?>
Hunter Hathaway:  echo do_shortcode('[twitter follow="travelingpixie"]'); ?>
Jacquelyn / RumplesGirl:  echo do_shortcode('[twitter follow="punk_bunny_87"]'); ?>