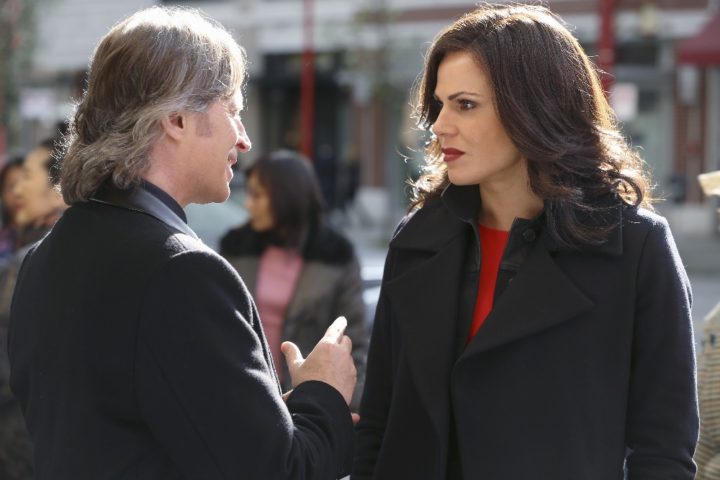 We have just finished watching the season 5 finale episodes "Only You" & "An Untold Story" and are ready to share our thoughts about the missing portion of season 2, the island of misfit toys, Rumplestiltskin's best student, and more!
Podcast: Play in new window | Download | Embed
In the first hour of the special two-hour season finale, Regina reels from the death of Robin Hood, and everyone tries to give her room to grieve, but when the heroes discover Gold has stolen Hades' Olympian Crystal and tethered all of Storybrooke's magic to it, they set out to stop him. Henry decides he no longer can stand all the pain magic has caused his family, so he goes rogue, with Violet in tow, to destroy magic once and for all. Meanwhile, Zelena, Snow, David and Hook attempt to open a portal that will return Merida and the other Storybrooke guests to their homes, but things go awry, and the group winds up in a deranged new world.

In the second hour, with the possibility of magic being destroyed and the fate of Storybrooke hanging in the balance, it's a race for Emma and Regina to track down Henry before Gold can find him first. Regina continues to struggle with her frustrations over her former evil-self and, elsewhere, Snow, David, Hook and Zelena are imprisoned and must contend with very two very disturbed individuals that may give Gold a run for his money.
These are our first thoughts about this Once Upon a Time episode. We'll share more about ""Only You" & "An Untold Story"" in our upcoming full discussion (usually live on Wednesdays at 7:00 p.m., USA Eastern Time).
Initial Reactions
"Only You" & "An Untold Story" is a great season 5 finale, even though it has some low points, too. It was the missing portion of season 2 before they showed the Dragon. This is everything we expected season 2 to move into—magic in New York City. Maybe they had this storyline in mind because originally, when they were doing season 2, they wanted to go a certain direction and then they either stumble upon this idea but then when they got the rights for Peter Pan, they decided to shift directions very suddenly and moved us to Neverland.
On the other hand, one of the cool things did this validates from season 2 is that that low point from season 2 in the episode Selfless, Brave and True was the Dragon and a lot of things into that, such as the taser, among others. This episode, however, validates that by bringing the Dragon back and back in maybe a more powerful form. Will we see more of him next season? Will he be the Blind Witch of season 6? Perhaps he could also finally bring resolution to another unfinished stories, which is finding Maleficent's lover as well as finding the father of the little dragon baby.
Remember, these are only our initial reactions regarding tonight's episode so please bear with us if we're a bit all over the place. If you have your own thoughts, feedbacks, or theories regarding tonight's episode, however, send them over to us and join our upcoming full discussion! If you have your own favorite moments from the season finale episodes "Only You" & "An Untold Story" then send  them over and we would like to include them on our upcoming full discussion this coming Wednesday.
The appearance of Dr. Jeckyll and Mr. Hyde reminded us back in season 2, when Henry said that Dr. Frankenstein was not in his story book, so he hinted back then that there were, perhaps, other stories and potentially in other story books. We've known since then that there have been many authors, so it's nice to finally delve into these. Does the book record only one realm's stories? What story books are connected to the Land of Untold Stories? The way that Mr. Hyde explained it when he arrived in Storybrooke made it sound like it's kind of the Underworld of stories; with all the incomplete stories; the island of misfit toys.
We did like that the heroes recognized what character they were seeing instead of ignorantly learning about him, because until then they did not realize they were the same person. When we first saw the guy that tazed everyone in the mansion, we thought he looked kind of like and even almost spoke like a Jedi without using the force and doesn't have the light saber.
When we first saw this whole splitting the Evil Queen from Regina we thought it was weird as it makes intentional moral statements, but also because we realized season 6 will be about Regina vs the Evil Queen. Not just an inner struggle, but an external struggle. They just can't seem to strike the same note from week to week. Partially, we're glad and partially we're not glad; we don't know where they're going or if they know what they're trying to say ultimately in sort of cohesive way.
How does Regina feel better and doesn't feel incomplete after literally ripping the Evil Queen out of her? Although the talk she had with Emma is possibly one of our favorite scenes on Once Upon a Time for years, it felt better written than a lot of things that had happened of late and yet, she used a couple of phrases that made us a little afraid; there's a construct coming out of their conversation that didn't exist before and we don't know if we liked it. We want to see her just have some real complex feelings and turmoil with no strings attached. Regina shown the most complexity in a very long time and they literally ripped her in two over it, which certainly frustrates us.
Perhaps the ultimate resolution of that will be the melding of the two back together and the acknowledgment that you can't split the darkness from yourself, but you can make the choices to not do the evil things; be a whole person who will always struggle with darkness.
It's also frustrating that both Snow White and Emma were both so supportive of this decision because we see very little difference between this opportunity that Regina did in this episode and when she was so burdened that she took her heart out and tried hiding it in the forest. It's the same thing; she felt like she couldn't deal with what's going on inside, but she got a magical way to try to separate herself from it, which doesn't really worked for anyone on the show who's tried it so far. We hope it's not something they carry in season 6 a whole lot, but also we don't want them to resolve it in the first episode. We definitely want to see the Evil Queen terrorizing New York City.
We were really hoping and really liked the episode was going, but somewhere around halfway through, it changed directions. We didn't like the idea it was  going, but we liked the idea of Rumplestiltskin outside of Storybrooke with magic and he can use it throughout the world. We liked the idea of things happening outside of Storybrooke and possibly Storybrooke not even existing.
Are we supposed to assume that the portal worked for everyone else and where they were supposed to go? Towards the end of the episode, Regina said, "This is war and it's just begun." Are we going to finally get the final battle in season 6?
Although the ratings and viewership of Once Upon a Time has gone down over the years, the ad rates for the show are going up. They were promoting relevant live action Disney movies such as Alice Through the Looking Glass, and the BFG, movies that will probably appeal to Once Upon a Time fans. With the ad rates going up for Once Upon a Time, advertising movies that are extremely relevant to the show and the rest of Disney movies like Cinderella and the other Disney fairy tale movies that are coming up, we might still see a 7th season even if the ratings are down because Disney realizes that the show is a money-maker.
The whole believing thing in New York at first was really corny, but after seeing the direction they took it, the magic and everyone applauding, we could totally see that happening in New York. It was, in a way, similar to a flash mob. There was enough belief and a neat moment for Henry, too, to be so instrumental as the guy with the heart of the truest believer.
What did you think about tonight's season finale? Share us your thoughts and where you think the next season is going and join us this coming Wednesday for our full discussion of "Only You" & "An Untold Story"!
What did you think?
Email Feedback@ONCEpodcast.com (audio files welcome)
Call (903) 231-2221
Comment on the shownotes
Visit any page on ONCEpodcast.com and click the "Send a voice message" link to record and send a message right from your computer.
Help us out!
Share this post in your social networks
Follow us
On Facebook:
On Twitter:  echo do_shortcode('[twitter follow="ONCEpodcast"]'); ?>
Daniel J. Lewis:  echo do_shortcode('[twitter follow="theDanielJLewis"]'); ?>
Jeremy Laughlin:  echo do_shortcode('[twitter follow="phlegon"]'); ?>
ErinJ:  echo do_shortcode('[twitter follow="erinjcruz"]'); ?>
Hunter Hathaway:  echo do_shortcode('[twitter follow="travelingpixie"]'); ?>
Jacquelyn / RumplesGirl:  echo do_shortcode('[twitter follow="punk_bunny_87"]'); ?>