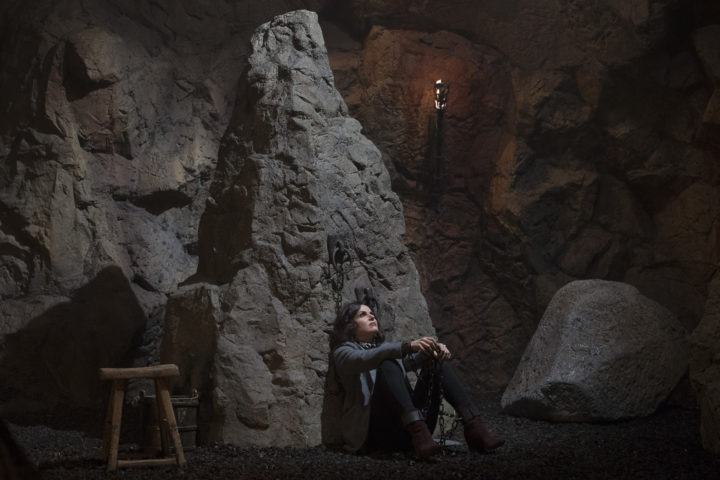 Some rants, more raves, a couple of questions that are now pointless, Operation: We Are Both, and more in our "Leaving Storybrooke" initial reactions!
Podcast: Play in new window | Download | Embed
Wish Rumple's evil plan is revealed and Regina realizes the only hope to stop him is by turning Wish Henry from his path for vengeance. Meanwhile, Tilly and Margot try to get help in Storybrooke. With his hope of ever being reunited with Belle fading, Weaver struggles to find a way to defeat his evil alter ego; and when Rogers' life is threatened, he is faced with the ultimate sacrifice.
These are our first thoughts about this Once Upon a Time episode. We'll share more about "Leaving Storybrooke" in our upcoming full discussion (usually live on Wednesdays at 7:00 p.m., USA Eastern Time).
Initial Reactions
Remember, these are only our initial reactions regarding tonight's episode so please bear with us if we're a bit all over the place. If you have your own thoughts, feedbacks, or theories regarding tonight's episode, however, send them over to us and join our upcoming full discussion!
"Leaving Storybrooke" was fun to watch. It was exciting and the story especially separated from last week was kind of just so-so, but we knew that whatever plot there was, was going to be mostly a vehicle for doing character stuff they wanted to do. The series finale had so many amazing character moments and reveals. It was so fun to watch, and there were so many things we liked. However, we were slightly convinced that they eventually listened to us and made sure that Rumple pulled one last vial of magic to use in the final episode of the series.
We definitely had some mixed reactions to some of what happened in the finale. Rumplestiltskin's exit could've been more if they had more time, but the way that it happened also was all that could've happened because we've already had big epic moments that should've probably his end and weren't. So it was no less meaningful, but it was not a repeat of something that they've already done. Plus, the fact that Hook started out as his nemesis, and then to end up sacrificing his life not just for him but also his daughter was one of the most beautiful moments of the series finale. That being said, everything would still work without the involvement of the Wish Realm.
The end was beautiful, but seeing two Henry's was weird and messed up. Furthermore, Emma and Hook's baby also shouldn't be a baby. When Hook and Emma came to help Henry earlier in the season, Henry was grown and she was just expecting then, and that was before Lucy was born. Then again, as the Apprentice said, the timelines alone would make one's head spin, and it certainly did ours. On the other hand, it was funny when Alice and Robin show up in Storybrooke out loud. So much for "they can't know we're here".
The very end of the episode was cute in a way, but it also didn't make a lot of sense in another. It's like Disney World, as well as Operation: We Are Both. Somehow, the whole ceremony for Regina being the Queen of all the kingdoms was kind of amazing, but does Tiana still get to be Queen in her own kingdom? And did anyone expect Emma to come in and say "Sorry, I'm late" during Regina's coronation? The best reveal of the show, however, was seeing Snow White and Prince Charming back. It was nice to see them again, what with Charming giving a sword twirl, as well as Snow with a bow and arrow. We also liked Regina's dream about Robin Hood and the feather in her hands when she wakes up. They definitely wrote the characters who came back very well even for just a moment so that we could see them.
It was also nice seeing Granny wear a red sweater. Perhaps a nod to Meghan Ory as Red? However, it was a bit disappointing not to see Michael Raymond-James as Neal/Baelfire and Jamie Dornan as Graham. Maybe they thought baby Neal was enough as a nod to Baelfire? Why is Prince Neal younger than he should be?
What happens to their future? What happens to Drizella and Anastasia? What happens to two Regina's? If it's only a few years after last season, then Hook and Emma shouldn't have a kid yet. Furthermore, baby Neal should've been at least 20 by the end of the series, or at least 10 years old.
On our list of of unanswered questions involved the link between real Rumplestiltskin and Wish Rumple, but that's all pointless now. What happened to the Dark One dagger? Although we had more questions about the series finale, but Regina's coronation ceremony and the whole montage simply made us want to sit tight and grab the tissues instead. It was also great to see Emma and Hook's baby, Hope, during Regina's coronation, which was so beautiful. It was nice seeing her come a long way since the beginning when she first threatened Snow White and Prince Charming to take their happy endings away.
Why is the magic handcuff in the Wish Realm? Did anyone get the "loophole" that Rumplestiltskin found of Wish Rumple, that Henry's emotion is enough to write everyone new stories? It feels like it was very much a conjured vehicle to create moments of drama, and there was also not enough time for war council to go into action.
One of the highlights in this episode was Regina's speech to Wish Henry, even though he was an awful character. Regina's speech to Wish Henry is what every Mom needs to learn. It was admirable to see her willing to sacrifice her life in order to make her son realize that there is at least one person out there that loves him.
Other than not totally understanding the connection between Rumple and Wumple, it was a bit satisfying that he turned to ash. On the other hand, it was nice to finally find out who Lily's father is; Zorro. How exactly did they think of making him her father? It was funny how we just realized that Nook doesn't actually wear guyliner, as opposed to Hook, who wears one. It was a subtle difference, but was nice to see the difference between them. It was also nice to see Nook and Rumple ended up being friends in the end, regardless of who said it to whom.
There were a lot of good speeches in this episode, a lot of them was said by Regina. Regina's speech to Rumple was touching, but it could've been trimmed to something shorter but still make a point. They could've also trimmed a few of the action moments to make room for more scenes.
What did you think about the series finale? Send us your feedback about the series finale including your favorite scene of the whole series, as well as your favorite season and join us for our full-discussion of "Leaving Storybrooke" on Wednesday, May 23 at 7:00pm EST. Also check out Jacqueline and Hunter's spoiled initial reactions on Monday, May 21 but for the meantime, head over to the forum and share your favorite and least favorite moments from "Leaving Storybrooke".
What did you think?
Email Feedback@ONCEpodcast.com (audio files welcome)
Call (903) 231-2221
Comment on the shownotes
Visit any page on ONCEpodcast.com and click the "Send a voice message" link to record and send a message right from your computer.
Help us out!
Share this post in your social networks
Follow us
On Facebook:
On Twitter:  echo do_shortcode('[twitter follow="ONCEpodcast"]'); ?>
Daniel J. Lewis:  echo do_shortcode('[twitter follow="theDanielJLewis"]'); ?>
Jeremy Laughlin:  echo do_shortcode('[twitter follow="phlegon"]'); ?>
ErinJ:  echo do_shortcode('[twitter follow="erinjcruz"]'); ?>
Hunter Hathaway:  echo do_shortcode('[twitter follow="travelingpixie"]'); ?>
Jacquelyn / RumplesGirl:  echo do_shortcode('[twitter follow="punk_bunny_87"]'); ?>