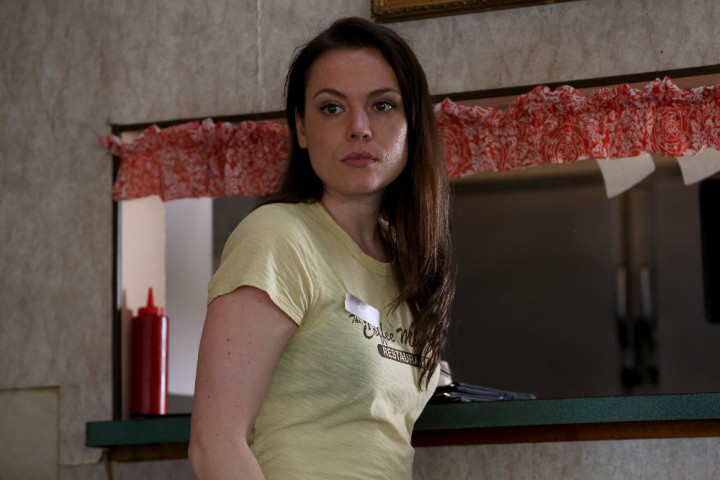 In Mankato, Minnesota in 1999, Lily begged Emma to help her but decided she's better off alone. Meanwhile, Emma and Regina went on a road trip to find the weird one with a personality anyone would want to stay away from. Check out our initial reaction of "Lily" and hear us rant and rave about Emma and Lily's entwined fate, Robin's reaction to Regina's surprised visit, the Apprentice on our world, and more!
Podcast: Play in new window | Download | Embed
We just watched "Lily" and have not figured things out, not until Santa got on the bus and explains fairy tales to us. Have you got anything to share about tonight's episode? Send it over to us and we might include them on our full discussion!
Emma's potential for darkness is looming over everyone, but when Emma realizes Maleficent's daughter Lily is in fact her closest friend from her foster care days, she resolves to find Lily and reunite her with her mother. Regina joins forces with Emma and together they set out to track down Lily and to warn Robin about Zelena. However, neither of them is prepared for the harsh realities they'll encounter in the outside world. Meanwhile, in Storybrooke, Gold faces a crisis involving Belle. In a foster care flashback, things are looking up for young Emma with her new family until Lily's appearance threatens to destabilize everything.
These are just our first thoughts about this Once Upon a Time episode. We'll share more about "Lily" in our upcoming full discussion (usually live on Wednesdays at 7:00 p.m., USA Eastern Time).
Initial Reactions
Back when we saw Lily initially, we thought that she's a more important character, not just a throw-away character. With the way they're tying in this characters with the season, it's making us think and respect them more that, maybe, they have more of the story arc planned out, like multiple story arcs and arcs among those arcs and arcs carrying across those arcs into of every kind of storyline being carried in the arc. Or maybe they just thought it'd be cool to work it in somehow? Whatever the case, it's cool that they are tying the story arcs in and making these throw-away characters not actually throw-away characters. At this point now, every character that's hinted at is someone important. Could Lily's boyfriend be someone important, too?
The Sorcerer looked a little pink and blue, Yin-Yang, but also like very much like the Sorcerer's Apprentice section of Fantasia, where Mickey stole the hat. Why was he not a physical entity? Was he someone that we have actually seen before? A character that we already know that the writers simply not want to reveal to us just yet?
It was kind of intense with the whole gun scene with Emma and Lily. We thought Lily might not be long for the show; it could really go either way with the way they're taking the story. But why bother setting up all this build up to Lily if she will just end up dead in one episode? Although it wouldn't be Emma-like, it would be interesting to see it end up that way. What was the thunder about, which happened only when Lily hit Emma? We did see Emma's magic having effect on the lights back when Henry was born, is there something about these two women that, when they have really intense emotions going on, light bulbs burst near them?
The whole idea of Savior and Anti-Savior is a common thing that you see in comic books and all stories; if there's a hero there has to be a villain. For every action, there is an equal opposite reaction. It's that sort of thing that they are treating Emma and Lily as the Savior and Anti-Savior. What kind of havoc is Lily going to wreak now that Lily is getting into Storybrooke and being invited into?
We enjoyed this episode right up until the end. Robin was very strange. First he acts like Regina was delusional, which does he not know her better than that? Why did he not stop and ask why she's saying what she's saying? And when Zelena revealed herself, he just stood there. It's understandable that he is concerned about the baby but shouldn't that reaction come two or three hours after throwing up a couple of times and running down the streets of New York, as so many do. He's been living with this woman that he believed was his wife, who is actually someone else entirely and he doesn't even make a start for the door? Zelena was lying about her entire face, did he not think that, perhaps, the baby isn't real either? Is Zelena lying about being pregnant? When Robin said that he can't leave her, is he referring to his child? Is he and Zelena having a baby girl? With only three episodes left, where then can they go with Zelena? After all, Zelena doesn't look pregnant. At this point in the story, can they fit in the baby being born by the end of the season? How can they carry it over into the fifth season? Will they even consider carrying Zelena over the next season?
So the Sorcerer's Apprentice stepped into our world in order to enlighten Lily about her backstory. Why did he proceed to do it? Was he trying to re-balance things out? Was it better to steer Lily on a path of vengeance against Snow White and Prince Charming? He probably didn't expect it to go that way, but he should have thought longer before he created a little doorway to a world without magic which, somehow, doesn't apply to him in some ways.
On the other hand, it was nice getting an answer to the question as to how the rest of the book was written from within. The Apprentice said that now that the author was trapped in the book, he can only record not alter stories. In addition, at least they did show us how Lily learned of her past, even though we thought for a moment that we wouldn't get how Lily learned about the truth about everything. Although, for a second there we thought it was going to be Isaac who will be telling her, but that wouldn't have worked into the timeline since he was already in the book when this happen.
Speaking of timeline, the flashbacks, probably all happened after Emma was with the Snow Queen. Although they did a fairly good job at matching the young and adult versions of the characters together, Lily's was a bit surprising; we expected someone who looks a little closer than young Lily since young Lily's eyes are fairly distinctive and they didn't quite match it up with adult Lily. Why didn't Emma and Lily recognize each other? Because it's been so long?
Can the Sorcerer or the Apprentice conjure a wolf to help steer people to their fates?
Thank you for supporting us!
David Neuland (subscriber)
Steve Johnson (subscriber)
Lisa Slack (subscriber)
Tracey Anderson (subscriber)
Daniel Clark (subscriber)
15 Patreon backers ($61.25 per episode)
You can sponsor an episode or more of ONCE podcast, too! Email Daniel@ONCEpodcast.com if you would like to arrange a corporate sponsorship of our podcast for the upcoming third season.
At what point is the Sorcerer going to step into our world as a person and interact with everyone else? Now that we've seen the Sorcerer's puff, which is a bit similar to the Wizard of Oz—all smoke and mirrors—when will we learn more of him?
Based on last week's episode, we know now that Regina did take Belle's heart without her permission. If heroes can't kill, but was it right to take people's hearts and hold them captive? Was she really capable of squeezing it or was she really just bluffing to Rumplestiltskin in the last episode? Then again, it was cool to see Rumplestiltskin give it back to Belle, ask Will to protect it himself, and walk away honorably.
We're having a party in celebration of the season four finale in Cincinnati! Come up, join us and share your initial reaction with us. Check out the season four finale party details and reserve your seat.
Remember, these are just our initial reactions regarding tonight's episode so please bear with us if we're a bit all over the place. If you have your own thoughts, feedbacks, or theories regarding tonight's episode, however, send them over to us and join our upcoming full discussion!
What did you think?
Email Feedback@ONCEpodcast.com (audio files welcome)
Call (903) 231-2221
Comment on the shownotes
Visit any page on ONCEpodcast.com and click the "Send a voice message" link to record and send a message right from your computer.
Help us out!
Share this post in your social networks
Follow us
On Facebook:
On Twitter:  echo do_shortcode('[twitter follow="ONCEpodcast"]'); ?>
Daniel J. Lewis:  echo do_shortcode('[twitter follow="theDanielJLewis"]'); ?>
Jeremy Laughlin:  echo do_shortcode('[twitter follow="phlegon"]'); ?>
ErinJ:  echo do_shortcode('[twitter follow="erinjcruz"]'); ?>
Hunter Hathaway:  echo do_shortcode('[twitter follow="travelingpixie"]'); ?>
Jacquelyn / RumplesGirl:  echo do_shortcode('[twitter follow="punk_bunny_87"]'); ?>