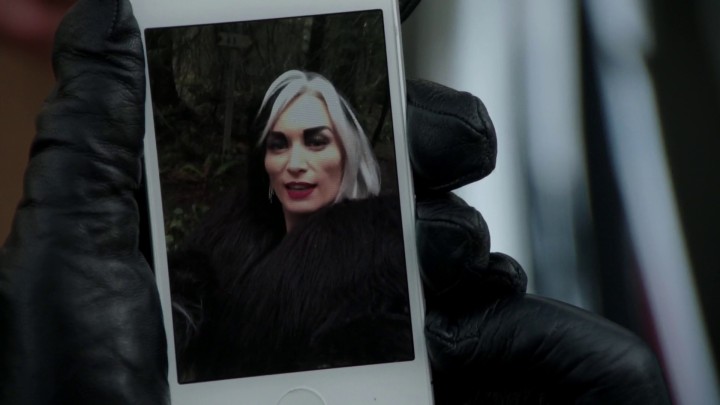 In 1920s fictional London, a troubled girl named Cruella met a newspaper writer named Isaac who travels and collects interesting personal stories, where she told him her classic Cinderella tale about how her mother locked her up because of self preservation. But as Isaac showed Cruella the most important thing he had and whisked her away to a place where Cruella's mother and her dogs can never find them, Isaac later realized that the angel he danced with was actually a killer. Back in Storybrooke at present, just as Regina gained an upper hand over Rumple, Cruella kidnaps Henry, setting Emma on a path exactly where the Dark One needed her to be.
Podcast: Play in new window | Download | Embed
This episode felt like we got two backstories instead of one—Cruella's and the Author's, Isaac. But, at the same time, it seemed to really be Cruella's backstory alone, does that mean that we may still get Isaac's backstory? It looks like there's more to tell about him, because we still don't know when he was chosen to be the Author or anything about his family life.
1920s Fictional London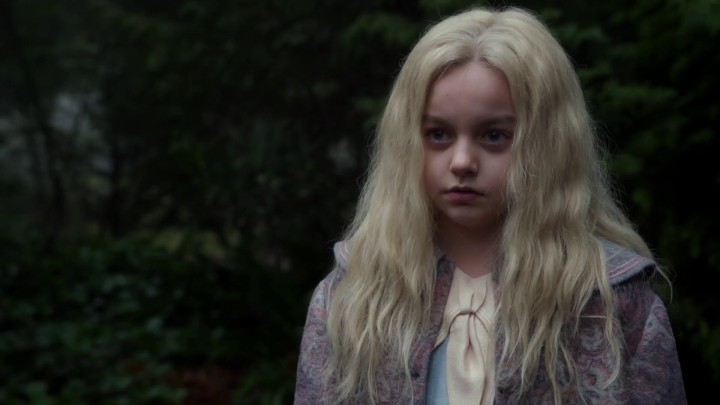 When young Cruella was running away, we first through that it was the mother's fault, that she might be controlling the dogs with her magic, but everything we see about her in this episode, really, is just a great dog trainer; no magic involved. It also brought us back a bit to Alice in Wonderland when she's running through the forest, what with the blue dress and the time period, but obviously we found out that it was Cruella.
Speaking of Alice in Wonderland, the actress who played young Cruella was actually Milli Wilkinson, the same actress who played Alice's daughter in Once Upon a Time in Wonderland's episode, "And They Lived." Furthermore, Wilkinson did a really good job portraying the role of young Cruella in this episode, even if we only saw her for a couple of brief scenes.
Despite seeing a few of those scenes, it was nice that we get the mother's parenting style, which is a lot like dog training, where she expects to give a command, and for her to be obeyed, like a dog would.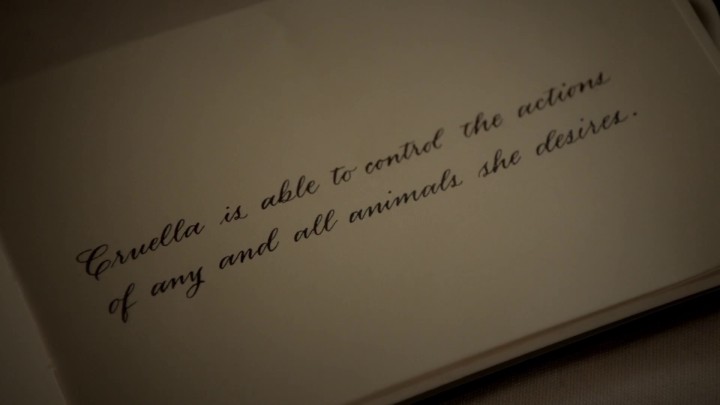 In this version of Cruella DeVil, Cruella was told as Cinderella of sorts and as well as Sleeping Beauty in some way but when Isaac came to the scene, it seems that he was simply fulfilling the normal job—collecting interesting personal stories. However, it's odd that he ended up in 1920s fictional London because there is no magic in Cruella's house. There's nothing even about the story that involves magic. In fact, Isaac was the one who brought magic into the story. Was he even the Author at that point? He seemed very well-versed in what he needs to know to become the Author. He also said that it was his job to travel between realms and record stories, so how did Isaac got into 1920s fictional London? Is 1920s fictional London locked in time, a realm still connected to all other magical realms? Can he write himself into different realms?
Isaac's magic reminded us of Peter Pan's, only instead of imagining things, he, as an author has to write them instead. This made us think that, perhaps, he simply wrote for the key to appear on Cruella's window instead of stealing it from her mother. Did the Author have to train under somebody in order to know how to do all those? How did he know which realms he can go to? What are the laws in each realm? How does he know all those? He has to learn it from somewhere. Did he go to Hogwarts?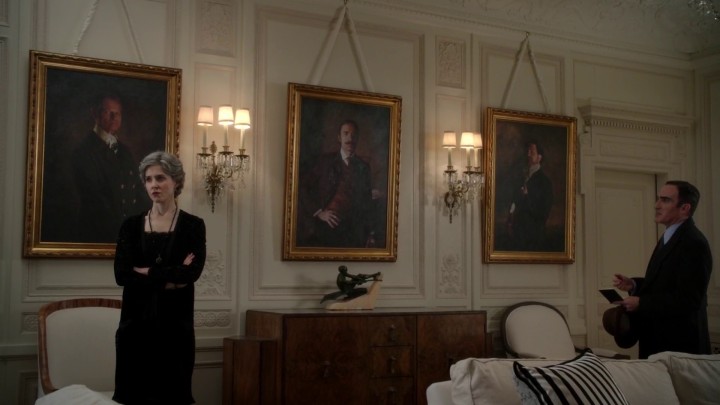 Has he ever been in love? He was quite defensive when Cruella's mother said something to him not having been in love.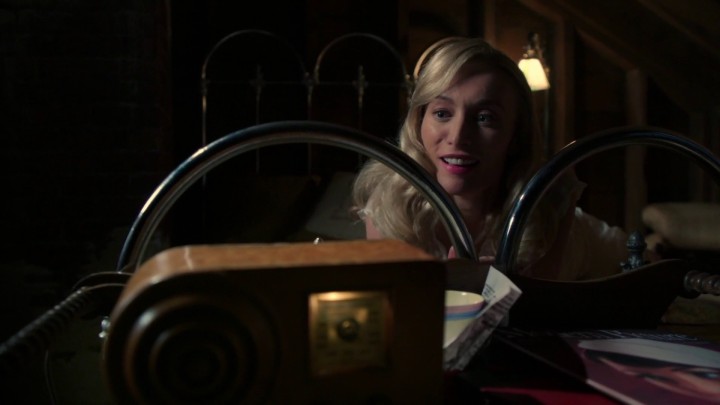 There are also some cool little Easter eggs found in this episode, even in the tower when Cruella was locked up and was listening to the music. However ironic, the music playing on the radio is Cruella De Vil, a song written for the Disney film 101 Dalmatians and in that movie. Here in Once Upon a Time, however, the song is called "The Toast of Beak Street," played from the Murray Club, where Cruella and Isaac went to talk. Turns out, Murray Club actually does exist and it's an actual nightclub in Beak Street, London.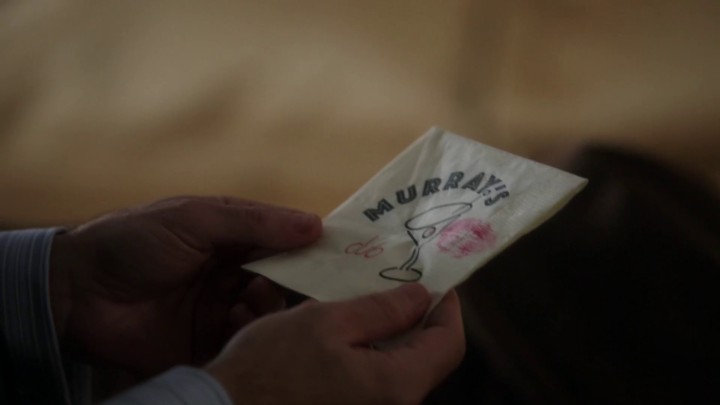 If the land is frozen, when did this world pop into existence? Did it pop into existence the minute our world hit 1920? Everything in this world is very iconic to the 1920s, but if it coexist with the other realms for centuries, how was it that Cruella's world was stuck in 1920s? Neverland, for example, existed when Malcolm—Rumple's father—decided to stay there. It has existed for centuries before Barrie wrote about it so it would follow that this 1920s land has also existed for centuries. But how could a world that is clearly 1920s-inspired exist before the actual 1920s?
If you look at it from multiple dimensions, where it's not just necessarily everything is running in complete parallel. Although a world is created at one point in our timeline, that doesn't mean it lines up parallel with other timelines. Neverland, for example, where time really doesn't move at all the same it does for us, or like this fictional London that we're seeing, we don't know how time moves or if time even moves at all. In addition to this, it might be possible that there are these different realms where the time passage is extremely different in each of them and not necessarily parallel. Then again, maybe we might just be thinking too hard about it very often.
How did these stories tie back to our understanding about the stories we know? When we think of our world, how did it get from our world to the 1920s fictional London? Is these where Isaac got the idea of manipulating the stories he witness, because of what happened with Cruella? Why didn't he try to write and manipulate Cruella's story further? He seems to have this almost unlimited power once he realized that he has that kind of power. So, if the worse thing he's ever done was point Snow White and Prince Charming in the direction of the dragon egg because it makes for a better story, why hasn't he gone full-on author crazy? Did he do anything in between Cruella and Snow White and Prince Charming that was a step too far? How long did he manipulate stories before the Apprentice stopped him? How much control does he have over people? How far back was he affecting these stories? Who did he influenced? Rumple seemed pretty certain that he was the one who wrote in that villains can't have their happy endings and stole happy endings from people like him, who wasn't exactly a villain to begin with; just a coward, not a villain.
If he can write himself into other lands, does that mean that can he rewrite the past? Did the author, somehow, manage to manipulate Rumple's future?
Evil isn't Born, it's Made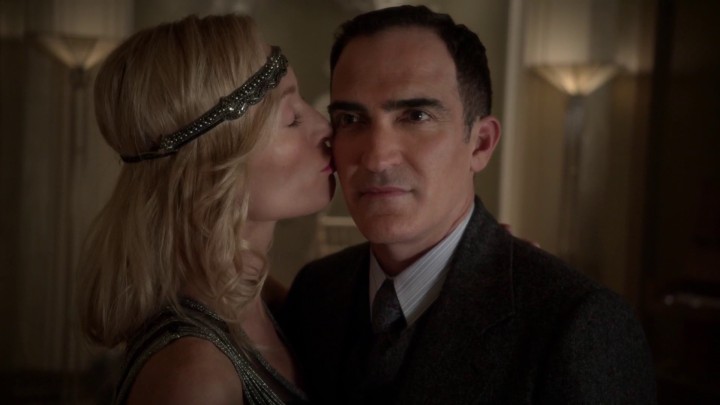 The show has been pointing out from the beginning that evil isn't born, it's made, but what about Cruella? Although Cruella's backstory is twisted, the twist at the end was one of our favorites. It was legitimately shocking for all of us. It was a very interesting idea that they did. For four seasons, they have been telling us that "Evil isn't born, it's made" and then suddenly entered Cruella who is, from what we can see, a sociopath; someone who lacks empathy and manages to manipulate others by playing on their feelings.
Cruella's actions garnered a lot of talk in the forum this week about whether or not wen can consider her being born evil.  But even with the term Sociopath, in our society, there's even a debate about whether that's a born label or a made label; it takes three key personality traits to make a psychopath and that personality is set in stone by the age 5. And it's certainly possible that Cruella could have been influenced a lot by her mother because her mother, while not evil, was very controlling. Maybe that, in combination with Cruella's personality, made her rebel in the sense of feeling like the only way she can have freedom is by killing someone. That being said, we still don't know which is her situation, whether Cruella being a sociopath is something that she was before her mother became very controlling. What did Cruella's father do to her that made her poisoned him?
Ok, so the problem I have with this is that Cruella wasn't born as some literal evil demon or monster – she was born a human child. She didn't have something happen to her to cause her to become evil, like some tragic event, she just was 'evil'. From what we saw, I'd say she was born a sociopath This is a mental illness that the person cannot help, it is not 'inherent evil'. Yes, it causes people to lack empathy, which in turn may lead them to commit acts we would call 'evil', but we don't deal with people like this by killing them. We treat them if they have not done anything wrong, or we lock them away and treat them if they have committed a crime.

— @Felie
To be fair, Cruella may have been born with a disorder but her mother did her no favors by the way she raised her. Terrorize with dogs? REALLY? How are you not going to make an already messed up child more messed up with that?

— @MusicalFeet
Whatever other changes that the mother made as a result of the father being, made Cruella to rebel more.
If Cruella is really that evil, is really so without limits in her ability to hurt others, why did the Chernobog go after Maleficent? The "Cruella cannot kill" restriction is irrelevant. It's about her heart. And the "potential" should include Cruella's potential to manipulate the author into giving her back, which she fully intended to do. Also, Maleficent clearly cares for her daughter. She has a vulnerable side. If we're to believe this latest ep, Cruella doesn't care about anyone, which also means she has no limits in what she can do. If Cruella is really a terrible person that didn't care for Lily, why was she so protective of the egg in the first place? And of Ursula? Remember her putting her hand on Ursula's back when they passed hook?

— @CrystalPrincess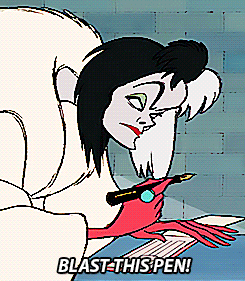 The whole ink spilling on Cruella that made her look that way was a little bit Star Wars-like as we said in our Sympathy for the De Vil initial reaction, but also a little bit like disappointing. We thought something big is going to happen, since Isaac said that there's no telling what kind of story will become once the ink was spilled but it simply changed her hair and eyebrows. But did that happen because Rumple and the Author need more ink in present day Storybrooke? Are they going to use Cruella's hair to extract the ink from her hair? Rumple got a lock of Snow and Charming's hair before and made a true love potion out of it, so this would not be outside the realm of possibility for the show.
Thank you for supporting us!
David Neuland (subscriber)
Lisa Slack (subscriber)
Tracey Anderson (subscriber)
Daniel Clark (subscriber)
15 Patreon backers ($61.25 per episode)
You can sponsor an episode or more of ONCE podcast, too! Email Daniel@ONCEpodcast.com if you would like to arrange a corporate sponsorship of our podcast for the upcoming third season.
Storybrooke (Present)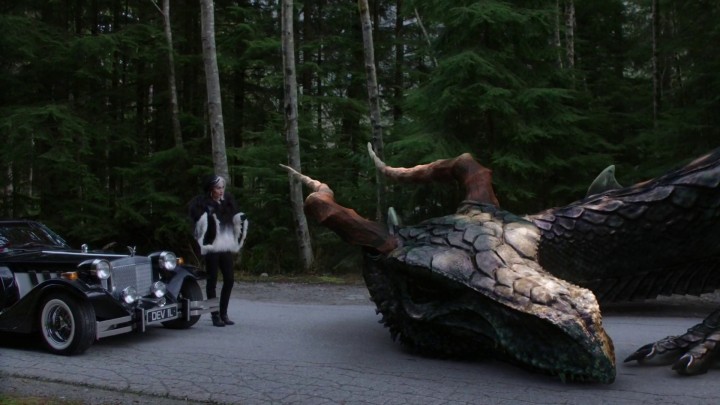 One cool thing that we learned from Cruella and Mal's run-in is that the dragon egg's magic helped Cruella and Ursula to stay young. But did they really abandon baby Lily? Where did the creators get the name Isaac?
Isaac Asimov–a very famous science fiction writer:  LOST had the Valenzetti Equation which was loosely based on Asimov's Foundation Series.  the Valenzetti Equation basically predicted the end of humanity thus the numbers 4, 8, 15, 16, 23, and 42 always being transmitted. Or it could be Isaac Newton. We know that the casting call name used for Isaac/The Author was originally Gorin.  Well, Isaac Newton's wife's maiden name was Gorin – Susan Elizabeth Gorin.  Seems Newton is the likely candidate when you consider that not only was he a mathematician and physicist, he was also an author and he was also into astronomy & alchemy.

— @TheGoldenKey
With Maleficent turning into the dragon and Cruella controlling her, why didn't she use Maleficent to do her bidding, like kill the author?
We're glad that Regina broke the news to everyone at Mary Margaret's loft about Zelena posing as Maid Marian instead of trying to keep it a secret to everyone. However, it was a bit odd that nobody seemed surprised that Zelena is alive.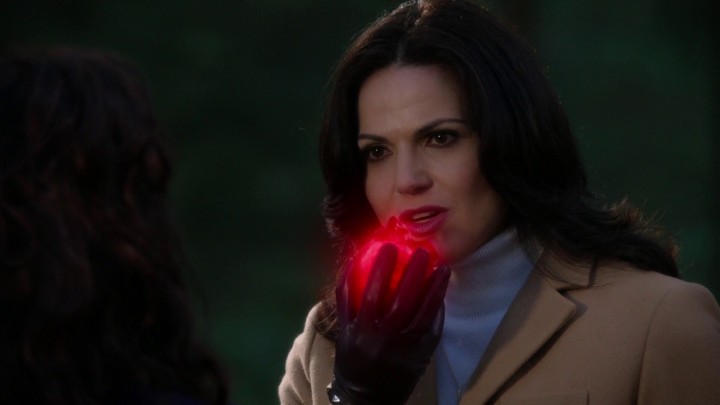 We loved seeing Regina and Belle working together. Did Belle give her consent for Regina to take her heart? What exactly did Regina proposed to Belle that she plans to do to Rumple? Was that even Belle's heart that Regina was holding? They didn't show Regina taking Belle's heart, so whose heart did she take?
Belle would NEVER hurt someone, especially Rumple, with the things that Regina had her say after the kiss. It's not in her nature, and as Regina pointed out–it is in hers. Besides, Rumple can tell whether a page from the book is real–he'd definitely be able to tell if Belle's heart were a fake. By not showing us how Regina took the heart and by having Belle ask if she could help, it's left ambiguous–in Regina's favor. Given their characters, I believe that Regina answered, "Yes, you can," and then took the heart before Belle could protest. Once she had the heart, of course, she could command Belle at will.

— @Keb
Did Belle and Regina have a play by play conversation as to what Regina exactly plans to do against Rumple? Rumple has been in control since the beginning, but these days, it seems that he keeps getting surprised about the things that are happening around him. Why didn't Rumple protect Belle's heart? Regina was able to protect Henry's heart after he was rescued in Neverland.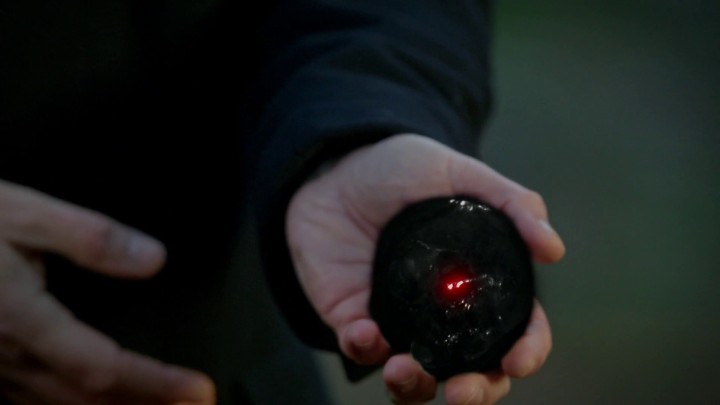 Is Rumple even telling the truth to Belle about what is happening to him?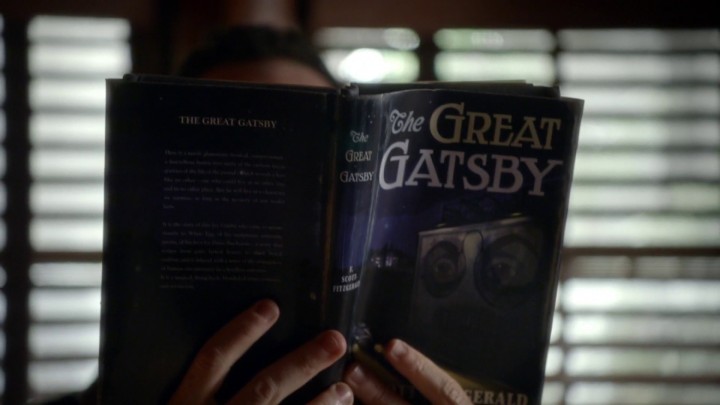 Back when Isaac was brought into the cabin, he seemed to know other authors like Hemingway and Henry David Thoreau. Are they other Authors like him?
When Cruella came in, Isaac was seen reading F. Scott Fitzgerald's The Great Gatsby. The Great Gatsby, which tool place during the roaring 1920s, is the same flapper-filled world we see in Fictional 1920s London. One of the biggest themes in the Great Gatsby is the idea of recapturing the past, specifically with Jay Gatsby and the woman he loves, Daisy Buchanan. Daisy is a self absorbed and shallow woman who flits between Gatsby and her husband Tom (one of the central conflicts in the book). Gatsby is constantly trying to recreate the past, to have everything perfect and to get his happy ending, as signified by the glowing green light that comes from Daisy's house. Gatsby's devotion to the fictional narrative in his head goes so far as to cover up Daisy's crime of killing her husband's mistress. Gatsby is like the Author who can't see the kind of person Daisy really is; he tries to rewrite their love story (in his head as opposed to literally) by making their affair out to be a perfect love story when it was anything but. The Author thinks that Cruella is an "angel" and refuses to believe what Cruella's mother says about her until the evidence that Cruella is unhinged is laid bare before him.
Beyond Isaac and Cruella, the central theme of The Great Gatsby is the idea that you can "start over"—a theme that has been running through this entire season, with Rumple, Regina, and the other villains who are trying to get their happy ending by forcing the Author's hand. In the Great Gatsby, it turns out that you can't start over.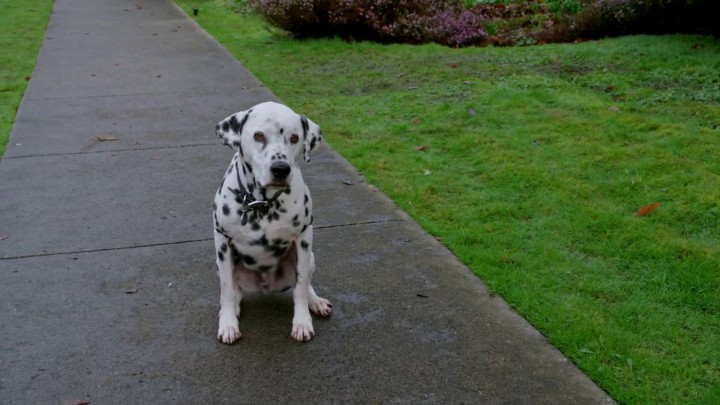 It was great to see Pongo again, although it was a  bit weird how she was manipulated by Cruella. Then again, it was cool seeing Cruella interact with Pongo.
Back in the woods, it was surprising that, for once, Emma is angry with everyone except Regina. However, Emma may have gone too far when she mentioned that she doesn't trust her parents with her son. Mary Margaret and David may have done something bad in the past, but they don't seemed like the type who will hurt their grandson.
How Emma and Regina was asked to kill the Author for Cruella was a bit similar to how the Man in Black found a loophole to kill Jacob in Lost. Does killing the Author revert his magic? Will burning the storybook or the paper he wrote the story in reverse the magic?
Rumple said that when the Author dies the mantle of the author is passed on to another, kind of like  Elijah's mantle being passed on to Elisha (who had double the power). Will the next Author have new capabilities if Isaac dies? Who will the next author be when he dies? If Isaac is still alive, and was already in the book before Emma was born, who wrote the end of the story in Henry's storybook? Did the Sorcerer and the Apprentice try to right the wrong themselves? Did they ask the fairies to write the story themselves?
When the Charmings found the Author in the cabin, Isaac told them that "The story ends with the Savior going dark." Is this a possible foreshadowing, probably our season finale cliffhanger?
The Author wrote things to protect the world from Cruella, and essentially wrote the whole thing about Emma's darkness transferring to Lily, but didn't the Apprentice stop the Author at that point? Everything that has happened after that should not be set in stone, so why or how does the Author know that the story will end with the Savior going dark? That doesn't make sense to me. Is it sort of like self-fulfilling prophecy? Everyone is so worried about Emma going dark that it makes people make dumb decisions which lead to Emma pushing people away and hardening her heart. I wonder if just having faith in her that she can choose to be good would be more helpful than the overprotecting actions (or reactions) that they have taken.

— Jessica Olsen
If the Author is really well-read and is knowledgeable in all of the realms, he could just be speaking of being a well-read kind of guy, is very good at guessing things, and just knows how things will play out.
Saving Henry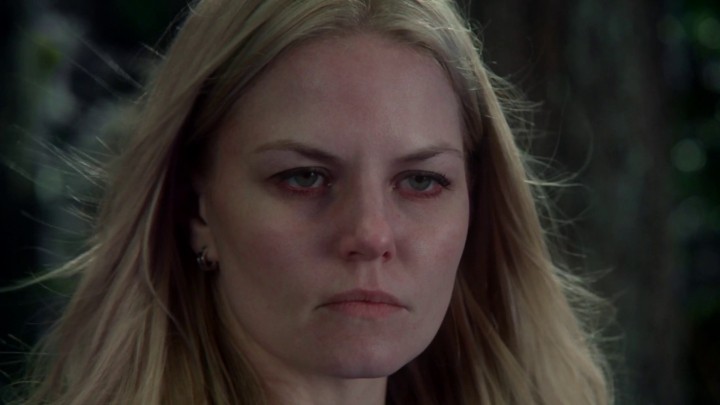 After Cruella was thrown off the cliff, Pongo was released from her control. But is Cruella really dead?
Is Emma turning dark? After constantly losing the people she loves, and almost losing her son, it seemed a little impossible for her not to turn dark. But is what she did enough to turn her into a villain? Emma doesn't have an idea that Cruella can't do anything to Henry, so she simply thought that she was saving his life. Prince Charming also killed a handful of the Evil Queen's guards in order to save baby Emma and put her into the magical wardrobe, how was that different from what Emma did?
Towards the end of the episode after Emma killed Cruella, crows were heard when Emma was shown. In Once Upon a Time, crows were typically used when Regina was in her Evil Queen mode. Was that a sign that Emma is changing?
I don't agree that Cruella's death can be completely placed entirely on saving Henry slash defeating the dangerous villain. Yes, that was certainly a part of her motivation to send Cruella flying, however; a large part was also something Cruella said to her. Cruella starts off by threatening Henry's life, but it isn't until she starts taunting Emma about being the Savior that Emma finally snaps and tosses her. Basically Emma's motto through life prior to season one had been: You have to be your own Savior, because the world sucks and will try to put you down. Emma's whole identity as "the Savior" goes against everything that she's ever believed. Understandable she's was very reluctant to embrace the title in the first few seasons. And then when she finally started to believe at the end of last season she absolutely flopped at defeating Zelena. Fast forward to this season with her haphazard control of magic in 4A and the revelation that her parents effectively changed her entire identity because they were afraid that she might be evil. Emma's super upset right now, and at least some of that bled into her decision to launch Cruella like a rag doll.

— @trudia
I don't like that they are insinuating that if a hero kills they are no longer a hero and are suddenly evil, even if it is done to defend and protect your family. Stopping someone from killing or hurting your son doesn't make you evil. If she knew Cruella couldn't hurt Henry, and still pushed her off the cliff, that would be different. I'm really hoping they don't come back and say that she used her super power and knew Cruella was lying about hurting Henry, because I don't think I would buy that. Her lie detecting is more faulty when she's emotional (or so it seems) so I don't see how it would be reliable to her now. This whole half of the season they have been hinting at Emma going dark so if they REALLY want to surprise us then it won't even happen. However, if she does go evil, I really don't want to see it drag into next season, or have her be the main villain. Yes, it would be interesting, but something more than killing Cruella better be what turns her, and I hope it's only a half season arc (if that).

— Jessica Olsen
If all the OUAT writers were consistent in their belief that darkness and light are CHOICES, REGARDLESS OF POTENTIAL, they would have used this opportunity to explore Emma's CHOICES. Just like Jeremy said, she had more options than either killing Cruella or letting her live (mental rewind to every single classic hero moment in this show).  She even has choices in what feeling she uses to fuel her magic, and the writers are skipping over it at the moment. This scene is particularly ironic because the last time she used magic at a cliff's edge was in neverland, when she was learning to use love and not anger as a source for her magic.  At the moment, there isn't much room for choices. It's like they're confusing "potential" with "destiny," which is frustrating.

— Trixie
After killing Cruella, will Emma start choosing the wrong things?
I think Cruella's story arc ended too suddenly. In some respects, she has been depicted as a puppy and a tag-along villain, and we/you wondered about her real purpose on the show. We saw that Ursula's departure was abrupt and cheesy, and she didn't seem to add plot value except to open a portal for Hook and steal from Belle. In contrast, it's a relief to see Cruella's role was integral to this half-season's plot…and that there is a legitimate reason why she's called a villain.  Because she is evil, and chooses evil.  True to OUAT canon.

So Cruella is revealed to have significance to the story (albeit only as bait for Emma), and a legitimate villainous nature, and the writers decide to kill her off in the same episode? They created a dark and disturbing character, with evil intentions, and killed her without using her as a evil force on the show nor reinforcing the OUAT original definition of a villain: someone who makes evil choices.

— Trixie
With this second half of the season crowded with villains, and only four hours left of the season, how will the story wrap up? Is everything really going to be wrapped up, or will some of it be left unanswered until the next season?
What did you think?
Help us out!
Follow us
Spoilers