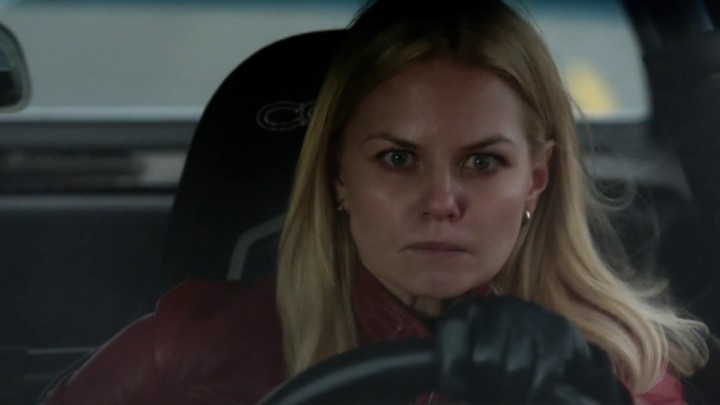 Unable to keep his dragon off her leash, Maleficent cut her ties with Rumplestiltskin and went to the Charmings to ask the Savior to find her daughter. With Regina in tow, she and Emma drove outside Storybrooke to find Lily and rescue Robin, only to be surprised herself when Regina learns the shocking truth about Robin Hood and "Maid Marian's" current relationship status. Meanwhile, young Emma's what would be her first family vacation was interrupted when young Lily showed up and asked for help.
Podcast: Play in new window | Download | Embed
Past (Enchanted Forest and Makato, Minnesota)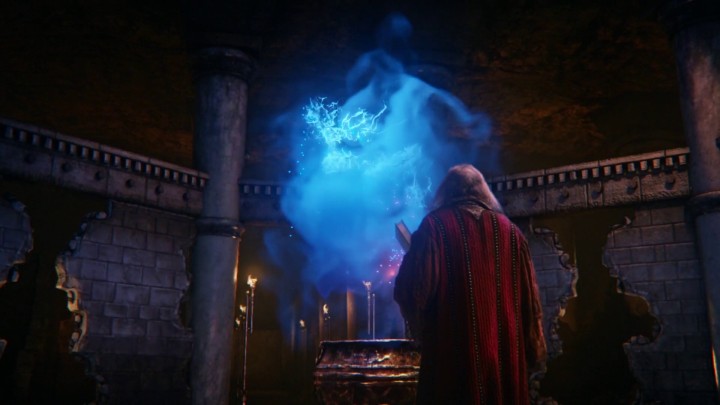 Starting out the past as the Apprentice talks to the Sorcerer, which is the only scene we saw from the Enchanted Forest. It was nice to finally meet the Sorcerer, although it was actually just his voice that we heard. Is this the same underground chamber we saw before? We saw in the credits from this episode that Jonathan Adams was marked as "disembodied voice." Is he the one that did the voice for the Sorcerer?
One of the things we've learned from this scene is that Emma and Lily's fate were always and will always be entwined. This made us wonder if, from the beginning Lily was supposed to be this "Anti-Savior?" It's a common thing in the comic book world where, if there's a hero, there has to be an Anti-Hero. Does the darkness has to be equal to keep the cosmic world in balance?
If the Author must never be allowed to toy with fate again, what will the Sorcerer and the Apprentice do to ensure that doesn't happen? When the Apprentice said that the Author was no longer allowed to alter fate again, we wonder how is that going to play out in the coming episodes? Is the Sorcerer finally going to appear in Storybrooke? Or will the Apprentice, somehow, come out of the hat and try to stop the Author? Why does the Author need to die to have a new Author? Why not just appoint a new one instead of trapping the current author in the book?
Some people have wondered whether the blue smoke could be connected to the Genie from Aladdin. So far, we have already seen Jafar in Once Upon a Time in Wonderland, is the Sorcerer actually Genie from Aladdin? Or was he someone else entirely? He seems to be the most powerful than even the Dark One can't break his power, is it possible that it's Genie? Then again, the combination of blue and red color on the mist was a nice nod to Fantasia.
Is the color in the mist a representation that the Sorcerer is neutral? If he wants fate, fate has to be neutral; can't be good or evil.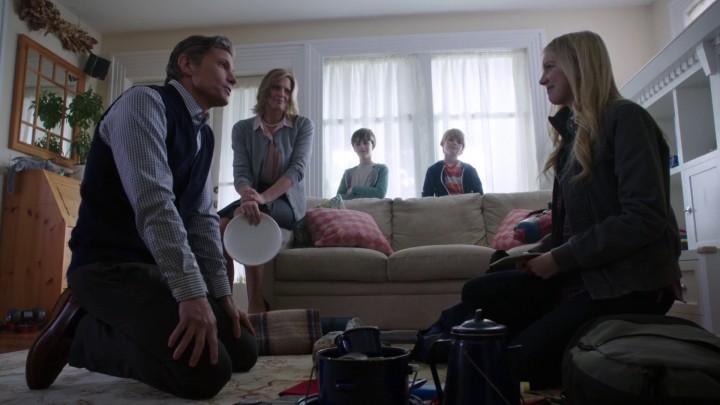 When young Emma and her new foster family prepare to go camping in Makato, Minnesota in 1999, she must have been about 16 years old then and Lily would have probably been 17. But if this is 1999, could this be a little bit after Emma's time with Ingrid in Hopkins, Minnesota happened, which also happened in 1999?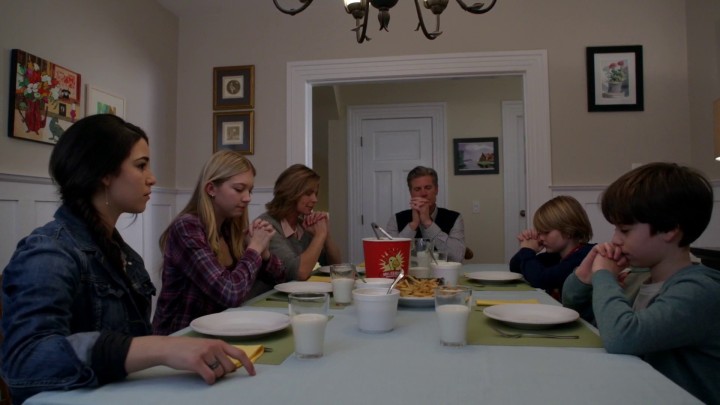 Did anyone catch the LOST reference when they were eating dinner? If you missed it, they were actually eating a bucket Mr. Cluck's chicken!
Why is Lily so ashamed or private about her birthmark? The store that Lily robbed was Paw Tucket Mini Mart and Deli on 1437 Belkin Avenue and later on, Starla was seen working at Coffee Mug diner that was just beside Pawtucket Gas Stop. Was it the exact same mini mart?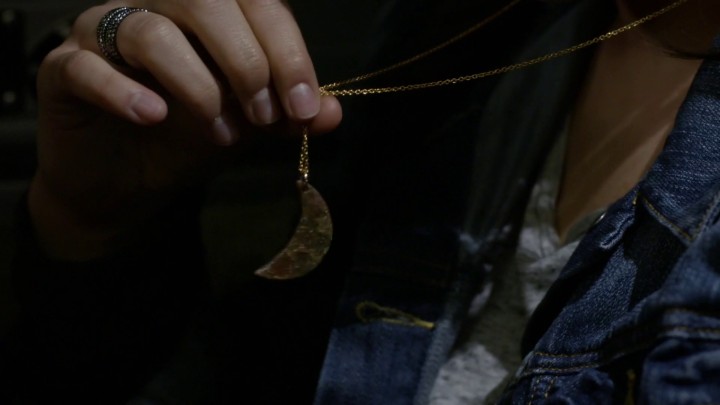 We loved the exchange of conversations between young Emma and young Lily; they did a really good job casting the characters. Young Emma and Young Lily really do have a great chemistry but when they were fighting in the garage, how does Lily even have a necklace? Later on, in the bus, the Apprentice said that it was from her mother. Maybe part of the egg that Lily was in? Dragon talon? Toenail clipping? Will we eventually learn more about her necklace?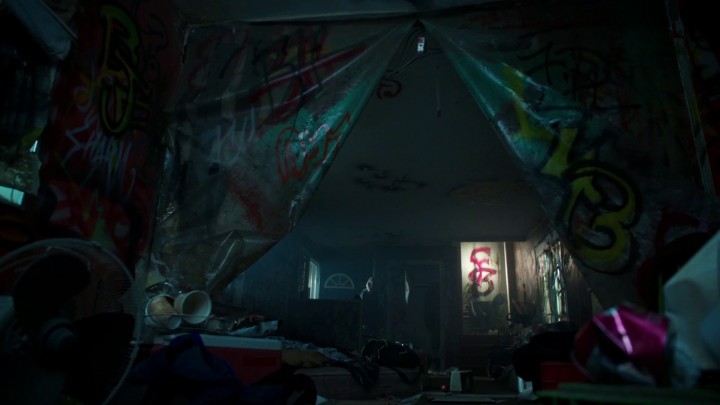 We tried looking for connections when Emma tried breaking in to the house that Lily was squatting in, but unfortunately didn't find anything.
Emma's foster parents did have some total justification in how they are saying how she lied about letting Lily, who's basically a liar and an armed robber, into their home. They may have made some language mistakes, but it was clear that Emma didn't get kicked out. Instead, she ran away. But did her foster parents even try to find her after she ran away? Did they report her as a runaway? Or did Emma go back into the system? Was this the event that led her to go on a bus and end up in Portland, following the events that happened in Tallahassee?
We know that when young Emma ran away from Ingrid, she obviously ended back up in the system. Here, however, it looked like she was going to be on her own and wouldn't be pushed to go back into the system, especially if she's 16 years old.
Lily told Emma that she can't go back to her adoptive family because her parents kicked her out. Unless Lily is 18, she can't get kicked out. But if Emma was born in "1983," she would be 16 and Lily would probably be 17 so how could Lily get kicked out if she seemed to still be underage?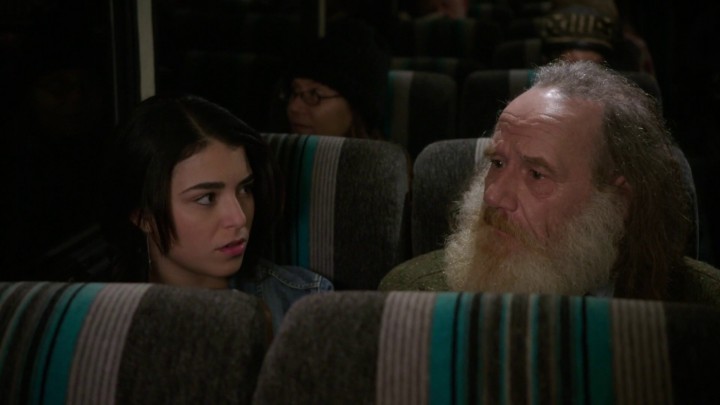 One of the things that Lily keeps running in to is the wall of darkness around her. It looks like she tries to do the right thing, but almost designed to not be able to do the right thing, which is dumb because it's a potential for darkness not darkness. Lily doesn't seem particularly evil, but we didn't think that they are particularly clear about what "potential" means as a word.
We looked up the mean of potential in the dictionary and found that it means having or showing the capacity to become or develop into something in the future. If they removed all of Emma's potential for darkness, then there should be no question whether or not Emma could turn dark. Furthermore, when Lily said, "When you're around, things are brighter", are they implying that the only way each girl can make proper choices is if they are together?
Is the potential for darkness that belongs to Emma is what surfaces in Lily when they're around? Lily made it sound like things were hunky dory until Emma came around and things started to go bad, although it wouldn't make sense if she's always had this potential. Is the light in Emma trying to balance out the darkness on Lily? Back in the episode Breaking Glass when we saw them steal things together, we theorized that maybe Lily had gone to the store with her father's permission and simply saw Emma as an opportunity to escape. Is that where her darkness really started, after seeing Emma shoplifting pop tarts?
The Apprentice said the necklace compliments her birthmark. If the necklace is a moon, and her birthmark is a star, where is the sun? Is Emma the sun? Maleficent?
Lily's storyline reminds us of "Doomsday" from Smallville, who started out as a normal person but started having internal conflict with being Doomsday and trying to fight it but at the same time, embracing it and hiding the fact that he was this horrible monster. Lily, on the other hand, looked like she wants to fight this, but resolved to fully embrace the darkness and seek revenge eventually.
This whole thing with the Apprentice admitting to Lily that he is messing with fate seems just as badly as the Author is. While he tells Lily that what happened to her was not entirely her fault to begin with, he also basically admitted that he, too, was messing with fate when he told Lily that he shouldn't be saying all of it to her. Was it because of him feeling the guilt of being tricked by the Author? Why didn't the Apprentice go to Emma as well?
"The Apprentice did to go to Emma but indirectly by way of August.  The DC had pretty much guaranteed Emma's fate as the Saviour,  but seeing as August had lost his way, that's where The Apprentice had to intervene with a course correction."

— @TheGoldenKey
But if it's a course-correction, wouldn't it be considered not fate? Is the Apprentice simply trying to right the wrong as much as he can?
Thank you for supporting us!
David Neuland (subscriber)
Steve Johnson (subscriber)
Lisa Slack (subscriber)
Tracey Anderson (subscriber)
Daniel Clark (subscriber)
Jessica Olsen (subscriber)
Aimee Catellier (subscriber)
15 Patreon backers ($61.25 per episode)
You can sponsor an episode or more of ONCE podcast, too! Email Daniel@ONCEpodcast.com if you would like to arrange a corporate sponsorship of our podcast for the upcoming third season.
Present (Storybrooke and New York)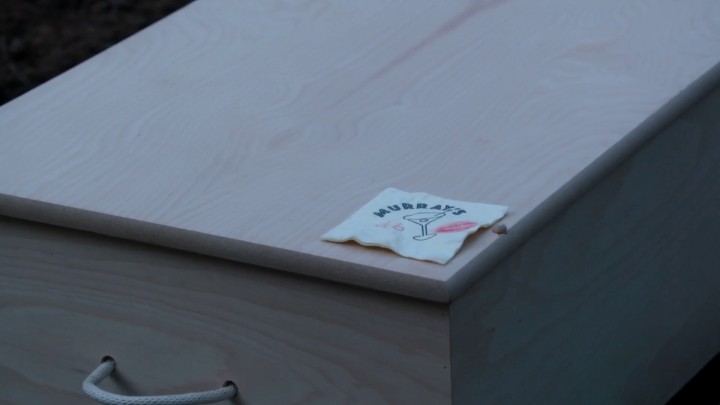 Moving on to the present starting out in Storybrooke in a kind of sad moment of burying Cruella, it was clear that there's still a glint of infatuation between Isaac as he and Rumple laid her to rest. Throughout the show, they have been using the term "Savior" heavily, especially since season 3 in Neverland. Why does somebody had to die at the Savior's hands? Cruella, as Regina pointed out later, was an accident, and during the car chasing scene with Lily. When Gold said in the car with Isaac that the trip to New York will set the Savior to the dark path faster than they anticipated, did it really happen despite Emma not ended up shooting Lily?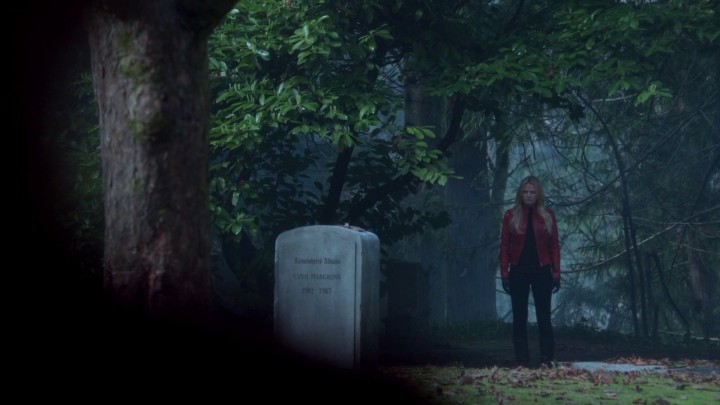 How creepy was Emma to be standing in the distance like that, looking over Isaac and Gold as they bury Cruella? Was she simply feeling regret that she killed Cruella? Then again, Emma does have a good death stare.
When Emma announced her plan at Granny's Diner, Regina seemed happy that Maleficent has turned on Rumple, almost overjoyed even that she is now against Rumple, but does that mean she's on their side now?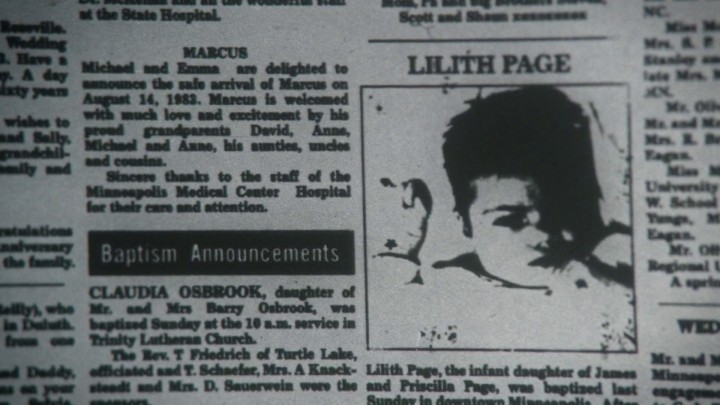 The microfiche that Emma was looking at was actually Lily's baptism announcement. How did she get that? Was it something that Emma saved when she and Lily was together at some time? And when Regina then comes in and started presenting us about fate, she said that "our actions are our own, but fate pushes us." Does it? Doesn't our actions still our own and we don't have to follow fate? Regina saying this also gives us a clue of the moral of the story that while there is fate, you still have control. Your actions can change your fate. You don't have to be dark. You don't have to be a certain way, that you can choose to be different.
Why is Emma so surprised by all this fated-ness? She met, fell in love with, and had a son with the Dark One's son—the same Dark One who made her the Savior and put her parents Snow and Charming together. This episode also reminds us a lot about the episode Manhattan, where fate was heavily discussed in the episode when Emma thought Neal set everything up. In the episode, Emma felt like she was robbed of having her own choices made and this episode kind of mirrors that her entire life was completely orchestrated by the author, the book and the story.
Emma and Regina might be going on a road trip, but Emma is still acting like a petulant child. On the other hand, at least she's treating Hook well; their conversation about darkness was really good. It's crazy that it's the Dark One expecting Emma to go dark, since he's the one that has nothing to live for anymore; he has let go of Belle; no longer has Neal; he has nothing left except, maybe, this hope of stopping this darkness from consuming him. Hope is a big theme to the show, the core really to Once Upon a Time.
When they went to Lowell, Massachusetts, did the Apprentice set up the fake car crash? So that Lily could go into hiding?
Back in Storybrooke with Will and Belle, we were surprised that Will, the man who was a previous heartless man, would recognize a fellow heartless person. Why didn't he realize that Belle doesn't have her heart? Why didn't Regina bring Belle's heart with her?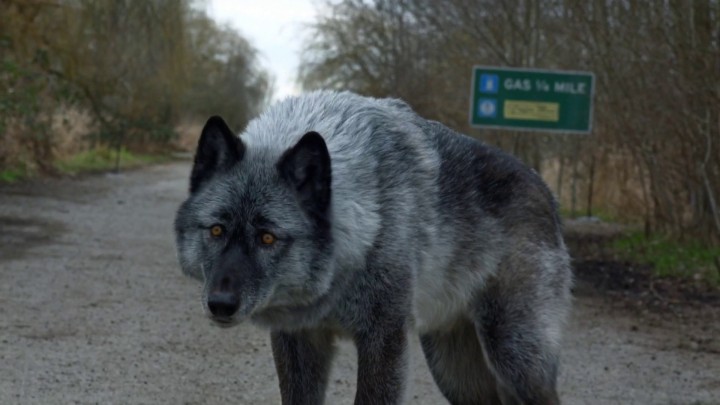 The wolf in the road that Emma and Regina saw looked similar from the wolf in the Pilot episode.
Hi, so the one thing that has really wracked my brain is the wolf making a return. Could the wolf be the sorcerer in a physical form. We saw him in season 1 and then that means that's how the sorcerer keeps Emma and Emma and lily on their respective paths. I know that might be the a crack pot theory.

— Jessica Frey
Is the wolf on the road actually the Sorcerer?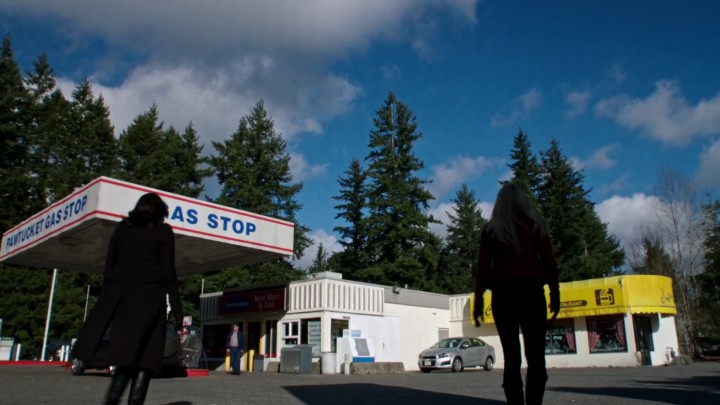 When they make it to the Coffee Mug diner which was right across Pawtucket Gas Stop, and Lily was going by the name Starla, we think that they really nailed the casting for Lily. The way she acts and talks sounded a lot like young Lily!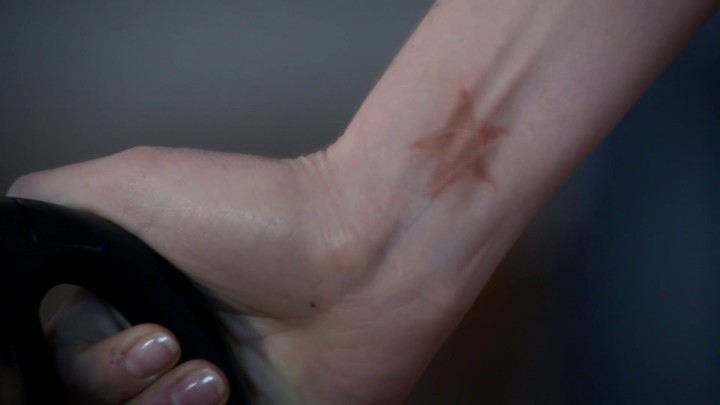 You'd think with a birthmark like that, if you were trying to hide it, you would hide the birthmark?
Children of the world pay attention: if a stranger comes up to you and offers you food if you'll come with them, DO NOT GO. You need to yell, scream, shout, kick, bite, scratch, whatever. Get to a well lit area with adults and tell them that someone is after you. #PSA #TheMoreYouKnow

— Jacquelyn
Is the girl actually very close to her? Are they neighbors?
When the Charmings visited Maleficent at Regina's office, she made a valid point in saying that it wasn't just her that Snow and Charming needs to seek apology from, but also from her daughter.
Back at Starla's trailer, Regina found a board in one of the rooms about information about them, and some of the things we found were as follows:
Prince charming
Evil Queen
Snow White
Emma
Cruella De Vill
Ursula
Maleficent
"Boy spotted in the United States, but where?" Toy becomes real boy
Storybrooke locations
The author
Private Investigator license?
Did Lily eventually become an investigator?
Who is Sylvia that was on the license plate of a car that Emma stole? Was the car Lily's or a neighbor's car? Did Emma literally start on a road to darkness when she stole the car?
Was this a turning point to Emma when she said that she won't let Lily destroyed her life again with another family?
Whose magic burst the headlights? Does Lily have magic? After all, the thunder and bursting lightbulbs did happen when she punches Emma. Could their physical contact be what sets things off?
When Lily was on her knees, she told Emma, "Come on, be the hero and end this right here before it even starts." Are they finally setting us up for the final battle that they have been talking about since the Pilot episode?
Loved the Regina/Emma road trip. We got a lot of Regina snark but also a lot of concern for Emma. Also, it's a good thing Regina was with Emma, since she apparently DID need a babysitter. I was actually little worried about Lily for a bit. Regina looked like she was about to be in tears pleading with Emma, which I really liked just because it shows how much Regina cares and has changed. I'm also glad that Regina actually said that killing Cruella was an accident, and that she hadn't crossed that line yet.

— Jessica Olsen
Regina was a pretty good road trip. She's a wonderful person now.
We liked how, when they cut to the wide shot, we thought for sure Emma would pull the trigger. That's the cliché "person gets shot" camera angle. It was a beautiful shot, too of Vancouver's greatness.
While they were seating on the pipes and talking, it was sort of touching to hear Emma saying she's not pushing Lily away this time. We also thought something was going to happen when Emma handed out her hand to Lily. Maybe because she was wearing gloves?
Does Lily believe that she doesn't have a choice?
Jumping back to Storybrooke as Maleficent guards Belle's heart who shouldn't guard a water fountain, Rumple said that Lily keeps Emma on her dark path. What does he mean? Does he mean that the more time Emma is with Lily, the worse she gets? Does Rumple, somehow, has access to the story that we simply don't know?
When Belle gets her heart back, and finally admitted about his wrongdoings, is this the end of RumBelle? Or was Rumple manipulating Belle in this scene? Preying on her love for him and her enjoyment of grand gestures? What is creating the Dark One? If true love's kiss can break any curse, and at one point almost stopped it, can Belle kissing Rumple stop his heart from turning completely black?
"This is not the end. This time isn't the first and may not be the last farewell. They belong together, and even when one of them declares it has to end…they find a way to come back together. He's taken one of the first steps toward some kind of redemption: He confessed his wrongdoing to Belle and acknowledged that it was wrong. He fixed the immediate harm that he could by restoring her heart

— @Keb
We kind of agree to this, but hasn't this happened before?
Sorry, but I think this goodbye speech by Rumple to Belle was the end. Rumple gave his blessing for Will to be with Belle. As Rumple said to Belle, "I'm returning your heart, but he [Will] is going to protect it." While I think Belle will always have a place in her heart for Rumple, I think she knows deep down in her core that Will treats her far better than Rumple did. As sad as I am to say it, I think Anastasia will be dead, too. And I say this as a huge fan of ScarletQueen. I do not take this lightly. However, I will acknowledge that if Belle and Will had to start over with someone, they couldn't have picked a better partner than they did. I think Will is a sweet and loyal catch (just watch Wonderland), and that Belle is a deserving, kindhearted character.

— @Slurpeez
"I think Rumple is going to die, in some way. The reason for this is that the way the story is going right now doesn't allow for just a simple "take this magical potion then you're better." The Rumple of 3A and even 3B, when he didn't want to commit those evil acts Zelena forced him to do, is not the same Rumple in S4. He's ruthless, has lost all care for everyone, and has been willing to let everyone die in order to get what he wants. That's what I believe is going to cause the end of Rumbelle. Rumple is going to accept his fate, probably say a final kiss/hug/"We will always have our chipped cup" good-bye, then either permanently die or become the man he was before the Dark One curse. Plus, the writers may think it's poetic that both father and son "died" in one season then actually died in the next.

— @Corbin
Will Rumple die by the end of the season? Check our poll and cast in your vote to add your opinion!
Join us at our season four finale party on May 10! Register and reserved your seat and get a chance to join us for our initial reaction after the two-hour season four finale!
Little Green Hood
One of the topics that generated the most replies this week was about the final scene with Regina, Robin Hood and Maid-Marian-as-Zelena when she revealed that she was pregnant. We went back and re-watched the last portion of season three finale to see some proof that Zelena's disguise was planned all along. What we found is that in 3×20 "Kansas," Regina took Zelena's pendent and there were green whisps that went into it. When Rumple "killed" Zelena, her broken remains evaporated, but the green smoke came from a heart chest in Regina's vault. In addition, there was plenty of time where Marian was left alone while Hook and Emma went to help Dave and Snow at the Troll bridge. This gave plenty of time for Zelena to take over Maid Marian's body.
Also, the necklace that Marian was wearing was different from the six-leaved clover that Zelena wears this season. Plus, the whole frozen redux thing now makes sense as it was just a way for Zelena to force Robin to leave.
With Zelena's manipulation, is her being pregnant actually her trying hard to get pregnant so she can make her own time-travel spell? So is Zelena lying about being pregnant?
"I have a feeling Zelena lied about being pregnant, because she needed leverage in the event Regina were to track them down. And since she's in The Land Without Magic outside of Storybrooke, she didn't have her spellcasting tactics (save the 6 leaf clover) at her disposal."

— @MatthewPaul
"I think its true. Why? Because this would explain why she revealed herself to be who she really is. Without the pregnancy, she would have nothing to protect herself, and would simply carry on denying that she is Zelena. I don't think she can meet up with Rumple right now, or has the intention to…the SQ's spell still appears to be round SB, so Zelena will likely freeze to death if she enters. Unless of course, the spell is gone, or the freezing spell only affects fake Marian. The six weeks time jump was probably for Zelena's pregnancy. (We saw them wandering round NY "six weeks ago."

— @Onceaholic
There have also been a lot of questions raised about the morality of it all:
Is there any good way to solve this storyline that isn't horrible? Let's say Zelena is really pregnant. What are the options? Option A: RH stays with Zelena because "baby." His code and honor dictates that he has to stand by the woman who, basically, raped him and is carrying his child that she fully intended to use as a means to get him to stay with her. Option B: If somehow the Villains do win, but then the heroes manage to fix "the thing" the Villains do, does that mean that Zelena's baby goes POOF because the wrongs have been righted by the heroes? And does that mean that the show, basically, magically aborted a fetus? Option C: RH chooses Regina, but Zelena is allowed to live and have her baby with the understanding that RH and Regina will raise the child (because I'm sure that won't cause Zelena to become even more Green). Because honestly, do we want Zelena raising this kid? Or does she get temporary visitation?

— @RumplesGirl (AKA: Jacquelyn)
" I don't think Robin was so much choosing "Marian" as he was choosing his unborn child. He thinks he's doing the right thing by choosing his child. I think if the situation were reversed and it were Regina having to choose between Henry and Robin Hood, I think we all know (or at least hope) that Regina would choose Henry. A parent's love is often said to be the greatest form of love–even greater than romantic love."

— @Slurpeez
It makes sense for Robin in this perspective that he would choose his child than Regina.
" The thing that bugged me about this scene was that Robin accuses Regina of lying in order to split him and "Marian" up. There is no reason for why Robin should think this given Regina's actions in 4A. I can totally see why Robin would be confused, puzzled, bewildered because of the seeming absurdity of it all but to accuse Regina of lying as a means to break him and "Marian" up seems OOC for him. It's like the effect of what Regina told him was less "What do you mean? What's going on?" and more "Oh I get it, you're jealous!""

— @PriceofMagic
How can Robin Hood tell that Regina was lying? How will they resolve this conundrum in the next episode?
Thank you for the podcast reviews!
vampirefreak55 said, "you guys are awesome and i finally get to share my thoughts and listen to people's opinion about the show we love. Everyone is very entertaining, i feel i'm talking with u guys too. Love, Rockneda"
Your reviews encourage us and help others find the podcast!
Please rate and especially write a review for us on Apple Podcasts.
What did you think?
Email Feedback@ONCEpodcast.com (audio files welcome)
Call (903) 231-2221
Comment on the shownotes
Visit any page on ONCEpodcast.com and click the "Send a voice message" link to record and send a message right from your computer.
Help us out!
Share this post in your social networks
Follow us
On Facebook:
On Twitter:  echo do_shortcode('[twitter follow="ONCEpodcast"]'); ?>
Daniel J. Lewis:  echo do_shortcode('[twitter follow="theDanielJLewis"]'); ?>
Jeremy Laughlin:  echo do_shortcode('[twitter follow="phlegon"]'); ?>
ErinJ:  echo do_shortcode('[twitter follow="erinjcruz"]'); ?>
Hunter Hathaway:  echo do_shortcode('[twitter follow="travelingpixie"]'); ?>
Jacquelyn / RumplesGirl:  echo do_shortcode('[twitter follow="punk_bunny_87"]'); ?>
Spoilers
Emma returns to Storybrooke to reunite Lily with Maleficent
Regina and Robin struggles to cope with the implications of Zelena's pregnancy
Isaac looks to a new ally for help procuring the magic ink he needs to re-write history
In the past, Cora returns from Wonderland to beg Regina's forgiveness, vows to help her daughter find true love
"Mother" was written by Jane Espenson and directed by Ron Underwood.
Guest stars include Barbara Hershey as Cora, Tony Perez as Valet/Nobleman, Beverley Elliott as Granny, Wil Traval as the Sheriff of Nottingham, Raphael Alejandro as Roland, Ingrid Torrance as Severe Nurse, John Innes as Older Man, Jeremy Patrick Schuetze as Young Man, Chad Cosgrove as Carriage Driver, Joe Dodds as Outrider #1 and Jim Finkbeiner as Outrider #2.
American promo showed Emma introducing Lily to Maleficent, but Lily's only concern is to get revenge on Snow White and Prince Charming
American promo also showed Lily could be a dragon as her eyes turned orange and glowy
Looks like Henry is going to get attacked by a dragon
Snow White gets thrown against a rock
Flashback showed a brief shot of Cora, and Regina crushing someone's heart
Also, in the promo, the Author is writing something. Where did he get the ink?
One of the promo photos showed everyone coupled up and talking
Snow White, Charming, Hook and Henry walking down the street in what seemed like they're on a mission
In another set photo, Robin and Regina was also seen with Roland
Zelena is all locked up in the basement where Belle was kept
There was also a photo of Regina and her father, Henry Sr.
TV Guide reported that they will make good on the happy ending — but what exactly is the Author writing and who is he writing it for?
Kitsis also said that "Young Henry is front and center in this, flexing his adventure muscles when he is called upon to be a hero."
In the same article, Horowitz said, "We are flipping everything. It's a change so big it will ripple through every character."
Josh Dallas told E! Online that there's a big thing that will happen to Snow and Charming in the finale and how it's going to affect the characters moving forward into season five.
Adam Horowitz told TVLine that Emma's darkness "impacts everyone". Horowitz also added that, "It's the kind of thing where it puts Emma in a situation where she could be feeling isolated from those she loves and who love her, and those people are fighting to break through walls that are starting to come up again," but "these new walls are even stronger and more difficult to surmount."
Mark Isham shared an Instagram photo of Emma dressed in a very dark clothing of what looked like a witch's ballgown, with Jennifer Morrison making a "Grrrr" face and standing on a ship.