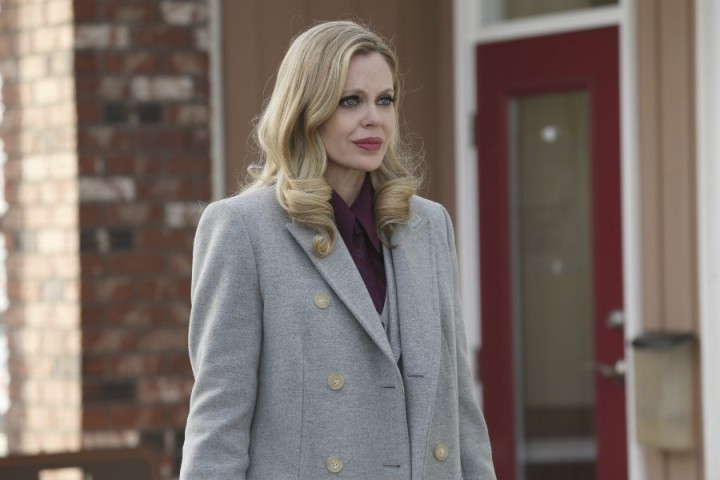 Fresh from learning the truth about Robin Hood and her once-thought-dead sister, Regina decided to take them back to Storybrooke with Lily in tow. But reunited though she may be with her mother, the Charming's did not anticipate to meet a fiery welcome from Maleficent's daughter. Back in the Enchanted Forest, Regina reminisce her first love's death anniversary, until the very person who crushed his heart borrowed a rabbit to get out of the looking glass.
Podcast: Play in new window | Download | Embed
We just finished watching the episode, "Mother" and by the name of the episode, we thought it would have been a great episode to celebrate Mother's Day because it was all about mothers, although it showed one bad mother and one kind of trying to be good mother.
Emma returns to Storybrooke to reunite Lily with Maleficent while Regina and Robin struggle to cope with the implications of Zelena's pregnancy. When Gold's health takes a turn for the worse, Isaac looks to a new ally for help procuring the magic ink he needs to re-write history. In a Fairy Tale Land flashback, Cora returns from Wonderland to beg Regina's forgiveness on the anniversary of Daniel's murder. Cora vows to help her daughter find true love, but Regina remains suspicious of her mother's intentions.
These are just our first thoughts about this Once Upon a Time episode. We'll share more about "Mother" in our upcoming full discussion (usually live on Wednesdays at 7:00 p.m., USA Eastern Time).
Initial Reactions
Cora! It's been too long since we saw last her. Last week, we saw from the chat room that someone mentioned that Cora was coming back and we thought it would be impossible; they may just be hoping, theorizing or fan-fictioning, but we didn't expect that we were going to actually see her again. But the whole Cora thing really messes up a lot of stuff. Yes, we can place it around the timeline, but if she found a rabbit and asked him to get her out of Wonderland, then why was she so adamant about asking Jefferson how he got to Wonderland and how he could get out? It's just doesn't fit anymore with that. They may not be breaking canon completely, but they are certainly breaking some rules that they have set up.
It wouldn't have seem that difficult for Cora to just come back; if she could do it that way, why would she come back to Wonderland? Because she had power? Because her work is done? the whole point of this thing in the background with flashbacks is to primarily show us two things—one is to remind us that Regina's relationship with her mother, and two that she took a potion that can strip off her ability to bear a child, but so did Snow White and this things are not necessarily permanent.
It got Regina to the point, and was actually a pretty pivotal moment for her where we thought that the way it presented on screen was a bit strange. It didn't care the weight of the moment. Regina realized in that moment, with Zelena taunting her, that Operation Mongoosem wasn't really needed, and abandoned it all on one moment? her words communicated it, but we didn't quite feel it in her realization. It does say a lot when you have the power to do something but choose not to.
We thought Zelena was still going to do something, but then they underestimate the Author. We figured if Regina didn't have the Author do something, then he's probably going to do something himself. We thought that he would change their stories because he would be thinking it would make for a better story but instead, he went to Rumple. Now we have a new storybook called "Heroes and Villains," could this be a potential setup for season five or getting us there where, all the seasons up until now about have been about the storybook, Once Upon a Time. However, now the new storybook is "Heroes and Villains" that starts off with "Once upon a time", that was really cool to see, which could have been, that scene right there, a season finale scene. But we still have two more hours with the finale coming up,
Join us on our season four finale party next week! We made a little video promoting it and showing you the space where we're going to hold the party next week. Come be part of the event! It would awesome to celebrate the season four finale with you there!
We assumed that, for the next episodes, will be about the Author changing the events. With Maleficent and Lily were reunited, is this Lily suddenly deciding to abandon the thought of seeking revenge? For someone who just said that she will not forgive Snow White and Prince Charming, it seems a little weird how there was no bitterness and anger from Maleficent; there was no real catalyst for her to make a turn around so fast, except finally seeing her daughter. She clearly underestimated her feelings of that moment, and she's an interesting character for sure, but the whole reunion went a little differently than we imagined.
Thank you for supporting us!
David Neuland (subscriber)
Steve Johnson (subscriber)
Lisa Slack (subscriber)
Tracey Anderson (subscriber)
Daniel Clark (subscriber)
Tappnbrd (subscriber)
15 Patreon backers ($61.25 per episode)
You can sponsor an episode or more of ONCE podcast, too! Email Daniel@ONCEpodcast.com if you would like to arrange a corporate sponsorship of our podcast for the upcoming third season.
Lily's blood is apparently dark enough and connected enough with Emma, that her blood can help change happy endings? Was it a magic babble? Will it backfire? Dark savior blood required to change the happy endings? Maybe just have fairytales and leave some of the twisted theological preference out?
They said that Emma is the bringer of the happy endings in this world. Now, they're circumventing that, somehow. They were so technical about these things sometimes, it's ridiculous; the ink had to be from the potential for darkness. It's like extract of potential for darkness, which was all cast into Lily, and so they can get that from Lily. Still, it doesn't jive quite with Emma being the person who brought the happy endings. Unless, you consider that potential for darkness was extracted from the Savior, making it like extract of potential for darkness from extract of Savior, and it's getting a little messy.
Is it the potential for darkness or is it darkness that is on Lily? She seemed to be hell-bent on revenge; at least, until the very end of the episode. How many villains are we going to have in this finale?
We're glad they didn't go through re-writing the history without Zelena because it will certainly open up a lot of plot holes. However, it does make us wonder, what about the baby, assuming the baby is real, of course? Regina has been a little bit villain-like in the last couple of episodes in her pursuit of having a happy ending and still not being a villain. Belle's heart was way borderline, this was probably beyond borderline as well so we're glad she decided not to do it.
We can see that, maybe, while she and Robin were in that bar, which we're pretty sure is the same bar where Emma and Neal talked back in the episode, Manhattan, that's where they came up with this plan of helping Zelena realized that she can't win; this is something she can't control and to cast her out or somewhere. Are Regina and Robin planning to steal her child? If Zelena's crazy and unfit as a mother, she's not keeping the child, anyway so what is the big deal? Besides, it doesn't seem like Zelena even wants to be a mother and just wants the baby as a revenge tactic.
From their description of sending her very far, far away, it sounded like they want to send her either a different galaxy, like Star Wars reference, or something like sending her to another realm, somehow. Or maybe just the dungeon.
We think that we're going to see a flip perspective that we've seen from Once Upon a Time where Emma was the child that was ripped from her Snow White and Prince Charming, so they wouldn't have the chance to raise her themselves. Now we're seeing it, instead of seeing things from the heroes' perspective, from the villain's perspective with Maleficent having her child back but never having got to raise her as a child. This is giving us a peek of what season five might be, almost sound like they are starting a new show.
Besides the end of the episode, we really felt like this episode was just moving the story on a little bit more, and then the cliffhanger was that moment seeing a different book. Is that other book that Isaac is starting to write the book that he mentioned to Regina that he was once thinking of writing? Is that page of Robin and Regina kissing from this book, somehow before he wrote it? Is that what he would have written in that book? Is it a book two? An alternate universe?
If anything changes, will they know that it changed or will they just suddenly be in this new environment not knowing that something has changed? We hope Regina appears and burns the book before the Author even writes another sentence. And then take Rumple's heart and then, kind of laughs?
What happens to Rumplestiltskin when he dies and the Dark One continues? Does the Dark One thing like the mantle of the Author that it just passes on to some other person standing nearby? What if the Author becomes the next Dark One? With all his magical power and the ability to change things, it would certainly be horrible!
All during this episode, we thought Rumple is going to die. We even made a poll where people are voting whether they think if he's going to die or not. We thought he was going to die until the end of the episode but realized that the Author was, in fact on his side all along, since the Author went back to Rumple to help him. Do you think Rumple will die? Cast your vote and join in the fun!
Remember, these are just our initial reactions regarding tonight's episode so please bear with us if we're a bit all over the place. If you have your own thoughts, feedbacks, or theories regarding tonight's episode, however, send them over to us and join our upcoming full discussion!
What did you think?
Email Feedback@ONCEpodcast.com (audio files welcome)
Call (903) 231-2221
Comment on the shownotes
Visit any page on ONCEpodcast.com and click the "Send a voice message" link to record and send a message right from your computer.
Help us out!
Share this post in your social networks
Follow us
On Facebook:
On Twitter:  echo do_shortcode('[twitter follow="ONCEpodcast"]'); ?>
Daniel J. Lewis:  echo do_shortcode('[twitter follow="theDanielJLewis"]'); ?>
Jeremy Laughlin:  echo do_shortcode('[twitter follow="phlegon"]'); ?>
ErinJ:  echo do_shortcode('[twitter follow="erinjcruz"]'); ?>
Hunter Hathaway:  echo do_shortcode('[twitter follow="travelingpixie"]'); ?>
Jacquelyn / RumplesGirl:  echo do_shortcode('[twitter follow="punk_bunny_87"]'); ?>