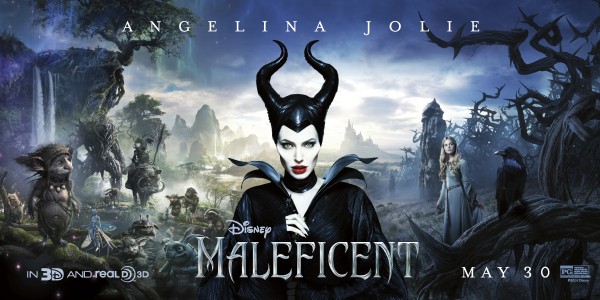 The wonderfully, deliciously evil mistress has finally landed and here we are, sharing the movie Maleficent with you.
Because the movie is still showing at the theaters at the moment, the first part of this review will be spoiler-free.
Podcast: Play in new window | Download | Embed
Spoiler-free Review
It was so cool, in some ways, Once Upon a Time-like. It was very familiar, very Disney-fied. It gave a really interesting twist of the Sleeping Beauty tale we know. Angelina Jolie did a fantastic job playing the title role; she gave interesting oomph with the evil mistress, especially her laugh. It was also cool to learn that the horn was, in fact, part of her being a fairy.

Price Disclaimer
It may seem a bit more violent for a family-friendly movie, but there were no inappropriate words uttered in the movie. There was not much gore, the fight scenes last for quite a while, but the creatures are very menacing. If kids can handle a bit violence to a movie, then Maleficent is the perfect movie for families to watch together, as there weren't really anything that violence in it despite of the movie's darkness.
Maleficent's revenge kind of reminded us of Once Upon a Time's Regina (the Evil Queen), which tells that she wasn't a rebel without a cause. It was great to see a glimpse of both kingdoms — Aurora's and Maleficent's.
Was it worth the 3D? There were some cool spots, but there were a few scenes where we thought 3D may be a bit overrated.
The Maleficent soundtrack was really magical. James Newton Howard certainly did a fantastic job scoring the film, making sure that every scene was perfectly paired with great music.
Teaser trailer
"Dream" trailer
Trailer 3
Review with Spoilers
Maleficent, like Once Upon a Time, is like two-fold: True Love, lack of Damsel in Distress, and a villain being also the hero. It seems to become a new trend for fantasy shows nowadays, what with Frozen and Once Upon a Time. The Frozen-like twist in the movie may be a bit predictable, especially with the fairies encouraging Phillip to kiss her. Surely, Elsa from Frozen would not agree with them kissing her as he has just met Aurora a while ago.
It was so weird that Maleficent watched Aurora grow up, but we love what they did with Diaval, the raven that Maleficent saved that later became her wings.
So Maleficent cursed Aurora when she was born and watched her since then, but where are the three fairies that were supposed to tend to her? The three fairies, by the way, were played by Imelda Staunton, Juno Temple, and Lesley Manville. Imelda Staunton, if anyone remembers, was actually the actress that played Professor Dolores Jane Umbridge in the Harry Potter film series.
Maleficent started out as good, but got hurt by a human named Stefan, which made her turn to the bad side. It was so Once Upon a Time like where the hero was turned villain turned hero. Do we not have actual villains anymore?
Although Angelina Jolie said that she was going to take a break from acting, Maleficent seemed like it was written specifically for her; her strengths were perfectly showed all throughout the movie. Probably because she was one of the Executive Producers of the show?
Seeing Vivienne Jolie-Pitt as young Aurora was interesting. Two of her other kids, Zahara Jolie-Pitt and Pax Jolie-Pitt were also extras in the film (at the christening). So where was Brad Pitt, then? He probably just don't want to rain on her partner's parade.
If you are a big Once Upon a Time fan, Maleficent is definitely a must-see movie. It was great visually with great soundtrack. Violence-wise, it was the same as Jack the Giant Slayer and Oz the Great and Powerful. It's definitely a movie that deserves a spot at our shelves next to our Once Upon a Time DVDs.
By the way, there are no words yet regarding season 3 DVD of Once Upon a Time, but we are hoping to hear news anytime soon.
Thank you for supporting us!
Lisa Slack (subscriber)
Steve Johnson (subscriber)
David Neuland (subscriber)
Patreon backers ($16.50 per episode)
You can sponsor an episode or more of ONCE podcast, too! Email Daniel@ONCEpodcast.com if you would like to arrange a corporate sponsorship of our podcast for the upcoming third season.
Another thing we love about it is the humor in it. The funny, intense moment shared alone and between Maleficent and 16-year-old Aurora was funny. How Maleficent magicked floating Aurora reminded us like she was carrying a luggage. Her dialogues between Diaval were also fun to hear.
Thank you for the podcast reviews!
Kyrapple
Kelsey Ann!
THEREALDCOFF
Bellaboo50

Your reviews encourage us and help others find the podcast!
Please rate and especially write a review for us on Apple Podcasts.
What do you think about Maleficent? Share your thoughts by filling in the comment section below!
What did you think?
Email Feedback@ONCEpodcast.com (audio files welcome)
Call (903) 231-2221
Comment on the shownotes
Visit any page on ONCEpodcast.com and click the "Send a voice message" link to record and send a message right from your computer.
Help us out!
Share this post in your social networks
Follow us
On Facebook:
On Twitter:  echo do_shortcode('[twitter follow="ONCEpodcast"]'); ?>
Daniel J. Lewis:  echo do_shortcode('[twitter follow="theDanielJLewis"]'); ?>
Jeremy Laughlin:  echo do_shortcode('[twitter follow="phlegon"]'); ?>
ErinJ:  echo do_shortcode('[twitter follow="erinjcruz"]'); ?>
Hunter Hathaway:  echo do_shortcode('[twitter follow="travelingpixie"]'); ?>
Jacquelyn / RumplesGirl:  echo do_shortcode('[twitter follow="punk_bunny_87"]'); ?>