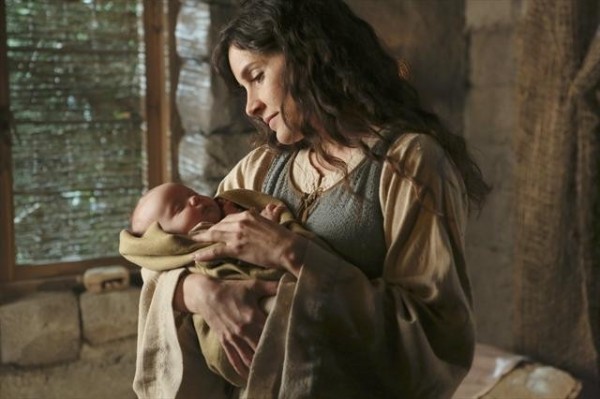 Podcast: Play in new window | Download | Embed
We discover some long-awaited identities, learn how Rumplestiltskin gained some things, and have a new looming threat.
These are just our first thoughts about this Once Upon a Time episode. We'll share more about "Manhattan" in our upcoming full episode live on Wednesday, February 20, at 8:30 p.m. (EST/GMT-5).
While Mr. Gold, Emma and Henry go in search of Gold's son Bae in New York, Cora, Regina and Hook attempt to track down one of Rumplestiltskin's most treasured possessions. Meanwhile, in the fairytale land that was, Rumplestiltskin realizes his destiny while fighting in the Ogres War.
Thanks for supporting us!
David Neuland
DJ Firewolf
Dena81
You can sponsor ONCE podcast, too!
Initial reactions
Some of our interesting discussion points (in no particular order):
NEAL IS BAELFIRE! We had predicted this back in our discussion of "The Return."
Now we finally know what was in August's box to convince Neal to listen. All along, it was the typewriter with, "I know that you're Baelfire." One of our listeners had predicted this after seeing "Tallahassee."
We loved seeing New York City in the title screen background!
Regina clarified how the boundary curse works.
The conflict between Neal and Emma is about what we expected.
Mr. Gold thanked Henry for bringing Emma. Now we know for sure that Mr. Gold is Henry's other grandfather.
Fate brought Neal and Emma together?
Freaky seer child gave Rumplestiltskin his future-seeing powers and we learned more about how this ability works.
Any significance to the Dewey Decimal numbering 915.63?
Mary Margaret and David tried to understand the new family tree exactly as all of us had been trying to figure out!
Greg caught Regina's magic on his phone. Where will this lead? We're thinking he may eventually help some Storybrooke residents return to Fairy Tale Land.
Why does Cora really want the Dark One's dagger? Just to control Rumplestiltskin, or to become the Dark One herself?
Henry called Emma a liar just like Regina. Might this be a splitting of their relationship?
Neal doesn't want to be 14 again and lose his memories. Was this really the best that his father could offer?
Henry is more than he appears, and will be Rumplestiltskin's "undoing," according to the seer. Will Mr. Gold try to kill Henry, or does Henry have magic himself?
We gave everything a brief overview and would love to hear your thoughts!
Talk about "Manhattan" in our Once Upon a Time forums
OUAT Roundtable on February 27
Please join us and other Once Upon a Time podcasters for another live roundtable on Wednesday, February 27, at 9pm (EST/GMT-5) on Google+.
We'll talk about what we've seen so far, some theories for future episodes, and take viewer questions!
No OUAT on February 24
Because of the Oscars, Once Upon a Time will take a one-week break and will return on Sunday, March 3.
Thank you for the Apple Podcasts reviews!
bkziggy
GryphinFeathers from Mexico: "… los chicos son muy graciosos y la dicción de Daniel es perfecta, un alivio a los oídos para escuchar un idioma que no es tu lengaua nativa."
LHmusic
MelissaCavallo from Australia
Michael Zimmerman
Oncerfan
jayfich: "When they counted each of the marks in Belle's cell, I knew they were more "hooked" than I."
Your reviews encourage us and help others find the podcast!
Please rate and especially write a review for us on Apple Podcasts.
Preorder season-two DVD/Blu-ray set!
You can now preorder the complete second season of Once Upon a Time on Amazon.com! For a limited time, save $10 off the DVD set and $15 off the Blu-ray set!
Preorder the second season today!
Join us for the LIVE podcast!
Initial reactions on Sundays at 9:15 p.m. (EDT/GMT-4)—right after the Eastern and Central episode airing.
Full discussion, feedback, and live calls on Wednesdays at 8:30 p.m. (EDT/GMT-4).
On these days, visit ONCEpodcast.com/live to watch and chat live.
What did you think?
Email Feedback@ONCEpodcast.com (audio files welcome)
Call (903) 231-2221
Comment on the shownotes
Visit any page on ONCEpodcast.com and click the "Send a voice message" link to record and send a message right from your computer.
Help us out!
Share this post in your social networks
Follow us
On Facebook:
On Twitter:  echo do_shortcode('[twitter follow="ONCEpodcast"]'); ?>
Daniel J. Lewis:  echo do_shortcode('[twitter follow="theDanielJLewis"]'); ?>
Jeremy Laughlin:  echo do_shortcode('[twitter follow="phlegon"]'); ?>
ErinJ:  echo do_shortcode('[twitter follow="erinjcruz"]'); ?>
Hunter Hathaway:  echo do_shortcode('[twitter follow="travelingpixie"]'); ?>
Jacquelyn / RumplesGirl:  echo do_shortcode('[twitter follow="punk_bunny_87"]'); ?>