Podcast: Play in new window | Download | Embed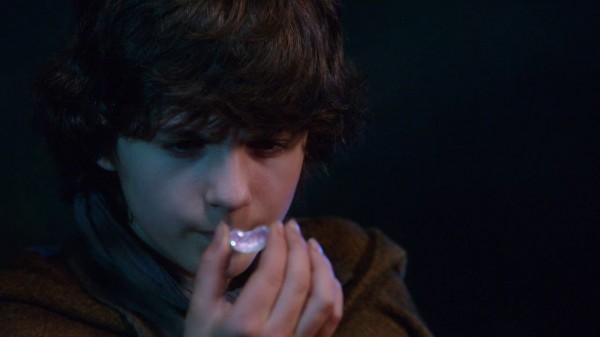 August is a big, fat liar; Bealfire had a bean; Emma declares war; and Rumplestiltskin plans his greatest work.
Big thanks to our sponsors!
King Arthur
Sandra
Amanda Robar
Renee Schumitsh
You can sponsor ONCE podcast, too!
Bandwidth sponsor: Christian Meets World is a weekly podcast dedicated to interfacing Christianity with the world. Hosted by Jason Rennie, explore discussions about politics, worldview, philosophy, and more, all comparing to a biblical worldview. Join the conversation today at ChristianMeetsWorld.com.
Sponsor: GoToMeeting with HD Faces makes it easy to collaborate online anytime. Try it Free!
Fairy Tale Land
First time we've seen a Storybrooke-only figure in the title screen. Daniel had been thinking there was a fairy tale character who rode a motorcycle, but Jeremy pointed out that it was Hagarid from Harry Potter.
Two things from Mr. Gold and Regina's scene in the pawn shop carryover into Fairy Tale Land: Baelfire's ball and the idea of turning someone into a snail and squashing them.
Mr. Gold might have the pawn shop to collect and carryover things that reminded him of his son.
Rumplestiltskin didn't sound like the Rumplestiltskin we know. This is because the Blue Fairy said that his love for Baelfire is the only thing keeping Rumplestiltskin human.
Rumplestiltskin probably didn't have the ability to spin straw into gold, yet.
August's Fairy Tale Land character might have been linked to the maid. If not, how did August know about the dagger?
Yes, it's the same Morrain as from "Desperate Souls."
Reul Gorm is Scottish Gaelic for "star blue." Or we understand that to be another name for "blue fairy," who was also the wishing star in Pinnocchio.
Blue Fairy said there's "good magic and dark magic," and that she's on the "good side." She could see the darkness in Baelfire's life.
Morrain described Reul Gorm as an ancient beast who ruled the night and was the "original power." Could she be the Dark One's mother, or maybe a dark one herself?
Blue Fairy said that they lost some of their magic beans. Maybe Nova's fault? Or maybe some beans dropped at Jack's house, resulting in Jack and the Beanstalk.
The magic bean created a portal to a world without magic. Jeremy noticed the sound seemed the same as when Jefferson activated his hat.
How long might Baelfire have been in the world without magic (we assume our world)?
If the fairies' magic and Rumplestiltskin's magic don't mix well, then why did he want the wand from Cinderella's fairy godmother ("The Price of Gold")?
If Rumplestiltskin is reunited with his son, will he be even more powerful? Or will this be a "true love" necessary to break a curse?
Rumplestiltskin suggested four ways of trying to get to where Baelfire went. Blue Fairy denies the first three
realm-jumper (if Jefferson is a realm-jumper, this would mean his hat doesn't reach Storybrooke),
time tunnel or time-turner,
a magic, or
a curse.
Did the dark curse actually destroy Fairy Tale Land? Regina said to Mr. Gold that he created the curse for her, and "built all this." We think the "all this" just refers to Storybrooke, and the rest of our world has always existed.
Baelfire called his father a coward, confirming what Rumplestiltskin had been called before.
Might Storybrooke be a kind of time-space bubble where only fairy-tale characters and enter and even see it. This is reminiscent of Brigadoon, the island in Lost, and Narnia.
Now we know why Rumplestiltskin created the curse: to find a way back to Baelfire. Maybe this means that Regina isn't really the villain to beat, but maybe Rumplestiltskin will be. Or perhaps breaking the curse will release other villains.
Rumplestiltskin accused the Blue Fairy of taking Baelfire. This seems to be why he hates nuns (or seem to have all been fairies).
Storybrooke
August has strange shakes when he wakes up. Probably because of his sickness, whatever it is.
Who was August calling? Popular theories are Baelfire, Henry, Mother Superior (Blue Fairy), or someone else. Jane Espenson answered in a tweet, but we still have a hard time believing it.
@kabernat he called Henry. They met up in next scene.

— Jane Espenson (@JaneEspenson) April 23, 2012
Does Mother Superior (Blue Fairy) know about the curse? We're split on this.
August and Baelfire have different colored eyes.
While August poking around Mr. Gold's pawn shop we saw Jiminy's magnifying glass.
There's also this odd "Shine" box and a pink oil tin.
Henry probably chose the bell as a gift to help mask any sounds August might make in the back.
Are Sidney and Dr. Whale telling the truth about their lies about Kathryn's supposed heart?
Why don't we have Pinocchio, or do we?
When Regina realized that evidence leads back to her, she grabs her necklace, which definitely isn't Daniel's ring.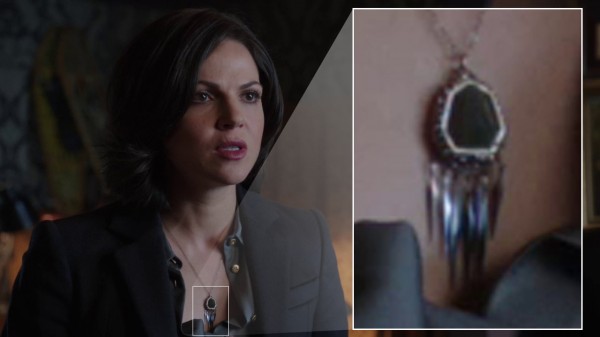 Mr. Gold invoked a please.
Emma also wore a necklace with a swan on it. We noticed this in "True North."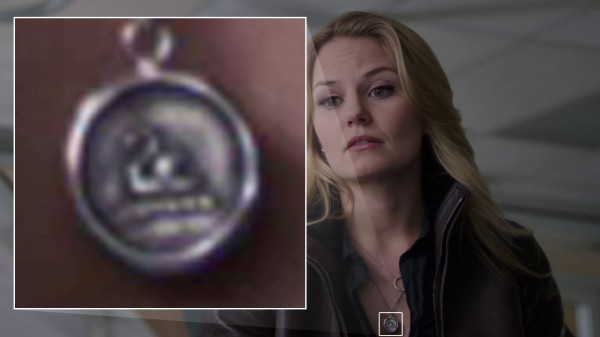 THe circle bc in celtic art swans were shown with chains around their necks.symbolizing unity btwn humanity and divinity #OnceUponATime

— Jennifer Morrison (@jenmorrisonlive) December 12, 2011
Mary Margaret's card from her school class said, "Congratulations. We're so glad you didn't kill Mrs. Nolan." There were also several dwarfs at the party.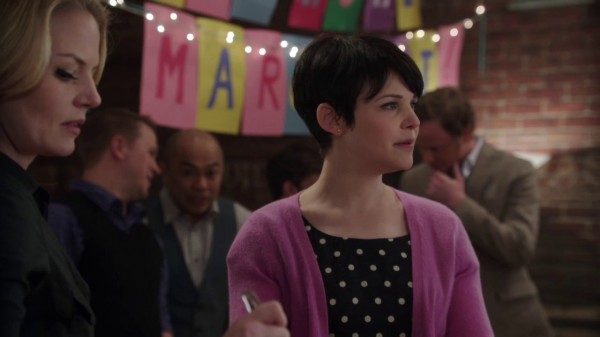 Mr. Gold knows about names. Maybe Rumplestiltskin hid his identity between Baelfire and the Miller's Daughter incidents.
In August's room, we couldn't read the words on the paper, but we could clearly see the wooden donkey paper-weight.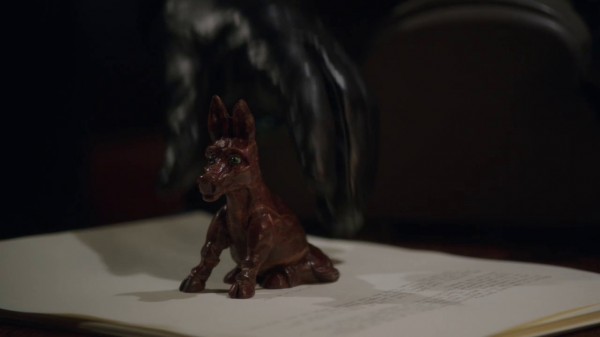 The Nuns are at Sisters of Saint Meissa. This is Arabic for "white spot" or "shining."
David and Mary Margaret are being separated by dark forces, and also don't have true love. Consider a Biblical definite of love from the first book of Corinthians, chapter 13.
Love is patient, love is kind and is not jealous; love does not brag and is not arrogant, does not act unbecomingly; it does not seek its own, is not provoked, does not take into account a wrong suffered, does not rejoice in unrighteousness, but rejoices with the truth; bears all things, believes all things, hopes all things, endures all things. [1 Corinthians 13:4–7, NASB]
Mr. Gold visits Dr. Hopper! We had heard this would be coming from PaleyFest.
August and Mr. Gold meet and talk. But the place Mr. Gold takes him to for the dagger, is different from where we saw Mr. Gold "gardening" in "The Heart Is a Lonely Hunter."
Gold also confirmed that there isn't magic in Storybrooke. August was hoping Emma would recognize her power and heal him. If Emma has magic, could she also have the ability to summon the Dark One?
RiddleRaven pointed out that August is a liar! Dan thinks he noticed a sapling after hearing August's lie. Perhaps a Pinocchio clue?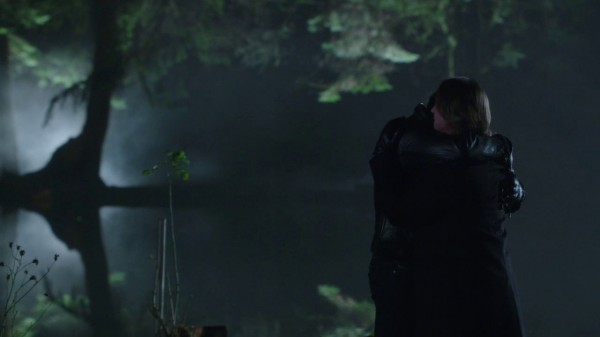 If August is Pinocchio, maybe his lying is killing him.
August said a "little fairy" told him about the knife. Who was this really? Mother Superior in Storybrooke, or a fairy back in Fairy Tale Land? But how recently is August from "over there"?
Mr. Gold wants August to keep trying to convince Emma, because Emma trusts August more than she trusts Mr. Gold.
Jenny points out the ship paintings at Dr. Hopper's office. We've noticed these before, but hadn't pointed them out.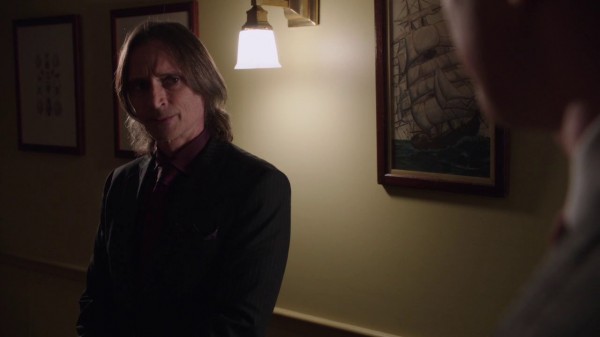 We're still sickened by Sydney's blind obsession for Regina.
Emma and Regina are going to war for Henry. Jeremy suggests a great theory that Mr. Gold will get custody, along with being Henry's grandfather if Baelfire is Henry's father.
Obisgirl shares a theory that August is Baelfire's son.
Talk about "The Return" in our Once Upon a Time forums.
Season-one finale party in Covington, KY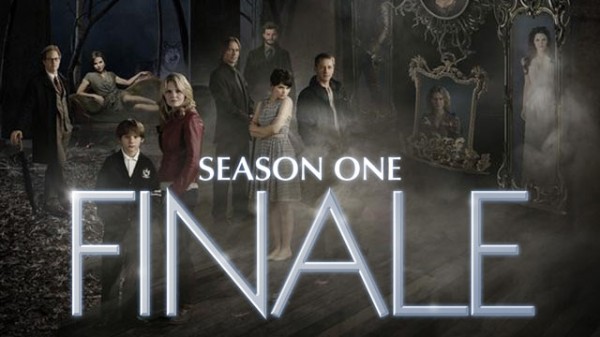 Join us and other Oncers for a season-one finale party at the Radisson in Covington, KY. Register and get more details here.
Upcoming live chat and initial reactions live podcast
Join us this Sunday at 8:00 p.m. (EDT/GMT-4) for a live chat during the Eastern and Central airings of the next episode of Once Upon a Time. Stick around for a 9:30 p.m. (EDT/GMT-4) live initial reactions podcast.
Visit the Noodle.mx Network live-streaming page to watch and chat live.
Please retweet this post!
Use the social buttons or retweet the following.
Hear "The Return" theories and discussion in this #OnceUponaTime podcast oncepodcast.com/once-upon-a-ti… #OUaT

— ONCE podcast (@ONCEpodcast) April 26, 2012
What did you think?
Email Feedback@ONCEpodcast.com (audio files welcome)
Call (903) 231-2221
Comment on the shownotes
Visit any page on ONCEpodcast.com and click the "Send a voice message" link to record and send a message right from your computer.
Help us out!
Share this post in your social networks
Follow us
On Facebook:
On Twitter:  echo do_shortcode('[twitter follow="ONCEpodcast"]'); ?>
Daniel J. Lewis:  echo do_shortcode('[twitter follow="theDanielJLewis"]'); ?>
Jeremy Laughlin:  echo do_shortcode('[twitter follow="phlegon"]'); ?>
ErinJ:  echo do_shortcode('[twitter follow="erinjcruz"]'); ?>
Hunter Hathaway:  echo do_shortcode('[twitter follow="travelingpixie"]'); ?>
Jacquelyn / RumplesGirl:  echo do_shortcode('[twitter follow="punk_bunny_87"]'); ?>