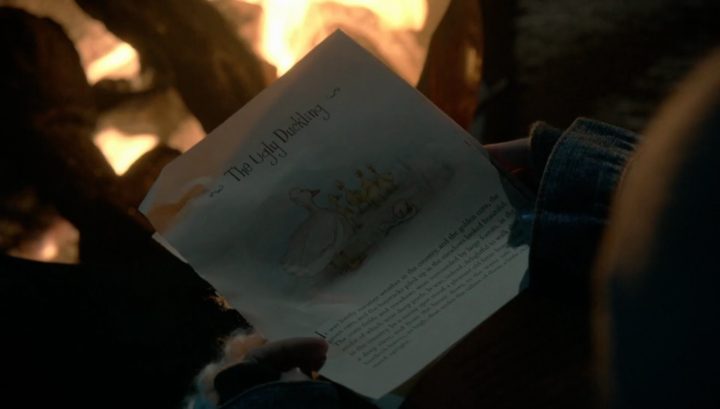 Join us as we discuss this episode, "Tougher Than The Rest" more in-depth, talking about baby Emma, the Wish Realm, and the misguided villain that is Gideon. Plus! Should we keep believing that an actual final battle is going to take place or should we just give up on the idea?
Podcast: Play in new window | Download | Embed
Unfortunately, this episode is, well, tougher than the rest. The Spring premiere episode got the lowest-rated episode (0.7) of the entire series for adults 18–34, according to ShowBuzzDaily.
Minneapolis, Winter, 1990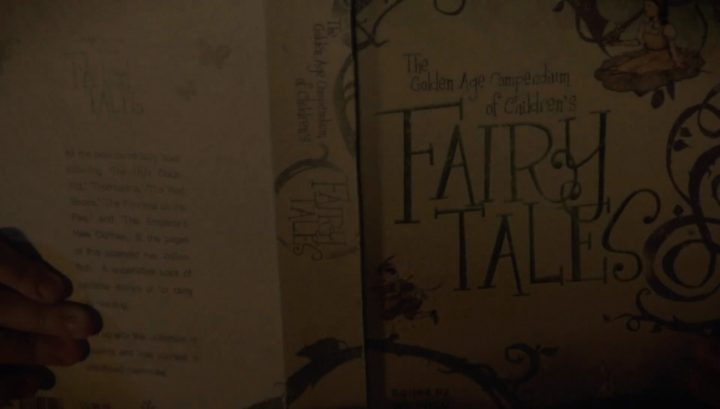 Starting out the episode with a brief scene in the past in Minneapolis in 1990 with young Emma, who was played by the same actress who played young Emma in the episode 5×01 "The Dark Swan," McKenna Grace. In this particular scene, young Emma was reading  "The Golden Age Compendium of Children's Fairy Tales" and we tried to look for Easter Eggs and listed on the back of the cover were as follows:
The Ugly Duckling
Thumbelina
The Red Shoes
The Princess on the Pea
The Emperor's New Clothes
Also, on the book itself, a couple of other stories shown were The Nightingale, The Frog Prince from image on the cover, and Alice in Wonderland, also from image on the cover.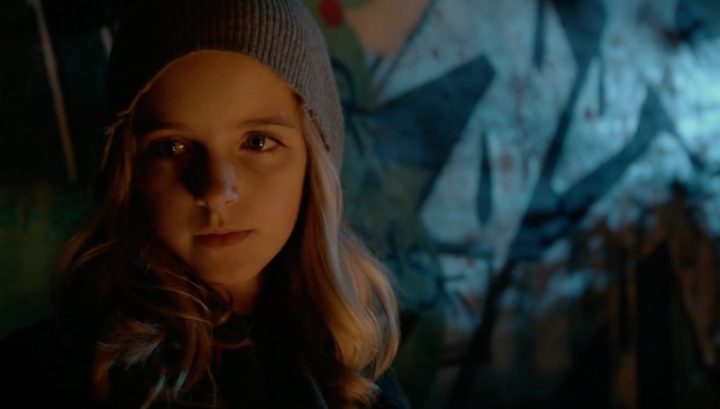 It seemed like she was a little bit rejected by the others, all alone in the cold to fend for herself. August came to visit, but the one thing that doesn't kind of make sense was that he ran away. So why pop in only for a quick pep talk?
The purpose of using the story of The Ugly Duckling strongly ties in with how Emma got her name. Apparently, this wasn't actually how she originally supposed to have gotten her name. Back in 2013, Jennifer Morrison said on Twitter that while it has not been shown on the show, the name "Swan" was Emma's first foster parent's last name. It didn't make sense back then since Emma was never adopted if that was how she got her last name, so tying in the story of The Ugly Duckling with her last name makes more sense.
Wish Realm
When we pick up right where we left off, Regina did point out that Robin didn't age, even though everyone else did in this realm. Well, everyone except the Sheriff of Nottingham. We mentioned in the initial reaction about Lana Parrilla captioning Jared S. Gilmore's image regarding to him as "King" with him wearing a red cloak.
I think Henry is King or in charge because Snow and David are dead and everyone believes that Emma has been kidnapped by the Evil Queen. I think if Emma was around then she would be queen (in the wish realm). The wish realm seems too solid to be a mere throw away world. It is a world with no Savior and a crazy Rumple running around loose. At some point this world might need its own Savior. I wonder if Agrabah is somehow in the Wish Realm. Perhaps someone wished it there and that is why it disappeared from the real world. In that case we will see that world again when we catch up with Aladdin and Jasmine.

— Gareth
Now that Regina and Emma is back, is the Wish Realm gone? Did the Olympian Crystal create the Wish Realm when Hades killed Robin Hood? If the Olympian Crystal did that, perhaps it could also fix everything, including Regina finally getting her happy ending.
Emma then goes to visit Pinocchio and he apparently mentioned that, in this realm, there's still an enchanted grove. It was neat to see the nice flashback to 3×03 "Quite a Common Fairy" when Tinkerbell pointed Regina to Robin, when Regina went to find Robin after visiting Pinocchio. On the other hand, it was interesting that they have the anti-magic cuff, which was Peter Pan's creation.
When Emma and Pinocchio went to find the enchanted grove, he talked about how he's not the master woodcarver that his father was, including his father's chisel. Was this the same chisel that Geppetto used to carve Pinocchio out of the enchanted wood?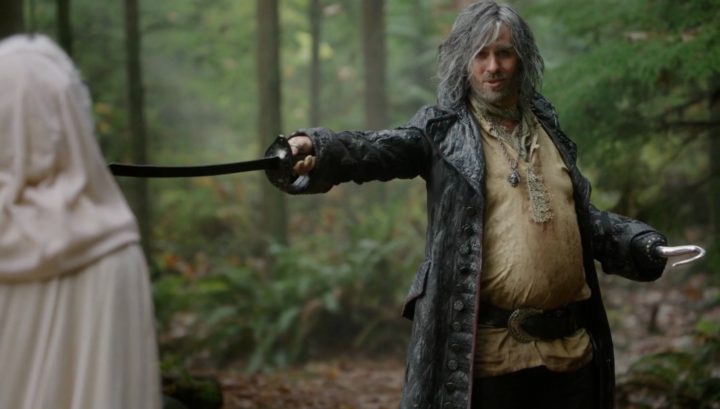 We loved seeing Hook the way he was! He was barely recognizable until Emma regarded him. He must have so much fun brushing the hair out of his eyes.
Meanwhile, Robin and Regina are locked in a cage and apparently, in this realm, what Tinkerbell said that happened to Robin when Regina didn't follow her advise to go meet him in the tavern came true.
Adam and Eddy were asked if there's a different version of Belle, and they said that we'd see a version of her we never saw before.

— Meredith of Everett, WA
Turns out, it really was a totally different version of Belle because in the Wish Realm, Belle died of starvation in the Evil Queen's castle. On the other hand, it was interesting that Robin and Regina were locked in the same dungeon where he previously locked Belle in.
Meanwhile, Emma discovers that there was another chisel in the toolbox, and the swan that Pinocchio carved for her. And apparently, Geppetto is the originator of the "fake news" that the duck became a swan. Nonetheless, Pinocchio finished the wardrobe and helped Emma and Regina get back home, and even bringing Robin along with them back to Storybrooke.
Storybrooke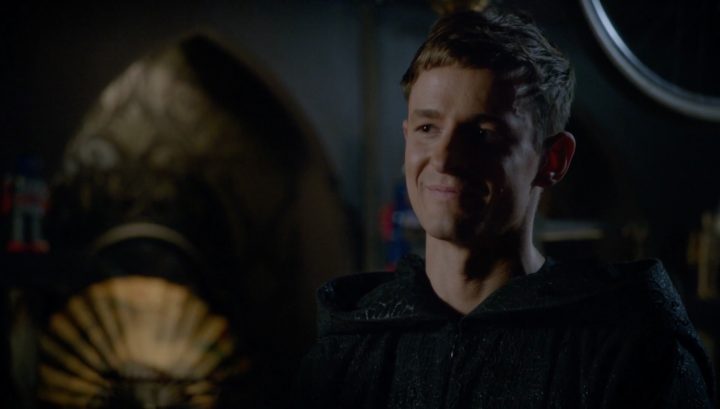 Back in Storybrooke with Charming and Hook walking down the street, and Charming after blood, blaming himself for what happened to his daughter. Why keep Snow White asleep and let her know about what is going on? Inside Mr. Gold's shop, Gideon explains what he went through, including his womb time. He also talked about the Dark Fairy, who is his grandmother, toughening him up. If time moved differently in the Dark Realm, when did Gideon appeared to Belle when she was under the sleeping curse?
According to Gideon, he needs to kill Emma to make himself the new Savior. Says who?
He is clearly misguided. A question is where did he get the idea that if he kills Emma he will become the Savior? Who told him that? Someone in the Dark World? Perhaps someone who had their own reason for wanting Emma dead? Is there a reason why Gideon and Emma are both seeing the visions? Perhaps someone is putting them into both of their heads. We are still waiting for someone who can balance light and dark magic; perhaps if Gideon can find a way to become a hero without killing Emma he can be the one. I like the idea of Emma mentoring Gideon and teaching him how to be a Savior. She can set him on the path the way Henry set her and Jasmine set Aladdin.

— Gareth
Gideon said he was 28. Emma was 28, on her 28th birthday, when she became the savior and could break the curse. Maybe Aladdin became the savior at 28. Do we think that this has something to do with the prophecy. Maybe gideon will indeed become the savior as he is the right age and Emma won't die, but like previously mentioned, lose her saviorness because her time is up and another land needs a savior as Gideon said.

Gideon actually really looks like gold/rumple. Great casting IMO once again.

So glad Once Upon a Time came back and it was a great birthday present to get to watch the premiere.

— Jessica Frey
Furthermore, in the woods when Rumplestiltskin went to have a father-son chat with his son, it was admirable that Rumple is saying to make him pay. It also seems like Rumple doesn't want Gideon to kill Emma. Is that because he does not want Emma dead, or not wanting his son to commit murder? What was Gideon doing with his fist before he poofed out?
Back inside the Charmings', David kisses on the forehead. Why didn't the kiss worked? Back in season 1, Emma woke Henry and broke the curse by kissing him on the forehead, and Regina did the same thing in season 3. Does curse-breaking power only works on relationship-level-appropriate true love's kiss? Wouldn't it be good of him to wake her so she can know what's going on?
It was surprising that they wrapped the Wish Realm storyline quickly in one day. What wasn't surprising, however, was Robin coming through with Emma and Regina when they arrived back in Storybrooke. Will this Robin fall in love with Regina, too? One of the things that kind of seems strange is that if Gideon remembers his womb time, wouldn't he remember Emma being there for his birth, as well? Was Regina still wearing the cuff when she came through? Good thing it didn't short-circuit the wardrobe.
Does the Wish Realm still exist?
This bizarre reality that was created for Emma; does it still exist now that she's left it?

— Meredith of Everett, WA
We now have someone who in this world should be dead – the universe may push back – so Robin might not be able to stay alive and well in the real world forever – in which case he might have to go back. If the writers are truly devious they might be giving us a wolf in sheep's clothing. I also hope this is not the way things are going – but I wouldn't be surprised.

— Gareth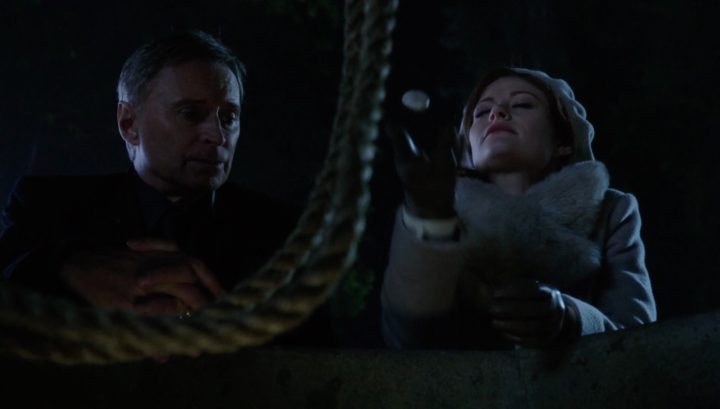 In the well, Belle distinctly said that she's not making a wish because of bad results, but then it looks like she makes a wish by the end of the episode when she closed her eyes before throwing the coin in the well. Rumple also talked about reaching for the cure for drinking poison. Might he be swaying towards the light again? He also said that if they fail, war is coming to Storybrooke. Is this the final battle since season 1 or should we just give up on the idea? If they are going to set up a war in Storybrooke, shouldn't it have to be someone more menacing like, say, the Dark Fairy? Share all your theories below or head over to the forum for spoilers and other theories about the upcoming episodes!
What did you think?
Email Feedback@ONCEpodcast.com (audio files welcome)
Call (903) 231-2221
Comment on the shownotes
Visit any page on ONCEpodcast.com and click the "Send a voice message" link to record and send a message right from your computer.
Help us out!
Share this post in your social networks
Follow us
On Facebook:
On Twitter:  echo do_shortcode('[twitter follow="ONCEpodcast"]'); ?>
Daniel J. Lewis:  echo do_shortcode('[twitter follow="theDanielJLewis"]'); ?>
Jeremy Laughlin:  echo do_shortcode('[twitter follow="phlegon"]'); ?>
ErinJ:  echo do_shortcode('[twitter follow="erinjcruz"]'); ?>
Hunter Hathaway:  echo do_shortcode('[twitter follow="travelingpixie"]'); ?>
Jacquelyn / RumplesGirl:  echo do_shortcode('[twitter follow="punk_bunny_87"]'); ?>
Spoilers
In 6×12, "Murder Most Foul", David asks Hook to help him uncover the truth about his father's death
Meanwhile, Regina works to acclimate Robin to life in Storybrooke
"Murder Most Foul" was written by Jerome Schwartz & Jane Espenson and directed by Morgan Beggs
Guest starring are Sean Maguire as Robin of Locksley, Raphael Sbarge as Jiminy Cricket/Dr. Archie Hopper, Eion Bailey as Pinocchio/August, Alan Dale as King George/Spencer, Wil Traval as the Sheriff of Nottingham/Keith, David Cubitt as Robert, Tara Wilson as Ruth, Matt Ellis as Francisco, Bart Anderson as Innkeeper and Luke Roessler as Young David/Young James
Promo for "Murder Most Foul" focused on Emma saying that they will break the curse, and David and Hook teaming up, Robin shooting arrows at people, and ending up with David holding a knife to Hook's neck
Promo photos shows a bunch of Robin with his bow and arrows walking in Storybrooke with Regina
Another promo photo shows David and Hook individually in the pier
It seems very, very like that Hook will ask Emma to marry him in this episode
The musical episode might include the Captain-Swan wedding
6×19 is entitled "The Black Fairy" written by Jerome Schwartz & Dana Horgan, while 6×20 is called "The Song in Your Heart", written by David H. Goodman & Andrew Chambliss
6×20 "The Song in Your Heart" will be the musical episode, and will include 7 original songs
Emma will have her own number in the musical episode, as well as a sing-off between the Evil Queen and the Charmings
The musical episode will also be a huge part of the mythology of the show and there are some big things that will happen in the episode
Alan Zachary and Michael Weiner, who were known for the musical "First Date", Disney's "Twice Charmed", and the Celestina Warbeck and the Banshees musical act from the Harry Potter book series are brought in as composers of the said musical episode
Colin O'Donoghue will also be singing in the musical episode; TV Line also teased that "Someone has a solo number that is quite… wicked."
Karen David, who is playing Jasmine, was asked on Twitter if she will be part of the musical episode said "no."
Kitsis and Horowitz both told TV Line that Jasmine and Aladdin will next be seen "under heroic circumstances— not immediately in the second half, but they'll be back. We'll be seeing Agrabah, and some of their adventures there." They also added that Jafar will be back in full force, which will probably be in 6×15 "A Wondrous Place"
We will get to see Rumple and Baelfire in the early days in 6×13.
We will also see a flashback to storybook during the time of the curse, perhaps on 6×18 "Awake"
We are going to see more Saviors this season other than Emma and Aladdin. Some theories include that we might be seeing Beowulf in 6×13.
One flashback that we might see will be the most devastating that we've ever seen
Kitsis and Horowitz recently said about Gideon for the episodes "Mother's Little Helper" and "The Black Fairy", "What we can tell you about Gideon is that we are very excited. Why is Gideon doing the things he's doing, and all of the questions the audience has, is exactly what we want them to be asking, and we're going to be answering a lot of them in two particular flashbacks. One is Gideon's; we're going to see his entire life going from baby to 28 year old in one episode, and we're going to see the Black Fairy's origin story."
Jennifer Morrison was asked whether Emma would actually die and she said, "Obviously no one wants to die. She's dealing it with the way she's dealt with every other crisis, which is that they're going to do everything they can to fight him, figure it out, and try to not die. It's not like she hasn't faced things like this before, so it's another one of those situations."
Couple of filming shots include Rumple and the Black Fairy, as well as Zelena and Regina in Storybrooke, and nothing from the musical episode so far.