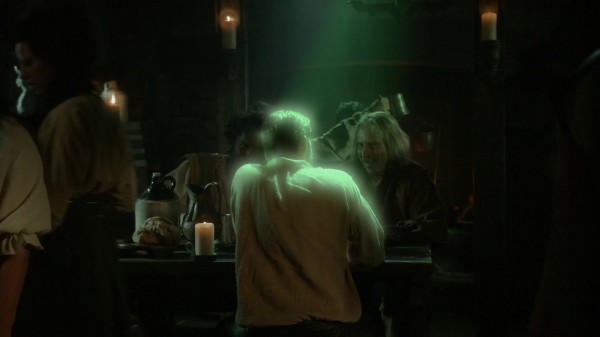 Podcast: Play in new window | Download | Embed
Looks like Peter Pan likes his games a lot! Emma can finally read the map Pan gave him in the Lost Girl episode but finding Henry isn't going to be as easy as they thought it would be. Can Tinkerbell really help save Henry? Join us as we dig deep Once Upon a Time's latest episode, Quite a Common Fairy.
But before we move on to what happened in the episode, one of the listeners noticed that the title, Quite a Common Fairy, sounds like the title from the Peter Pan and Wendy novel.
The title "Quite a Common Fairy" is also a direct line from the novel Peter Pan and Wendy in which Peter tells Wendy "she's quite a common fairy, actually. Her name is Tinkerbell because she mends pots and things"

— Jacquelyn
Flashback: The Enchanted Forest
Flashbacks this season seemed more knit together compared to seasons 1 and 2, but maybe that's just because we know them more now unlike before. The show is also getting better at showing us different locations, that shifting from one world to another worked out well than the last two seasons.
Rumple's Feast
Lana Parrilla is doing a great job in portraying the role of Regina; Jenny even mentioned that she's starting to like her. Her transition from Regina to The Evil Queen is flawless, making us feel like it was yet another stage of her life. But Lana's acting aside, Rumpelstiltskin's Roast Swan joke doesn't seem much of a joke.  Though it seemed like there is a continuity problem, maybe he just know that the savior will have a "Swan" in the name but has just not figured out the first name yet that's why he demanded it to Snow and Charming when they come to him, asking about The Evil Queen's curse.
Rumple makes reference to roast swan and says Regina will get that later on. Yet, shortly before the curse is enacted, he needs Emma's name from Snow White, so at that point he shouldn't have known her last name would be Swan. Also, Emma should have read Henry's book by now, but she didn't know that Snow used to be a bandit. Did she just not read the entire story?

— Chris
This particular scene also reminded Nikki of Rumple's joke on Cora.
Did you notice that Rumple looks at Regina's Feast of 'Roast Swan' and scoffs saying "You'll get that later?" This is similar to when he is with young Cora and laughs at her for saying "Brides must be Snow White." I thought that was a cute tie-in from last season. Also, Pan tells Henry to do something he is scared to do, saying, "It is exhilarating' like the description of using magic that Rumple gives Regina when he wanted her to push Cora into the mirror.– Nikki
Furthermore, Rumple said that "All she has is simmering rage." Could Rumpelstiltskin be manipulating Regina? Does he know that Regina can't escape her darkness that's why he keeps pushing and keeping Regina from turning back to evil? Regina also told him that she doesn't want a future that looks like him. What could she be pertaining to? The power, the loneliness?
When Regina fell from the patio in her bedroom, Daniel said it reminded him of the 1946 movie It's a Wonderful Life, when George Bailey committed suicide off the bridge and an angel, Clarence, jumps in to save him, helping him to realize what could have happened if he hadn't been born.
What could Tinkerbell be doing in the Enchanted Forest and what prompted her to save Regina?
During Regina and Tinkerbell's conversation, Tink calls herself a "fairy" and not a "pixie." What does she mean? And how come no one seemed to recognize that  Regina was the queen? Why does she need to whisper that she's the queen? Plus, Regina seemed to be focused on hating Snow even then but doesn't seem so bent on her revenge; not just yet, at least, despite saying that what will make her happy is Snow's head on a plate. Is one of Tinkerbell's specialties include finding love aside from finding things? She did say that she can help Regina find love again, after all.
Tinkerbell also mentioned that she has "never seen Pixie Dust failed" and that "no one really owns pixie dust" so where does Pixie Dust come from and who makes them? Aren't fairies supposed to make their own dust? Maybe it was made of multiple combination of things; a refined fairy dust blessed with some kind of power.
The Fairy Rules
At the what Jenny calls "fairy portal hub," Tink arrived late and was welcome with an angry Blue, mentioning how she has broken several Fairy Rules including:
Curfew
Dust discipline
Getting big for no reason
Aside from these, we've also known a few other fairy rules from past episodes, such as fairies aren't supposed to interact with people without permission and that they cant fall in love.
Tinkerbell must be a fairy in training, now directly under Blue—similar to Nova, but doesn't like to be called Green. Do fairies graduate to their color name after their training? Is it something that fairies need to be graduated from? Nova wasn't called Pink, perhaps they were in a different training period?
Anyway the most interesting part was when Blue was talking with "Green" in the fairy world. Tinkerbell doesn't like it when Blue Fairy called her "Green". So "Blue" or "Green" might be some sort of fairy nickname or title? Maybe it's some kind of rule and she called TB "Green" because she want to be called "Blue" and not by her real name. Well she was also called Rheul Ghorm but that is just Scots Gaelic for "Blue Star" which can be just another nickname for her.

So now I wonder if she has real name we doesn't know yet. Maybe she has a name no one knows besides her. So my first guess would be that she is Titania the Queen of the Fairies from William Shakespeare's "A Midsummer Night's Dream." We have already seen in the "Heart is a Lonely Hunter" that there is a picture of Titania and Oberon in Henry's Book. So I think it's possible.

— TOBIAS/CLESSIDOR
Fairies seem to know of Cora, Regina and The Dark One; what they can do, and are someone that they must steer clear of.
Tinkerbell told Regina that she can help her find love again, her soulmate. But wouldn't that make her break one of the most important magic rules, that you can't make someone fall in love with you? On a brighter side, Tink only showed Regina the way to her soulmate, not really paired them up and make them fall in love. But if Daniel hadn't died and he and Regina get married, where does Robin Hood lie in the situation? What does Tinkerbell exactly means when she said that she could help Regina "find her soulmate?"
If pursuing a possible relationship with Robin Hood could've given Regina a fresh start, maybe Regina wouldn't have to enact the curse and get revenge on Snow. And when Regina goes back to The Enchanted Forest and finally come across Robin Hood, is there a chance for her to (finally) fall in love with the man with a lion tattoo? If they fall in love before she even sees the tattoo and recognize him, maybe it would make for Regina's happy ending.
And if disbelieving in a fairy causes them to lose their fairy power, is the reverse true? If Tinkerbell will help them get Henry back and goes back with them to Storybrooke, will Blue give Tink her wings back?
So Tinkerbell lost her wings because Blue didn't believe in her anymore and Regina never really had faith in her as she called her a terrible fairy. I think she will get to redeem herself and be a fairy again.

In the 2003 movie "Peter Pan," Tink dies because of drinking a poison Hook left for Peter Pan and she is revived by everyone saying out loud that they believe in fairies so perhaps our Tinkerbell will be somehow heroic and make Regina who never believed in her believe and then prove to Blue that she is able and regain her wings.

— IVANNIE
Thank You for Supporting Us!
David Neuland (subscriber)
You can sponsor an episode or more of ONCE podcast, too! Email Daniel@ONCEpodcast.com if you would like to arrange a corporate sponsorship of our podcast for the upcoming third season.
Present Day Enchanted Forest
As Neal search for things that could open a portal and get him to Neverland, he mentioned a few things that could work:
Beans
Magic Mirrors
Ruby Slippers
Some kind of ashes
Aside from these, here are other things that we know of can make portals are as well:
Rumple's Magical Closet
Inside Rumpelstiltskin's magical closet is the Runic symbols Ansuz, Eihwaz, and Fehu:
In Rumple's magical closet, there are runic symbols, which is more likely casted as a Three-Rune method (Problem or cause-Course of Action-Outcome, it can also be interpreted as Past-Present-Future)…

1. Ansuz (pronounced as awn-sooze) – Ansuz is particularly associated with Odin and when reversed, with Loki his messenger. Ansuz is most closely associated with the Norse God Loki, nicknamed the Trickster…Loki is the breath of change and unexpectedness and Ansuz represented the holy power and cleansing aspects of change.  The change may not be comfortable, but it is coming and accepting receptive behavior is called for.

2. Eihwaz (pronounced as eye-wawz) – Aligned with Odin as the God sacrificed to himself on the Tree, Eihwaz is also a harbinger of change…It also signifies change in life that cannot be escaped. Eihwaz speaks of movement… movement of life's force which cannot be stopped. Eihwaz shows us that in the event of an ending situation we find the start of a new situation.

Use your imagination and turn any situation to your advantage. Eihwaz has been interpreted as having a tie to the past. It can mean that you will hear from someone from your past. Sometimes this rune is an indication that problems from your past that were not dealt with effectively will be returning. In a runecast including Ansuz or Jera, problems that previously had no answer will soon be solved….

3. Fehu  (pronounced as fay-who) – Fehu is a rune of power and control. It represents new beginnings and "movable" wealth such as money and credit. It is a rune that gives us the power we need to obtain wealth as well as the power we need to hold on to it. Fehu is also aligned with Freyja, Primal Mother Earth, Willing to be "burned" or "sacrificed" to bring forth new life, feminine Magick. It is also considered to be a "love rune" but not necessarily romantic love. Fehu reminds you to make time for the important things in life – those people that mean so much to you.

In relation to "Once Upon a Time," I think this can be interpreted as: Peter Pan, clearly, is the obstacle. He likes to play games, right? Maybe Pan is also merely just a pawn, a messenger of someone of greater power (someone much darker than The Dark One, maybe?). From what I can see, Henry is just a way to get to his/their true motive. But this can be a message for either Rumple, Emma, or both.

Last season, the seer said that the young boy will be Rumple's undoing. In "The Lost Girl," episode, Rumple tried so hard to destroy the doll his father gave him, but it keeps coming back to him, unscathed. I think it was just a reminder of what course of action he should take (Belle said last week: "You abandoned your son, Baelfire, and you regretted it your whole life. You don't have to do the same to Henry.") I think that Rumple MUST sacrifice himself (ie; "choose" Henry) because while it may lead to his undoing (again, I don't think it means he will literally die), it may also lead a new beginning; something more precious – his son's forgiveness, perhaps?)

As for Emma, well, Pan kidnapped her son; more importantly, her and Baelfire's — the son of The Dark One. Last week, Pan told Emma that she needs to stop denying who she really is and while she has admitted that she feels like an Orphan, she haven't really forgiven her parents for abandoning her. K&H said that Neverland forces you to confront your past so in order for Emma to find and save Henry, she must first solve her own issues because if what Pan said about Henry not wanting to leave the island by the time they get to him is true, Emma needs to be able to understand that so that her son can forgive him.

— danceempress
Is this an indication of what lies ahead everyone of them in Neverland?
Robin Hood's Son
As Neal is about to give up, Robin Hood's 4-year old son Roland, suddenly appears. When Rumpelstiltskin spared Robin Hood's life, Maid Marian was currently pregnant with Roland. If he was born a few months after that, and Regina captured Belle just after freeing the Yaoguai, it means that Belle was locked up for about 3.5 years.
If uttering the words "I believe" was the only way to summon the shadow, how come the Shadow missed a lot of kids? How does the Shadow track the kids that he must capture? Had none of the kidsbeen enough that's why they are getting more believers? Is that the why he kidnapped Henry, thinking that the truest believer would suffice whatever he needs of him?
And could Robin Hood's son have anything to do with Childe Rowland? Is Robin Hood's son, Roland, somehow connected to Camelot?
When I heard the name "Roland", it sounded me familiar, so I went search for it and found the story of Childe Rowland:

Burd Ellen disappeared when she was playing ball with her brothers. Rowland, one of her three brothers, went to ask Merlin what happened to his sister and he told him that she was in the Dark Tower with the King of Elfland and only the boldest knight in Christendom could save her. Merlin gave Rowland instructions and his father's sword. By the end, after a lot of adventures, Rowland managed to rescue his sister and the two of them went home together.

I was thinking about the episode "Lost Girl", when Charming tells Snow White about Merlin, Excalibur and Camelot, and Lancelot, who we already saw on the second season. What if Roland is one more element of the Arturian cycle on "Once Upon a Time"?

I think they won't introduce Camelot yet for a while, but I presume someday that will happen, because of the several elements of it on the series. When they introduce it, maybe Roland could be the key for all that.

— Helena
And just before Neal jumped off to the Shadow, Mulan went and cut the Shadow with her sword, which was regarded to as the most powerful in all the lands. But even if Mulan could harm the Shadow, she could not cut off anything.
When Neal was dropped in Neverland, and Felix was there, it makes me think that there may be more then one shadow, and that shadow that delivered Neal to the island was Felix's. I think there is a sort of connection between a shadow and its owner and Felix knew the shadow was delivering another person [i.e. Neal].

— OnceABeliever
Could it be Felix's shadow that Neal touched that took him to Neverland? He was there when Neal dropped to the island and Felix recognized him as Baelfire. But how did he recognized him as Baelfire? When exactly did Neal escaped Neverland?
When you and Jeremy were discussing why the shadow was STILL looking for boys , the thought occurred that Peter Pan sent the shadow to the Enchanted Forest because he knowingly allowed or even wanted Baelfire to return [to NL]. That would explain why Felix was waiting there PRECISELY where the shadow presumably dropped him, and he did not at all seem surprised (and greeted him by name, even though he's in all likelihood never seen adult Neal.) The creepy "welcome home" suggests that Pan thinks Bae belongs in Neverland, my guess is he let him go because he needed Neal to meet Emma and have Henry and that was the only reason he escaped in the first place.

I was thinking about why Peter Pan is such a perfect villain for "Once", and I've realized that he fits in so well with the mythology because he is, by definition, an enemy of parents and children–putting him in diametric opposition to basically every character on this show.

— Isabelle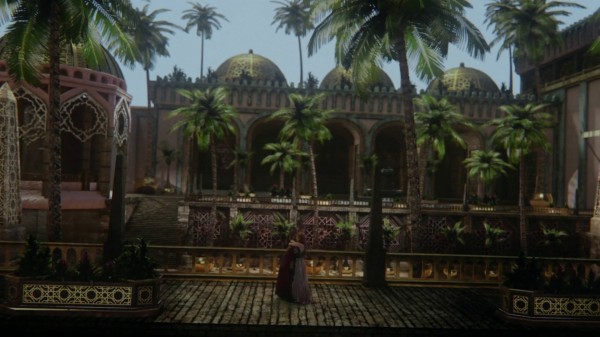 Phillip and Aurora's castle looks better. And while Aurora seems older, is Phillip and Aurora's baby going to be "important" or will it be the last time we will hear of them? Are they still going to show how Aurora and Mulan got Phillip out of the Wraith? Or just us knowing that Phillip got out of it is enough?
Before moving on to Neverland, Tinkerbell said that Regina ruined Robin Hood's life. What could she mean "ruined his life?"
Thank You for the iTunes Reviews!
Betspretz5
kuinbi from Mexico
BeeLineGirl
Your reviews encourage us and help others find the podcast!
Please rate and especially write a review for us on Apple Podcasts.
Neverland
Pan's camp is moving too fast, but are they actually "moving" or is it just a way to trick Emma and the others and steer them clear of their real camp? Hook mentioned that Pan have some kind of "shield" to his camp. Is it pixie dust? What or who could be protecting it from others finding it?
Hook believes that Tinkerbell can help them. Clearly, Tinkerbell and Hook crossed paths before but what exactly is their relationship? Was Tink born in Neverland? Also, if Regina was Tinkerbell's second chance, what was her "first chance?" How did she even got (back) to Neverland after her wings got clipped in the Enchanted Forest?
Target Practice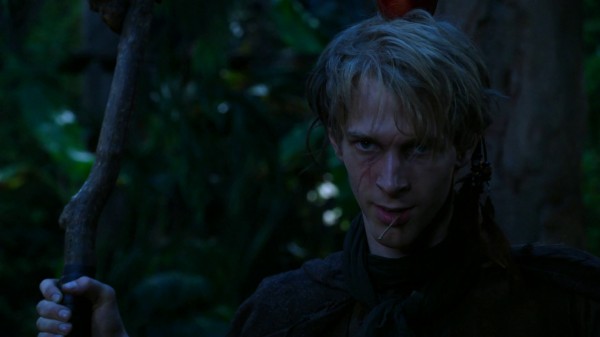 Peter Pan's target practice seems a lot like William Tell's apple-shot:
There are several accounts of the Tell legend. The earliest sources give an account of the apple-shot, Tell's escape and the ensuing rebellion. The assassination of Gessler is not mentioned in the Tellenlied, but is already present in the White Book of Sarnen account.

The legend as told by Tschudi (ca. 1570) goes as follows: William Tell, who originally came from Bürglen, was known as a strong man, mountain climber, and an expert shot with the crossbow. In his time, the Habsburg emperors of Austria were seeking to dominate Uri. Albrecht (or Hermann) Gessler, the newly appointed Austrian Vogt of Altdorf, raised a pole in the village's central square, hung his hat on top of it, and demanded that all the townsfolk bow before the hat.

On 18 November 1307, Tell visited Altdorf with his young son and passed by the hat, publicly refusing to bow to it, and so was arrested. Gessler—intrigued by Tell's famed marksmanship, yet resentful of his defiance—devised a cruel punishment: Tell and his son would be executed, but he could redeem his life by shooting an apple off the head of his son, Walter, in a single attempt. Tell split the apple with a bolt from his crossbow.

But Gessler noticed that Tell had removed two crossbow bolts from his quiver, not one. Before releasing Tell, he asked why. Tell replied that if he had killed his son, he would have used the second bolt on Gessler himself. Gessler was angered, and had Tell bound.
Peter Pan knew what Henry would do, so why the game? Is this some way of giving Henry a taste for revenge, the thrill of darkness? Is it some kind of a test from Pan? He seemed so sure that Henry wouldn't hit Felix.
On the other hand, why is Pan belittling Emma? Could this be the start of what Pan referring to as Henry not wanting to leave the island? Is he changing Henry? Is this one of his ways to make Henry stay in the island? And when Henry saw his own photo, is that an indication that he is starting to believe Peter Pan?
Peter Pan can see the future, but it seems a bit strange how he ordered Greg/Owen and Tamara to destroy magic, then whent on to saying how Henry needs to save it. Pan also mentioned Henry being the offspring of both the greatest light and dark. Shortly after the episode, Jane Espenson tweeted:
@SophLW darkness, like other environmental influences, can alter the genes.

— Jane Espenson (@JaneEspenson) October 14, 2013
So if darkness can alter genes, it appears that dark magic works like radiation:
By Jane's description, it appears dark magic seems to works like radiation: the mere closeness to massive amounts of it is enough to taint you. Blue sensed that dark magic surrounded Bae in The Return, so I guess that's the case.

— Demileto
More on Neverland
David seemed upset when he finds out that Tinkerbell don't have powers but can pixie dust really save Charming? How come Hook was so convinced that pixie dust can, in deed, save him?
Regina was quick to call Hook Emma's boyfriend, but it seems they want to remind us how fresh losing Neal is.
This episode shows how Regina really loved her son, which shows more of her sounding like a mother, even owning up to her past mistakes. She's also acting very motherly, saying that Henry is the one thing that she got right by being more concerned about saving him than herself.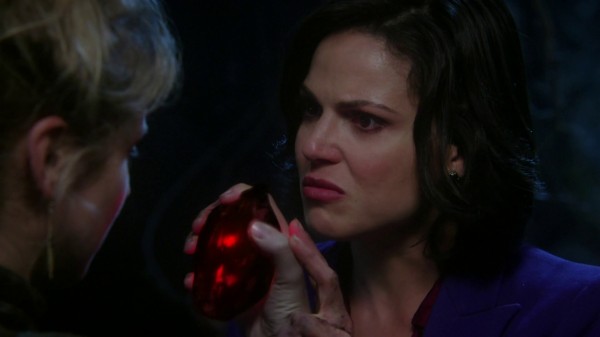 We've finally seen Regina's dark heart as well, but notice how it wasn't completely black. Could she be turning good? Maybe if she just let it and continue to do something good, it will let some light in just like what Snow said last season? And speaking of hearts, what is the update on Snow White's heart? What about Rumpelstiltskin's? How dark could his heart be?
While Regina let her anger define her, knowing what her choices did to her, it seemed like she doesn't want Tinkerbell to go the same direction, asking her to pick hope over anger, and to choose love. Regina also went on to saying how she feels like she finally got something right with Henry.
When Tinkerbell still seemed adamant on helping them, saying that her penalty would be a death sentence from Pan when all these is over, Snow offered her home should they succeed. But can she really have a new home in Storybrooke when she met Blue again?
Peter Pan told Henry that he reminds him of his father. If Henry reminds Pan of Baelfire, was Baelfire also once been brainwashed by Pan? Did Pan deliberately send Neal into our world so that he would meet Emma and give birth to Henry?
Everybody gets a second chance
It seemed like this season is all about second chances. But how many chances does Regina have? Will Tinkerbell get a third chance and earn her wings back if she helped them find and save Henry? Are Snow and Charming going to get a second chance with their daughter? Can Neal have a second chance with Emma and Henry? And what about Rumpelstiltskin? Will his choice be for the good or worse? Let us know what you think if we missed anything and always remember, pick hope over anger.
What did you think?
Email Feedback@ONCEpodcast.com (audio files welcome)
Call (903) 231-2221
Comment on the shownotes
Visit any page on ONCEpodcast.com and click the "Send a voice message" link to record and send a message right from your computer.
Help us out!
Share this post in your social networks
Follow us
On Facebook:
On Twitter:  echo do_shortcode('[twitter follow="ONCEpodcast"]'); ?>
Daniel J. Lewis:  echo do_shortcode('[twitter follow="theDanielJLewis"]'); ?>
Jeremy Laughlin:  echo do_shortcode('[twitter follow="phlegon"]'); ?>
ErinJ:  echo do_shortcode('[twitter follow="erinjcruz"]'); ?>
Hunter Hathaway:  echo do_shortcode('[twitter follow="travelingpixie"]'); ?>
Jacquelyn / RumplesGirl:  echo do_shortcode('[twitter follow="punk_bunny_87"]'); ?>
Spoilers
Episode 4 synopsis
NYC Comic Con Pannel
TVline.com and Colin O'Donoghe