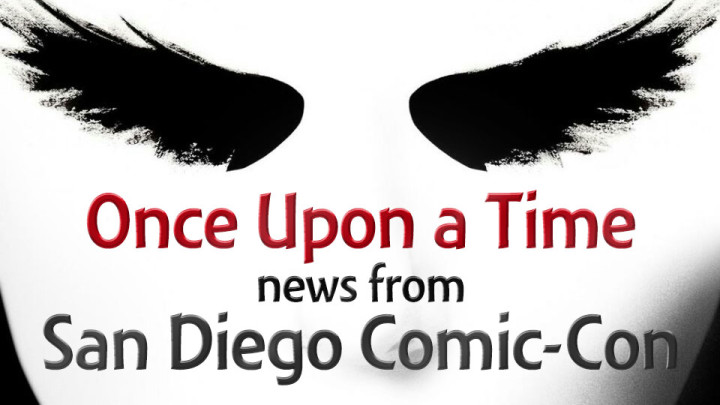 San Diego Comic-Con 2015 weekend has just finished and we have gathered everything you need to know about the recently concluded Once Upon a Time panel. Join us as we share both spoiler-free details and juicy spoilers you need to know about what's in store for Once Upon a Time season 5!
Podcast: Play in new window | Download | Embed
We have a lot of information to share with you from San Diego Comic-Con, one of them being that Once Upon a Time season 4 Blu-Ray/DVD is already available for pre-order, but will be available in public in August. During the Comic-Con panel, fans were treated to one of the special features from the season 4 DVD about the three people who stayed in Storybrooke after the ice wall came down. "Three Who Stayed" features Patton Oswalt and was written by Jane Espenson.
Thank you for supporting us!
David Neuland (subscriber)
Steve Johnson (subscribe)
Lisa Slack (subscriber)
Tracey Anderson (subscriber)
Daniel Clark (subscriber)
Swangot Hooked (subscriber)
Maryann Livoti (subscriber)
Jessica Olsen (subscriber)
Aimee Catellier (subscriber)
Tappnbrd (subscriber)
DJ Firewolf (subscriber)
Sweets
Melanie
Jessica Abel (new Patreon backer)
Lisa Dunahoo (new Patreon backer)
16 Patreon backers ($72.25 per episode)
You can sponsor an episode or more of ONCE podcast, too! Email Daniel@ONCEpodcast.com if you would like to arrange a corporate sponsorship of our podcast for the upcoming third season.
Spoiler-free SDCC 2015 News
During the Once upon a Time panel, Emilie de Ravin revealed that she thinks Belle should take a long vacation after everything that she has been through the past season, probably on a sunny beach somewhere with a good book in hand. She also said that Belle needs to put down her foot in terms of relationship with Rumple. Obviously, at the end of season 4, Rumple is in a coma and Belle is just coming out of somewhat-weird relationship with Will, so it's still unclear where RumBelle stands at the end of season 4. They obviously still love one another, but it's going to be interesting going forward to see how those two call it quits for good, or manage to come back together. Emilie de Ravin also clarified something that a lot of people have been talking about during the second half of season 4, which was that when she was at the wishing well, she was completely under Regina's spell the entire time. Does that mean that even the beautiful things that she said was all Regina's doing?
Another confirmation that we got from the panel was that for the most part, all the characters have been operating on their own freewill, and that the author only interfere just a little. In line with this, everything that we have seen over the past 4 years was all the characters, not just the author writing their own stories.
On the day that we are recording this is Lana Parrilla's birthday and she, too, shared some cool tidbits at Comic-Con. During the Once Upon a Time panel, she talked a lot about what it's like being around the heroes all the time and how this has changed Regina's perception of what it means to be good and what it means to be a hero. In the past, specifically seasons 1 and 2, Regina viewed the heroes as an obstacle to her happy ending, but she's over time come to see that they are good intentions, not necessarily out to get her. Being around Henry and the love she has for her son also helped her realize this and now, Regina believes that she can have happiness and love in the form of Robin Hood. In addition to this, Sean Maguire quips that he believes that Regina is Robin's true love. Does that mean that the void in Regina's heart from casting the Dark Curse can wear off? What does this mean for Regina and Robin Hood's relationship going forward? Can they start over together?
There have been quite a few talks over the forum about this and some are convinced that Adam Horowitz and Eddy Kitsis will go the super fairy tale romantic route and say that Robin Hood and Regina's true love cure her barrenness and that they will eventually have a true love baby without using any magical potion. However, some are convinced that Regina may take a page out of Snow White's book and drink water from Lake Nostos, which is what Snow did back in season 2. Either way, both parties believe that they will eventually end up having a baby if they ever get to that point in the show, it's just a matter of how it happens. But do they really need another baby? Wasn't Henry and Roland enough already?
On the other hand, it seems Josh Dallas was enjoying the guy liner at the end of season 4. Are we going to start seeing Emma in certain look that makes her look darker? Almost everyone who has gone dark on the show sported some thick eye liner in some fashion. How is Emma going to be different? How will they treat her makeup? How will they make Emma look like the Dark One and still maintain her beauty?
Speaking of Emma, Jennifer Morrison said that Emma's confidence was really shaken last year because Emma always believed herself to be good, but was last year really tested. The murder of Cruella and her reaction to seeing Lily again in the episode, "Lily" when she pulls a gun on her and holds it to her head, which we all thought that she was going to pull the trigger for a while, will be etched on her mind.
Emma's got a lot of issues, we've known that about her since the Pilot. Like Rumple, these issues will probably manifest while she's the Dark One. Rumple was a coward and suddenly, being the Dark One made him braver; he was able to do things Rumple would've never been able to do. Now that Emma has got the darkest darkness poured inside of her, it will definitely be interesting to see it all unfolds.
Colin O'Donoghue, meanwhile, said that Hook is trying to be better for Emma. He also said that if he could get the Author change anything for Hook, it would be to have two hands.
Yvette Nicole Brown, the panel moderator, started off by saying that Zelena scares her off. Rebecca Mader, who plays Zelena and was also present in the panel, said that that's why she loves playing the Wicked Witch so much because of how crazy Zelena is. Rebecca Mader also admitted that she loves playing this psycho, which obviously shows in her portrayal. She also said that Zelena thinks she is her own hero. Will we see Zelena's redemption in season 5? Will the baby come out green? Will Regina adopt the baby?
One of the really cool things coming up at Once Upon a Time is its 100th episode and we know that they are working hard on it but we do know that it will be the Spring premier. Contrary to the past seasons, season 5 will be a little different as they will be doing 10 episodes in the Fall, and then another 12 in the Spring, instead of the 11-11 split, like they've been doing for the past two years. However, for the past two seasons, we got a couple of two-hour episode, perhaps they will give us a double length episode again? They clearly wanting for the 100th episode to be special, does that mean that we're getting one story arc for season 5 instead of two separate story arcs like the past seasons?
Another cool thing that we have found out from San Diego Comic-Con is that Once Upon a Time is getting their own FunKo Pop Dolls. Rumplestiltskin, Emma, Regina, Prince Charming, Snow White and Hook FunKo Pop Dolls will all be available in early October.
Thank you for the podcast reviews!
Rose  said, "Ok you guys. Here is my review. I love this podcast! I love to listen live on Wednesday nights and wish I could watch live on Sundays. Maybe when you move out west I will be there for Sunday nights as well. I love all the discussion and theories and interacting with the chat room. I love ONCE and appreciate the time you take to help add to the experience of being a fan of this show! This podcast is like an extension of the show that I look forward to every week. I loved being there to watch the Season 4 Finale with you guys. That was a blast and so great to meet such great people. Thanks for a great podcast and for giving of your time. When you give your time you have given of one of your most valuable possessions. Thank you for sharing yours with all of us who listen. I will miss you guys during the hiatus. Love, Rose"
Karin from Sweden said, "Bästa Once podcasten!!" ["Best Once podcast"]
Your reviews encourage us and help others find the podcast!
Please rate and especially write a review for us on Apple Podcasts.
What did you think?
Email Feedback@ONCEpodcast.com (audio files welcome)
Call (903) 231-2221
Comment on the shownotes
Visit any page on ONCEpodcast.com and click the "Send a voice message" link to record and send a message right from your computer.
Help us out!
Share this post in your social networks
Follow us
On Facebook:
On Twitter:  echo do_shortcode('[twitter follow="ONCEpodcast"]'); ?>
Daniel J. Lewis:  echo do_shortcode('[twitter follow="theDanielJLewis"]'); ?>
Jeremy Laughlin:  echo do_shortcode('[twitter follow="phlegon"]'); ?>
ErinJ:  echo do_shortcode('[twitter follow="erinjcruz"]'); ?>
Hunter Hathaway:  echo do_shortcode('[twitter follow="travelingpixie"]'); ?>
Jacquelyn / RumplesGirl:  echo do_shortcode('[twitter follow="punk_bunny_87"]'); ?>
SDCC 2015 News and spoilers
We have tons of spoilers coming for you from San Diego Comic-Con but we also have gathered a few more spoilers pre-San Diego Comic Con. With the panel hosted by Yvette Nicole Brown (Community), which was also the voice of Ursula back in the episode 3×06, "Ariel", as well as the host of last year's Once Upon a Time San Diego Comic-Con panel.
Dark Swan Teaser
The Dark Swan teaser doesn't really showed anything new; just footages from the end of last season, but we do love the Snow monologue playing on top of it, which we're glad of because lately, the Emma-Snow dynamic has been harsh. We were glad it was Emma's mother who was begging her to come back into the light. One of the most beautiful quotes from the teaser was, "Remember who you are. Resist temptation. I will not lose my daughter to darkness."
Where did Emma go at the end of the season 4 finale? One of the sneak peeks that was shown during the Once Upon a Time panel was of Emma as the Dark One. Adam and Eddy said that the sneak peek wasn't canon, meaning that it's not going to be in the premier. What they wanted to do was to simply give a teaser as to what can be expected from the Dark Swan. In the sneak peek, we are in the Enchanted Forest in what appears to be a prison, and a peasant delivers food to the Dark Swan, Emma. In the footage, Emma has got some new clothing, very sparkly and missing her eyebrows, almost looking kind of alien. As the peasant delivers the food, he was in shock to see that Emma is a beautiful woman because he expected that the Dark Swan would be a monster. Emma then said that she is but only on the inside, then goes to rips out the peasant's heart and crushes it.
Prior to this clip on San Diego Comic-Con, there was an article showing a first look at the Dark Swan and comparing to Rumple as the Dark One, Emma's was very Rumple-style but the top is a lot looser and bigger, which goes up her neck. We were expecting her to have this ethereal beauty but darker ethereal beauty but it was simple uninspired. Emma is the Dark Swan, it felt as though they should incorporate some feathers somewhere, but she looks kind of like the ugly duckling in this garb. However, unlike Rumple, Emma in her Dark Swan look isn't green.
Over at the forum, Phee said that they should've incorporated it with her red leather jacket, because that red leather jacket is so iconic to Emma in the sense that it is her superhero cape. They could have deconstruct it and make it look frayed, messy and worn, giving us a sense of looking at Emma, but not particularly looking at the Savior.
Jennifer Morrison was quoted saying, "I'm really excited. As an actor to start season five of a show doing something brand new is exciting." Morrison also said that there's something fun to the villainy, as Emma will be getting some new powers. Emma, has become more powerful over the past seasons, how powerful can she be now that she's the Dark Swan?
Will we get to see a new Savior this season? In the recent Hot Seat interview with Kitsis and Horowitz with EW, they said that the answer would be yes, but who will it be? Hook? Lily? Will Emma's dark curse be broken by True Love's Kiss? Another question fro m the Hot Seat was, "Will Emma have a split personality issue with being the savior and the new Dark One?" Kitsis also answered this one with a yes.
According to Robert Carlyle, the incarnation of Rumple will be a little bit different this time. He's lost his mantle as the Dark One, but that's not to say he doesn't have his trickery about him. He still has that, and Gold is still presently in a coma, so he won't be doing too much for the first couple of episodes.
One of the biggest things that happened last season is that Henry broke the Author's quill and it turns out, it won't be forgotten. With Emma being the new Dark One, Henry will probably going to regret destroying the Author's quill. He has a reason for doing it and thinks no one should have that much power but now that his own mother is an unholy mess, he probably going to want to course-correct that. Is finding the Sorcerer going to help make a new quill?
It looks like Hook may have a connection to Camelot. In a recent Adam Horowitz interview with EW said that "Camelot exists in a parallel timeline. It's existed. How we portray it and show you, it's existed long ago, short ago and maybe in the future. It may have co-existed with [when Hook was in the Royal Navy]." Is Camelot in some kind of time bubble that it exist outside of time and is unchanging?
One of the fans asked for a potential musical episode and the cast all said that they would love to sing, but both Kitsis and Horowitz said that they don't know where to start. Are they doing that to throw us off? Will the 100th episode be a musical episode?
The biggest shocker of the day was of them showing the new character that is joining the cast in season 5. Merida, from Brave, will be coming to Once Upon a Time, and is going to be played by Amy Manson (Being Human). During the Once Upon a Time panel at San Diego Comic-Con, they showed a clip of her as Merida and her wonderful archery skills, wearing the long blue dress. She also has some very pretty red hair, though not as crazy from the animated version, but was still big and curly. How will she fit into the season and the storyline moving forward? Is Merida going to be the focus for the first half of season 5?
From one casting news to another, Rebecca Mader and Sean Maguire have been promoted to series regulars. However, this would mean that Michael Socha is no longer a series regular. But will we see Will again?
Since we're coming to Camelot for season 5, Sinqua Walls will be reprising his role as Lancelot. Is it possible that Lancelot is still alive somewhere? Or will we just be seeing him in flashbacks?
Liam Garrigan (24: Live Another Day) also joins the cast as King Arthur for a recurring role. Prior to the casting of Garrigan, King Arthur was described as a good and just ruler who, beneath the surface, is a master manipulator who can carry a grudge to the grave and maybe beyond. He harbors in eternal burning love for Guinevere that can lead towards being a bit controlling. For this role, Once aims to cast a gent in his mid-30s to early 40s; a British accent is mandatory. Based on Garrigan's look and Hook's connection to Camelot, could it be possible that King Arthur might be Hook's father?
Guinevere, on the other hand, will be played by Joana Metrass (Sinias de Vida); Merlin will be played by Elliot Knight (How to Get Away with Murder); lastly, Andrew Jenkins (Wayward Pines) will also guest star as Percival.
5×01 is entitled "The Dark Swan", written by Edward Kitsis and Adam Horowitz, and directed by Ron Underwood. We also got our first script tease of the season shared by Adam Horowitz, with a single word: What?
Edward Kitsis said that the hunt for Lily's father will not start until at least episode 5. Kitsis also added, "We set it up for a reason. That is one we are definitely intending to do." Is this going to be Henry's new mission?
Since they have already started shooting, we also got a few behind the scenes photos, one of them was of Merida out in the woods. There was also a photo of Regina holding Roland, with Henry around. There was also a picture of Emma, and so far she has been in two different outfits. The very first day that they were filming, which was the day before Comic-Con, she was wearing a gold and beige dress in the Enchanted Forest style, but she was talking to Rumplestiltskin. After Comic-Con, however, when they went back to filming, Emma was seen wearing a peasant dress with long, drab gray gown, and Rumple is in his Dark One outfit. Regina, Snow and Charming, meanwhile, are all in their Storybrooke outfits and Hook is kind of in his modern pirate outfit. The strangest part, however, is that Granny's Bed and Breakfast is seen in the middle of the woods. Is it a flash forward? A dream sequence?
Once Upon a Time will return for its fifth season on September 27.