In "Desperate Souls," Mr. Gold offered a box of Sheriff Graham's belongings to Emma. Did you look closely at that box?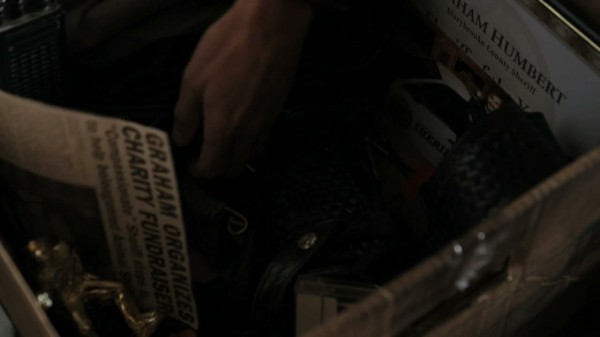 In the upper-right, we see some kind of certificate that reads, "GRAHAM HUMBERT: Storybrooke County Sheriff."
HUMBERT? His last name was Humbert?
Another interesting find in this photo is the newspaper clipping that calls Graham "compassionate." A nice tie-in with his compassionate huntsman background (from "The Heart Is a Lonely Hunter").
There's also some interesting memorabilia, including some baseball stuff. Does anything stick out to you?
UPDATE
Claudia pointed out this amazing connection to us.
Hey guys! According to the Disney Wiki that was exactly the huntsman's name in the original Disney version of Snow White – Humbert the Huntsman.
Now it makes perfect sense why we hadn't heard Sheriff Graham's name before "The Heart Is a Lonely Hunter." Thanks, Claudia!
Please share this post!
Use the social buttons or retweet the following.
Sheriff Graham's last name was HUMBERT! @clapesce found "Humbert the Huntsman" from Disney. j.mp/Ayp9is#OUaT

— ONCE podcast (@ONCEpodcast) January 14, 2012