Podcast: Play in new window | Download | Embed
Fairytale Land
Snow white is a huntress receiving food every month from Red Riding Hood. Red looks more dignified.
We still think Red looks a whole lot better in Fairytale Land than in Storybrooke.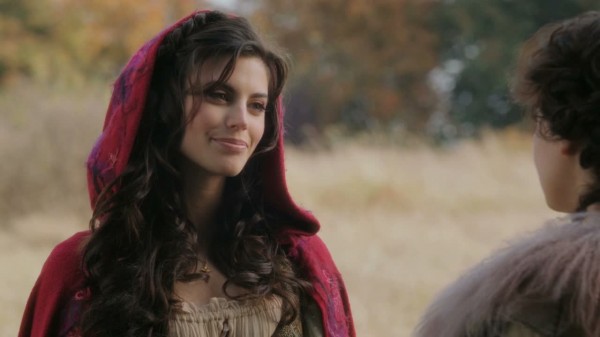 The relationship of Snow and Red ties well with the story Snow White and Rose Red. And what was behind Snow White's saying, "I helped you when no one else would."
Snow White's boat is not the same as the canoe in Mr. Gold's shop.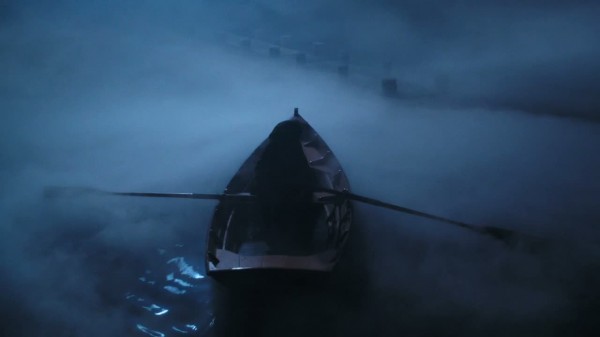 Rumpelstiltskin can go poof!
No one goes to see Rumpelstiltskin without a deal in mind.
Why is Rumpelstiltskin so bitter against love?
What does Rumpelstiltskin need Snow's hair for? Maybe for mixing in a future sleeping potion? Maybe an antidote for the new anti-love potion? Maybe a piece of a bigger plan? Maybe he carried it into Storybrooke so he can prove Emma's identity? Maybe it gives him power over her.
From Aggie: Rumps' laugh was really freaky… And I can't figure out what he wants with her hair. Is it an antidote? Didn't he say all spells can be broken? So maybe snow whites memory lost of Charming can be fixed. If not…how is James going to fix this and how long do you think it will take him to find her?
Magic can't make people fall in love. Nice to see some limits to magic. These limits remind us of the genie's power.
James is more concerned for the prosperity of the kingdom than of his own wealth.
That's a carrier pigeon, not a dove! Or are we wrong? But the dove is a symbolism of peace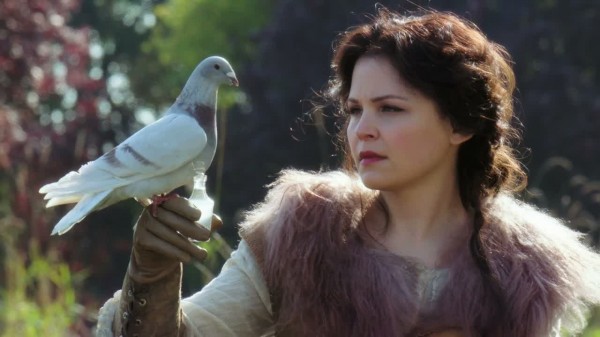 Is that cabin Snow White's home?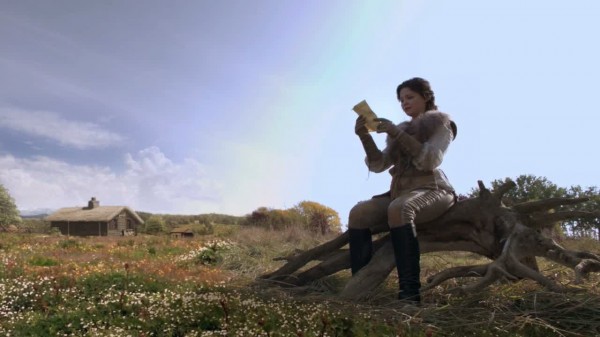 This looks like the same dungeon as the mines where Rumpelstiltskin is later kept.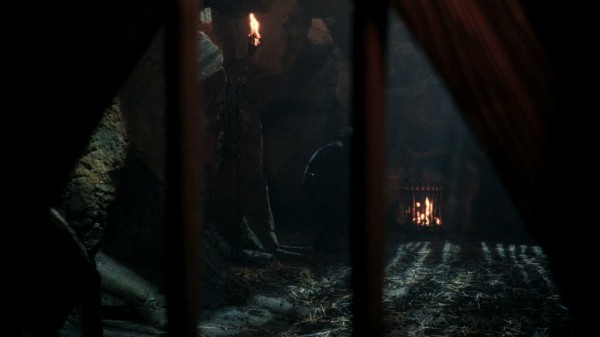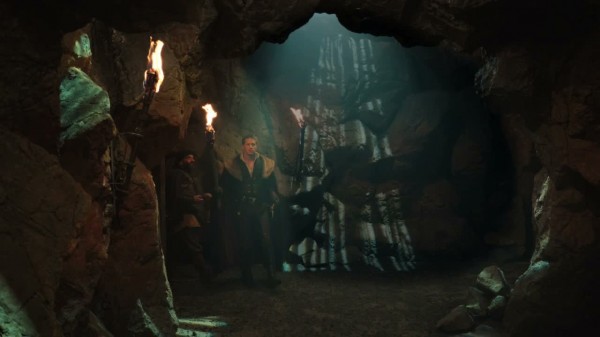 Was Grumpy's reference of a lot of dwarf blood going into Rumpelstiltskin's prison a reference to Stealthy's death?
The seven dwarfs' names as we know them were invented by Disney for Snow White and the Seven Dwarfs.
Grumpy fell in love while he was a diamond-mind (another reference to Disney's Snow White and the Seven Dwarfs).
Snow disguises to get into the castle but is captured, just missing James, meets Grumpy
Again with the flammable stuff next to the castle!
King George is bitter against love! "Love is a disease"
Maybe James or King George use the original prince James's body to say that James was assassinated, and thus still seal the merger of the kingdoms.
Same castle room for James as for Thomas and Cinderella. Probably just a prop oversight.
When the dwarfs find Snow White to take her home is also when the Evil Queen was watching through her magic mirror (S01E09 "True North") and said, "She's cavorting with dwarfs now? When did that happen?" Aggie also caught this: "I love that because it shows that this fairytale world isn't 'flat' things can happen simultaneously.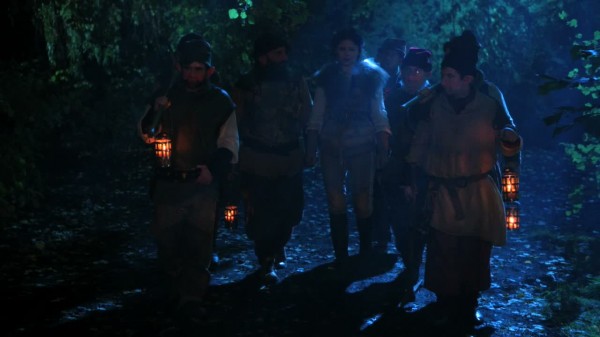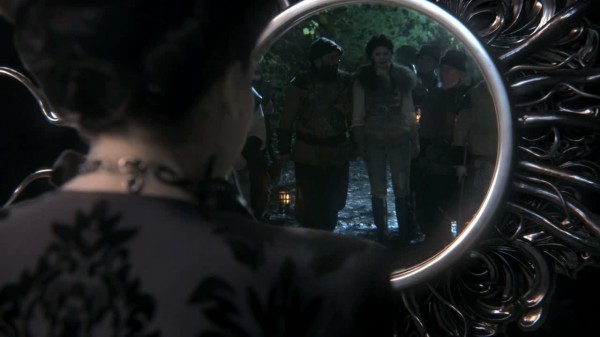 We know that Snow White and James will still get together, but we just don't know how, yet. We still have yet to see how the poisoned apple comes into play.
Storybrooke
It was a dark and stormy day … "storm's coming."
The stranger's license plate is "NR 23" and looks like it says Kansas.
The stranger wears some necklaces. Anything significant?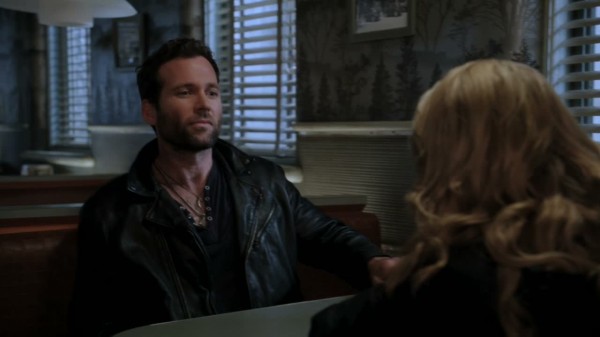 He's here for a purpose and the typewriter will help him accomplish that purpose. Here are some theories on his identity:
The writer of Henry's storybook
Rumpelstiltskin's son
The boy who found Emma on the side of the road
The Wizard of Oz [via The Secrets of Once Upon a Time]
Symbolic replacement of Graham
The thing Evil Queen loved most that was taken from her
Regina says there's something familiar about the stranger.
"The apes haven't taken over." Reminds us of Planet of the Apes.
Mary Margaret was reading Jules Verne's The Mysterious Island. The book cover has some hidden cameos: "Illustrated by Michael Joy," he's the production designer for Once Upon a Time; "introduction by Mark Lane," he's the set decorator. Also shout out to Lost with the book title?
From StarryDreamer: Someone over at TelevisionWithoutPity message boards commented that Mary Margaret was reading "The Mysterious Island" and suggested that perhaps Storybrooke is like The Mysterious Island, which could mean in the long run that Dr. Whale could be Cap. Ahab.
Mary was buying batteries, a flashlight, and an Apollo chocolate bar. Funny, she gets a HUGE Apollo bar because she's love sick.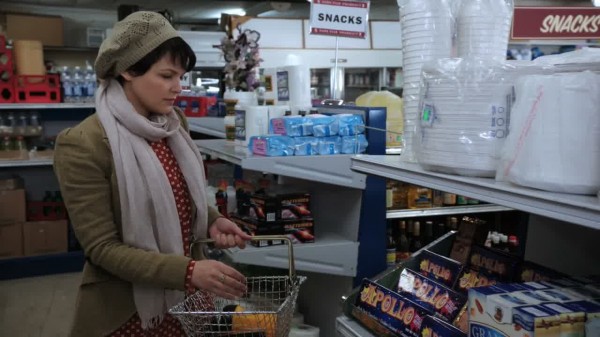 Regina is buying Fantastic Four issue 263 for Henry at the convenience store. Sneezy is in the background.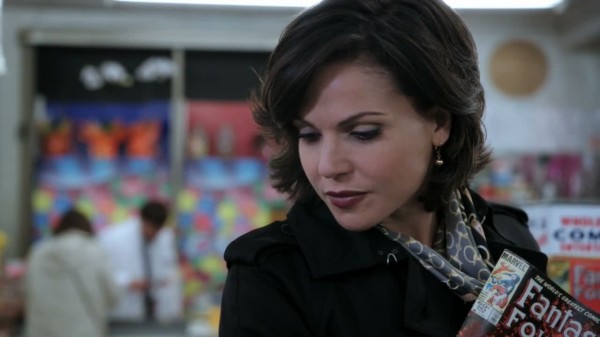 The "dove" represents Mary Margaret's loneliness, but it's not the same bird as what James sent from the castle.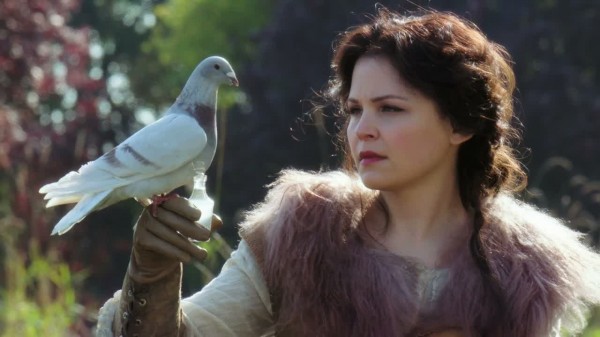 What happened to the trees? Did the revine just show up? Maybe the edge of Storybrooke.
David and Mary Margaret find a cabin for shelter. Same cabin as in Fairytale Land. Snow White's cabin?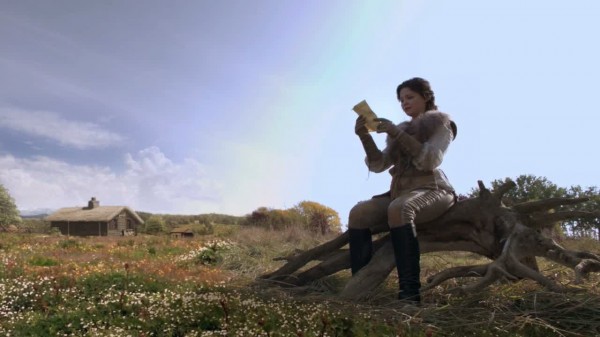 The stranger is almost creepy; he didn't even turn around when Emma started talking to him.
From StarryDreamer: I'm with you guys on the Strangedr being the 7 year old who saved Emma.  …  Who would be 7 years old in FTL?  I was thinking Pinocchio, but it doesn't really fit with the typewriter.  Also, do you think the typewriter has magical properties?
From Ryan: The stranger says He's a writer, who could he be?
From Docxen: A friend at work, I'm trying to get her to listen to the podcast, had an interesting theory.  What if the guy with the typewriter can use it to change the stories in storybrook and or fairytale land?
David still feels like he has "two conflicting lives." Normally, we'd hate this, but it's true: his feelings for Kathryn are false, created by Evil Queen and the curse, and they never really married
From StarryDreamer: I love Mary Margaret and David so much that I don't even care that he's technically a cheating cheater who cheats. The look on his face when he found her in the diner at the wrong time was priceless.
Did Abigail befriend the Evil Queen in Fairytale Land that she would be so blessed as Kathryn in Storybrooke?
Lost easter eggs
Apollo bar
Radio weather voice is Damon Lindeloff
Grumpy reminded Jeremy of Sawyer
Feedback
Hi all,

I haven't been listening for long, but I enjoy  the podcast and have to say that it is making me a more observant viewer.

I was thinking over Rumpelstiltskin and the fees he charges the other characters for his services.  I am curious if maybe these odd fees have something to do with a magic spell that might free him from his curse.

I'm trying to remember all of the things he required of people (forgive me if I make a mistake or leave anything out):

Emma's name
Cinderella's baby (-later given up in exchange for the special favor from Emma)
Snow White's strand of hair
The power over the Queen (Regina) every time he says "please"

All of these things are special pieces, personal items, of each person and it seems like there's a deeper meaning behind why he needs them.  Or, is he seeking to have his own curse or power over these characters?  What do you all think?

Thanks,

Anna

Kansas City, MO
Live schedule changing
We will reschedule our live recordings from the previous Thursday evenings to Wednesdays at 8:30 p.m. (ET) On Februrary 8 or later. Watch our site for updates and visit the Noodle.mx Network live-streaming page to watch and chat live.
Please share this post!
Use the social buttons or retweet the following.
#OnceUponaTime "7:15 a.m." discussion and theories podcast! j.mp/zrds0b #OUaT

— ONCE podcast (@ONCEpodcast) January 27, 2012
What did you think?
Email Feedback@ONCEpodcast.com (audio files welcome)
Call (903) 231-2221
Comment on the shownotes
Visit any page on ONCEpodcast.com and click the "Send a voice message" link to record and send a message right from your computer.
Help us out!
Share this post in your social networks
Follow us
On Facebook:
On Twitter:  echo do_shortcode('[twitter follow="ONCEpodcast"]'); ?>
Daniel J. Lewis:  echo do_shortcode('[twitter follow="theDanielJLewis"]'); ?>
Jeremy Laughlin:  echo do_shortcode('[twitter follow="phlegon"]'); ?>
ErinJ:  echo do_shortcode('[twitter follow="erinjcruz"]'); ?>
Hunter Hathaway:  echo do_shortcode('[twitter follow="travelingpixie"]'); ?>
Jacquelyn / RumplesGirl:  echo do_shortcode('[twitter follow="punk_bunny_87"]'); ?>