Podcast: Play in new window | Download | Embed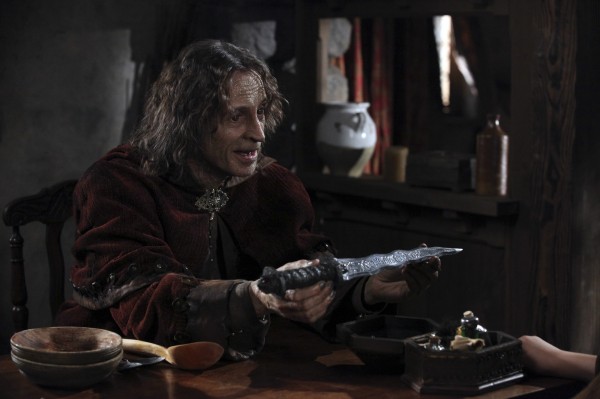 Jane Espenson is a genius, and fooled us again!
Big thanks to our sponsors!
RumpleGoldFan
Sandra
Gold E. Locks aka Goldie
Amanda Robar
You can sponsor ONCE podcast, too!
Bandwidth sponsor: Christian Meets World is a weekly podcast dedicated to interfacing Christianity with the world. Hosted by Jason Rennie, explore discussions about politics, worldview, philosophy, and more, all comparing to a biblical worldview. Join the conversation today at ChristianMeetsWorld.com.
Sponsor: GoToMeeting with HD Faces makes it easy to collaborate online anytime. Try it Free!
Initial reactions
These are just our first thoughts about this Once Upon a Time episode, and we'll share more in our upcoming full episode.
Some of our interesting discussion points (in no particular order):
August's motorcycle in the title screen
August is having weird spasms. Maybe he's turning back into a wooden boy?
We momentarily believed that August was Baelfire, but he's not. Now we're back to asking "WHO IS HE?"
Whom did August call and say, "this is taking too long"?
Gold broke one deal in his life, and we got to see it.
Rumplestiltskin created the curse for Evil Queen, but also as his way to finally get back to his son Baelfire.
David partially mans up and takes responsibility
Welcome home, Mary Margaret! "We're glad you didn't kill anyone Mrs. Nolan!"
Mr. Gold said of August Wayne Booth, "Clearly a false name. If anyone knows about names, I do."
August visits the nun's place and talks to mother superior (AKA Blue Fairy)
Magic bean leads places, could this have come from the stump that was later used to send Emma?
There is no magic in this world, but Jefferson, Mr. Gold, and August all believe Emma has magic that she doesn't know.
August is definitely from Fairy Tale Land, and he's sick and needs magic. "I was going to get the savior, that woman, but I can't wait that long."
Emma said, "I am about to start playing an entirely different game." And we'll have a Custody battle!
We gave everything a brief overview and would love to hear your thoughts! Start talking about "The Return" in our Once Upon a Time forums.
Season-one finale party
Join us and other Oncers for a season-one finale party in northern Kentucky (near Cincinnati, OH). Register and get more details here.
Upcoming full episode and live show
Join us this Wednesday at 8:30 p.m. (ET, GMT -4:00) to discuss "The Return" in more detail. Visit the Noodle.mx Network live-streaming page to watch and chat live.
Please retweet this post!
Use the social buttons or retweet the following.
Hear "The Return" initial reactions in this #OnceUponaTime podcast! oncepodcast.com/once-upon-a-ti… #OUaT

— Once Upon a Time Pod (@ONCEpodcast) April 23, 2012
What did you think?
Email Feedback@ONCEpodcast.com (audio files welcome)
Call (903) 231-2221
Comment on the shownotes
Visit any page on ONCEpodcast.com and click the "Send a voice message" link to record and send a message right from your computer.
Help us out!
Share this post in your social networks
Follow us
On Facebook:
On Twitter:  echo do_shortcode('[twitter follow="ONCEpodcast"]'); ?>
Daniel J. Lewis:  echo do_shortcode('[twitter follow="theDanielJLewis"]'); ?>
Jeremy Laughlin:  echo do_shortcode('[twitter follow="phlegon"]'); ?>
ErinJ:  echo do_shortcode('[twitter follow="erinjcruz"]'); ?>
Hunter Hathaway:  echo do_shortcode('[twitter follow="travelingpixie"]'); ?>
Jacquelyn / RumplesGirl:  echo do_shortcode('[twitter follow="punk_bunny_87"]'); ?>