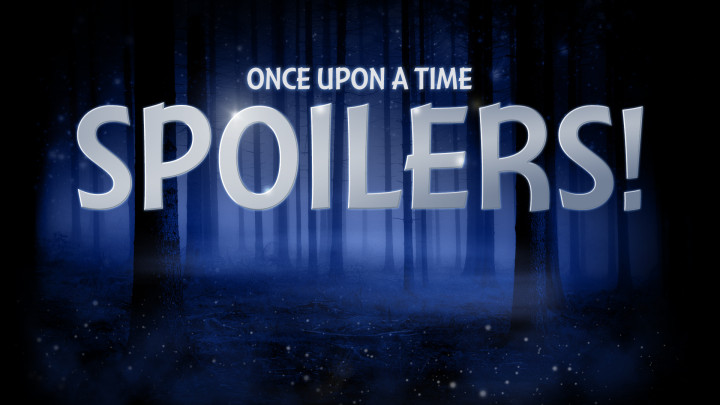 Once Upon a Time season 5B may still be three weeks away from now but we've already got a handful of spoilers about the second half of the season and in this special episode, we share every Once Upon a Time Season 5B spoilers that we've gathered since the show's Winter finale.
WARNING: This episode contains nothing but spoilers. Do not listen or read the show notes unless you want to be spoiled!
Podcast: Play in new window | Download | Embed
It's been a long while since Once Upon a Time's last episode so for this episode, we are going to be sharing spoilers  by episode, reminding you what we've talked about in the past, as well as the new stuff that we have. Since the show's mid-season finale, the cast have continued filming and as of this recording, they are already filming 5×19 so they are almost done shooting the rest of the season.
5×12: Souls of the Departed (Written by Edward Kitsis & Adam Horowitz)
Although there are still no official synopsis being released by ABC, we've already got two separate promos for the 100th episode, with it opening with a lot of fog and everyone who left with Emma to go to the Underworld is walking down a path, coming across a destroyed Storybrooke. Some fans are talking about what Storybrooke looks like and calls this destroyed Storybrooke as Hellbrooke, which is kind of clever. In this destroyed version of Storybrooke, the clock tower is sort of buried into the ground, with everything desolated and ruined. Think about it like Storybrooke went through a calamity.
In the promo, we also heard Emma say how it's possible, with Rumplestiltskin telling her that that "is their reality now." We also do get hints that a lot of people are coming back for the 100th episode, wherein the promo we see a flash of Cruella's car and Cora, Peter Pan, as well as the Blind Witch played by Emma Caulfield. Also in the promo, we heard Cora saying that "there are forces here beyond your understanding", as well as a headstone with Hook's name on it, with Emma finishing the promo with, "Okay, let's do this."
If you've seen the promo before, you'd notice that there's a bit of a red tint to the promo as if the Underworld is pink and Adam Horowitz confirmed on Twitter that the red tint we saw is not what the Underworld will look like all the time and that they were still doing a lot of color work at the time it was aired. Although they recently released a new one where we can see a little bit more of Regina and Cora talking in front of a fire with Cora saying the exact same line in the first promo, the new promo didn't really show more of what's in store for us in the 100th episode. However, in the new promo, you can see Emma and Captain Hook's hook. That being said, you might want to tune in to the Oscars. Traditionally, we do get some sort of new promo the closer we get to the actual premier and they like to do it during those big events like the Oscars.
Since the show took a break, we've got four script teases for episode 5×12, and they are as follows:
#OnceUponATime #scripttease #onceturns100 #March6th pic.twitter.com/wnj8lKmINF

— Adam Horowitz (@AdamHorowitzLA) January 2, 2016
Here's a tiny #OnceUponATime #scripttease — happy holidays! Hope to see ya March 6! #OnceTurns100 pic.twitter.com/F2dyI5Loxe

— Adam Horowitz (@AdamHorowitzLA) December 22, 2015
Here's a tiny #OnceUponATime #scripttease — hope to see ya 3/6/16! #OnceTurns100 pic.twitter.com/lfJNcDD7xT

— Adam Horowitz (@AdamHorowitzLA) December 8, 2015
Here's a tiny #OnceUponATime #scripttease — hope to see ya March 6th! #OnceTurns100 pic.twitter.com/jOkwGPI7aL

— Adam Horowitz (@AdamHorowitzLA) February 8, 2016
Who is Belle talking to? Rumplestiltskin? Is he communicating through worlds or is it a scene before Rumple left that we're going to see in present day? Perhaps even a flashback of some sort? In line with this, this confirmed that Belle will be in the 100th episode, which was something that a lot of fans were fearing that she was going to get neglected since she didn't go to the Underworld.
We know that season 5B is going to take place in the Underworld and that Hades is coming and we got our first look at him. Played by Greg Germann, Once Upon a Time's version of Hades has got blue hair, looking a lot like its Disney counterpart. One of the creators, Adam Horowitz told the Entertainment Weekly that "Hades was inspired by the myth and by the Disney movie version." Along with this, he also said that, "Hades is a very dangerous fellow, but that doesn't mean you can't have fun being the Devil." Entertainment Weekly's article about Greg Germann's Hades also stated that it might be "fun for Hades, but not so much for the denizens of hell, including Hook, whom our heroes have come to rescue after he sacrificed himself in the midseason finale." It was also revealed that Hades will have some connection with one of the casts, stressing out that it's not a family connection, and we're going to get to find out about it after a couple of episodes in.
We know that a lot of familiar faces are coming back for the 100th episode including Tony Perez as Regina's father, Prince Henry; Giancarlo Esposito as Sidney Glass; Robbie Kay as Peter Pan; Emma Caulfield as the Blind Witch; Barbara Hershey as Cora, who took in what looked like a Mayoral role. We also got an interesting photo that is going to cause a lot of questions amongst the fans. There are a lot of things circulating about this piece of news but we don't know either way yet. Mark Isham posted a picture with the music cue of what looked like a spoiler that say's "Neal's Warning." Is Michael Raymond-James, the actor who plays Neal, back? Along with this, after Mark Isham had tweeted that photo which was later deleted on his Instagram account, TVLine released a blind item saying that "a long-running TV drama is working with a former cast member to pull off a most surprising encore — no small feat given how the character in question was originally written off the show. Truth be told, the series and star already have their most difficult, covert work behind them, seeing as the fan favorite filmed his/her scenes just last week, successfully undetected, thanks to top-secret levels of planning." Coinciding with this at the exact same moment, Michael Raymond-James was spotted in Vancouver where he was visiting Sean Maguire and Colin O'Donoghue, and he hang out with them. Is it possible that Neal is making an appearance in 5×12 as a surprise guest appearance or was he simply there for an entirely different reason?
On another note, we also found out that there will be a red carpet celebration on Saturday, February 20 and it will be a lot like what they did with season 4A wherein they premiered the episode to a bunch of fans and press with a huge red carpet roll out. This time, however, they will probably screen the episode and unless ABC made everyone in the room sign a nondisclosure agreement, we'll be getting news about the episode before it airs on March 6.
Furthermore, Adam Horowitz and Edward Kitsis also sat down with The Hollywood Reporter, discussing about the Underworld saying, "What the underworld is and why it looks the way it does is a part of our storytelling coming up. So while we don't want to spoil it, we can say that there is a very specific reason why it looks like Storybrooke, and it has to do with some of the folks we're gonna meet down there." They were also asked if only evil people are in the Underworld, to which Horowitz said, "It's not hell. The underworld isn't hell — it is a place between. It's the place for people with unfinished business, so it's not about good or evil," while Kitsis added, "The second half is a lot about them getting closure on their pasts and how the past comes to haunt you." This actually shed light as to why Regina's father will be making an appearance in the Underworld, since he's not a villain, and also why Neal could possibly make an appearance as well. Finally, Kitsis and Horowitz were asked if the new characters will be separate from the underworld or intertwined and Kitsis answered that, "That is kind of in it. We're going to meet some new people in the underworld, but I think a lot of what people are going to see — kind of in honor of the 100th episode in our fifth year — is really seeing a lot of people from our past who we haven't seen in awhile."
5×13: Labor of Love (Written by Andrew Chambliss & Dana Horgan)
For 5×13 Bailee Madison is coming back to reprise her role as young Snow White, and it does appear that she has a past with another character that we're going to meet in the future episode, Hercules, played by Jonathan Whitesell, as well as Megara played by Kacey Rohl, where we will meet them in the Underworld. Based on the photos of Hercules with Mary Margaret in the Underworld, carrying around heavy things so they must be dead. Victoria Smurfit will also be coming back in this episode as Cruella DeVil.
We did get a little behind the scenes photos for this episode and we saw Mary Margaret with her bow and arrow, Emma back in her red leather jacket and blonde hair, and her burned out yellow bug.
5×14: Devil's Due (Written by Jane Espenson)
For this episode, Rachel Shelley will also be returning as Milah, and when asked by TVLine how she folds into the heroes' trip to the Underworld, Kitsis said, "We don't want to spoil anything, but… wouldn't it be weird if she met Emma? She and Emma might be an awkward meeting." Horowitz added, "I love the idea of Milah learning just how she is connected to all our characters!" In addition to this, there were also behind the scenes photos of Milah dressed as some sort of crossing guard in the Underworld and having a conversation with Rumplestiltskin and Emma.
Thank you for supporting us!
Lisa Slack
David Neuland
Jennifer
Lisa Dunahoo
Erin Nunnally
Rivkah Cooke
Simon Grundin
Sara Cochran
James Kinslow
Greg Shope
Megan Martin
Lisa Rutledge
Ariana Miller
Renita Persaud
Maryann Livoti
Ashley Person
D G
Laura
Keith Wolters
Jamie Moran
Jessica Abel
Tracey Anderson
Chris
Sarah-Jane Bonney
Holly Brown
Jeff
Lisa Eckert
Sara McDonald
Sharron
Timothy Peters
27 heroes on Patreon
You can sponsor an episode or more of ONCE podcast, too! Email Daniel@ONCEpodcast.com if you would like to arrange a corporate sponsorship of our podcast for the upcoming third season.
5×15: The Brothers Jones (Written by Jerome Schwartz & David H. Goodman)
This being a Hook-centric episode, Once Upon a Time is casting for the role of Captain Silver, a "commanding (and sometimes bullying) boss of a merchant ship." Will it be Liam II or has he been sent to the Forgotten Character Island as well? Bernard Curry aka Liam Jones who is Hook's older brother, meanwhile, was spotted on set. Also, a lot of the behind the scenes photos for this episode were a flashback that showed Hook and Liam on a shipwreck, washed ashore on some island. Victoria Smurfit will also be reappearing in this episode as Cruella, and was seen with Jared Gilmore, who plays Henry. Moreover, it looks like Emma and Hook will run into Liam in the Underworld.
The only other photo we got for this episode that doesn't have to do with guest stars reappearing was some sort of rundown well that almost looks like the one that we know from Storybrooke, except that it was kind of more enchanted.
5×16: Our Decay (Written by Tze Chun & Dana Horgan)
In this one, we are getting a brand new character, or a grown-up character at least that we haven't seen since season 3 in the episode Kansas, in Dorothy Gale to be played by Teri Reeves, who turned out not just a brave warrior for good, but also a witch hunter. In this episode, "Dorothy returns to Oz to save the magical city from the most wicked of witches" as told by TVLine. This will also be the first time that we're going to see Zelena again after the show comes back on air. Furthermore, it seemed that Dorothy came from fictional Kansas since she only appear to aged a few years so it's more likely that fictional Kansas that Dorothy came from also got swept into Regina's Dark Curse. There were also rumors that Emma Caulfield will be back as the Blind Witch in this episode.
As far as behind the scenes photos go, we got one with Hades and Zelena standing outside the clock tower in the Underworld. How did Zelena get there unless Dorothy kills her? This also goes back to Hades' surprise connection to someone. There's a bit of conversation going on between Hades and Zelena that some of the fans watching the filming overheard, and it was Hades saying to Zelena that he "did all of these for you", and by "these" implying that what the Underworld looked like was Zelena's goal was to cast this curse and take Storybrooke from her sister and he's done it for her. Is Hades in love with Zelena?
Another set photo was of Belle walking around in Storybrooke with a baby in a pink quilt, which probably is Zelena's child. We also had some pictures of Hades out in the Underworld by himself and him finding a flower and studying it. The theory is Emma, who is the Savior, being in the Underworld, is causing it to become full of life again, which is upsetting to Hades. Another set photo was of Mary Margaret and Charming out walking around in the town making a phone call. There has been this mysterious red phone box that has appeared on set and there are always lines coming from it and we see Mary Margaret and David going to the phone booth trying to make a phone call. Fans theorized that this is the way to call home to Storybrooke to check on everyone, which is also probably how Belle and Rumple are communicating.
5×17: Her Handsome Hero (Written by Jerome Schwartz)
For those who don't remember, Her Handsome Hero was the title of the book that Belle was reading when Rumple first came to see her back in the episode Skin Deep. It is also Belle's favorite book that she had to rescue when the Ogres were coming for her mother. For this episode, Gaston will be back to be played by True Blood alum Wes Brown. His storyline will "take viewers back to Belle's time before she met Rumple, furthering the exploration of Gaston's role in the "Beauty & the Beast" tale, as told by Variety.
A lot of the set photos were of Belle and Rumple, one of which showed the two out walking and somehow, Belle managed to get to the Underworld. Another showed Gaston in the Underworld, wearing a lot of plaid and holding a bow and arrow, which he shoots at Belle and Rumple as he walks to the Underworld. This actually refers to what Kitsis and Horowitz once said in an interview whether one can be killed in the Underworld, to which they said that yes, you can die. However, Gold stops the arrow with his magic. Another behind the scenes photo also showed Zelena looking all wicked, and some set photos of Emma and Hook on a roof.
As a RumBelle centric episode, Adam Horowitz assured fans via TVLine that they "have plans to keep Belle busy. Although she didn't get on the boat [to the Underworld] with our heroes, she's important to the story and becomes very involved." As for her rekindled romance with Rumple, Horowitz said, "We left them in a place where that relationship was evolving — though unbeknownst to Belle, her husband has gone darker than ever." Horowitz also added, "we're not abandoning any of those story threads, and we're hoping to pick up on them in an unexpected way." As to whether they will incorporate Emilie De Ravin's pregnancy into the show, Kitsis said "I would say it certainly looked like they re-consummated their marriage, so we'll just have to wait and see, but I would say you're definitely on the right clue trail," as told by The Hollywood Reporter.
5×18: Ruby Slippers (Written by Andrew Chambliss & Bill Wolkoff)
For this episode, we have a lot of people coming back, specifically Teri Reeves as Dorothy Gale, Meghan Ory as Ruby, and Jamie Chung as Mulan. All of the set photos that we have is of them so it seems that this is going to be kind of like The Bear King was. However, this episode is most likely to be the one with the LGBT relationship finally coming into play, so who is involved? Mulan was set up as kind of a bisexual and although Ruby seemed like an obvious choice given what we saw in 5×09, there are some other things to be taken into consideration. First off, why is Dorothy with them if she was in Oz?
5×19: Sisters (Written by David H. Goodman & Brigitte Hales)
For episode 5×19, there was a casting call for Young Regina, who is described as neglected and lonely, with zero interest in her mother's royal duties. Young Zelena, meanwhile, is set to be coming to terms with the magical ability her father despises so much. Both roles also were said was going to be either a large co-star and possibly a guest star. TVLine reported that Ava Acres and Isabella Blake-Thomas were cast as Young Regina and Young Zelena, respectively. Victoria Smurfit is also set to come back for this episode.
General Spoilers
After the mid-season finale, Eddie Kitsis and Adam Horowitz sat down with Entertainment Weekly for a Hot Seat, where they were asked if the Underworld only full of villains, to which they answered "no." They were also asked whether the people in the Underworld still have their memories, as well as if they will be in the Underworld for the whole of 5B, to which they answered yes and no. When asked if they can bring Hook back, is there a chance they can bring anyone else back, Kitsis and Horowitz said, "he may die there. To be honest, he's already dead." Kitsis and Horowitz were also asked if we will see Charming's twin brother in the Underworld, to which was the answer is yes, and since they are already in the Underworld, does that mean they can't die or kill anyone? To this, Kitsis said, "there are things that apparently are worse than death." Is there a deeper motive for Rumple wanting to become the Dark One again that will be explored in 5B? Kitsis and Horowitz said yes, with Horowitz adding "we're going to attempt to delve deeper into his psyche." Both were also asked if we're going to see Tarzan in the near future, Horowitz can only say, "Warner Bros. is releasing a movie. It looks pretty cool," which probably is a no. Other questions being asked were about if there's any chance to  see The Bear King coming back as Ingrid, and what kind of power Rumple has now.
ABC and other networks have a conference about a month or so ago and ABC boss Paul Lee says, as told by Entertainment Weekly, that Once Upon a Time "had a great start to [this] season. Each of their arcs they bring a new theme in. Their next theme is going to be great because Hades gives us the chance to bring back so many of the people that we lost. I think Once Upon a Time has a long and bright future." If you go over the show's ratings, chances are the show is likely to be renewed and get a season 6 despite the dropped down with the rating for season 5A. However, as it stands, it's not horrible enough that ABC is going to give it the axe at the end of season 5. We will probably drop for the rest of the arc, but it won't be a huge drop by the end of the arc. That being said, season 6 might be the last season for Once Upon a Time. In addition to this, nobody has heard anything about the actor's contracts being renewed. It's probably not a serious conversation at this point since it's only February, but the episodes haven't aired yet so ABC can't look at the ratings numbers to decide whether they want the cast to sign back on or not.
Do you know any Once Upon a Time season 5B spoilers that we haven't talked about? Head over the forum and share them away! Once Upon a Time will come back for the second half of the season on March 6.
What did you think?
Email Feedback@ONCEpodcast.com (audio files welcome)
Call (903) 231-2221
Comment on the shownotes
Visit any page on ONCEpodcast.com and click the "Send a voice message" link to record and send a message right from your computer.
Help us out!
Share this post in your social networks
Follow us
On Facebook:
On Twitter:  echo do_shortcode('[twitter follow="ONCEpodcast"]'); ?>
Daniel J. Lewis:  echo do_shortcode('[twitter follow="theDanielJLewis"]'); ?>
Jeremy Laughlin:  echo do_shortcode('[twitter follow="phlegon"]'); ?>
ErinJ:  echo do_shortcode('[twitter follow="erinjcruz"]'); ?>
Hunter Hathaway:  echo do_shortcode('[twitter follow="travelingpixie"]'); ?>
Jacquelyn / RumplesGirl:  echo do_shortcode('[twitter follow="punk_bunny_87"]'); ?>