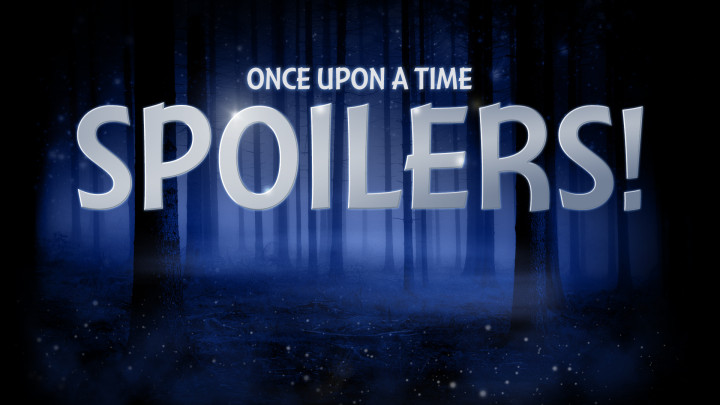 The second half of season six is just a couple of weeks away and we've got all the details you have to know before the season resumes on March 5. Join Jacquelyn and Hunter as they share spoilers and all things Once Upon a Time that we've gathered since the Winter Finale on this special Once Upon a Time Season 6B Spoilers only episode!
Podcast: Play in new window | Download | Embed
We've got a lot to share with you today including episode titles, casting news, filming shots, some big news, as well as some spoilers about the Spring premier episode!
Episode Titles
Spring premier episode, entitled "Tougher Than the Rest" is written by Edward Kitsis & Adam Horowitz and directed by Billy Gierhart
6×12, "Murder Most Foul", is written by Jerome Schwartz & Jane Espenson, which is possibly a Charming-centric episode where we might find out whether his father is really dead or not, and who might have actually killed him
Episode 13, meanwhile, is called "Ill-Boding Patterns" and written by Andrew Chambliss & Dana Horgan; some people from the forum believed this was taken from a passage on Beowulf, which reads, "The iron blade with its ill-boding patterns had been tempered in blood."
 6×14 "Page 23", on the other hand, written by David H. Goodman & Brigitte Hales, and believed to be Sean Maguire's last appearance as Robin Hood. There's a bit of a popular theory that Robin will return to the Wish Realm with the Evil Queen and maybe they're going to go live a happily ever after, which is kind of a smart move to the writers to give the OutlawQueen some kind of a happily ever after even if it's not Regina and Robin.
Episode 15, "A Wondrous Place", written by Jane Espenson & Jerome Schwartz, will be a Jasmine and Aladdin centric episode, and is also part of an "epic CaptainSwan adventure" talked about by Kitsis and Horowitz. 6×15 could be the episode that might answer what happened to Jafar and Agrabah. In a recent interview, Eddy Kitsis said "where Agrabah went, why it went, what happened, and where's Jafar will all be shown, not just said, but shown in an episode in the middle of the run coming up."
6×16 is entitled "Mother's Little Helper", story by Edward Kitsis & Adam Horowitz, and teleplay by Paul Karp, and looks like a Gideon-Rumple-Black Fairy story.
Episode 17, "Awake", is written by Andrew Chambliss & Leah Fong. A possible Snow White and Charming centric episode, 6×17 might be about the curse being broken and Snow White waking up and realizing what's going on.
6×18, "Where Bluebirds Fly" is written by David H. Goodman & Brigitte Hales, and perhaps a Zelena-centric episode.
Casting News
One of the returning actors include Patrick Fischler, who plays the author Isaac Heller and has been locked up in jail since season 4, is returning to Once Upon a Time, as tweeted by Adam Horowitz.
Isabella Blake-Thomas also returns as young Zelena, probably for the episode 6×18, "Where Bluebirds Fly."
Also returning is iZombie's Rose McIver as Tinkerbell, possibly for 6×14, "Page 23." In an interview with TVLine, Kitsis and Horowitz both said, "Tinker Bell was integral to Regina discovering her destiny with Robin Hood, so it only stands to reason that with Sean Maguire's return to the show, our favorite fairy would pop back in for a visit."
Finally, JoAnna Garcia Swisher and Gil McKinney will reprise their role as Ariel and Prince Eric for a princess team-up, where they will meet Princess Jasmine and Aladdin, and together they will join Hook and Emma to go on an adventure to find Agrabah and what happened to it, according to Entertainment Weekly.
Faran Tahir also returns as Captain Nemo in episode 6×14, and possibly a few more.
A casting call has been done for the role of Tiger Lily, which was described as "a force to be reckoned with." Determined and resourceful, "she's the kind of woman who'll risk her life to save yours — and she'll do it even quicker if it benefits her." Beneath Tiger Lily's tough exterior is someone who isn't afraid to accept help, even if she's reluctant to ask for it," TVLine reports. Kitsis and Horowitz teased TV Line, "Tiger Lily is the latest to return and complicate (Captain Hook) efforts to leave that past behind," thus impeding the pirate's redemption arc." Native American actress Sara Tomko has landed the role.
Filming Shots
For episode 6×12, there were a lot of shots of Lana Parrilla, Sean Maguire and Wil Traval (who plays the Sheriff of Nottingham) in Steveston, outside of Storybrooke
For 6×14, several shots include the Evil Queen, but whether they are for flashback or the present is still unclear because a lot of them were from the woods. However, with the existence of the Wish Realm, these shots could be from the present day Storybrooke or present day Wish Realm.
As for 6×16 and 6×17, a lot of the photos include Rumplestiltskin and the Black Fairy in Storybrooke. There were also several shots of what looked like the Lost Boys that people from the forum started calling Vikings.
There were also a couple of shots of Snow White out in Storybrooke for the first time, interacting with Regina and throwing flowers away.
Meanwhile, in 6×18, Zelena is greenified yet again, and shots of people around on set
Aside from casting news, filming shots and episode titles, one of the biggest news we got thus far is that it looks like we're going to get a musical episode. It first came out as some rumors from TVLine that Once Upon a Time is going to have a musical aired in the Spring, and was later confirmed by Eddy Kitsis and Adam Horowitz at the recently concluded SCAD's aTVfest that it will probably air in May towards the end of the season. As of this recording, the musical episode has not been filmed yet but the said episode will include an all-original songs. No one knows as to who will sing yet, but one of the theories fluttering is that Jennifer Morrison and Colin O'Donoghue might have a ballad, and probably a family song with Emma, Snow, Charming and Regina, and probably a solo song from Regina. Robert Carlyle and Emilie De Ravin, however, may bow out of the singing part. Will they bring back Karen David, who played Princess Isabella in Galavant, to have her participate in the musical episode?
Eddy Kitsis and Adam Horowitz sat with Entertainment Weekly for the Hot Seat a couple of months back and one of the questions asked was if Mulan was going to get her happy ending, to which Horowitz said, "we sure hope so." Will we find out why Regina's heart is still black despite being split from the Evil Queen? Kitsis answered, "yeah, we're actually going to fully get into what we've posed, which is can you separate the good from the bad, the dark from the light, or is it something that's inside us that we have to live with and deal with?" Horowitz also added that "the condition of Regina's heart becomes very important."
When the two was asked if an important character really die without coming back, Eddy Kitsis said, "Yes. Or no. Can't say." This brings to the contract conversation because at the end of this year, all of the original cast members including Emma, Regina, Henry, Rumplestiltskin, Snow White and Charming, are going to be up. Both Jennifer Morrison and Robert Carlyle have been vocal about this situation and what they plan on doing. Carlyle, who everyone has pegged as someone wanting to leave, has said that he really needs to consider this because his family moved over from Scotland to Vancouver back in season 2. Jennifer Morrison, on the other hand, has said in a recent podcast that she "doesn't have it in her to do the show forever." While a lot of her passion were currently focused on directing these days, Morrison said that she's really attached to Emma Swan and wants to see her come through to the end.
Furthermore, ABC Chief Channing Dungey tells Entertainment Weekly that Once Upon a Time Executive Producers Kitsis and Horrowitz "would be looking for the seventh season to be a springboard in a new direction from a narrative standpoint, which doesn't necessarily mean that we're not bringing cast back, it's just how do you kind of hit the reset button in a way that gives you opportunity to expand the stories that we're telling?"
In a TVLine article published last December, a fan named Sabrina asked, "I know I'm not the only one who caught The Dragon mentioning a daughter in Once Upon a Time Episode 8. Have the showrunners said anything lately about when Lily and Maleficent will be back? Or whether Emma will keep her promise to help Lily find her father?" Michael Ausiello, who penned the article said, "In a word, "No," that Dragon (played by Tzi Ma) has nothing to do with the mystery of Lily's father, the series cocreators confirmed for Matt Mitovich. "We had high hopes" to revisit that story in Season 6, Eddy Kitsis shared, "but we just won't get to it."
As for the scheduling of season 6B, Once Upon a Time will have 10 uninterrupted episodes with a two-hour finale.
Thank you for supporting us!
Lisa Slack
Lisa R.
Aimee Catellier
Maryann Livoti
Erin Nunnally
Greg Shope
Jill Sherrod
New hero Deb Blissick
and our 22 heros on Patreon
You can sponsor an episode or more of ONCE podcast, too! Email Daniel@ONCEpodcast.com if you would like to arrange a corporate sponsorship of our podcast for the upcoming third season.
Spring Premier
With Snow still asleep in Storybrooke, David and Hook race to stop Gideon before he can confront Emma. Gideon makes a startling confession to Belle and Gold about his whereabouts while he was missing. Meanwhile, Regina struggles with the realization that everyone, perhaps even Robin, is better off in the alternate world where the Evil Queen was defeated. And when Emma inspires a familiar face to help her and Regina return home, she discovers the power to change her fate.
For episode, 6×11 "Tougher Than the Rest", Sean Maguire and Eion Bailey returns as Robin Hood and Pinocchio/August. Giles Matthey also returns as Gideon, Will Traval as the Sheriff of Nottingham, McKenna Grace as young Emma, Rustin Gresiuk as young Pinocchio, Nancy Sivak as Helen and Gaalen Engen as Bar Patron.
Promo for "Tougher Than the Rest" starts off with Belle knowing that her son wants to kill Emma, and it looks like Regina wants to bring Robin back with her by asking if he was willing to take a chance on a new story. The promo ends with an engagement ring. A lot of the set photos for the Spring premier includes Regina in her normal clothes from Storybrooke and Emma in her dress, both in the Wish Realm. There was also a shot of August in an Asian-inspired clothes making toys, quite a number of Rumplestiltskin and Belle, Gideon in the black cloak, which looks to be the last scene we've seen of him entering Mr. Gold's shop. There were some shots of Robin Hood and the Sheriff of Nottingham as well, and a still of Henry. Adam Horowitz also shared two script teases, one of Emma, and another of Hook.
Once Upon a Fan sat with Kitsis and Horowitz for an exclusive interview and asked, "Queen Snow and King David revealed that the Wish version of the Evil Queen had been defeated. She was banished with no hope of returning, but they specifically said banished and not killed, so does that mean that there's an elderly version of the Evil Queen hobbling around somewhere?" Eddy Kitsis, meanwhile, answered, "There really is. And whether that's in a castle, on an island or somewhere else, there is an old Evil Queen out there." Kitsis and Horowitz were also asked if there are any other characters that you can tease that might get the AARP treatment, like an elderly Belle or anything like that, to which Eddy Kitsis said, "I will say that we know that we're gonna meet Hook. We are absolutely going to see what happened to Belle in the Wish Realm; in fact, in the premiere!"
TV Guide also asked Kitsis and Horowitz if we will also see a lot more of the Black Fairy in the second half of the season, and Kitsis replied "yup, we're going to see it all." They also asked, "now that we know Gideon is under the hood and he may be the person that kills Emma, will that cause any tension between her and Belle?" To this, Kitsis answered, "It's going to cause tension between all of them. What we sometimes forget is that Gold is actually Henry's grandpa, and they're all weirdly tied together. I think that you have Rumple and Belle looking out for their child, and you're going to have the Charmings looking out for Emma. I would say the family is going to be divided."
In line with this, Kitsis and Horowitz were also asked by Entertainment Weekly why would Gideon wants to kill the Savior, to which Adam Horowitz that the answer to this question will be "launching off point for a lot of the storytelling of the second half." The two were also asked to tease about the dark realm and whether we are going there in the back half of the season, and Horowitz replied, "I think that what you just described is the tease for the realm. It sounds like it's a dark place, it sounds like things work in a screwy way there, and it has the Black Fairy there." He added, "we intend to explore what that realm is, and see a little bit more of it, and learn more about Black Fairy as we go forward. Without giving away too much, it's a safe bet to say we will be seeing more of the Black Fairy, and more of where she came from, and why she is doing the things that she is doing."
Spring Premier episode, Tougher Than the Rest, was screened recently at a convention in Atlanta and the episode opens with the ten-year-old Emma burning the pages of The Ugly Duckling until some teenager comes up to her and tells her that "even ugly ducklings can become swans". It is later revealed that that teenager is actually teenage August. Also from the screening, Hook is very old, very fat and very drunk in the Wish Realm but still thinks he's all that and Emma has to knock him out because he attempts to have a duel with August.
We also got to see Regina go after Robin Hood and see how his life is faring in this realm. Regina goes to the bar where they supposed to first meet back in season 3, and this version of Robin Hood does not steal from the rich to give to the poor and wants nothing to do with Regina. Belle, on the other hand, was revealed to be dead in the Wish Realm but was unconfirmed how she died. It is also revealed that Gideon wants to kill Emma in order to become the Savior himself, which will allow him to kill the Black Fairy, thus becoming a hero. In addition, Gideon never fully went dark because he remembers Belle's love for him. There weren't much happening in Storybrooke, but we did see Hook and Charming trying to confer over how to rescue Emma, and apparently, Belle comes to them and does recruit the Charmings to stop Gideon to save Emma. Regina and Emma eventually leaves the Wish Realm bringing Robin along and welcoming him to Storybrooke. Finally, Gideon and Emma also had a really big fight back in Storybrooke and a family meeting of sorts, while Belle makes a wish at the well.
Once Upon a Time returns for the second half of season six this coming March 5.
What did you think?
Email Feedback@ONCEpodcast.com (audio files welcome)
Call (903) 231-2221
Comment on the shownotes
Visit any page on ONCEpodcast.com and click the "Send a voice message" link to record and send a message right from your computer.
Help us out!
Share this post in your social networks
Follow us
On Facebook:
On Twitter:  echo do_shortcode('[twitter follow="ONCEpodcast"]'); ?>
Daniel J. Lewis:  echo do_shortcode('[twitter follow="theDanielJLewis"]'); ?>
Jeremy Laughlin:  echo do_shortcode('[twitter follow="phlegon"]'); ?>
ErinJ:  echo do_shortcode('[twitter follow="erinjcruz"]'); ?>
Hunter Hathaway:  echo do_shortcode('[twitter follow="travelingpixie"]'); ?>
Jacquelyn / RumplesGirl:  echo do_shortcode('[twitter follow="punk_bunny_87"]'); ?>