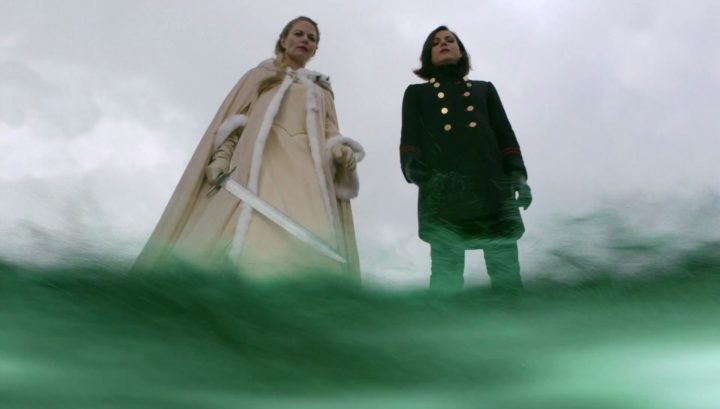 Hear us dig deeper into the Winter finale episode as we  discuss the sword, the wish realm, and the rules of the genie lamp. Plus! The key to bringing Emma and Regina back to Storybrooke, Gideon, and all the other feels to give in our full discussion of "Wish You Were Here"
Podcast: Play in new window | Download | Embed
Is it a fake world or an actual other world? The Evil Queen said that Emma has been trapped in a wish, how did she know what the result of her wish was? What with the little hints here and there, like how they dealt with Rumple, who is extremely impish and all the talk about how it's just a fake world, this might not be a fake world after all. What if, by releasing Rumplestiltskin in this world, it will have actual consequences? The fact that this is a world that you can leave via a magical bean, and that you can be transported to, it is an actual place and not a place inside a story book; some alternate reality of some sort. Then again, we don't have any confirmation that that bean worked because no one used it.
As mentioned in our "Wish You Were Here" initial reactions, they didn't really resolve any of the big things in this episode. They took some steps in those big things, and then give us bigger cliffhangers. Is the Evil Queen turning into a snake considered a resolution? It is still the Evil Queen, after all, just none of the reintegration into Regina.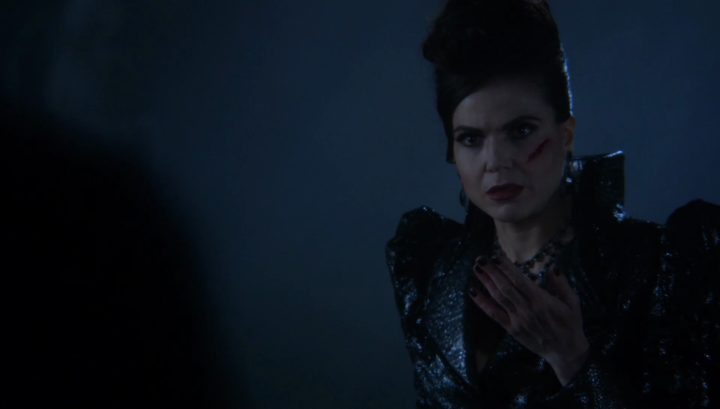 From the graveyard, it seems the Evil Queen still does have some feelings for Robin Hood, but why is she there? She said that losing Robin Hood is the best thing that has ever happened to her. The sword, as it turns out, can harm the split but not harm the original. When Jekyll was hurt, it did affect Hyde. The more interesting part, however, was how the Evil Queen couldn't heal herself after Emma hit her with the sword.
The sword remind us a bit of the Excalibur, where a would from the Excalibur couldn't be healed and cuts in multiple dimensions, worlds and realms, and it seems like this sword is kind of like that; it's able to cut without cutting. Is this sword also going to be key to Regina and Emma return back to Storybrooke? The sword, after all, has the ability to affect a fake version of something else, a split of something else without affecting the original. What is the wish realm? A split, a fake of something else. Are we to believe that, when the Evil Queen made that wish, it suddenly created this whole new world?
When the Evil Queen was bleeding and standing in Rumplestiltskin's car after being hit by the sword, Rumples made it seem like he knew that the sword could harm the Evil Queen and kill her without harming Regina. Since the Evil Queen was turned into a snake by the end of the episode, is that a threat that still needs to be fulfilled? Is the Evil Queen still needs to be defeated even if she was now caged? Is the gold cuff that was on the snake the very same gold cuff that Rumplestiltskin put on the Evil Queen?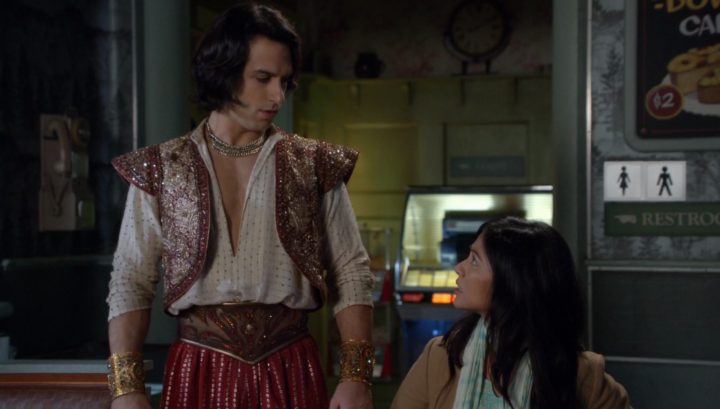 Back at the Charmings, Emma made a good point when she said that she can't sit every battle out. Obviously there is a loophole, but if we are going to take it to face value, Emma is still destined to die. Jasmine, on the other hand, is in trouble when the Evil Queen got hold of the lamp and we saw her use what seems to be her first wish. Why did Jasmine leave Aladdin in the lamp? Or is this why they decided all three wishes don't have to be used?
It's possible that the rules for this genie lamp follows a different rule than the rules in Once Upon a Time in Wonderland. This is not the same genie lamp from Once Upon a Time in Wonderland, where we learned all about the rules and laws of genie magic and although it's possible that it's created in the same way, but then again in Wonderland, it wasn't possible to set a genie free. In Once Upon a Time, however, the first time that we see a genie lamp was in the episode "Fruit of the Poisonous Tree" when King Leopold wishes the genie, Sidney, free. As far back as that, the rules of the genie lamps are a bit different.
On the other hand, there might be a deleted scene of the Evil Queen using a second wish so that the wish that Regina used is actually the third and final wish, thus freeing Aladdin and allowing David to be the new master when he takes the lamp from the Evil Queen later on in the episode. And because he willingly gives the lamp to Jasmine, maybe just by the act of giving it to her willfully transferred and/or cancelled his other two wishes?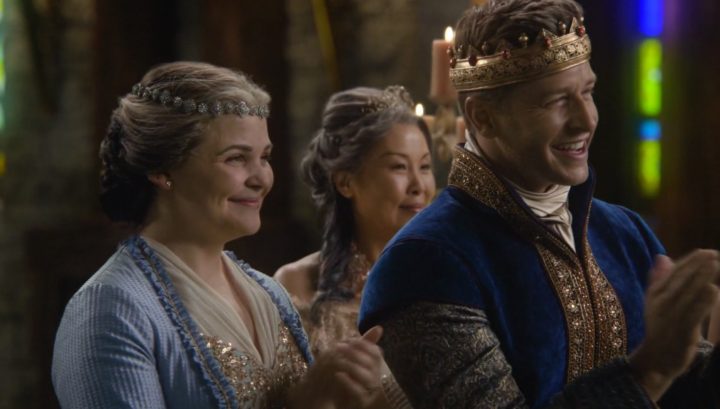 Why didn't the Evil Queen's wish send Emma, and later on Regina, to the Land of Untold Stories? That seems like the place to go where your fate is frozen. It feels like the episode conflicts with what they say. Later on, Rumple said that the Evil Queen basically created the Savior because every Savior needs a villain. The curse seems to be what created Emma's Savior status because we learned from season 1 that Rumple wrote Emma into the curse, making her the Savior of the curse. And if the curse was never cast, then Emma would be the princess back in the Enchanted Forest and Snow White and Charming would be 28 years older.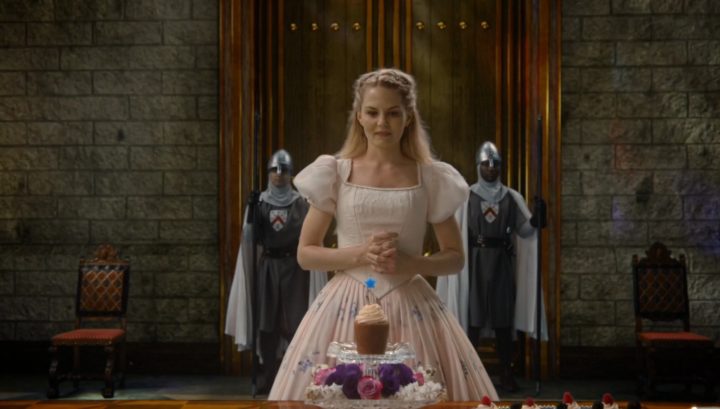 That being said, we did like the first scene in the wish realm with Emma's fake birthday party, which looks a lot like season 1; the blowing of the candle, the music, really nice to see them tie back this episode into season 1. Plus a lot of the stuff in this fake world was just like season 1, with the Evil Queen storming into the room, as well.
In this world, Henry said that he will defend all of them. Could Henry be the Savior in this realm? How old is Henry in the Wish Realm?
Back in our world, Rumplestiltskin tried to locate his son using the same method he used to locate Neal, only this time using a lock of his hair and Belle's hair instead of his blood. Does blood magic work only on first born? Rumple has numerous ways of tracking people. Why does he need the cuff? Meanwhile, one of the important things that we learned when the Evil Queen asked Aladdin to make appletini is that wishes cannot be undone, which has never been brought up before.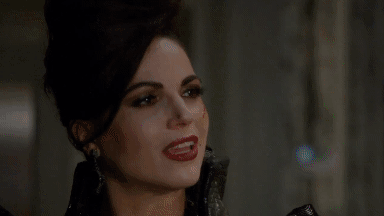 Regina, on the other hand, did something smart by not drinking the appletini that the Evil Queen offered her. Smart thinking, too, for taking advantage of being one and the same with the Evil Queen and wishing to be sent to wherever Emma was sent to. Nonetheless, Regina enters the wish realm herself. Is the wish realm located at the bottom of the wishing well? We haven't seen the well in a while after all, plus, it seems like the best place to do magic.
It was really nice and funny to see Emma as a Princess, just being so Disney princess-like, singing "Someday My Prince Will Come" was awesome and fabulous. She finally get to be Princess Emma and not all chained up in a tower like she did back in season 4.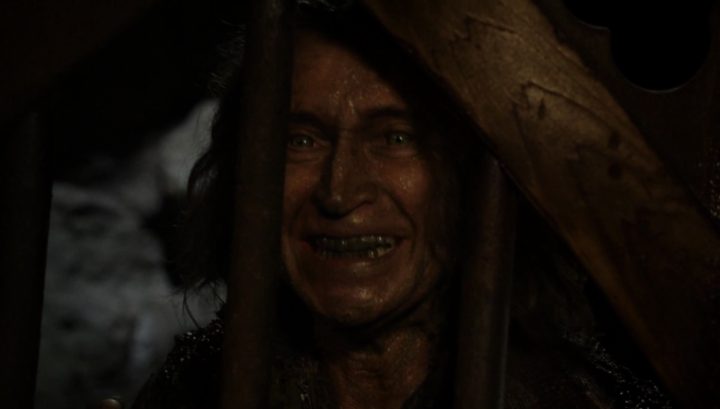 Why does the Evil Queen's palace looked so dilapidated? It used to be the Summer Palace that Snow White had an emotional connection to, was it because the Evil Queen has been defeated and the Evil Queen's magic was used to keep the castle from falling apart? It also seemed a bit strange that Rumplestiltskin was in the Evil Queen's basement. Back in season 1, we don't know exactly where Rumple's prison was, and we have assumed it was under Charming's castle or nearby and not under the Queen's control. But Robert Carlyle nailed acting insane after 30 years of confinement.
So the curse did exist in this world but the Evil Queen failed to cast it and, even in this world, Rumple knows that Emma is the Savior. How he knows about Storybrooke says it doesn't matter but the way he says it makes it seem like he has evil intentions with it. What if this world isn't actually "fake" but an actual, alternate universe? Does the wish realm version of Rumple wants to go to Storybrooke? No one used the portal after all. Could the portal still be used since no one jump through it?
It was a nice first step for Rumplestiltskin to take off the cuff and prove himself to Belle by action not words when he visits his wife at the bench back in Storybrooke. But how does Rumple know that they didn't just find a way to protect against tracking spells? Because they can't track this dark realm and can't travel there, and that only people with special abilities can, does that mean no one can find it and go there as well? Rumplestiltskin even said that even he can't get there.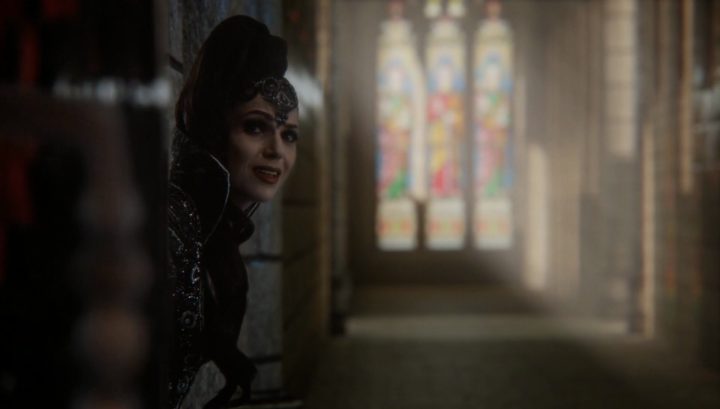 Back in the wish realm, Prince Henry's knighting looked so great, it parallels so much with season 1, plus the look of pride in Regina's face is wonderful. We loved how they did that and tied it in so much with the Pilot episode. And with Regina bursting through the room, letting them have that happy, happy day and all the other scenes that parallel with season 1, only for a different purpose this time.
David and the Evil Queen, on the other hand, was having a showdown back in the Mayor's office in Storybrooke and this is where David called the Evil Queen a snake. If David wished for the Evil Queen to get what she deserves, what if David's wish is what opened the door or opened the portal for Gideon to come to Storybrooke? Because what was the first thing that Gideon do the moment he arrived in Storybrooke? Turn the Evil Queen into a snake.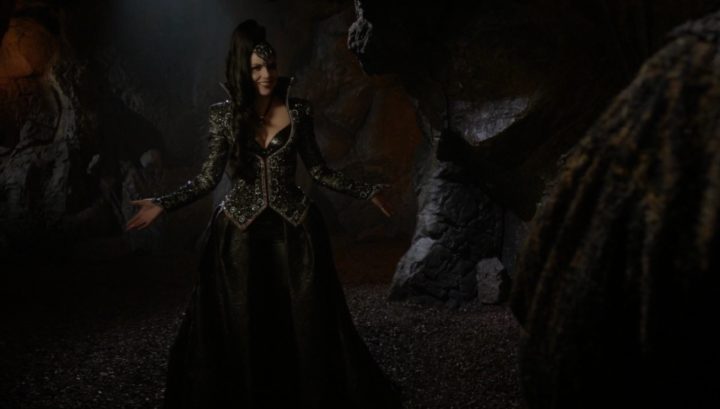 Going back to the wish realm, with this showdown between Emma and Regina now disguised as the Evil Queen which, by the way, Lana Parrilla is continually amazing of being capable of playing current, redeemed Regina, the new split Evil Queen, and Regina pretending to be the old Evil Queen all in the same episode. There might have been subtle changes with make up with the different versions of Regina, as well as her facial expressions with playing different sides of Regina, but it was all her.
It was funny how there was an actual key to the kingdom. What does it even do and why does it represent Emma surrendering? Might it be something that we will see again since they're staying in the wish realm? Why wouldn't Snow and David object to Emma surrendering? Does the key also goes to some kind of portal, a door that could take them out of the wish realm? Henry, on the other hand, seems like he could be the hero this fake world needs, waking up Emma.
Thank you for supporting us!
Lisa Slack
Lisa R.
Jill Sherrod
Erin Nunnally
Greg Shope
Maryann Livoti
DJ Firewolf
John-Gregory Carse (new hero)
25 heros on Patreon
You can sponsor an episode or more of ONCE podcast, too! Email Daniel@ONCEpodcast.com if you would like to arrange a corporate sponsorship of our podcast for the upcoming third season.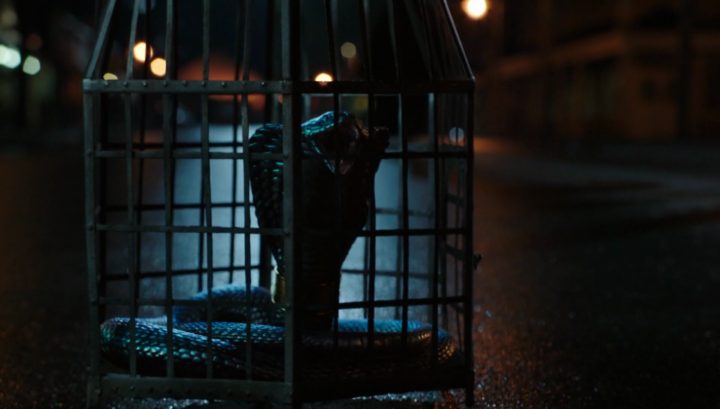 Back in Storybrooke, the first thing we see Gideon do is turn the Evil Queen into a snake, not by using magic but using dark fairy dust. If Gideon had magic, he could've done some magic to the Evil Queen but instead, he threw dusts at her.
Meanwhile, back at the Charmings, David is upset at what he has become. David tried to kill the Evil Queen and there's concern about his nature. Emma was going to go kill the same person and no one said anything. Has David become so desperate that, without Snow White around, he started doing something rash just to end the Evil Queen's reign? Is David's brother, James, still alive in the wish realm?
Jasmine, on the other hand, uses her first wish, which was to take her and Aladdin to Agrabah.
I know they had Aladdin and Jasmine leave to go save Agrabah, however Aladdin said, "don't worry we'll be back." Because Aladdin said that, I think Aladdin and Jasmine will be back sooner than expected because of that quote.

— Jessica Frey
With Jasmine and Aladdin going back to Agrabah, would we finally know what happened to Agrabah? Will we finally see Jafar again?
Rumple and Belle, meanwhile, had a fight in Gold's shop, asking what they have done to each other. Noticing a theme of people realizing how they've been tearing themselves apart; they've done everything that the Evil Queen wanted them to do, thus, getting her wishes. Furthermore, Rumple said that there are realms of dark magic beyond his reach. A place of immense dark power where time runs differently, nothing makes sense, and anything's possible. We've seen many different worlds like the Underworld, Neverland and even the World of One-Way Mirrors; the Land of Untold Stories. Is this dark realm the darkest of them all?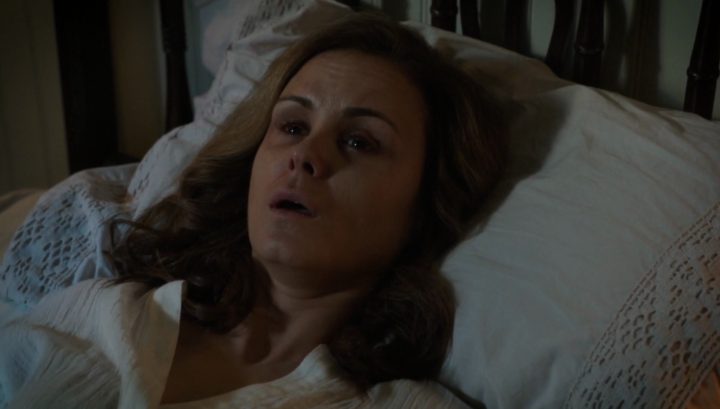 Does the Black Fairy rule this dark realm? Wasn't it interesting that not only the Blue Fairy look beat, but also older? Is she trying to go where only fairies can go, took a wrong turn and crossed paths with the Black Fairy?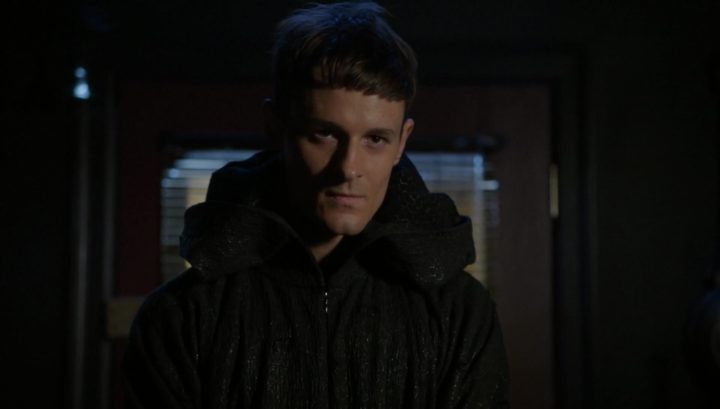 Gideon then went to Rumple and Belle, revealing himself as the one under the hood. Did Gideon play Belle the whole time? Is he even really Belle and Rumple's son? Gideon seemed to want to avoid dark magic, was this all an evil scheme? If the Evil Queen sped Belle's pregnancy, wouldn't that also mean that baby Robyn should age quickly because Zelena's pregnant was also sped up? Could Zelena also be key to bringing Regina and Emma back home? If it's an actual realm, couldn't she use the wand to get them back from the wish realm?
If Gideon is the one under the hood, why would he want to kill Emma? Is it because his heart is now completely turned into darkness and he wants to defeat anyone who refuses to turn to the dark side? Or was it because she was trying to protect everybody else from him? What if the "them" Emma was referring to was Rumplestiltskin and Belle?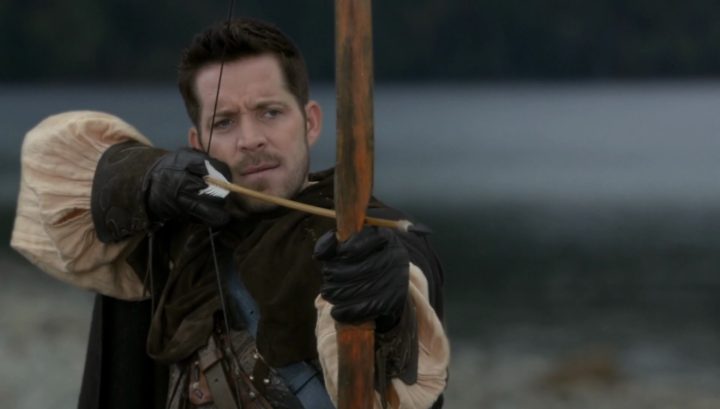 Finally, when Emma and Regina are in the shore, the bean can transport people across realms, so wouldn't that mean this has to be an actual realm?
Emma, Regina and Robin will all go back to Storybrooke, and then Regina will either tell him straight out of their past, or just go about flirting with him and hoping he'll fall for her all over again.  But either way, I think Robin's back for good.  I doubt they'd kill him off twice.

— Meredith of Everett, WA
Will they bring fake Robin Hood in Storybrooke? Is Robin Hood back for good?
I don't ever write you but I just wanted to mention something sweet and stupid about Charming's wish to give the Evil Queen exactly what she deserved. Since Regina is the same person as the Evil Queen and can even make wishes on the Queen's genie, it is all Charming's fault Emma and Regina are stuck. By making his wish the Queen became the snake she is, and he called her earlier, but also Regina got what she deserved by getting her true love back.

— Kristine
Does she get her true love back? This Robin Hood does not love Regina, after all. Why hasn't Robin Hood aged? Unless, of course, some of the characters' ages shifted, too.
Did we miss anything from the Winter finale episode, "Wish You Were Here?" What do you think will happen when they come back for the second half of the season? Share them all on the comment section below, or you could also head over the forum and share your theories about the upcoming episodes!
What did you think?
Email Feedback@ONCEpodcast.com (audio files welcome)
Call (903) 231-2221
Comment on the shownotes
Visit any page on ONCEpodcast.com and click the "Send a voice message" link to record and send a message right from your computer.
Help us out!
Share this post in your social networks
Follow us
On Facebook:
On Twitter:  echo do_shortcode('[twitter follow="ONCEpodcast"]'); ?>
Daniel J. Lewis:  echo do_shortcode('[twitter follow="theDanielJLewis"]'); ?>
Jeremy Laughlin:  echo do_shortcode('[twitter follow="phlegon"]'); ?>
ErinJ:  echo do_shortcode('[twitter follow="erinjcruz"]'); ?>
Hunter Hathaway:  echo do_shortcode('[twitter follow="travelingpixie"]'); ?>
Jacquelyn / RumplesGirl:  echo do_shortcode('[twitter follow="punk_bunny_87"]'); ?>