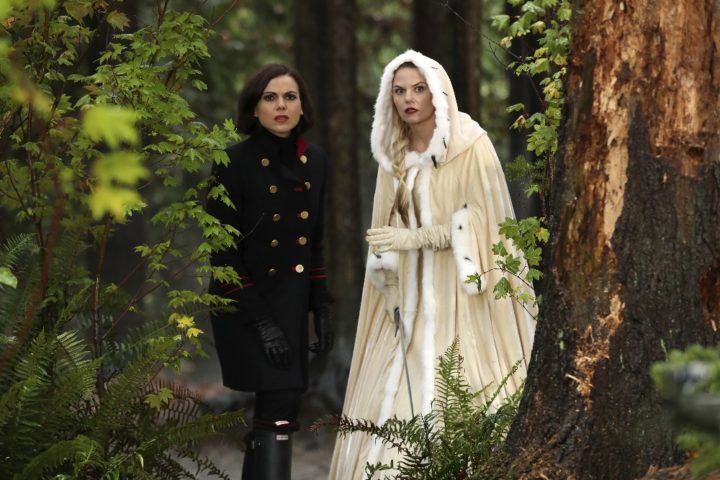 Welcome back to Once Upon a Time! It's been a long season of nothingness from the show but the long hiatus is finally over and we are awaken from our deep slumber! Join us as we share our initial thoughts about the episode "Tougher Than the Rest" talking about the origin of "SWAN," the belief police, the Wish Realm version of Robin, as well as Gideon giving us the hook that will keep us interesting for the entire season!
Podcast: Play in new window | Download | Embed
With Snow still asleep in Storybrooke, David and Hook race to stop Gideon before he can confront Emma. Gideon makes a startling confession to Belle and Gold about his whereabouts while he was missing. Meanwhile, Regina struggles with the realization that everyone, perhaps even Robin, is better off in the alternate world where the Evil Queen was defeated. And when Emma inspires a familiar face to help her and Regina return home, she discovers the power to change her fate.
These are our first thoughts about this Once Upon a Time episode. We'll share more about "Tougher Than The Rest" in our upcoming full discussion (usually live on Wednesdays at 7:00 p.m., USA Eastern Time).
Initial Reactions
We liked seeing young Emma and young August in the beginning since we'd never seen a young August other than when he first came out when Emma was a baby. It was also nice to finally see the backstory of Emma's last name, Swan. We did say that it was probably something to do with the Ugly Duckling, and it makes total sense that that's why she named herself Emma Swan; she saw potential and wanted to change her fate.
We loved a lot of the messages in this episode. It was a good return and there were so much to love about this episode. Getting to see the legendary fight that "on the day you see, in the battle you see, you will die" didn't happen. While is was cool to see Emma changing that part of her fate, it felt a little easy. It was also pretty cool to see Henry looking very much like a prince and wearing a reddish cloak. Plus, the Wish Realm seems a bit more real than we thought. The Robin that they brought back, he's no more real if they consider him real than they also murder the real Snow White and David. But, he's different. He didn't age. There's something different about him as if the real Robin or some piece of his soul was placed somehow in this Wish Realm. David's wish was for the Evil Queen to get exactly what she deserves. They had already established that they are the same so, maybe both halves of the Evil Queen gets what they deserved. The Evil Queen turned into a snake and, at the same moment, Regina's Robin appears in front of her in the Wish Realm.
Kristine, from our previous podcast for the episode, Wish You Were Here, said:
I don't ever write you but I just wanted to mention something sweet and stupid about Charming's wish to give the Evil Queen exactly what she deserved. Since Regina is the same person as the Evil Queen and can even make wishes on the Queen's genie, it is all Charming's fault Emma and Regina are stuck. By making his wish the Queen became the snake she is, and he called her earlier, but also Regina got what she deserved by getting her true love back.

— Kristine
Seeing an aged Hook was really funny. We didn't even recognize him at first until Emma remembered him which was also the same time we figured out it was Captain Hook.
Thank you for supporting us!
Lisa Slack
Lisa R.
Aimee Catellier
Maryann Livoti
Erin Nunnally
Greg Shope
Jill Sherrod
and our 22 heros on Patreon
You can sponsor an episode or more of ONCE podcast, too! Email Daniel@ONCEpodcast.com if you would like to arrange a corporate sponsorship of our podcast for the upcoming third season.
One of the big problems with the Wish Realm and Robin coming back is doesn't this mean they can bring anyone else back? It's inconsistent of so much of what we know. The way that they fixed this problem is that we don't actually know the nature of the Olympian Crystal. It was Hades who said "it will end you. No after life; destroys you completely." It might be a mistake to believe that, but we did. And while it's wonderful to see Robin back, what we didn't like, which the show has this series of events, is that beautiful deaths that are then undermined because of the hero coming back. That said, this is probably one retcon that we can be okay with, not in necessarily bringing him back, but the way they ended him was just so terrible, it was unnecessary. There's also the questionable side of this that, here Regina is bringing back some guy that looks like the man she loved, which is kind of weird. This is a different Robin. Different personality, different life, and perspective.
So Gideon is the villain of the season and like many seasons, he's simply "misguided." Does this mean that killing the Savior makes the person the next Savior, very much like how it is killing a Dark One? From those little flashbacks we got of Gideon, it seems that Gideon suffered from child abuse from the hands of his very own grandmother.
What could still happen? Rumple said that if they fail, war is coming to Storybrooke. Will this finally be the final battle we kept hearing since the first season? If the show ends this season, it would be great to see it go out big and see a final battle. We'd want it to be amazing, grand, glorious since they have brilliant writers. We just hope they don't bring this season to a close thinking, we may get a 7th season but rather bring the season to a close knowing they're bringing it to a close so they can end it with a final battle. And, if that final battle is with Gideon and convincing him that he can still be the hero, that does kind of leave a somewhat empowering message that they want to is  hope, which the series has been about from the beginning, as well as believing that you can be the hero and can be the one to step up to protect others to be the "Savior" of your own realm, and that each of us can be the Saviors of our own curses.
On the other hand, we also have a feeling that we are going to, perhaps, venture to yet another difficult-to-reach realm that even Rumplestiltskin hasn't even been able to reach before. At least we are very glad that they didn't give us a new curse by the end of the episode. Is the battle from Emma's visions going to happen again? Are the Savior shakes gone for good? What are your thoughts about tonight's episode? Send them all in with your feedback and theories and join us on our in-depth discussion of "Tougher than the Rest" this coming Wednesday.
Remember, these are only our initial reactions regarding tonight's episode so please bear with us if we're a bit all over the place. If you have your own thoughts, feedbacks, or theories regarding tonight's episode, however, send them over to us and join our upcoming full discussion!
What did you think?
Email Feedback@ONCEpodcast.com (audio files welcome)
Call (903) 231-2221
Comment on the shownotes
Visit any page on ONCEpodcast.com and click the "Send a voice message" link to record and send a message right from your computer.
Help us out!
Share this post in your social networks
Follow us
On Facebook:
On Twitter:  echo do_shortcode('[twitter follow="ONCEpodcast"]'); ?>
Daniel J. Lewis:  echo do_shortcode('[twitter follow="theDanielJLewis"]'); ?>
Jeremy Laughlin:  echo do_shortcode('[twitter follow="phlegon"]'); ?>
ErinJ:  echo do_shortcode('[twitter follow="erinjcruz"]'); ?>
Hunter Hathaway:  echo do_shortcode('[twitter follow="travelingpixie"]'); ?>
Jacquelyn / RumplesGirl:  echo do_shortcode('[twitter follow="punk_bunny_87"]'); ?>