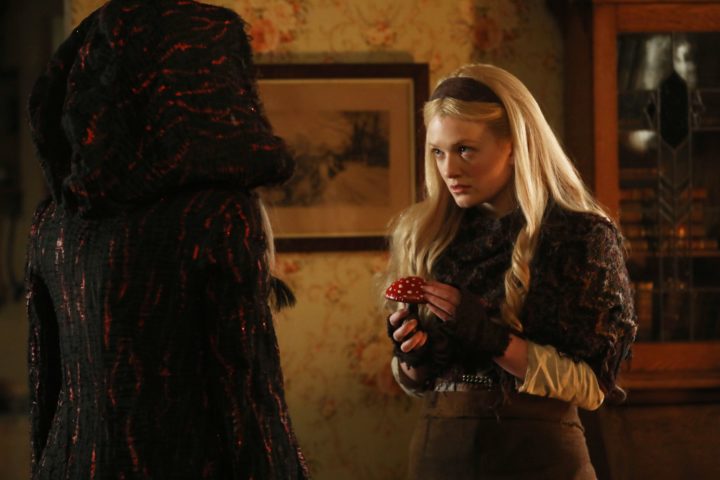 Join us as we untangle Rapunzel and her backstory, Gothel and Rumplestiltskin's quest for the Guardian, as well as Lucy's belief and more in this in-depth discussion of "One Little Tear"!
Podcast: Play in new window | Download | Embed
Contrary to what we predicted last week, it turns out we stayed in Seattle instead of following Regina/Roni and Henry in San Francisco. Furthermore, it's interesting because season 1's penultimate episode to the season finale ended with young Henry collapsing after eating the poisoned apple turnover, much like Lucy did for this episode, only it was because of her one little tear when Victoria stole her belief.
Untangling Rapunzel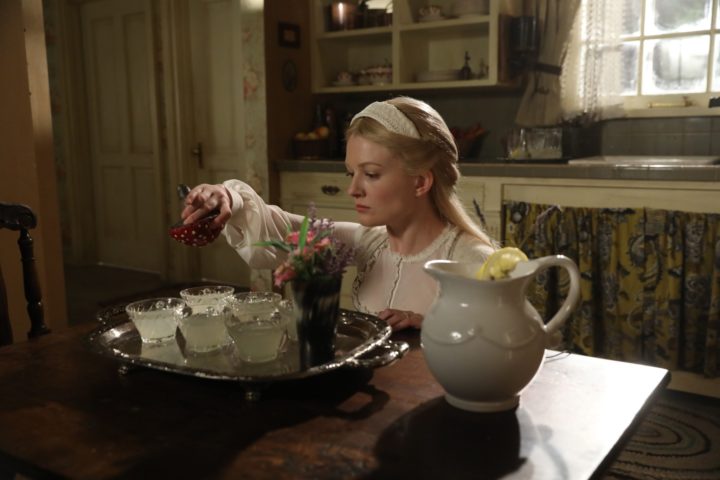 We liked how woven the storyline is; it gave us information about the Guardian, Mother Gothel and Eloise Gardener. It answered a lot of the questions that we had, like what happened to Anastasia? How did Drizella become this bitter? It tied up everything. Even Gothel's comment is very foreshadowing of what we discovered in the end, which is that she was actually looking for the hero pure of heart; the Guardian. However, if Gothel adapted the blood magic in the tower which was designed specifically for Rapunzel's bloodline, and was later trapped in the tower herself which she had a baby in, does that mean the blood magic adapted to Gothel's blood?
On the other hand, they could've used the same actress who plays Victoria now to play Rapunzel. Lana Parrilla, for example, once played a younger version of Regina and it worked, same with Jennifer Morrison who also played a younger version of Emma Swan so there doesn't seem a reason for them to recast a younger actress to play Rapunzel. That said, the story is very clever, even the order of telling it as it gives a little more history to little things we don't know, such as the tower. The backstory gave us sympathetic side to the villain but also didn't have that bad. She was really not justified to poisoning Cecelia in any way.
The weird thing is it makes Drizella sort of a psychopath for shutting her mother completely out. She also seemed closer to Cinderella in the flashbacks. The lanterns, however, was straight out of Tangled and the sun in the lanterns was their family's sigil. But while they strayed too far from the movie Tangled, it was nice that Rapunzel got out of the tower on her own using her hair, rather than throwing her hair down and having some prince come up to rescue her from the tower. And despite Drizella being cold to her mother, Rapunzel seemed like she wants to hug her daughter. On the other hand, Anastasia isn't too bright going out on the ice, as was her father for not jumping back in to the water for her.
A lot of this episode reminds us of Frozen, but also Into the Woods. Gothel and her garden, for one, is a reminiscent of The Witch from Into the Woods. The three young girls playing with a snowman also looks like something pulled from Frozen and The Little Women. After all, Rapunzel was in Into the Woods.
And when Rapunzel rushed into the garden, it showed Gothel's cards as well, revealing that she was seeking for the Guardian. Is she thinking about passing the torch of being the Guardian or simply looking for the Guardian? What is she looking for the Guardian for? Is she the Dark One of this realm? What was the purpose of putting a spell on Anastasia? Does this mean that Anastasia, or Lucy, might possibly be the Guardian?
Heroes always find a way
Lucy, in this episode, is disappointing. She knows that Victoria is her evil grandmother, but it was also clever of Victoria to give Lucy enough to believe and lose hope in the process. Lucy's belief is a little shaky at best, so did Lucy just momentarily lose consciousness or is her one little tear a life for a life trade?
We liked how complicated the characters interactions are, like Rumple helping Victoria and vice versa to get what they want. Furthermore, when Rogers was interviewing Sabine, she said that Weaver was  shoving the dagger to people and asking them if they felt anything. How will the whole Guardian thing will go down? Will Weaver just shove the dagger to everyone else until he figures out who the Guardian is? If the Guardian is this person is the one incorruptible by evil, it's probably why they can take the power of the Dark One and not be corrupted by its dark power.
Anastasia's awake but is she awake from the curse? Is this realm going to freak her out? How did she know that Victoria is her mother when the time jumps about 20 years later? And why does young Rapunzel and Victoria pronounces Anastasia differently? Why does Cinderella/Jacinda have an accent when Marcus and Cecelia don't?
When Lucy walked passed the dresses in the window, was that her mother's dress? Will it come to play in the next episodes? And while Lucy collapsing was reminiscent of Henry collapsing back in season 1, it wasn't sacrificial. Henry ate the apple turnover willingly knowing it will put him under a sleeping curse, Lucy's lost of belief, however, wasn't sacrificial at all.
Moreover, Rumplestiltskin was a little disappointing in this episode. He could've easily given Regina a hint (about him being awake), but instead he made a deal with Victoria. He made a calculated risk but didn't understand correctly what helping Victoria would be. By the end, it was pretty clear that he is really concerned about Lucy by looking for her. That said, he was honest with Rogers as best as he can, while still trying to reunite with Belle.
Why do they continue to speak about reuniting with Belle? Is Rumple really on the right track now? How does Gothel know so much about him? Which realm is she really from? Are we going to see how Gothel and Rumple met?
Moving back to Lucy and Victoria, what she said to Lucy was not disingenuous. Besides all of the things that happened in this episode, there's a lot implications in the family tree, as well as a lot of effect on perspective of things of the previous episode. What's interesting here is Rapunzel became Lady Tremaine only by marriage. Then while Rapunzel was in the tower, Anastasia and Drizella were the stepdaughters until Rapunzel returns and she poisoned Cecelia, from which Cinderella then became the stepdaughter.
What did you think about "One Little Tear"? Did we miss anything worth of noting? Share them all below in the comment section. Do you have any theories about this Friday's Winter Finale? Head over the forums now!
What did you think?
Email Feedback@ONCEpodcast.com (audio files welcome)
Call (903) 231-2221
Comment on the shownotes
Visit any page on ONCEpodcast.com and click the "Send a voice message" link to record and send a message right from your computer.
Help us out!
Share this post in your social networks
Follow us
On Facebook:
On Twitter:  echo do_shortcode('[twitter follow="ONCEpodcast"]'); ?>
Daniel J. Lewis:  echo do_shortcode('[twitter follow="theDanielJLewis"]'); ?>
Jeremy Laughlin:  echo do_shortcode('[twitter follow="phlegon"]'); ?>
ErinJ:  echo do_shortcode('[twitter follow="erinjcruz"]'); ?>
Hunter Hathaway:  echo do_shortcode('[twitter follow="travelingpixie"]'); ?>
Jacquelyn / RumplesGirl:  echo do_shortcode('[twitter follow="punk_bunny_87"]'); ?>