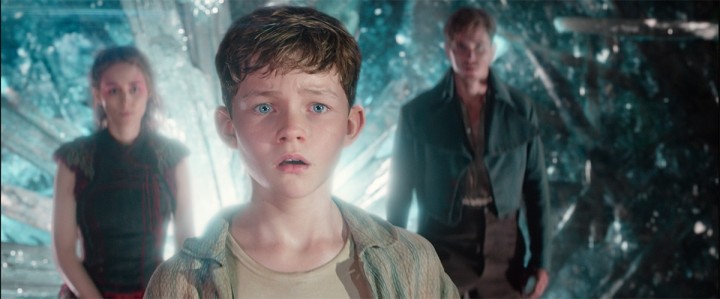 From the Director Joe Wright (Pride & Prejudice, Atonement, Anna Karenina) comes Pan, a live-action movie that tells the story of Peter Pan's adventures in Neverland, as well as the beloved characters created by J.M. Barrie and we, here at ONCEPodcast, were given the chance to see the live-action feature before anyone else does! Check out and listen as we give our full Pan movie review!
Podcast: Play in new window | Download | Embed
Spoiler-Free Review
Since it's tied in with fairy tales and Once Upon a Time is all about fairy tales, we thought you'd probably want to know more a little bit about this 2015 movie, Pan.
Although we enjoyed the movie, it wasn't as exciting as we are hoping for. It kind of left us feeling dissatisfied; we thought they were going to cover more. As a retelling of the story that we've already seen and heard many times before, this prequel left a lot out. Yet, we still enjoyed it. It was very fun to watch.
As fans of Once Upon a Time, Pan used a lot of the same approach that the show takes, in the sense that Once Upon a Time takes very little on the fairy tale itself, focusing more on the prequel and what led up to the fairy tale or what happens after happily ever after. In line with this, fans of Once Upon a Time will enjoy this movie. It's fairly family-friendly, the fight scenes weren't gruesome but fun and even somewhat funny. There also wasn't gore, no people getting stabbed was seen, only a visual representation of the story. There were scenes of people getting shot, but it wasn't directly shown, either. There are some people that die, and though you can see them die, including that one of a child, they don't die in a gruesome way. Nevertheless, it was very colorful, very fun to watch.
There were also mild profanity heard in the film, but not a lot. The visual effects were fun, magical and imaginative. They made Neverland a magical place of hope and wonder with bright colors, and some things like Nebula and really neat starry sections, which are all beautiful. Lot of wonderful cinematography and special effects of showing Neverland to be a really big place. It was Neverland like we've never seen in the original Disney movie. This Neverland is big, full of magic and amazing things.
We also liked how they reimagined how to get to Neverland; the way they portray that was different. Yet, they interacted with "real world", including fighter planes, which was from World War II era. We also liked most of the casting, except for the guy that they got to play Hook (Garrett Hedlund). As seen in the trailers, he's a very American-cowboy sounding guy, which doesn't seem to fit for Hook. That being said, he had the right mouth movements. His mouth opens really wide while he was talking, kind of like Hook. It almost makes us want for Warner Brothers to make a Peter Pan movie with the same actors, just so we can get a different version of Hook in our heads because every Hook that we have seen so far were very British, including Once Upon a Time's own version of Hook. On the other hand, all Hook have a bit of playfulness to them.
The boy that they got to play Peter (Levi Miller) was great for this part because he was young, British, and had that childish, playfulness about him that is everything about Peter Pan that we know; the boy who can fly and didn't grow up. We love watching him become Pan, and learn how to be Pan.
This movie is also a lot about believing in yourself, which was what Peter had to deal with in order to become the Pan. It was the overarching theme of the movie, as well as believing in the people you love, the people who are essentially on your side. Hope drives Peter for much of the movie, same as how it is in Once Upon a Time, where all comes back to hope.
Spoiler-Filled Review
One of the things that disappointed us about this retelling of Peter Pan is the mermaids. We wanted to see more of them, but we only to got to see them about as much as they've shown in the trailer. You'd barely see scenes with the mermaids than with the crocodiles; in fact, they were all in the same scene. We would have wanted to know and see how Pan and Hook became enemies, the battle when Hook's hand was cut off, the crocodile swallowing the clock, but it cut it short. For being backstory, they didn't give a lot of backstory, or at least a lot of the iconic backstories that everyone known. The only Neverland creatures we saw were the Neverbirds, which are basically ugly scaly birds with googly eyes.
The crocodile was really cool, despite of its short appearance; very big, menacing crocodiles that could jump out of water. We love how they explained how he can fly—he was half-human half-fairy—it made sense. Not that he has the heart of the truest believer, and it's not pixie dust, either, but it's about who he is and his origin story.
The 2015 Pan movie felt more like an origin story to how the characters got to Neverland, than necessarily the characters themselves because of those missing iconic backstories. Speaking of pixie dust, also known as 'pixum', was so strange. The way Captain Blackbeard was using it was a bit like a drug for him that kept him alive. It made us wonder, are the mechanics of Neverland in this version of the story the same as before? The whole idea of Neverland was you don't grow the minute you got there, but in this Pan movie, Blackbeard was aging and the pixie dust helped him to stay alive and live forever.
The premise of the movie was that the fairies are in a secret magical kingdom and the way that the movie ends with Pan and the pirates go into the kingdom makes us think if, now that the fairies are out and about, maybe them flying around makes pixie dust in the air and what makes everyone never grow up?
It was also a little disappointing that we didn't get a little bit more about Tinkerbell, another iconic character to the Peter Pan story. Tinkerbell was essentially a glowing dot with legs. We didn't get to meet or see Tinkerbell that well; never heard her talk, no personality from Tinkerbell. Are they being protective of the copyright because the Peter Pan copyright is owned by a children's hospital and only want to release certain aspects of it? Perhaps Warner Brothers decided to do with what they could, and decided to focus on how they got to Neverland instead?
It would have been nice to see more of the three mermaids in the movie who kind of look alike. Are all the mermaids look the same?
It was cool to see several flying ships and the strip mining that they were doing there, massive holes, and some stuff that showed it was a different Neverland than we've ever seen before. We liked that it was Blackbeard in Neverland; to see him as a villain, Hook and Peter starting out as friends. Hook's lying also must have been the reason for his riff with Peter, and it was selfish but we never got to see that or anything leading up to that.
Had they tried squeezing in all the iconic backstory we wanted, this would have been a much longer movie. Would make a sequel to this prequel?
There were some other icons of the Peter Pan story that we know of scattered throughout this. We did see Kensington Gardens, which is where, as far as the original story goes, Peter Pan was an orphan and the fairies took him to Neverland. In this version of the story, however, the Pirates who were stealing kids and taking them to Neverland to work in the mines, and later on, Pan started taking orphans himself. It was also nice to meet Smee, who was kind of a snitch who has a full head of hair. Some of the other icons that were part of this version of Pan was the little ocarina, that were very familiar with seeing Pan play in many different versions of Pan, that was the key to the Fairy Kingdom. We also got to see the little token that Pan's mother left behind when he was a baby, which was very different from the original story.
There were some cool 3D effects with this version and we enjoyed it. There were some really great moments where we saw and felt the depth a lot more than in other movies. They didn't do it a lot, but one of the really cool things they did was they broke out of the frame with the 3D effects. The only other 3D movie that we saw that used this technique was Alice in Wonderland, and it was a really neat technique.
One of the little cool things that we don't know what they were trying to communicate was seeing Peter trying to read things and it was moving, giving us an impression that he might be dyslexic, and the cool message would be that it doesn't matter what learning disabilities you have, you can still be someone special and do something amazing. As we learn later on, it would have played an advantage for him being taken because he can read fairy language.
All in all, it's a great movie especially if you like Once Upon a Time. Pan opens in theater October 9. Let us know what you think and share your Pan movie review with us by sounding them all in the comment section below!
What did you think?
Email Feedback@ONCEpodcast.com (audio files welcome)
Call (903) 231-2221
Comment on the shownotes
Visit any page on ONCEpodcast.com and click the "Send a voice message" link to record and send a message right from your computer.
Help us out!
Share this post in your social networks
Follow us
On Facebook:
On Twitter:  echo do_shortcode('[twitter follow="ONCEpodcast"]'); ?>
Daniel J. Lewis:  echo do_shortcode('[twitter follow="theDanielJLewis"]'); ?>
Jeremy Laughlin:  echo do_shortcode('[twitter follow="phlegon"]'); ?>
ErinJ:  echo do_shortcode('[twitter follow="erinjcruz"]'); ?>
Hunter Hathaway:  echo do_shortcode('[twitter follow="travelingpixie"]'); ?>
Jacquelyn / RumplesGirl:  echo do_shortcode('[twitter follow="punk_bunny_87"]'); ?>