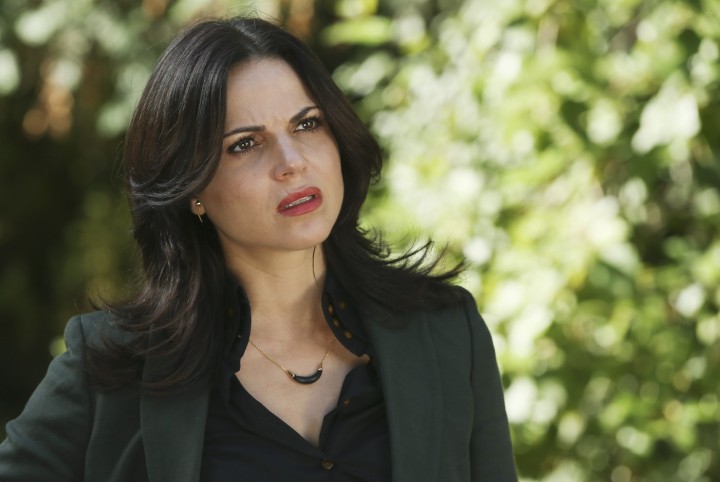 As Regina, Mary Margaret, David, Hook and Henry continues to figure out what happened in the last six weeks, the Dark Swan warned Regina that there's a problem headed in Storybrooke that only a Savior can solve. Can Regina protect the town from Emma? Will they trust her? Back in Camelot, however, Regina steps up to dress up a little less evil and look a little more like the Savior.
Podcast: Play in new window | Download | Embed
This episode, The Price, felt like a little bit of a mixed episode; a little bit slow in some place, but also a little bit amazing in another places. That being said, we certainly enjoyed the whole episode.
In an effort to protect Emma, Regina steps up in a surprising way that will test her mettle as a force for good. King Arthur and Queen Guinevere throw a royal ball to welcome the heroes to Camelot, but when the celebration takes a deadly turn, David and Robin must leap into action or lose a crucial asset in the fight to save Emma. Back in Storybrooke, Hook deploys a tried-and-true technique in hopes of bringing Emma back to the light while the heroes discover that some unexpected baggage has followed them home from Camelot.
These are our first thoughts about this Once Upon a Time episode. We'll share more about "The Price" in our upcoming full discussion (usually live on Wednesdays at 7:00 p.m., USA Eastern Time).
Initial Reactions
Something that stood out to us when they were in Camelot is, although they are, technically in the Enchanted Forest, how Snow was introduced as "Lady Margaret." What happened to Snow White? Are they undercover? Maybe if they introduced themselves using their Fairy Tale Land name and they were travelling with Regina, who was formerly known as the Evil Queen, they'd want to keep everyone to know who they really are?
At first, we wondered how long Regina pretending to be the Savior going to go on and what kind of other consequences that's going to have with it since Percival held a grudge against her, but in the end, it revealed Regina's true identity as well as not being the true Savior.
Are they messing with the prophecy? Wouldn't he have technically seen exactly what happens? Did Merlin prophesied a vision of the future as it happens or as it should be? Otherwise, whatever happened happen so why worry so much about doing what they think is right? Guinevere pointed out that they already know the end, but not the how. What Merlin saw will happen, but will the cost be? What kinds of catastrophes will happen along the way to get there? Does that mean Merlin's free? It was part of the prophecy, after all—so they could free Merlin.
Strange as it sounds, Merlin is in a tree, and when Sleepy crossed the town line, he, too, turned into a tree. Even the fury looks kind of like a tree, as well. Are trees Merlin magic? Did Merlin take all their memories himself, including Emma's and now she's just supposing that she was the one who took them?
Emma surely knows more than anyone else, and it seems that in this episode, Emma isn't totally dark in her thinking; she still seemed to want the company of her family, friends, and the people she loves. On the other hand, Emma also seemed to feel like it must have failed and now she's completely dark.
Although Emma seemed to know more than anyone else, it looks like she, too, doesn't seem to remember everything that happened. When Hook asked her what happened, Emma said that she wishes she could tell him everything that's happened in Camelot. Does that mean Emma lose a part of her memory, too? Or does that mean that she just can't tell him because of other things, as if something is controlling her or preventing her, or she knows the consequences if she reveals? Will Emma telling what really went down in Camelot ruin her plans, especially since she have the Excalibur sword in her basement? If Merlin is totally in control right now, he would not have allowed that. Emma also seemed to be taking responsibility for this curse, even saying that she designed this curse. Is this all true? Did Emma really create the curse, or did someone else whisk them back to Storybrooke?
Knowing the Sneezy was turned into stone in the last episode, The Dark Swan, we wondered how long are we going to see the dwarves stoned Sneezy? When we saw him on the top of their van, we thought they were going to push him across the town line again and he'll be unstoned but no, thanks to Regina for unstoning him. We also thought that Dopey would start talking after he stepped across the town line. Dopey has never spoken, it would have been fun to finally see him with a line or two.
Does Merlin have something to do with the boundary on the town, turning people into leaves should they try to cross it? Was it his counteraction to Emma bringing everyone back in Storybrooke? Was it his way to prevent Emma to leave the town?
The song they played with Henry and Violet, is there something symbolic behind the use of the song? Only You by Yazoo was, after all, the first Pop song that we've heard on the show, not just once but twice in a single episode. And will Henry and Violet have to kiss to break this curse?
We did see Emma in Camelot starting to get a little bit gold. Is she covering up the gold in her skin in Storybrooke?
Does that problem headed in Storybrooke that Emma talked about what we already saw tonight, or is something bigger problem headed their way? What pushed the fury away?
The whole needing a savior thing, will Emma become the Savior again? Will Emma die by sacrificing herself to defeat the darkness once and for all? What price is Emma willing to pay to pull the Excalibur out of the stone?
There's definitely a lot to theorize about this episode, including what's in Merlin's tower. Send us your theories and feedback about this episode, and join us for our full discussion of "The Price" this coming Wednesday.
Remember, these are only our initial reactions regarding tonight's episode so please bear with us if we're a bit all over the place. If you have your own thoughts, feedbacks, or theories regarding tonight's episode, however, send them over to us and join our upcoming full discussion!
What did you think?
Email Feedback@ONCEpodcast.com (audio files welcome)
Call (903) 231-2221
Comment on the shownotes
Visit any page on ONCEpodcast.com and click the "Send a voice message" link to record and send a message right from your computer.
Help us out!
Share this post in your social networks
Follow us
On Facebook:
On Twitter:  echo do_shortcode('[twitter follow="ONCEpodcast"]'); ?>
Daniel J. Lewis:  echo do_shortcode('[twitter follow="theDanielJLewis"]'); ?>
Jeremy Laughlin:  echo do_shortcode('[twitter follow="phlegon"]'); ?>
ErinJ:  echo do_shortcode('[twitter follow="erinjcruz"]'); ?>
Hunter Hathaway:  echo do_shortcode('[twitter follow="travelingpixie"]'); ?>
Jacquelyn / RumplesGirl:  echo do_shortcode('[twitter follow="punk_bunny_87"]'); ?>