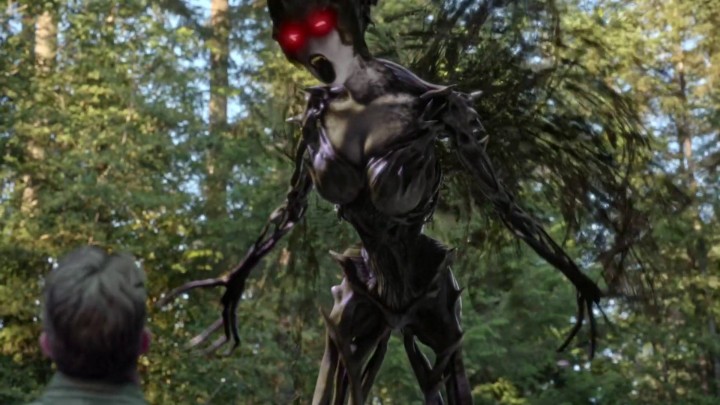 Was it really Merlin that was trapped in the tree or was someone else in it? Is Violet all innocent that she appears to be? Is Emma intentionally wreaking havoc in Storybrooke to force everyone to save themselves instead of relying to her all the time? Are Arthur and Guinevere hiding something? All these plus a crazy theory as we dig deeper into the episode, The Price!
Podcast: Play in new window | Download | Embed
Camelot (Six Weeks Ago)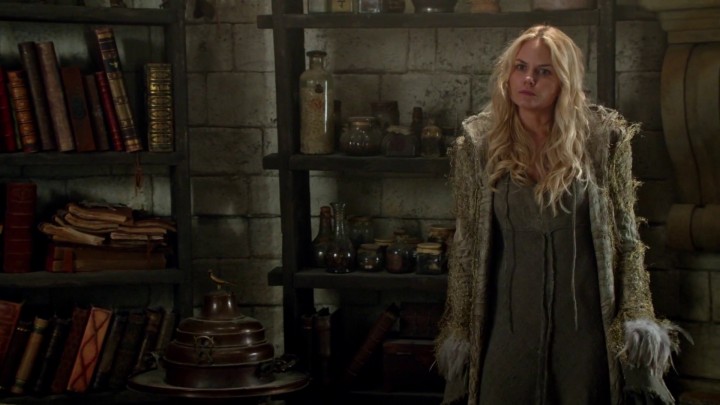 There were a couple of things that we noticed as they were walking into Camelot, one of them being that Granny seemed to have become such a business owner, when she told Grumpy how she was happy to attend a party that she doesn't have to cater.
We also liked Regina and Zelena's small banter at the beginning, when Regina muted her sister when Zelena threatened her that she would tell everyone that they brought the Dark One in. But did Zelena stay muted the entire time?
It was interesting that Arthur grabbed his sword when the Dark One was mentioned, which was almost like a reassurance or, perhaps, a preparation for something. Why could they not have said that Emma has always been the Savior, but is now the Dark One as well, and was looking for Merlin to rid her of the curse? Why didn't they simply tell the truth? And is Emma the only Savior or has there been another before her?
the "decade" might not be referring to the 28 years of the curse. So the decade really might date back to 8 or 9 years before the curse plus the additional year or two since the curse broke.

— @MatthewPaul
Arthur said that they have been waiting a decade or so for them to arrive since they heard Merlin's prophecy. How long did they wait exactly?
Something isn't adding up. And I am betting Arthur isn't being as truthful as he claims. Merlin is not in that tree. Whoever it is or whatever it is can only be freed by reuniting the dagger with Excalibur and doing so will probably unleash something even worse. I am betting Morgana is the one in that tree. Or black fairy. But not merlin. This is why he warned Emma. Don't use Excalibur.

— @TheWatcher
Was it really Merlin that was trapped in the tree or was someone else in it? Was that why Merlin warned young Emma about not pulling the sword out of the stone?
We looked closely into Merlin's tower when Emma and Regina went there but unfortunately, we didn't find anything symbolic in every nook and cranny of the tower.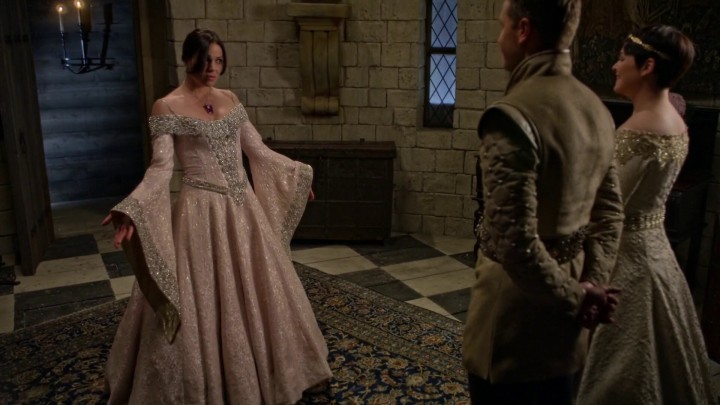 It was nice of Snow White and Charming to teach Regina how to dance, as well as preparing her for the ball. Her ball gown and her hair in tendrils looked innocent enough, but we were kind of expecting for her to change into a blue dress, since she said that it was her favorite color.
When Percival gave Regina the necklace, we knew it was enchanted so why didn't he just enchant the necklace to kill her, instead of going in all the trouble of trying to stab her, especially since he already knew that she was the Evil Queen?
We did a bit more research about the song that Henry played for Violet during the ball, Only You, and a few things stood out to us.
Hi guys, so after this episode I'm officially obsessed with violet believer's first crush song. I decided to look up the lyrics which I listed below. Parts of the song kinda parallel Captain swan  and maybe some of the other adult couples with "Listen to the words that you say, It's getting harder to stay, When I see you. "

Looking from a window above
It's like a story of love
Can you hear me?
I'm moving farth
All I needed was the love you gave
All I needed for another day
And all I ever knew
Only you

Sometimes when I think of her name
When it's only a game
And I need you
Listen to the words that you say
It's getting harder to stay
When I see you

All I needed was the love you gave
All I needed for another day
And all I ever knew
Only you
All I needed was the love you gave
All I needed for another day
And all I ever knew
Only you

This is going to take a long time
And I wonder what's mine
Can't take no more (can't take no more)
Wonder if you'll understand
It's just the touch of your hand
Behind a closed door

All I needed was the love you gave
All I needed for another day
And all I ever knew
Only you

— Jessica Frey
One of the lyrics goes, "It's just the touch of your hand." When Henry and Emma were in the docks in Storybrooke, Henry didn't let Emma touch his hand. Another line that stood out to us was, "All I needed was the love you gave," which made us realized that Hook really is Emma's constant here.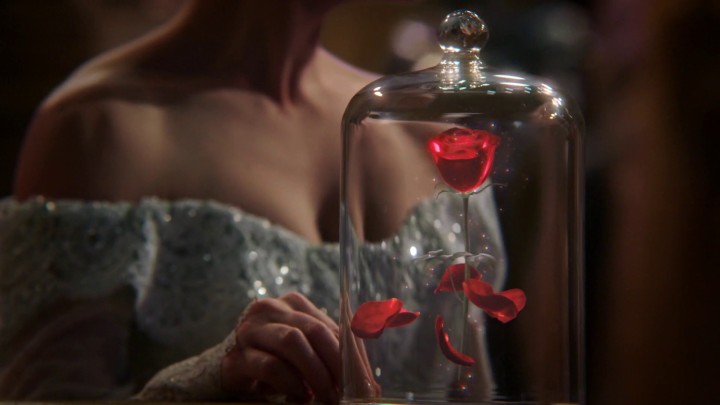 It was nice how Leroy told Belle that the Enchanted Rose represented hope, even if a few petals already started falling out. Despite the bleakness that surrounds Storybrooke at the moment, it doesn't look like the town is in that much of a danger right now. Besides, someone is stepping up in place of the old Savior to try to protect the town, shouldn't that count as hope?
Whatever happened to "Heroes don't kill?" How could Charming killed Percival even though he has all the reasons to take down Regina? It's understandable that Charming was just trying to protect Regina, but are they allowed to kill someone as long as it's self-defense or the threat that he posed to their quest?
Why didn't Regina use magic when Percival attacked her? Why didn't Regina show remorse when Percival called her out instead of asking who else he told?
Did Robin die? Has Emma's light magic all been snuffed out when she became the Dark One, so that whenever she uses magic, it was all dark magic? Is Regina really the Savior, or is Henry actually the key to get Emma back to light? After all, during season 1, Emma had to give him a True Love's Kiss to wake him up, and it was also Regina's True Love's Kiss to Henry that brought their memories back in season 3.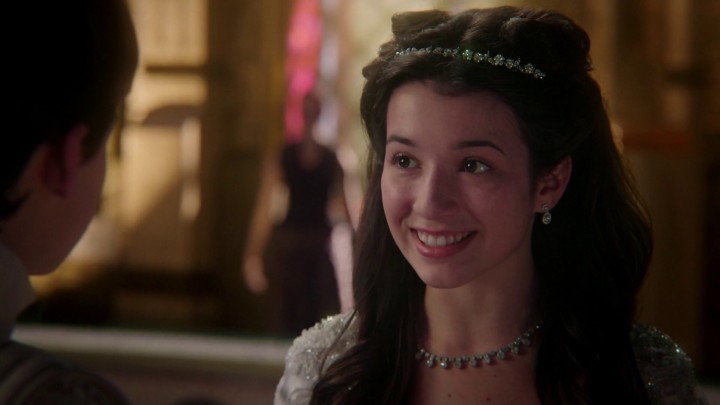 Is Violet all innocent that she appears to be? Or is she Morgana, and a possible villain?
Even though Regina begged Emma to save Robin Hood, it was nice of her to not force Emma to save him instead of using the dagger on her.
When Emma's skin started to turn gold, does that mean that she looks different in the Enchanted Forest than in Storybrooke? Does one turn golden when they embrace the darkness?
…I believe that the reason Emma erased their memories and holds a grudge, is that things are going to keep happening that require her to use her magic, like this week, Robin was killed by an enchanted sword that Regina could not counter act with her magic because it was enchanted, and so Emma had to use hers. I believe that things will keep happening like this and Emma will keep saving the others and using her magic and changing each time until she is gold flecked and a bit haggard like our Rumplestiltskin. I think the way she looks in Storybrooke is not how she really looks, somehow she has hidden herself from their sight and erased their memories so they will not remember what they caused her to become while in Camelot.

— Cutie Pie
Could Emma somehow have caused all of this, knowing what was coming, but forcing everyone else to be the savior instead of her? Is Emma intentionally wreaking havoc in Storybrooke to force everyone to save themselves instead of relying to her all the time?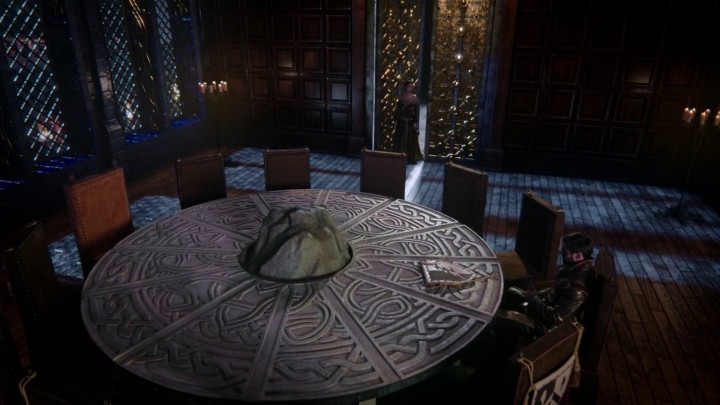 We looked into Arthur's roundtable and wondered, should we assume that it was in the stone in the middle where he keeps the Excalibur in? Is Arthur's castle actually built around where the stone was pulled? Are Arthur and Guinevere hiding something?
Storybrooke (Present)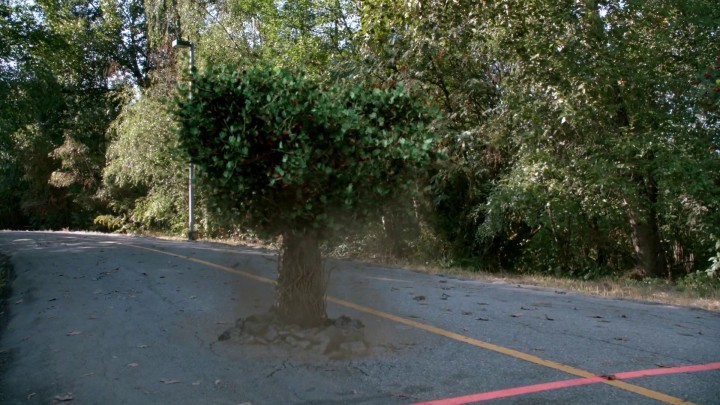 Starting out the episode with the dwarves at the town line, and as we've said during our initial reaction of The Price, we thought Dopey would start speaking after he crossed the town line. With people turning into trees, we suddenly wondered, could this not be Emma's doing but whoever trapped Merlin in the tree? Who could possibly be more powerful than Merlin, who was supposed to be the most powerful sorcerer in all the realm? Was it the Apprentice? Why would he do that if he was the one who did it?
In season 1, when someone tries to cross the town line, bad things would happen. In season 2, crossing the town line would make them lose their memories. By the second half of the third season, crossing the town line means being grabbed by a flying monkey, dragged back in town, and turned into one later on. Now, if they try to leave the town, they will be turned into a tree. Should we be reading this much that Dopey has been turned into a tree? Is the Dopey tree now in the middle of the road? Won't the people outside Storybrooke notice? How could the dwarves easily decide to leave the town after finding out that Emma is now the Dark One?
When Hook went to visit Belle at Mr. Gold's shop, it was nice to finally learn about why did their kisses didn't work after she attempted a True Love's Kiss back in Skin Deep. However, what interest us more was when Belle told him, "A curse isn't a curse anymore when the afflicted wants it." Does that mean that Emma wants the power now, that's why it didn't work? Did Emma choose power over love, just like Rumplestiltskin did? At the end of season 3, Emma didn't want the darkness, but now it seems that she was stuck with it. Or is she?
We also got a peek at what it's like to be Belle and what she is going through when she told Hook that it's far easier to hate the Dark One than it is easier to love one. It's nice to see the struggles that she went through all these years and still be in love with the beast.
When Emma and Henry were in the docks, Emma seems most like herself even though Henry didn't let her touch him. However, when Henry asked her what happened, Emma's answer was that "it's complicated," even though she seems certain that everyone else failed her except Henry.
During the scene, Emma also told Regina that "there's a problem headed to Storybrooke that only a savior can solve". Was she actually talking about the Fury to push Regina to step up and save Robin herself, make them realize that they don't actually need a Savior because they can do the saving themselves? Also, why did the curse need a Savior, when the second Dark Curse (performed by Snow and Charming) didn't have a Savior, either?
Emma warned Regina that something was coming that needed a savior. I'm guessing it's more than the fury that went after Robin. I'm really hoping that it's going to be Morgan le Fay (or Morgana) from the Arthurian legend. There are several variations on the character, but she is usually a sorceress who was an apprentice of Merlin and is a nemesis of Arthur and Guinevere, as well as Arthur's half-sister.

Another high possibility is the Lady of the Lake who, in some versions of the legend, sealed Merlin in a cave or a tree! Maybe she is the one that made the curse since if they leave they turn into a tree.

— Jessica Olsen
Is the Lady of the Lake actually the one who sealed Merlin into a tree? Or are we going to meet Morgana anytime soon?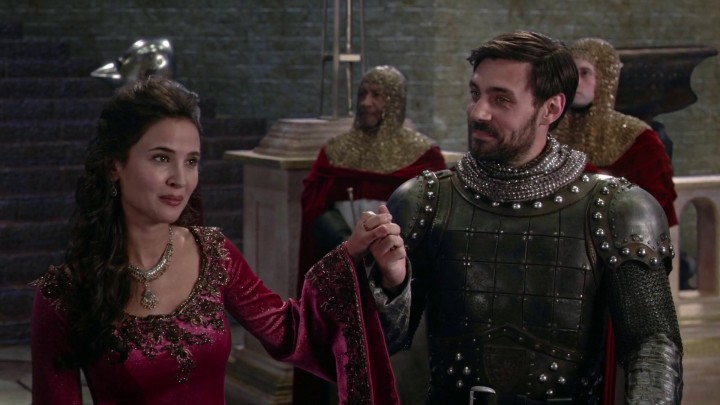 When King Arthur and his toy soldiers appeared in the middle of the road and had a riff with the dwarves, they were in their Camelot clothes. Do their clothes have something to do with the curse? After all, when they were being transported through a curse, their clothing always changed from Storybrooke clothes to the Enchanted Forest garb.
When they were camping and Guinevere asked Arthur about the missing Excalibur took us back to the episode, Lost Girl, when Charming made Snow White believe into thinking that she was able to pull the sword out of the stone. During the scene, Rumple told Snow White, "if that were Excalibur, he wouldn't be able do this", turning the fake Excalibur into sand. This made us realized that, maybe, the Dark One can't destroy the Excaliubur.
What is up with Guinevere? She's off, somehow. There's just something off with both her and Arthur. Notice how Guinevere reaches for the sword to ensure its still there. She's a bit too invested in that sword.
While everyone is camping out in the woods, Emma is at her new place with Hook. As they were talking, Emma said, "I wish I could" when Hook asked for the truth, and then she seemed to cover up again, as if there are some split personalities going on. Is Emma conflicted? She seemed actually concerned with people not accepting who she is now.
Here is a long shot theory. If Emma cast the curse than this is probably not true, but if someone else did this is a possibility. When Regina cast the curse she gave everyone false memories. When Snow White cast it there would have been no impact on memory if Zelina hadn't tampored with it. Perhaps whoever cast the current curse wiped everyone's memory except Emma's and instead gave Emma false memoires.

— Gareth Grey
If Emma didn't cast this latest curse, then who did? And if someone else cast the curse, why give Emma a false memory?
It was interesting when Regina talking to Rumple about how he turned her into a monster and an Evil Queen. Rumple didn't make her that way, it was the result of all her evil deeds.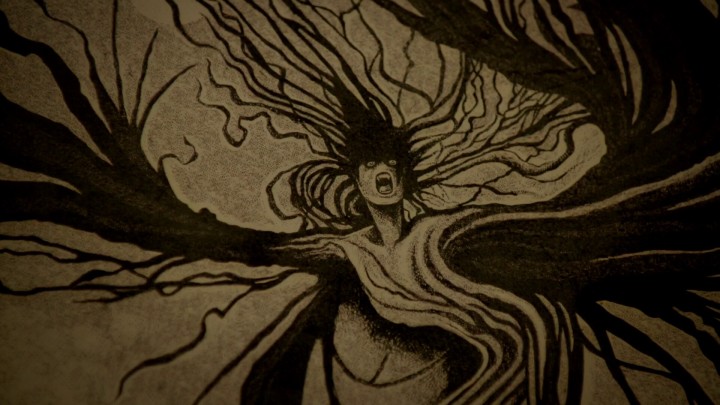 When Belle called Regina to tell her more about the fury, she said that it is a demon sent from the underworld to collect the unpaid price of magic. We did some more research about Furies and found out the following:
In, Greek mythology the Erinyes (EH-REEN-EE-ES) also known as Furies, were female chthonic deities of vengeance; they were sometimes referred to as "infernal goddesses.  A formulaic oath in the Iliad invokes them as "those who beneath the earth punish whosoever has sworn a false oath". They correspond to the Dirae (DEE-REE) inRoman mythology, and some suppose that they are called Furies in hell, Harpies on earth, and Dirae in heaven.

The Erinyes are crones and, depending upon authors, described as having snakes for hair, dog's heads, coal black bodies, bat's wings, and blood-shot eyes. In their hands they carry brass-studded scourges, and their victims die in torment.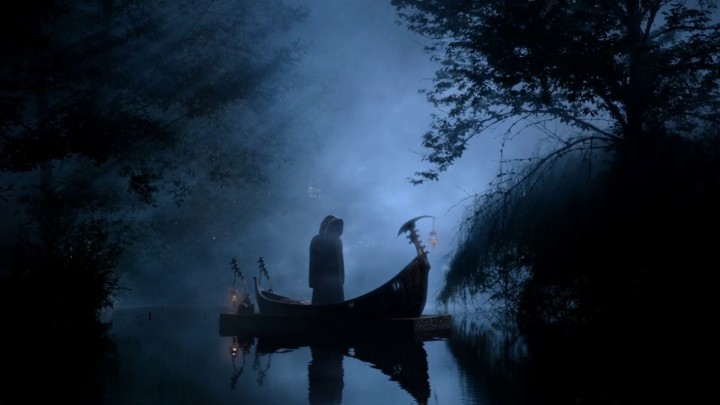 Who was the guy in the boat that appeared in the lake? Was it Charon, the Ferryman of Hades?
In my house we have watched Guardians of the Galaxy more times than I can count.  So I was in stitches when they defeated the Fury by joining hands Guardians style!

But when I thought about it, I realized there were several other Guardians references in this episode as well.

When Henry shared his earphones with Violet, it was a nod to a similar scene in Guardians, where Peter Quill shares earth music with Gamora (an alien girl) by putting his headphones on her.

Then there was the scene where Percival accused Regina of being the Evil Queen.   He described how she destroyed his village while he watched, and then she smiled at him.  Regina then explained that this was true, but that she is good now.  I think this is a combination of two scenarios from Guardians, with Percival being Drax.  In Guardians, Drax wants revenge against Ronan, who killed his family.  Quote: "You killed my wife.  You killed my daughter.  And you LAUGHED!!!" Drax also attempted revenge by going after Ronan's assistant, Gamora.  But Gamora explains that she no longer works for Ronan, and has in fact turned against him.

Also, I know that Merlin being trapped in a tree is not the same as Groot (a walking talking tree), but hey, TREE!

— Sci-Fi Girl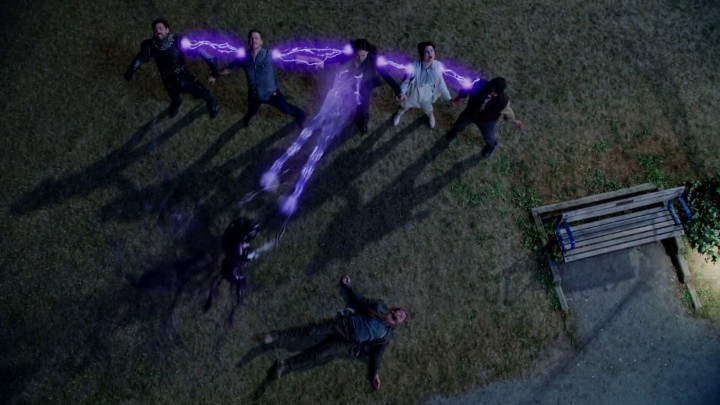 As they all joined hands to save Robin Hood, it made us wonder, if they are just shaving years off all their lives? And if Arthur is shady, why did Arthur joined Regina, Mary Margaret, David and Leroy to save Robin?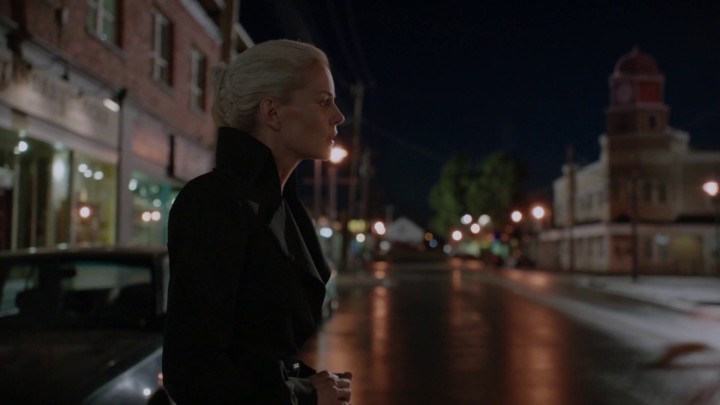 As what always happens after every catastrophe, everyone gathers at Granny's for an after-party. There seems to be a leftover between Henry and Violet here. He seemed shy in Camelot, whereas in Storybrooke, Henry just walked into Violet and talk to her.
What did Mary Margaret mean when she said, "if we win, Emma loses." Does she mean that Emma would die? Emma, however, was out on the street having her own pity party.
It was nice of Regina to undo Emma's magic by turning Sneezy back into dwarf again, as well as returning an icon of the savior, which is the red leather jacket.
I am not convinced Emma is fully dark and I really think that how Emma words things is crucial (maybe she inherited Rumple's play on words). It seems like the actual Dark One is controlling Emma more than anything and that she is trying to play along in order to try to defeat it (and maybe partly for her sanity).

You guys mentioned this a bit in the initial reaction, and I agree. I get the feeling that Emma literally can't tell people what happened either because she is/was being controlled and told not to say anything (maybe by Merlin) or because it is part of her plan (if she did work with Merlin to formulate a plan, the memory loss could be part of it). I don't know how she would be able to plot against someone in her head other than playing with memories somehow.

Theory 1: Emma remembers what happened but is either being controlled or told not to let anyone know what happened. Either the Dark One is controlling her, whoever did the curse commanded her not to tell, or is all part of the plan.

Theory 2: Emma does remember, has a plan, and is maybe even working (or worked) with Merlin to form it. Part of it seems to be to push Regina into becoming the savior to help defeat whatever is coming, maybe even the actual Dark One demon. We haven't seen Emma actually do anything dark, except turn Sneezy into stone, which Regina undid quite easily once she regained her confidence. Yes, Dopey is now a tree, but I'm not convinced that's Emma being evil, if it's even Emma's fault at all. I think she is playing on what people fear or assume, and counting on their reactions to help convince the Dark One that she has "given into the darkness". This would also explain why "true love's kiss" didn't work (going with what Belle said about something not being a curse when the afflicted wants it). I think she is CHOOSING to play along with the Dark One and give into the Darkness in order to defeat it.

— Jessica Olsen
What if this is all fake and a test? A test for Emma, for everyone else that Merlin put them all in to see who the real Savior is? Are they actually in Merlin's tree and Emma knows about it?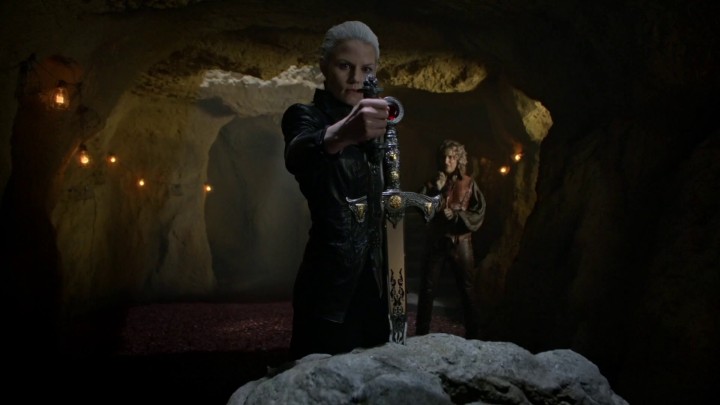 Down at Emma's basement, Rumple told Emma, "As long as the dark one's existed, one thing has always held us back.  The pull of the family, who we're so desperate to protect.  The friendships who make it impossible to forget who we used to be.  The magic that threatens to undo our most evil things.  And… worst of all… the love that refuses to give up on us.  You see, no matter how hard we try, we can't escape the reach of the light.  But, Emma Swan, you can change that.  That's why you brought that sword here.  You can do what no dark one before you has ever done.  You can make that weapon whole again and use it… to snuff out the light… forever." What is the price does Emma have to pay to pull the sword out of the stone? Does that mean that she needs to kill everyone to get it out of the stone? Why is the Excalibur in the stone again?
I am suspect Regina, not Emma, needs to remove and reforge the sword with the dagger, because Regina is the new hero. For Regina's redemption arc to be complete, she needs to take up the mantle of savior, pay the price of dark magic and somehow destroy the sword to end the dark one curse that Merlin created once and for all.

— @Slurpeez
Wouldn't it be neat to see the person who took away everyone's happiness ended up saving everyone? Is Regina willing to sacrifice herself in order to save everybody?
What do you think about "The Price?" Did we miss anything from the episode? Do you have any theories about next week's episode? Sound them all off by heading to the forum or sharing them using the comment section below.
[ndlmx_special]
What did you think?
Help us out!
Follow us
Spoilers