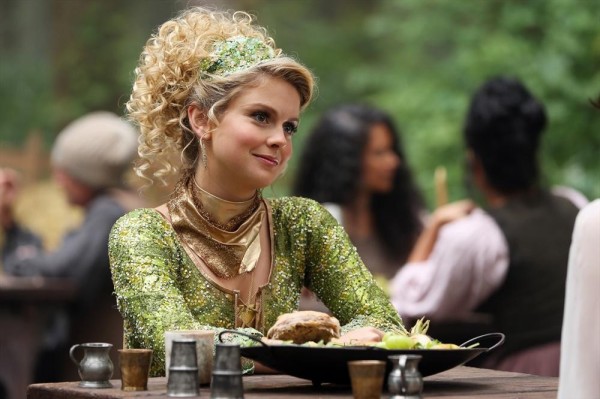 Podcast: Play in new window | Download | Embed
We finally met Tinker Bell as Emma, Regina, Hook, Charming, and Snow White continues to scour Neverland in the hopes of finding Henry but can the pixie dust help? Will Regina find love again?
In their continuing quest to find Peter Pan's hideout and save Henry, Hook suggests tracking down Tinker Bell in the hope that she will lead them straight to his camp. Pan reveals to Henry why he has brought him to Neverland and in the Enchanted Forest, Neal has a plan that could transport him to Emma, but it would involve using one of Robin Hood's most precious possessions. Meanwhile, in the Fairy Tale Land that was, Tinker Bell offers to help Regina improve her life.
These are just our first thoughts about this Once Upon a Time episode. We'll share more about "Quite a Common Fairy" in our upcoming full discussion live on Wednesday October 16, at 8:00 p.m. (EDT/GMT-4).
Thank You for Supporting Us!
David Neuland (subscriber)
Lisa Slack (subscriber)
You can sponsor an episode or more of ONCE podcast, too! Email Daniel@ONCEpodcast.com if you would like to arrange a corporate sponsorship of our podcast for the upcoming third season.
Initial Reactions
Here are some of what we initially thought about tonight's episode, in no particular order:
It was discussed at the San Diego Comic Con that Tinkerbell will share an unexpected connection to one of the core characters and we've finally seen who it is – Regina!
The whole common fairy thing makes sense now as we found out that Tinkerbell was, in fact, a common person who was once a common fairy and whose wings got clipped by the Blue Fairy for breaking one of their most important rules – stealing pixie dust.
After finding out that Tinkerbell's wings got clipped for breaking the fairy rules, we suddenly want to know more about the fairy rules
Pixie dust is definitely more powerful than fairy dust.
Fairies aren't allowed to turn into a full human size without permission.
Fairies, apparently, each have color codes. Does that mean that Tinkerbell is high ranking, as there's only so much primary colors?
During flashback, Tinkerbell pointed Regina to her potential true love using pixie dust but unfortunately, Regina backed out at the last minute.
If Regina had fallen in love with Robin Hood, the curse would have been unnecessary but with Rumpelstiltskin wanting to find Baelfire, will Tinkerbell's pixie dust even work even if Regina and Robin Hood did fall in love?
Maid Marian, unfortunately, died after the birth of their son. Guess every magic really does come with a price.
Finding out that Regina will most likely to find love again seems interesting.
It was refreshing that we moved past the present day Enchanted Forest quickly when Neal jumped off and took the Shadow's hands to Neverland.
Why is the Shadow still hunting down little boys? Does Peter Pan just need all the believers he can get? After all, "I Believe" is what calls the Shadow.
Unfortunately, Neal fell off Pan's Lost Boys and who did welcome him when he fell down? Felix, of course, and he recognized him as Baelfire.
What is Pan's intention to have Henry shoot the arrow?
Pan said that Henry is the one that's going to bring the balance back to the force, but was that his only motive? After all, Henry wasn't exactly the offspring of The Dark One, but just the grand son. In addition to this, Baelfire has already been born when Rumpelstiltskin became The Dark One so what does Peter Pan really want with Henry?
Is Henry the only one that can make Tinkerbell believe and earn her wings back and her fairy powers?
Mary Margaret offered Tinkerbell a home when (and if) they made it back to Storybrooke, which means a possible meet up with Blue again.
Is Tinkerbell more than just a common fairy because she was wielding pixie dust in some way?
Operation Henry: It's great to hear Regina say that she really love Henry. Seems like Regina's love for her son really is much stronger than her dark heart.
So far this season, Jeremy thinks that they seem to really be hitting a stride in Neverland by giving us good episodes.
What is going on with the timeline in Neverland? How come it's always night time on the island?
Pan's camp is moving around, and pretty quickly than it should.
Neal mentioned several things that could make a portal: ashes, magic mirrors, beans and Ruby slippers.
This season's fast-paced episodes are interesting. It leaves us wanting more.
Peter Pan mentioned that magic is dying. How did that happen? Did Regina's curse caused it?
Big congrats to Aurora and Phillip on their baby!
Remember, these are just our initial reactions regarding tonight's episode so please bear with us if we're a bit all over the place. If you have your own thoughts, feedbacks, or theories regarding tonight's episode, however, send them over to us and join our full discussion this Wednesday!
Thank You for the iTunes Reviews!
Your reviews encourage us and help others find the podcast!
Please rate and especially write a review for us on Apple Podcasts.
What did you think?
Email Feedback@ONCEpodcast.com (audio files welcome)
Call (903) 231-2221
Comment on the shownotes
Visit any page on ONCEpodcast.com and click the "Send a voice message" link to record and send a message right from your computer.
Help us out!
Share this post in your social networks
Follow us
On Facebook:
On Twitter:  echo do_shortcode('[twitter follow="ONCEpodcast"]'); ?>
Daniel J. Lewis:  echo do_shortcode('[twitter follow="theDanielJLewis"]'); ?>
Jeremy Laughlin:  echo do_shortcode('[twitter follow="phlegon"]'); ?>
ErinJ:  echo do_shortcode('[twitter follow="erinjcruz"]'); ?>
Hunter Hathaway:  echo do_shortcode('[twitter follow="travelingpixie"]'); ?>
Jacquelyn / RumplesGirl:  echo do_shortcode('[twitter follow="punk_bunny_87"]'); ?>