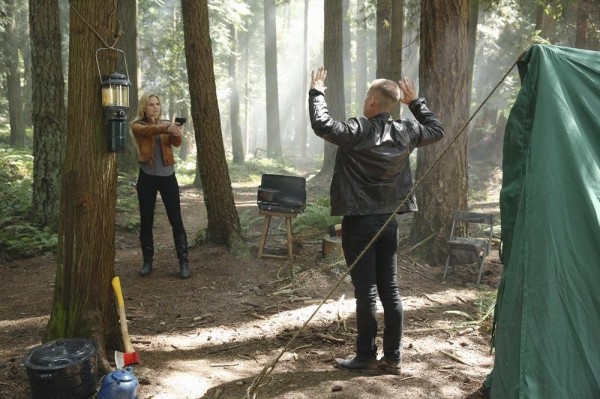 Mary Margaret is succeeding hideously as the new Storybrooke Mayor as her first fireside chat was interrupted when Maid Marian fell frozen and unconscious. Just as David and Emma hunt for Dairy Queen, Hook may have led Elsa to danger. Meanwhile, in Arendelle of the past, a threat was looming that an army was on their way to take over Arendelle but despite Elsa asking her future brother-in-law to stay put, Kristoff disobey Elsa by going after the idiot from Southern Isles.
Podcast: Play in new window | Download | Embed
When an icy spell is cast on Marian, which will ultimately freeze her heart and kill her, the Storybrooke residents place the blame on Elsa. But unbeknownst to anyone, a mysterious woman who runs the town's ice cream parlor has the same powers as Elsa and is trying to frame her. Emma and David find former Merry Men member Will Scarlet rummaging through Robin Hood's tent, Regina teams up with Henry to try and discover who the author of the fairy tale book is, Mary Margaret is having trouble balancing her duties as leader of Storybrooke and mother to young Prince Neal, and Hook begins to suspect that Mr. Gold is still in control of the dagger that calls upon him to be the Dark One.  Meanwhile, in Arendelle of the past, Elsa and Kristoff set off to stop Hans from attempting to take control of the kingdom.
These are just our first thoughts about this Once Upon a Time episode. We'll share more about "Rocky Road" in our upcoming full discussion live on Wednesday October 15, at 8:00 p.m. (EDT/GMT-4).
Initial Reactions
Remember, these are just our initial reactions regarding tonight's episode so please bear with us if we're a bit all over the place. If you have your own thoughts, feedbacks, or theories regarding tonight's episode, however, send them over to us and join our full discussion of "Rocky Road" this Wednesday!
Objectively looking at it, it was a pretty good episode; there wasn't as much bigger, great stuff in it, but it was a good building episode. Based on what we're getting now with the Snow Queen, this feels more than what we have gotten so far from picking up the pieces from the movie, Frozen. Now, we're slowly seeing that there might be more to it than just mixing Frozen with Once Upon a Time; more mystery, more for us to talk about and that has us excited.
It was good to see Will again, coming from Once Upon a Time in Wonderland, and we finally saw Hans, but overall, there's now something deeper to figure out. Every episode they try to tell us a story, but we love that they get us to solve a mystery through this episode.
Finally, we discover that Rumple did indeed know the Snow Queen. Is there a time gap that we somehow missed? Does Snow Queen know Emma from her childhood or her year New York, perhaps? Just because the memory was taken away, doesn't mean something didn't happen in the middle.
In this episode, Mr. Gold doesn't look like he's changed like he claimed since their honeymoon. Does he still posses the real dagger? Or did he hold on to his word and let Belle control it now? Did he give her the real dagger and decided to hide it again in his vault or inside that box he got from the honeymoon home? Now that Hook is on to him, is Rumplestiltskin going to confess about lying to Belle about it?
Now that Henry and Regina teamed up for Operation Mongoose, we like that they are going to start to follow clues to figure out who penned the book. Is it going to be someone we have known all this time or is it someone we haven't met yet? Does Yen Sid have something to do with it? She may have told Henry about her plan, but does she mean it well or was it just some sort of plan to get Henry on board? Perhaps she's finally realizing that forcing someone to do her bidding doesn't always go as she wants it to be, so she now changed her words from "forcing" to "asking" the book's author to give her a happy ending?
Should we assume Hans was killed when the Snow Queen froze him? Or can an act of true love still thaw him? Oh, Hans, if only someone out there truly love you.
Aside from Hans, Marian was also turned into a popsicle but thanks to Regina, Marian remains alive when she ripped her heart out before she stayed completely frozen.
Compared to Elsa, Snow Queen's power is more snow than Elsa's icy powers, but how much is Snow Queen telling the truth in all of this? She seems to lie easily. Is she really Anna and Elsa's aunt? What with what happened to Maid Marian being an accident, how much truth is she telling?
Emma's magic is growing, wielding the magic like crazy. It was cool to finally see her pull a more powerful move than what she has been able to do ever since.
Thank you for supporting us!
David Neuland (subscriber)
Lisa Slack (subscriber)
Steve Johnson (subscriber)
George Ferro (new Patreon backer)
Bridget J
8 Patreon backers ($20 per episode)
You can sponsor an episode or more of ONCE podcast, too! Email Daniel@ONCEpodcast.com if you would like to arrange a corporate sponsorship of our podcast for the upcoming third season.
It was nice to get another nod from Frozen when Archie told Mary Margaret to "Let It Go."  We were also thrilled to see Will Scarlet again. If you haven't seen from Once Upon a Time in Wonderland, you might want to check out our Wonderland podcasts and start catching up.
So why is he thieving and why is he alone? Where is Anastasia? Why did he come to Storybrooke?
One of our forum moderators, MatthewPaul was lucky enough to attend the New York Comic Con and watch the Once Upon a Time panel with Edward Kitsis, Adam Horowitz and Jennifer Morrison. Check out MatthewPaul's report of the highlights (and spoilers) from the Once Upon a Time panel on the recently concluded New York Comic Con.
With Marian's heart being saved and seeing her frozen like that, we initially thought that they were going to kill her early on in the season, but surprisingly she was kept alive, thanks to Regina. And now that Regina knows that she's Robin's true love when Robin's true love kiss didn't work with Marian, she seemed genuinely honorable in wanting to help find a cure for Marian now.
Going back to Regina's motive of finding the book's author, it was great hearing her not say that she wanted to have a happy ending with Robin, just that she finally get her own happy ending.
There's going to be another deleted scene tomorrow morning on Good Morning America so you might want to stay tuned for that. It was pretty cool for them to give us these bits and pieces of extras early on in the season. It may not be as fun, but it sure does seem like Good Morning Storybrooke.
What do think of this episode? Why is Will Scarlet in town? What did the Snow Queen want? Share your theories about tonight's episode via email, over the forum or the comment section below. Also, join us this Wednesday for our full discussion of "Rocky Road."
What did you think?
Email Feedback@ONCEpodcast.com (audio files welcome)
Call (903) 231-2221
Comment on the shownotes
Visit any page on ONCEpodcast.com and click the "Send a voice message" link to record and send a message right from your computer.
Help us out!
Share this post in your social networks
Follow us
On Facebook:
On Twitter:  echo do_shortcode('[twitter follow="ONCEpodcast"]'); ?>
Daniel J. Lewis:  echo do_shortcode('[twitter follow="theDanielJLewis"]'); ?>
Jeremy Laughlin:  echo do_shortcode('[twitter follow="phlegon"]'); ?>
ErinJ:  echo do_shortcode('[twitter follow="erinjcruz"]'); ?>
Hunter Hathaway:  echo do_shortcode('[twitter follow="travelingpixie"]'); ?>
Jacquelyn / RumplesGirl:  echo do_shortcode('[twitter follow="punk_bunny_87"]'); ?>