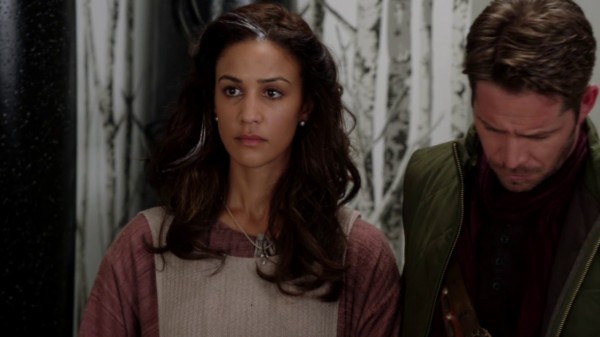 In order to teach Elsa a lesson, the Snow Queen cast a frozen spell on Maid Marian and made everyone believe that the Queen of Arendelle did it. Will an act true love work? Or can true love's kiss not solve every problem? In Arendelle during the past, however, Elsa's kingdom was threatened when Hans and twelve his brothers journey to Arendelle to take over the kingdom with a new weapon that may just iced them even before Prince Hans could step foot on Elsa's castle.
Podcast: Play in new window | Download | Embed
As we've talked about during our initial review, we thought that this was a great building episode. We can feel that a lot of theories will start to come in after this episode and we do enjoy is so much! With that in mind, let's get to our full discussion of "Rocky Road," shall we?
Snow Queen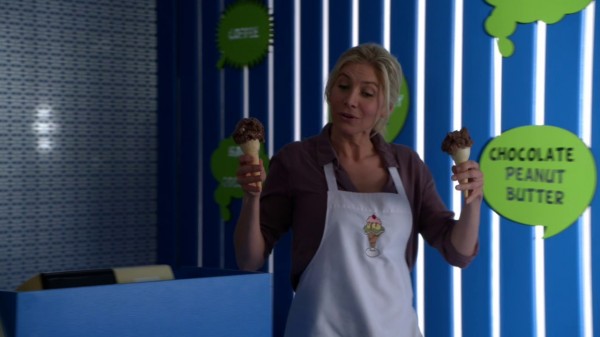 One of the biggest topics of the episode is the Snow Queen. When Robin Hood and his family are getting ice cream, she said something interesting. She said that it "warms her heart to see a happy family in her ice cream shop." What does she mean? Could this be a hint that she's going after a family? Elsa and Anna's perhaps? Or someone else entirely? After all, she did tell Elsa that Anna and Elsa's mother is, was in fact, her own sister.
But are they really sisters? Who put the Snow Queen in the urn? Was it Anna and Elsa's mother and she was simply seeking revenge by doing the same thing to her own daughter? Did they somehow had a major falling out because of the Snow Queen's painful past?
Did the Snow Queen made a deal with Rumplestiltskin in the Enchanted Forest? Does she have anything to do with Emma's childhood? Was she one of the cause why Emma had such a troubled childhood?
Could the Snow Queen actually be one of Emma's foster parent? What was behind the reason Emma seem to recognize the way the Snow Queen say her name? Emma said during the Pilot episode that hadn't had a family until she was three years old, did she somehow get that feeling of familiarity with the way the Snow Queen address her?
Emma thinks Elsa and Anna were just pawns in a bigger scheme. If that is true, and the Snow Queen came separate from the curse like Emma thinks, then it could be possible that Emma is related to Elsa and Anna somehow, or that the Snow Queen is looking for something that she sees in both Emma and Elsa (probably to do with their powers). In the deleted scene from this episode Rumple said something about the urn having the power to neutralize magic which is why it can trap a magical person. Rumple took some of the magic dirt, so the Snow Queen could have done the same to neutralize Elsa's powers (I'm assuming temporarily). Or maybe she is the one that made the urn in the first place so she has the power to make magic that neutralizes other magic. Is she after powerful magic or does she want to take it away from others? She seems to know Emma from somewhere, and my guess is she was a foster mom, at some point. Emma said she thinks the Snow Queen didn't come to Storybrooke because of a curse so I think she probably came over after the first curse looking for Emma for some reason (such as, looking for powerful magic). If she is lying about being Elsa's aunt, and my theory is right about her being Emma's foster mom, then it also seems like there is something up with her wanting to be part of both of their families somehow. If she is telling the truth about being their Aunt, then I am also leaning toward the theory that Snow White is their cousin or related somehow to them.

— Jessica
We had another deleted scene from Rocky Road the day after the episode aired, where Belle, Rumple, Elsa, Emma and Hook went back to Zelena's time portal, where Elsa came out of. In the scene, Rumple said something that the dirt can neutralize any magic. How did the Snow Queen neutralize Elsa's powers anyway? Is she after magic, or does she want to take away someone else's? Are they actually related to the Charmings? After all, Emma kind of do resemble Elsa more than her parents.
After reading the fairy tale "The Snow Queen" and seeing the fact that Elizabeth Mitchell's Snow Queen recognized Emma, I started to wonder whether the little girl in the fairy tale might be represented in the show by Emma. In one section of the very long and very weird fairy tale, the little girl stays with a sorceress who wants to have a child and enchants her so she can't remember her past life or where she is going. The child stays with her for a long time before breaking out of the enchantment. Maybe Once Upon a Time is combining the random sorceress with the Snow Queen. The expression on the Snow Queen's face and her tone of voice made me think that she cared about Emma, which is very strange… do you think she knew Emma as a child or even tried to adopt her? I have no clue why she would want to do that… maybe she needed a true love baby for something and ended up becoming attached. Or maybe Rumplestiltskin even recruited her to raise Emma in the Land Without Magic. I've wondered how he could be sure the Savior would be around to break the Dark Curse when he had no control over what would happen to her outside of Storybrooke and the curse. Maybe he did try to control it by sending a foster parent for the Savior – that would at least explain how she and Rumple knew each other, along with the fact that he knew about her connection with Emma. It's a weird theory, but this is a weird show. What do you guys think?

— Katie
How are the Snow Queen and Emma related? If the Snow Queen tried to adopt Emma, or was one of her foster kid, how did she manage to come to the Land Without Magic and not lose her memory? What does Mr. Gold mean when he asked the Snow Queen whether Emma recognized her or not?
Speaking of losing their memories, who was responsible for it? Was it the Snow Queen or the rock trolls? And is Rumplestiltskin really turning a new leaf? Or is he still keeping his dark side who is addicted to the power of the Dark One? Why didn't he denied to Hook about the dagger, even though he did give the real dagger to Belle?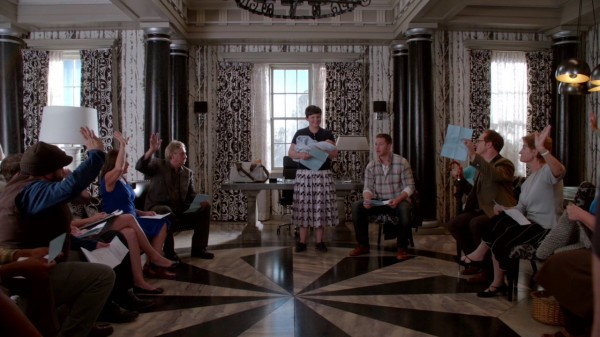 It was kind of nice that Archie Hopper tries to encourage her to not be "joined at the hip" with baby Neal; if she lets it go just a little, she'll be fine. And are we the only ones who think that the town are being a little too hard on her? Especially Grumpy,  who is supposed to be loyal to her as the Queen. Maybe Grumpy needs a little chill pill, no pun intended.
It was especially nice seeing Emma and David go on a mini adventure together, especially when she started opening up with her father. They're definitely starting to act like a real family now.
Thank you for supporting us!
David Neuland (subscriber)
Lisa Slack (subscriber)
Steve Johnson (subscriber)
Bridget J
8 Patreon backers ($20 per episode)
You can sponsor an episode or more of ONCE podcast, too! Email Daniel@ONCEpodcast.com if you would like to arrange a corporate sponsorship of our podcast for the upcoming third season.
Operation Mongoose
Mongoose, according to Dictionary.com, is a a slender, ferretlike carnivore, Herpestes edwardsi, of India, that feeds on rodents, birds, and eggs, noted especially for its ability to kill cobras and other venomous snakes.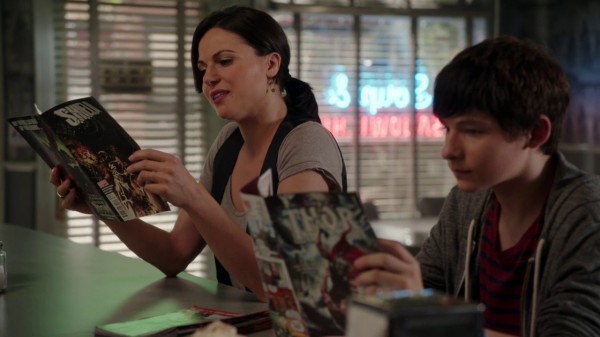 Before Regina talk to Henry about Operation Mongoose, she and Henry was seen reading Agents of Shield and Thor. Are you a fan of Agents of Shield? Check out Welcome to Level 7 and hear them share their thoughts and theories about the show and the Marvel Universe. Aside from Shield and Thor, we also spotted a Spiderman comics among the ones that Regina brought for Henry.
Regina and Henry going on an adventure of their own may sound great, but we do hope that Regina is really being genuine about everything for Henry's sake.
Regina's actions toward helping find a cure for the frozen spell for Maid Marian was so honorable for her. For someone who spent her entire life walking down the road to revenge, it was a big turn for the one who was known as the Evil Queen.
One of the things about Marian that stood out is the act of true love versus a true love's kiss. In the movie Maleficent, they used a true love's kiss, only in a different form, whereas in Frozen, Anna sacrificed her life to save her sister, which is an act of true love but again, in a different form. If an act of true love is the only way to break a freezing spell, who among them can break the Snow Queen's curse? Aren't Regina's actions a sort of true love? She practically sacrificed her own desires for someone else, and she sure is focused on finding a cure and saving Marian, after all. Was the Snow Queen casting a freezing spell on Maid Marian really just an accident, to frame Elsa, or is there a deeper reason behind it?
If Emma's heart can't be ripped out as shown in the episode Queen of Hearts, does that mean that she's immune to freezing spell? If she happen to be cast a freezing spell on, will it even work on her?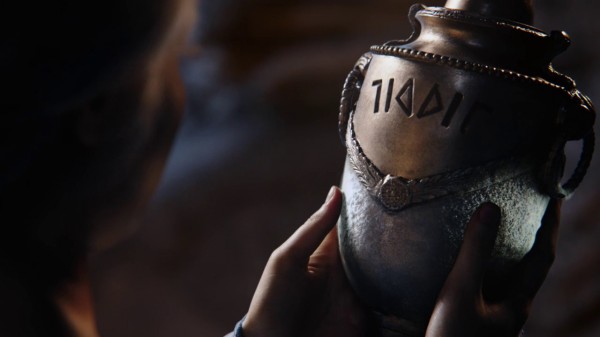 Elsa said that the urn has an encryption from Ancient Futhark Runes, an old runic symbol from Elder Futhark runes meaning water/lake, ice, and ulcer/torch. How does it tie in with Elsa's mother's message that she wrote in the ship in A Tale of Two Sisters? Is that what she wrote in her letter? Surely, the urn didn't say, "dangerous urn, keep away!" did it?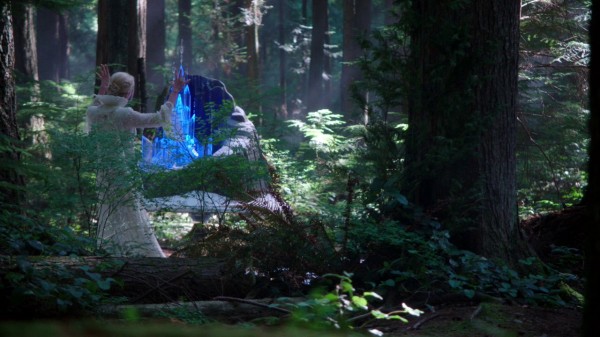 Back in the woods in Storybrooke, the Snow Queen was seen building a miniature ice palace. Is she trying to set up a kingdom of her own? Is she looking at her plans for Storybrooke?
The Knave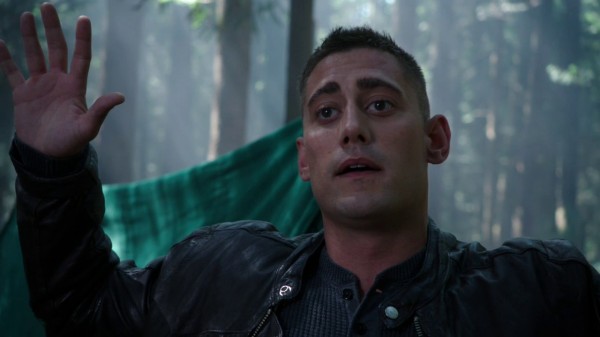 Will Scarlet said that he knows something that will actually help but outright told them that he won't tell them about it specifically. What does he know? How did he get to Storybrooke and why is he not with Anastasia?
For those who have never seen an episode of Once Upon a Time in Wonderland, Will Scarlet is the Knave of Hearts whose love interest is Anastasia who happens to be the Red Queen as well as the villain for a while. You can check out our Wonderland podcast if you want to know more about Will Scarlet's backstory. Did the white rabbit brought Will to Storybrooke? Did something happen in Wonderland or perhaps to him and the Red Queen? Whatever happened to their happy ending that made him a thief again?
Michael Socha's name has been popping up since the start of the fourth season and based on what we've seen from him in Rocky Road, it seems that him joining the cast of Once Upon a Time may have a deeper storyline. We just hope that they explain it for those who have seen both shows as well as those who have never even heard of Once Upon a Time in Wonderland.
We like that the Snow Queen's  shop was named Any Given Sundae, which we thought was kind of a nod to the show being shown every Sunday, but has anyone noticed that the ice cream shop was filled with mirrors? This sort of reminded us of Regina and her thing with the mirrors.
Emma and Hook
Emma finally said that every guy she's ever been with died in the end— Neal, Graham, even Walsh— and that she's definitely afraid of losing Hook. However, with all of those men, she didn't really know their real identity when she fell in love with them and they were endangered when she started learning the truth about them. With Hook, however, Emma knows who he is, including his past and his desire to let the past go and move on with her to the future.
If and when Emma remembers the Snow Queen, can she neutralize the Snow Queen's powers? What does Will Scarlet have anything to do with whatever is happening with Snow Queen right now?
Thank you for the podcast reviews!
Daniel_in_England from the UK said, "… the best Once Upon A Time podcast available. Great conversations, great people, great quality! If you're a fan of Once Upon A Time you must subscribe!"
Elle828 from Canada
SGilbert75 from the USA listening since the middle of the second season.
Your reviews encourage us and help others find the podcast!
Please rate and especially write a review for us on Apple Podcasts.
What do you think about the episode? Do you have any theories regarding the next episode? Head over the forum and continue the conversation with us or spill it out using the comment section below.
What did you think?
Email Feedback@ONCEpodcast.com (audio files welcome)
Call (903) 231-2221
Comment on the shownotes
Visit any page on ONCEpodcast.com and click the "Send a voice message" link to record and send a message right from your computer.
Help us out!
Share this post in your social networks
Follow us
On Facebook:
On Twitter:  echo do_shortcode('[twitter follow="ONCEpodcast"]'); ?>
Daniel J. Lewis:  echo do_shortcode('[twitter follow="theDanielJLewis"]'); ?>
Jeremy Laughlin:  echo do_shortcode('[twitter follow="phlegon"]'); ?>
ErinJ:  echo do_shortcode('[twitter follow="erinjcruz"]'); ?>
Hunter Hathaway:  echo do_shortcode('[twitter follow="travelingpixie"]'); ?>
Jacquelyn / RumplesGirl:  echo do_shortcode('[twitter follow="punk_bunny_87"]'); ?>
Spoilers
Emma and Hook is going out for their real first date
Hook visits Mr. Gold and asked to re-attached his hand
Mary Margaret and Henry tries to lift up Regina's spirit when she can't find a cure for Marian
Will Scarlet attempts to break into Storybrooke library to find a special book
Rumple may use Anna to get a magical box that the Sorcerer's apprentice is guarding
Episode 4, "The Apprentice" was written by Andrew Chambliss & Dana Horgan and directed by Ralph Hemecker
Guest stars include Timothy Webber as The Apprentice, Brad Dourif as Zoso, Catherine Bogdanova as spaghetti lady, Garry Garneau as spaghetti man, Emanuel Fappas as bartender
Promo for next week's episode focuses on Hook and Emma's date, as well as Rumple and Anna in the Enchanted Forest in the past
Once again, the episode is focusing on Hook and Emma, as well as Anna and Kristoff
Hook was seen donning a brand new outfit, while Emma is in a really girly dress in the Charming's apartment.
Hook was also seen with a hand, giving Emma a rose
Will Scarlet drops a drink on Emma.
It sounds like Rumple put a curse on Hook's brand new hand
Elizabeth Mitchell said in the interview that her relationship with Emma is going to be a bit more positive than what the others might be thinking
The Snow Queen was in the urn at least before the curse.
It was confirmed at the New York Comic Con that the book writer was definitely not August
Finding the book's author is going to be dragged on the entire season
Sarah Bolger, who plays Princess Aurora is going to be back in episode 7 and at least one more after that and possibly episode 9 or 10
There is no word as to whether Julian Morris (Philip) or Jamie Chung (Mulan) are going back as well
The hat doesn't just suck magic, but people as well
Anna is holding the little hat that Rumple had back in the season premier
4×09 is called "Fall" and is going to be directed by Mario Van Peebles and written by Jane Espenson