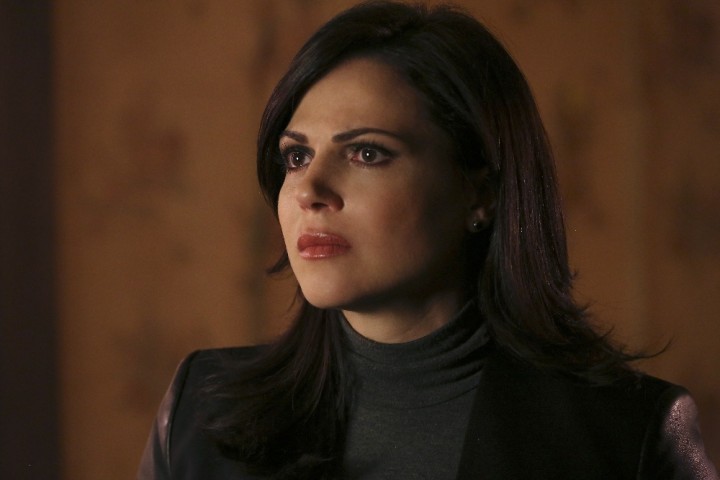 We just finished watching this episode "Sisters" and we've got a lot of things to share about tonight's episode—the Wicked sisters, Zelena finally meeting her mother, Prince James vs Chiseled Chin Jr., Rumplestiltskin recruiting Pan, Hades' proposal, and more!
Podcast: Play in new window | Download | Embed
We published our Ruby Slippers full discussion late due to Daniel's travels. So if your podcast app skipped that episode, be sure to go back and listen!
Now that Hades and Zelena are reunited, Hades tells Zelena that he wants a future with her outside of the Underworld. All she needs to do is heal his heart with True Love's Kiss so they can leave the Underworld and trap the heroes there for eternity. When Regina overhears of this plan, she enlists Cora's help to find a way to separate Zelena from Hades. However, Cora reveals a family secret that could change Regina and Zelena's lives forever. Meanwhile, David finally meets James, only to realize that his twin is determined to seek revenge on him for stealing the life he could have had.
These are our first thoughts about this Once Upon a Time episode. We'll share more about "Sisters" in our upcoming full discussion (usually live on Wednesdays at 7:00 p.m., USA Eastern Time).
Initial Reactions
Remember, these are only our initial reactions regarding tonight's episode so please bear with us if we're a bit all over the place. If you have your own thoughts, feedbacks, or theories regarding tonight's episode, however, send them over to us and join our upcoming full discussion!
This was a really good episode. It was very emotional; they closed a lot of doors and explained a lot of things, this episode have a lot of closure and feels. The one thing that didn't work all that well was the whole childhood sisters part of the episode. It seemed a little convenient, but it fit nicely with the story. It doesn't necessarily fit with the history and the actual mythology of the show, but this was a really beautiful episode.
Speaking of beautiful, at the very end of the episode, they said "In Loving Memory of Scott Nimerfro," who was one of the writers on Once Upon a Time who passed away quite recently. Nimerfro wrote 32 episodes. Our hearts go out to his family. It was nice that ABC put that nice little comment there by the end of the episode.
This episode was very fitting to say goodbye to a Once Upon a Time staff, but we may never get to see Cora ever again in the show. As much as we love seeing Cora, at this point, with such a beautiful goodbye, if we got to see her in a flashback it would kind of cheapen what happened and cheapen that emotional goodbye to Cora. It was a very beautiful ending, though. It's a good reminder that even in your final days, you can make things right.
When the fire did come up, we wondered if they were going to use it as a teaching moment that just because you were good in your very last breath doesn't necessarily negate all the bad things you have done in your life and that some things are beyond level of forgiveness. Cora must be the most evil that we've seen be redeemed, even far worse than Regina ever was. She's not the worst villain that we've seen on the show for sure, but when you think about the things that she orchestrated and why she did it, it seems a lot for not a lot.
When Cora told Regina that she would have been enough before she died in the episode, The Miller's Daughter, we expected those words to come out but what she said was good enough.
It was really cool to see James and David face off but then throwing James into the river like that seemed like the only thing that could be done at that point, as if David had no choice, but he really would not have rather have done it that way. You could tell Charming cared and wanted to see the best in James, but it seems that James didn't give him an option. Then again, it was nice that they were dressed slightly differently, which helped us recognize who is whom.
We do now know about a couple of things about everyone's time in the Underworld. Apparently, there is a night time in the Underworld, and every heroe's names are now in the gravestone so they can't simply leave like Snow White did, and we also know that they can be killed in the Underworld and be a permanent resident in the Underworld.
We were also happy to see Peter Pan in this episode. Nonetheless, after seeing this beautiful reunion with Cora and the way the relationship was made right, the beautiful goodbye, then Regina saying to pursue the man she loves and perhaps Zelena could change him have a lot of great hope in that. Although this was Hades and Zelena and it's weird, but the way they fell in love and the way they pursuing each other is really beautiful, too. In a way, we're kind of rooting for them because, perhaps, Zelena could change Hades.
Is the cuff also a living soul? How did it get to the Underworld? Did it go to the Underworld with Rumplestiltskin when he sacrificed himself to defeat Peter Pan? Or did Hades make his own bracelet?
What did you think of this episode? We'd love to have your feedback and theories about where we're could be going from here, and what might Rumple have in mind for Zelena and how it would play in with Peter Pan. Share us your feedback or head over the forum to continue discussing this episode and join us for our upcoming full discussion of the episode "Sisters" as we're back on our regular programming schedule this coming Wednesday!
What did you think?
Email Feedback@ONCEpodcast.com (audio files welcome)
Call (903) 231-2221
Comment on the shownotes
Visit any page on ONCEpodcast.com and click the "Send a voice message" link to record and send a message right from your computer.
Help us out!
Share this post in your social networks
Follow us
On Facebook:
On Twitter:  echo do_shortcode('[twitter follow="ONCEpodcast"]'); ?>
Daniel J. Lewis:  echo do_shortcode('[twitter follow="theDanielJLewis"]'); ?>
Jeremy Laughlin:  echo do_shortcode('[twitter follow="phlegon"]'); ?>
ErinJ:  echo do_shortcode('[twitter follow="erinjcruz"]'); ?>
Hunter Hathaway:  echo do_shortcode('[twitter follow="travelingpixie"]'); ?>
Jacquelyn / RumplesGirl:  echo do_shortcode('[twitter follow="punk_bunny_87"]'); ?>